TrueHoop:

Shaun Livingston
July, 1, 2014
7/01/14
11:42
PM ET

By Ethan Sherwood Strauss
ESPN.com
Archive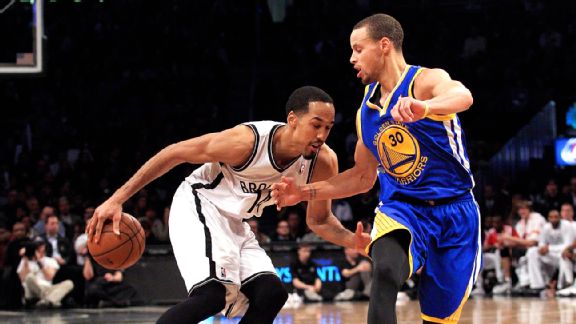 Brad Penner/USA TODAY Sports Shaun Livingston will be working alongside Stephen Curry with the Warriors next season.
The
Golden State Warriors'
three-year, $16 million agreement (third year partially guaranteed) with
Shaun Livingston
addresses a basketball issue so basic it has been easy to miss: The Warriors need a guy who can dribble. Too much of the offense has been dependent on
Stephen Curry
, in part due to Curry's incredible talent and in part due to how the Warriors have lacked for competent ball handlers.
Livingston is a guy you can trust with the rock, as he can drive, dish and post up depending on the situation. What he can't do is shoot 3-pointers, a staple of Golden State's perimeter offense. Though he has yet to develop the skill, his .827 free throw mark might speak to some potential in that area.
This is a move the Warriors make even if they aren't eyeing a future without
Klay Thompson
, who has been linked to
Kevin Love
trade talks. That said, the move makes parting with Klay less painful should they choose to go that route.
On the face of it, Livingston and Thompson couldn't be more different in terms of basketball skills. Livingston handles and passes, while Thompson shoots and, well, shoots. The similarity comes on the defensive end where both players can leverage their length to bother opposing perimeter players. Should the Warriors cast aside their reluctance and deal Thompson for Love, they can ask Livingston to fill in for Thompson defensively.
In Golden State's defensive system under former coach Mark Jackson, Thompson would defend opposing point guards, leaving Curry hidden on a less talented perimeter player. This strategy allowed Curry some rest, spared him unfavorable matchups and got opposing teams into mismatches when the ball changed sides. The Warriors can resume doing this, even without Thompson. And, should they hold on to Thompson, they've just acquired someone who can find him for many a 3-pointer.

January, 24, 2014
1/24/14
10:58
AM ET
By Reihan Salam
Special to ESPN.com
Archive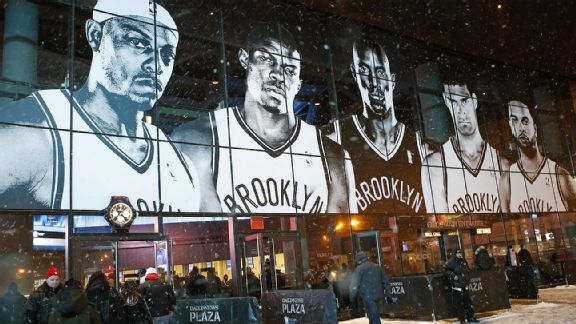 AP Photo/Kathy WillensYou can't buy love, not even in Brooklyn. But as one longtime resident says, the Nets are now theirs.
Before the Nets moved to Brooklyn, I knew almost nothing about professional basketball, or basketball in any incarnation. I understood that it was a sport in which tall people excelled, and as someone who stands well below the median height, I spent very little time playing it. I certainly remembered Michael Jordan from my youth, when his shiny head was all but unavoidable; as a dark-skinned man with a shaved head, I suppose I have him to thank for being so smooth and aerodynamic. And I was vaguely aware of an indestructible, headband-wearing man called "The LeBron," who for all I knew was some kind of myth or legend, like Sasquatch.
Yet when I first heard that a professional sports franchise was planning to move to Brooklyn as part of a multi-billion dollar real estate transaction, I was intrigued. The reason is that I am, and have long been, a Brooklyn nationalist. Marty Markowitz has nothing on me. When I get my facial tattoo, it will be a map of Kings County across my forehead.
If Brooklyn didn't have a team, I thought to myself, all of the other professional sports franchises in the world could burn to the ground. Though I was born decades after the Dodgers left for Los Angeles, I grew up with a sense that a grave injustice had been done to my city -- a crime that would one day be avenged.
In the 21st century, Brooklyn pride has become an irritating cliche. But in the 1980s and '90s, it meant something entirely different. It was about thumbing your nose at a world that didn't give us the respect we deserved. We Brooklynites were nobodies, treated as part of an anonymous expanse of mediocrity, crime and poverty ringing Manhattan's Emerald City. This despite our proud architectural and cultural heritage, and our history as a separate and distinct city that competed with, and often bested, New York until we were conveniently swallowed up in an 1898 election that was almost certainly rigged.
So how could I not love the Barclays Center, the beautiful alien vessel that is home to the Brooklyn Nets? For all my enthusiasm about the arena, basketball was still baffling to me as recently as this past offseason. I started to read about the Nets, and about the sports more broadly, when they first moved from New Jersey. Intellectually, at least, the game started to make sense. Professional sports are the way Americans talk about all kinds of things such as business, race, class and modern medical miracles. Reading about the Nets organization gave me some sense of what I had been missing by avoiding pro sports my entire life. Even so, my connection to the team was more intellectual than visceral. At my first Nets game, against the Orlando Magic almost exactly a year ago, I brought reading material, just in case I got bored. The game wound up being pretty fun, and the food was excellent. Even so, I wasn't quite hooked. I read an article or two amid the cheering fans.
I did, however, pay pretty close attention to the team's activity during the offseason. I knew just enough about the NBA to know that the arrival of Paul Pierce and Kevin Garnett was a huge deal. Luring Andrei Kirilenko and two and a half legendary Celtics made the Nets' Russian paymaster look like some kind of Svengali. A totally respectable team was now being discussed as a serious title contender. When one of my friends, a die-hard NBA fan, suggested that we buy half-season tickets, I decided to give it a shot. This team was destined to make noise, and I figured I ought to be a part of it. Another friend warned that just as the Lakers failed to build a superteam out of aging, dysfunctional parts last season, the Nets would disappoint. But if the Nets were truly terrible, I could still support the city I love while catching up on my reading and enjoying a wide array of gluten-free snacks.
Going to the games changed things. For whatever reason, I started thinking of the players as real people, and I couldn't help but root for them on a personal level. When Shaun Livingston, who suffered an injury that should by all rights have been career-ending, played exceptionally but unflashily well at the start of the season, it occurred to me that it must have been a pretty big deal for him. When he had a slump, I felt the sting. And when he came roaring back during Deron Williams' most recent injury spell, I was happy to see that Livingston's feisty, intelligent play wasn't a fluke.
[+] Enlarge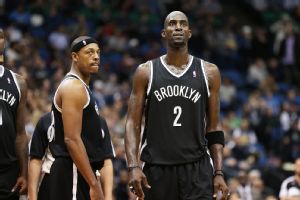 Jordan Johnson/NBAE/Getty ImagesThe ups and downs of two aging Hall of Famers is something any Brooklyn sports fan can relate to.
Garnett has had a storied career, and he could retire tomorrow and be extremely proud of all that he's accomplished. All the same, I imagined that he was plagued by the sense that his body and his instincts were failing him early on in the season, and I really wanted him to get his confidence back, not least because I'm keenly aware of my own aging. His explosive play the past few weeks have been a source of more fist-pumping excitement than I have any right to expect.
My Celtics fan friends had always boasted of Pierce's loyalty, so I knew that he'd struggle to find a place on a new team. His bad days became my bad days while his flashes of brilliance gave me an adrenaline boost. I couldn't identify with Joe Johnson, who seems almost supernaturally cool, but I was glad he was there to be a steady, solid performer even as the rest of his team flailed.
Then there were the players with something to prove, such as Mason Plumlee, who became another bright spot during some of the more dismal stretches of the season. You could tell how proud he was of making a name for himself. Andray Blatche has been making a fool of all who've doubted him. Apart from hitting a healthy percentage of his attempted 3-pointers, Mirza Teletovic laughed in LeBron James' face ("I grew up in the middle of the Bosnian civil war, son."). Not only is Teletovic thrilling Brooklyn fans, he's putting his home country on the map, which has to be a huge source of pride. And though Alan Anderson isn't necessarily great at pro basketball, his eerie resemblance to Method Man of the Wu-Tang Clan is enough for me. This could be the most lovable team in the NBA.
Then there is the raw power of being in an enormous room full of people shouting "Broo-klyn" at the same time. These are my people. Yes, our team has been pretty terrible until recently. Yes, we have the worst mascot in the NBA. But whether it's fans from the Jersey era who've stuck with the team or former Knicks fans who are sick of Jimmy Dolan and want to give Brooklyn a shot, or people such as me who are still extremely confused by foul calls (I do know that the refs are always biased against us), we're sharing in this crazily intense collective energy. It is weird, and it is glorious. When I'm not at the games, I'm checking the score. And when I go to the games, I'm leaving the reading material home.
July, 9, 2009
7/09/09
2:21
AM ET
Three years ago, Shaun Livingston embodied the hope of every cautiously optimistic Clippers fan. He was the 6-foot-7 point guard who was to deliver the franchise from its forlorn history. That was before a devastating injury. The Salt Lake Tribune's Ross Siler has more on Livingston's long road back, a route that goes through Orlando this week:
Shaun Livingston never has watched a replay of the breakaway that nearly ended his career, though the grotesque video from February 2007 of Livingston dislocating his knee and tearing three ligaments has been viewed more than 184,000 times on YouTube.

Livingston has no plans of watching it, either, at least not until his playing days are done. There are enough reminders already, from the brace on his left knee to his new position on the floor to his new home in Oklahoma City.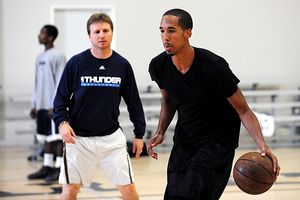 Scott Brooks is one of many rooting for Shaun Livingston's full recovery.
(Juan Ocampo/NBA via Getty Images)
"I felt I was so young at the time," said Livingston, the Clippers' former No. 4 overall pick out of high school. "You know, being 21, it's like some people, they're not even in the league at 21. They're not even 21-year-old rookies, so I felt like I still had a window open."
He missed all of 2007-08, but officially made it back to the NBA last season, playing in four games with Miami and eight with the Thunder. Ahead of his 24th birthday in September, Livingston already has enjoyed two more NBA careers than most.
That eight-game run with the Thunder included one milestone: Livingston logged 33 minutes in Oklahoma City's 41-point destruction of the Clippers to end the season, coming at Staples Center on the same floor in which Livingston blew out his knee.
"I think it made him realize that he's back, he's feeling good," Thunder coach Scott Brooks said. "He went through a tough injury and he battled back and fought through it and he's been terrific."
Having signed March 31, Livingston spent not even a full month with the Thunder, but he is in Orlando trying to build on the experience. The one limitation is that Livingston will not play back-to-back games either here or in Las Vegas, owing to his knee.
"My circumstances are different," Livingston said. "Even though I've been in the league five, six years, I haven't played five, six years. I'm trying to get my legs back from my injury and continue progressing."
He started for the Thunder in Wednesday's 94-82 victory over Boston, finishing with 10 points, six rebounds and two assists in 22 minutes. Livingston estimated he is 90 to 95 percent recovered, with his endurance and explosiveness the last things to return.
All the same, Livingston is in an admittedly different role from his days as the Clippers' point guard. The Thunder are playing the 6-foot-7 Livingston primarily as an off guard opposite Russell Westbrook, and at times as a small forward.
He played in one lineup alongside Westbrook and Kyle Weaver, and another with Westbrook and Alabama-Birmingham guard Robert Vaden. The Thunder had Westbrook, Weaver and No. 3 overall pick James Harden together in the fourth quarter.

"All of us have point guard and playmaking abilities," Livingston said. "So it allows us to all play together in unison. I think that's what the coaches and the executive staff, they're kind of experimenting out here and letting us play with each other and build chemistry."

Livingston did gain some experience as an off guard playing opposite Sam Cassell with the Clippers. He matched up for much of Wednesday's game against J.R. Giddens.

"I feel like my basketball IQ is high enough to where I can adapt," Livingston said. "I'm not necessarily a better scoring guard than I am a playmaker, but I feel like I can have the ability to create mismatches by having two point guards on the floor."

He had his moments against the summer Celtics, blocking Coby Karl's layup bid on the break, cutting for a basket as part of a three-point play and racing end to end in the final five seconds of the first half for a layup that was goaltended.

Of course, Livingston also tried to post up Bill Walker despite giving up nearly 40 pounds, but missed a fadeaway. Such are the lessons of summer league.

With Westbrook and Harden and so many others playing in Orlando, Livingston said of the summer league, "This is kind of like the start of our season." He added that he saw himself as one of the Thunder's building blocks, though his contract is only minimally guaranteed.

He's ditched the bulky brace that stretched from his thigh to his calf for a compression model, though his buzzword for the knee still is "security." And as much as he appreciates the NBA after being away, Livingston doesn't hold a championship parade every day just for making it back.

"I think that was a victory in itself, but it's not over," Livingston said. "In my eyes, I'm a competitor, I think I can still play at a high level, so it's definitely not over. That's just half the battle."

April, 1, 2009
4/01/09
11:21
AM ET
An improbable ending in Sacramento for the Hornets, an improbable W for the Bobcats against the Lakers, and an improbable comeback for a former prodigy. Factor the improbabilities at the TrueHoop Network: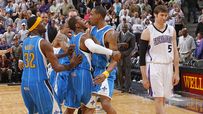 Niall Doherty of Hornets247: "It was one crazy finish in Sacramento. In the final three minutes, we had Hilton Armstrong and Devin Brown miss four free throws, Rashad McCants and Francisco Garcia hitting long J's to keep the Kings in it, a fit-for-a-wheelchair David West converting a three-point play off a bullet feed from Chris Paul, an amazing block by Garcia on CP's fast break layup, followed by some awesome transition defense by Julian Wright to prevent an easy two by Andres Nocioni. The Kings then reset and Beno Udrih threw in an off-balance, sideways runner to put them up two with 1.7 seconds left. Plenty of time for Garcia and Nocioni to miscommunicate on a switch and leave Butler all alone for three. I'm not sure my elderly neighbor on oxygen support appreciated my screaming Rasual [Butler]'s name and jumping around my living room at 11:45 p.m. on a Tuesday night."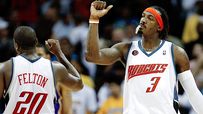 Brett Hainline of Queen City Hoops: "The Bobcats are giving Charlotte a playoff race and took the opportunity to knock off one the league's top teams and most popular players -- and the city is started to get excited ... There was a lot to be excited about last night: Gerald [Wallace] had what is becoming a routine game for him, but that makes it no less exceptional ... Boris Diaw did what he does best, creating for teammates: 12 assists for Boris and just 1 turnover, including handful of 'how did he make that pass' plays. Against the bigger frontcourt of the Lakers, Boris recognized it was not a game for him to try and score a lot of points in the paint -- but that didn't stop him from finding opportunities for others there ... Charlotte got everything it wanted last night: A win, a Detroit loss, and a Chicago loss. That puts the Cats a game out of the 8th spot and just 2 back of 7th. With a game against both the Bulls and Pistons left ... well, last night may not remain the biggest game in Bobcats' history for long."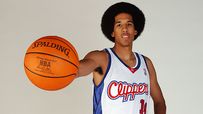 Rob Mahoney of Hardwood Paroxysm: "The underlying sentiment of most [Shaun] Livingston stories will parade his rehabilitation, and rightfully so. From that injury to what we can only hope is a full-time comeback, Shaun has come a long way. At the core of this story is disappointment and redemption. Strength, will, and resiliency. But what Shaun represents isn't a moral-of-the-story tagline or cheesy documentary featurette on the power of the human spirit. Livingston, as much as any player, is hope. Hope that a lanky, awkward 6′7" point guards can rule the league. Hope that injured players can return to their previous form, even if that form was but a point on the slope to an undetermined end. Hope that some players will realize that braids may not be for them, and that they look better with short hair ... Acquiring a hardly proven, injury-ridden point guard has never made so much sense."
THE FINAL WORD
Celtics Hub: Boston's clutch offense -- apart from the Big Three.
48 Minutes of Hell: It's about time for the Spurs to settle on a rotation.
Forum Blue & Gold: Mark Cuban buys the Lakers ... via Twitter.
(Photos by Rocky Widner, Streeter Lecka, Juan Ocampo/NBAE via Getty Images)
July, 30, 2007
7/30/07
10:01
AM ET
Shaun Livingston had a knee injury so gruesome they warn viewers before they show it on TV.
There was, and still is, talk that he would never play again. I remember hoping that he had taken good care of his money thus far in his career.
In yesterday's L.A. Times, Kurt Streeter catches up with Livingston. It's pretty much all good news. The young man is said to be in firm control of his finances with some real estate investments in Chicago. And the prognosis looks about as good as it could for a return.
Streeter also describes what happened to Livingston in the moments after the famous injury.
The next thing he knew he was in an ambulance with a Clippers trainer and Art Jones, a longtime friend. Livingston was still in his white, blue and red Clippers jersey, soaked with sweat. His knee was so swollen that he couldn't put on his warmups. It's just a dislocated kneecap, he thought. Four weeks of therapy, and he'd be back on the court.

Outside the emergency room at Centinela Hospital Medical Center, in a gruff part of Inglewood, he heard screams from another ambulance. He figured they were from someone who had been shot. Jones leaned into his ear and spoke of how fortunate he was, how so many black men his age ended up in hospitals with bullet holes instead of bad knees. Shaun Livingston nodded. He understood.

Inside the hospital, his knee was scanned for nerve and artery damage. He and Jones still can't shake the memory of what the doctors said: Part of his left leg might have to be amputated. He tried to fathom it. Minutes before he'd been playing an NBA game. Now he had to think about having part of his leg cut off. "It was pretty devastating," he said.

"But, really, it was so crazy I just laughed. What else could I do?"

The way he figured it, everything was out of his hands. So he sat in a small, windowless room with Jones, eating Popeyes chicken and watching TV. On the screen were Clippers highlights. When a camera showed his layup, he turned away.