TrueHoop:

Shawne Williams
February, 28, 2011
2/28/11
6:39
AM ET
By ESPN Stats & Info
ESPN.com
Archive


The new-look
New York Knicks
made a statement Sunday night as they rallied from a 15-point deficit to defeat the
Miami Heat
, proving that their "Big 3" should not be overlooked.
Carmelo Anthony
and
Amar'e Stoudemire
have been receiving most of the attention lately, but it was Mr. Big Shot,
Chauncey Billups
, who was instrumental in turning down the Heat in Miami.
Billups entered the fourth quarter with 8:55 remaining in the game and the Knicks down by five points. In that span Billups went 3-for-5 with 7 points, and as an on-ball defender held his opponent to 0-for-3 and a turnover. He also had two steals in that span, including one on a
Chris Bosh
pass with 47 seconds left that lead to two free throws by
Shawne Williams
. Billups finished the game with 16 points and has made a three-point field goal in 19 consecutive games, the third-longest active streak.
Anthony finished with a game-high 29 points and 9 rebounds. Eleven of Anthony's 29 points came on isolation plays. He trails only
Kobe Bryant
for the most points off isolation plays this season.

Anthony
This was Anthony's third straight 25-point game, and the Elias Sports Bureau tells us that only five other players in NBA history have scored at least 25 points in each of their first three or more games for one team: Wilt Chamberlain, for the Philadelphia Warriors (1959, first 10 games); Walt Bellamy, for the Chicago Packers (1961); Dan Issel for the
Denver Nuggets
(1976);
Dominique Wilkins
for the
Los Angeles Clippers
(1994, first four games); and
Glenn Robinson
for the
Atlanta Hawks
(2002).
While Anthony's offense certainly kept the Knicks in the game, it was his defensive presence that may have put the game away. Anthony was asked to guard
LeBron James
in the fourth quarter, and the defensive switch paid off for the Knicks. James was 1-for-4 when Anthony was the on-ball defender during the final five minutes of the game, including on Miami's final two field goal attempts.
Anthony wasn't the only Knick to lock down on defense. New York held Miami under 40 percent shooting in the half court over the final three quarters. For some perspective, the
Cleveland Cavaliers
and
Milwaukee Bucks
shot a combined 46 percent in the half court during the Knicks previous two games.
Perhaps the clinching moment of the game was Stoudemire's block on James' driving lay-up with seven seconds to play.
The Elias Sports Bureau says it was only the third time in James' career that he had a shot blocked in the final 10 seconds of the fourth quarter (or overtime) with his team trying to erase a deficit or three points or less. The others came in a span of 12 days in April 2008, on blocks by
Joakim Noah
and
Samuel Dalembert
.
Despite his team falling short, James scored 27 points, including nine in transition on 4-5 shooting. James' nine transition points, combined with two from
Dwyane Wade
, knots the two for the NBA lead. Speaking of Wade, he finished with just 12 points and five turnovers. Overall, Miami's "Big 3" combined for 13 of the team's 20 turnovers.
The loss snaps the Heat's 7-game home win streak and drops the team to 5-11 in games decided by five points or fewer.
December, 23, 2010
12/23/10
12:22
AM ET
Often overshadowed by his coaching counterparts (including now ex-Bobcats coach Larry Brown), Jerry Sloan moved up the appreciation scale after working his 2,000th NBA game on Wednesday night.

Sloan moved into third place on the all-time NBA coaching wins list, passing Pat Riley with his 1,211th victory, a 112-107 triumph for the
Utah Jazz
over the
Minnesota Timberwolves
.
Somehow, Sloan has accumulated all of those victories without either an NBA title or a Coach of the Year award. He may find himself in contention for the latter this season if the Jazz continue their winning ways. Utah is 21-9, matching its best 30-game start in the last 10 seasons (Utah was 21-9 in 2006-07).
The Jazz survived a night in which
Kevin Love
scored 25 points and had 19 rebounds. It was Love's 19th game with at least 15 rebounds this season, which according to Basketball-Reference.com, is the most by a player in his first 30 games of the season since
Dennis Rodman
had 21 in 1992-1993.
Surviving on the road has been big for the Jazz this season. Utah is 10-4 on the road, 4-0 in road games decided by five points or less. If the Jazz can avoid an extended losing streak, Utah can have consecutive seasons with a winning record on the road for the first time since the 1999-2000 and 2000-2001 seasons.
Wins in volume were one of the big themes on this night of NBA action.
• According to the Elias Sports Bureau, the
San Antonio Spurs
became the fourth team in NBA history to have a pair of 10-game win streaks prior to January 1. None of the three previous teams to do so (1973-74 Bucks, 1980-81 76ers, and 2006-07 Mavericks) won an NBA title.
• The
Boston Celtics
won their 14th straight game, the sixth time in team history they've had a streak of that length. The Celtics are now 94-14 in games played before Christmas over the last four seasons. Via Elias, that is the best such record over any four-season span in NBA history.
• The wins haven't come in high volume for the
Detroit Pistons
this season, but for one day, Pistons guard
Richard Hamilton
was able to score at a rate comensurate with past success.
Coming off the bench for only the second time this season, Hamilton had 35 points, the 14th time in an 814-game NBA career that he tallied that many, in a 115-93 win over the Raptors. It was a strong redemption for Hamilton, who was -22 in 18 minutes in his last game, an embarassing 109-88 home loss to the
Los Angeles Clippers
. He flipped that around with a +22 in Wednesday's contest.
• Hamilton might want pass some bounceback karma on to
Shawne Williams
of the
New York Knicks
. Williams had the NBA's oddest statistical night in the Knicks 112-98 win over the Thunder. The Knicks were outscored by 21 points in the 18 minutes when Williams was on the floor. With Williams on the bench for 30 minutes, the Knicks outscored the Thunder by 35 points.
Mo Williams holds a perimeter clinic. Charlotte Bobcat fans hold their breath. The Lakers hold our attention. Hold on, as we take a spin around the TrueHoop Network: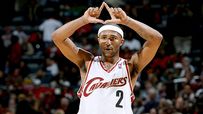 John Krolik of Cavs the Blog: "Let's get into some Mo Williams superlatives.

43/8/11 is, without a question, the best line posted by a Cavalier not named 'LeBron' in the LeBron era, and is probably top-5 in lines that include LeBron. I mean, if Mo snags two more measly boards and hits two of the icing-on-the cake heat-check threes in the final minutes, he'd have LBJ's iconic 50/10/10 line plus another assist. And Mo did it with only 24 shots.

Scottie Pippen's career high? 47.

Mo's True Shooting? 79.6%. Look at that. And if you count the two technical free throws he took as a bonus and not as a shot attempt, that number bumps up to 82.6%. That is absolutely ridiculous.

A look at the shot chart will tell you that Mo, who came into this game as perhaps the best midrange shooter in the game, put on an absolute perimeter game CLINIC that you should absolutely show to your kids if you want them to learn how to score from outside effectively. (Even, maybe especially, if your name is Gloria James)"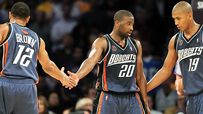 Brett Hainline of Queen City Hoops: "I nearly gave up on this game, when the Cats fell behind in overtime. I was doing some deep breathing, trying to tell myself that it was just a game and nothing to be upset over (it did not work) - and while I was doing that, the Bobcats were on their way back. I had no such qualms about it being just a game when I was celebrating the win...Fortunately for me/them, the Bobcats were not as defeatist as I. These are not the same Bobcats that used to get leads on good teams, only to lose when the opponent finally decided to play. They did not get down about their free throw struggles, but battled back in the face of adversity and got a big win on the road."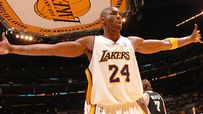 Matt Moore of Hardwood Paroxysm: "Do we create the Lakers to have something familiar and dominant to rail against, or to worship for their dominance and flash? Or do they somehow mine the legacy of their franchise and produce something so powerful and yet so predictable? Does Kobe recognize the drama that he creates in every dagger, self-aware of the swoon and curtains that his on-court persona has wrought? Or is he just the dreadnought and the anti-hero at once, oblivious to his story but still the center character?"
THE FINAL WORD
Piston Powered: 186-184!
Hornets247: New Orleans hot spots.
Two Man Game: Shawne Williams ranks a two-out-of-five on the Jim Jackson Index.
October, 1, 2007
10/01/07
4:27
PM ET
Jon Murray of the Indianapolis Star reports that Shawne Williams' multi-faceted legal saga that began with a September 11 traffic stop has apparently, mercifully, drawn to a close:
Indiana Pacers forward Shawne Williams must do 40 hours of community service as a penalty for driving without ever having received a license, a Marion Superior Court judge said this afternoon.

Williams, 21, pleaded guilty to the misdemeanor and received a fully suspended 60-day jail sentence. He must pay a $400 fine and $160 in court costs.
The hearing had been rescheduled after he failed to show Friday in Judge Linda E. Brown's courtroom, prompting team president Larry Bird to say he would escort Williams today if needed to avoid an arrest warrant. Bird was not at the hearing.

Williams told the judge he had no excuse. Outside court, David Wyser, the Marion County prosecutor's chief trial deputy, said he had been told Williams overslept Friday.

During today's hearing, Williams showed the judge a new driver's license.
September, 28, 2007
9/28/07
12:46
PM ET
Remember, a while ago, the young Pacer was pulled over? And police said he didn't signal a lane change, didn't have a valid license, and wasn't displaying a current registration sticker? Then they found others in the car had marijuana and an allegedly stolen gun?
At that time I questioned his sense, while allowing that it wasn't the worst thing that ever happened.
This morning was Williams' big chance to explain to the judge that the license and registatrion things were some kind of mix-up (he was not charged with anything relating to the gun, nor the drugs). Williams only faces two traffic tickets and a misdemeanor charge for not having a license.
Well, Shawne Williams was AWOL from court this morning, mystifying not just the judge but even Williams' own lawyer. This is no way to convince the world you're coming around in the maturity department. The new date is for Monday, and Larry Bird is talking to the Indianapolis Star about walking Williams over personally.
September, 17, 2007
9/17/07
5:59
PM ET
Indianapolis Star columnist Bob Kravitz begs for understanding in the case of 21-year-old Shawne Williams. He's the Pacer I wrote about recently who was pulled over for a traffic violation that led to a mess of charges for Williams and his passengers:
He may be a kid, but Friday, he looked and sounded like an adult.

"I look at where I'm at now and where I was back then,'' he said the other day. "And I sure don't want to go back there.

I'm a pro ballplayer now and I've got to separate myself from some people because I know some of them are bringing trouble.

"You're around people 17, 18 years, that's all you know. A lot of them aren't doing the right things, but they're the ones who supported you. But now I've got to keep them away. I can still talk to them, but they've got to know, if they're doing wrong, it's my face showing up in the newspapers, and it's me and the team that's getting embarrassed. It's like coach Cal (Memphis' John Calipari) used to say, 'Just smile and say, hey.' "

Who thinks to stop and ask passengers if they're carrying a stolen firearm?

Williams does.

Now, he does.
September, 14, 2007
9/14/07
2:16
PM ET
The only criminal charge Shawne Williams is now facing (after his ill-fated traffic stop), according to the Indianapolis Star, is one for not having a license:
A conviction would mean a maximum 60 days in jail and a $500 fine, though defendants often avoid jail time for such offenses. Williams, 21, was arrested Tuesday after a traffic stop.

Two others with him in his SUV at the time face more serious charges.

Roosevelt Rollins, 21, Memphis, Tenn., is charged with possession of marijuana. The Class A misdemeanor carries a maximum penalty of one year in jail and a $5,000 fine.

Another passenger, Roderick Helton, 32, Memphis, Tenn., is charged with carrying a handgun without a license as a Class A misdemeanor.
Williams released the following statement, which is on his team's website:
"I am very disappointed that I put myself in this position and I take full responsibility and want to be held accountable for my actions. I want to apologize to Mel and Herb Simon, the Pacers front office, my teammates, my family, and most importantly, the fans. I am accepting the three-game suspension and will not appeal. Again, I want to apologize to my family and the fans and get back to playing basketball and helping the Pacers succeed."
September, 11, 2007
9/11/07
5:11
PM ET
But man, stuff like this should never happen.

The police report says that Shawne Williams was simultaneously:
Driving a Cadillac that was not properly registered,
Without a valid license,
While neglecting to signal a lane change in front of a cop,
In a car thick with marijuana smoke, with an active blunt in the front ashtray,
With the butt of an unlicensed, stolen gun visible from outside the car.
I mean, look, I'm more disturbed by plenty of other crimes (including the way Rashard Lewis and his friends have operated motor vehicles).
These are all, luckily, victimless crimes and apparently at low speed with a sober driver.
I've heard that the stuff about his license and registration not being up to snuff might prove to have been unfounded as the legal process unfolds.
And the lane change -- who hasn't done that?
But you take all that mess of questionable stuff, and add to it the marijuana (police are charging Williams with possession) and the gun that is being charged to his passenger.
In theory, both of those things could have been the fault of the people Williams was hanging out with. He is from a very tough part of Memphis. His brother was shot before his very eyes. And he has not been in this kind of trouble before, that I'm aware.
Maybe when you're Shawne Williams and friends stop by this is just what you get, despite all those warnings you'll hear from a thousand smart people saying you have to be careful who you hang out with, you have to be aware of your surroundings, you have to do things the right way.
But I'll never understand why marijuana must be smoked in a moving car. Anything you do in a moving car is a magnet to the police. Picture "the police." You picture a car, right? (I remember a great cartoon I saw once, of a dude in a tie-dye, with a big rasta hat on, who had been pulled over, and he's saying "Seriously officer, I wouldn't have been going so fast if I wasn't so stoned. Oh s---, did I just say that or did I just think that?") When you get in a car, you can practically guarantee that you'll see a police car. And if it's late at night, and your windows are tinted darkly, that police officer might just decide to have a look inside. He couldn't do that to you in your house. But in your car ...
And the gun? Let's run through this for a second. The red and blues were flashing behind you, and you have an unlicensed and stolen gun visible? (This wasn't Shawne Williams, but the dude in the backseat.) What kind of idiot do you have to be to own that thing, and what kind of super double idiot do you have to be to not hide it?
I know, I know, I know, there are thousands of incidents of police reports that aren't proven totally accurate. The truth may have been a lot more complicated. The police report is one person's version of events.
(And there is always the race issue. Why'd they get pulled over again? Not signaling a lane change? I'm guessing that gets ignored by police millions of times a day. That all-too-common phantom charge of "driving while black" might be part of it too.)
But COME ON! How do you get in this situation? Isn't this why the Rookie Transitions Program exists? Isn't there someone, somewhere, who can teach Shawne Williams the things to say and do to make sure this kind of thing never happens again?
If your license situation is sketchy, get someone else to drive! If you must smoke pot, stay home! If your car lacks the proper tags, call a limo! If you're an NBA player hoping to have a long career, tell your friends to leave their illegal guns at home! If you have any reason to fear the police, signal every lane change! (If all of the above are true, then, then, then ... I don't even know what to say.)
Look, I remember being a teenager (not that Williams is, he's 21). I remember being ruled by peer pressure and hormones. I have done stupid things that I am glad to have survived. I was lucky enough to have a lot of good role models around, and the sense to mimic them. I hope Shawne Williams does too.