November, 24, 2009
11/24/09
1:11
PM ET
By Henry Abbott
Last week, basketball insider
Sonny Vaccaro explained
why he feels defensive about Brandon Jennings, and told
the story of how he came to be so involved in Jennings' life
and decision to play professionally in Europe for a year before coming to the NBA.
Vaccaro has played a pivotal role in the careers of may top basketball players, from Kobe Bryant to O.J. Mayo. In this third and final installment of the conversation, Vaccaro discusses the future of basketball development. Will Vaccaro be helping many more high-schoolers skip the NCAA to go to Europe? He says European teams and American players have been expressing increasing interest. Or will Brandon Jennings be the example that encourages the NBA to abolish its ban of players straight from high school?
I noticed Brandon Jennings was on the cover of a Spanish basketball magazine recently. I know he was an Under Armour deal ... but is he a marketable personality in Europe?
Yeah, it's funny. I talked to a couple of people. He is, because they're now taking credit for the development of Brandon Jennings, and they should! Isn't that interesting, in a sense.
And I'll tell you something. When I went over there after the season, I talked to people all over Europe. In two particular situations,
they're now asking me
.
I think
I
was on trial.
Now it's like, is there anybody else? They all saw the faults of their own bias. They haven't played young kids at a high level in Europe. They punish you. To sit there and play the guy from Penn [Ibrahim Jaaber], who I'm sure is a very nice kid and heck of a player, was insane. They make you pay your dues. And here he was coming into the NBA and doing this.
So now they're coming to me and saying "if you're telling me they can play, I'll tell you he can play for our team."
Very interesting to hear you say that European teams are now more open than ever to your bringing them American high-schoolers. But what about American high-schoolers, are more of them interested in Europe since Brandon joined the NBA?
I can say this: I keep track of everybody that calls me. There are 11 now that have called me. Eight of them were brand new since Brandon. Two of them on the night of Brandon's 55-point game.
I don't think there'll be a lot of people doing it. Obviously, there's Jeremy [Tyler], who's struggling over there because he's not ready to do a lot of things. But he's growing and he did want to go. That's OK, too. He's young.
But what it's done is it has showed it can be done. It just shows you an alternative, Henry, and maybe it can get the rule changed. That would be the grand thing.
And maybe these people would do the right thing with the training and all that.
'Cause really you're talking about an individual, who really didn't want to go to college in the first place, and who is very very talented ... they should have the opportunity to do this! It always befuddled me, all these years, why they blame the kid when basically the NBA owner is the one writing the check to bring these kids to the NBA. These owners are doing it. ...
The problem with David Stern's system -- and I think David is the smartest, and you can quote me on this because I don't have to kiss anybody's ass -- everybody wants to play in the NBA. If you don't you can't ever reach your acclaim. You can't. But the whole point of this is everybody got caught up in [the brawl in] Detroit. And they never forgot Detroit. And then it became an age limit thing.
Well, Brandon was able to overcome it all. He singularly did it.
Let's go back to John Wall, Lance Stephenson and Renardo Sidney. These are the kids who could have gone to Europe -- who had the ability to be professional. They would have been drafted in last year's draft. They may have gotten cut, but they would have gotten drafted. All three had different situations occur during their freshman years in college. Wall had to pay back $800 to his friend who turned out to be an agent. Stephenson wondered if his professionalism had been violated by starring in some video. And Renardo's situation, whatever it is, to the harm of the kid, he still hasn't been allowed to play and we're going into December.
But that whole demeaning thing. ... What Derrick Rose is going through now with that stupid grade on a test he took or didn't take. It's two years after he went to Memphis! It dehumanizes these young people. The public is then told what: that you're a cheater or a liar or not educated.
What the hell do you need that for?
And that's what this system put on these kids.
Our system, academically, is not for everybody.
How many high-schoolers do you expect we'll see go to Europe?
Hopefully, we'll get rid of that rule and it won't matter. I can definitely tell you that there's interest. There's no question about it.
It just befuddles me. If the next collective bargaining agreement does not allow kids to come out, I will then say what I think will happen, which is you're going to get three, four, five a year then. It will happen then. If they say you can't do it. I'm getting up in years and I don't know how many times I can do this crap, but you know that I will be an advocate of getting them over there when they're sophomores. Move the whole families, do it differently, set it up where you can benefit by it.
Brandon Jennings has a chance to be the Spencer Haywood of his generation. To change the rules. Do you have a sense of how likely that is? Any chance they'll abolish the age restriction in collective bargaining?
I have a feeling, a Sonny Vaccaro feeling, that the age limit won't be a factor anymore. I think in collective bargaining, everyone will come to their senses, and allow this to happen.
I have more than just a feeling. I believe totally that something good will happen out of something negative, and we'll go on.
The only way you stop [high-schoolers going professional] is don't draft them. That'll stop it, quick.
But they can play. They're All-Stars.
Yes.
Once they see that these things can happen, that it didn't disrupt the flow of mankind, it'll be accepted. It's fine, there's nothing wrong with it.
The voices of dissent are needed. That's fine. You can't praise everybody for everything. That's good.
I agree that there are people who aren't capable of doing this or have delusions of grandeur. I agree a million percent. But the whole point is, the whole difference, the whole choice is that we're punishing
our
kids. The Americans. I'm me. I'm American. These are our kids. These are kids we know, and they're being singled out. Everywhere else kids their age can [play professionally].
I love Danilo Gallinari, I know his dad, I was there on draft night.
I saw you stand and clap when all the Knick fans were booing the pick.
Right!
To see him come to the NBA, while an American from Compton was not able to do it ... it just sickened me, and made my resolve stronger.
I don't understand. And I don't understand for the life of me this preoccupation with the NCAA, and the notion that they are the epitome of what you should aspire to be. And there's nothing wrong with it. But when I look at the news and I see coaches doing the most egregious things I have ever seen. They're supposed to be the mentors of young people. It makes me throw up. Their job should be doing the right thing for kids.
I just left Chicago.
I just left there!
There's
a wonderful story about Ben Wilson
, the kid who got murdered. He was the #1 player in America in 1984-85, he went to my camp, I got to know him not like I do the kids today, but I knew him. And he got murdered. The story, on the 25th anniversary of his death -- and I talked to him the day before he died -- the story was that nothing has changed academically, in grades or in gangs, in Chicago. Nothing!
That's the point I'm making. To assume, and then to put in print that everybody's qualified academically to go to some of these great universities that they're going to go to is a joke. It's a joke. If the kid doesn't qualify, or if he's put on hold with this clearinghouse s--- ... If he's done all that, who's the one who's put on display? Not the coach or the university that recruited him. Not the high school. Who put him in this position? Do you think kids don't want to be educated today? I mean come on. We weren't born ignorant. We grew to be ignorant.
Brandon Jennings wasn't some anonymous player from Alaska. He was a pretty good player! He was on display. And to hear the people who criticize him ... I don't want to hear about going to skills camp for two days. I don't want to hear about going to play for these great coaches. Don't tell me that's what he needs. Go practice for 12 months a year. Go do that.
Now that you've seen it up close, do you think the European model of basketball development (with players going professional at a young age and training year-round) is better than our university-based system?
I've got a much better understanding. I have my own intellectual understanding of the way they do things, and I believe them! Because there's no bull crap. ... There's no detour in your life. You either are going to be this example, this professional athlete, or you're not and you'll have to find ways to acclimate yourself to other parts of your life.
But it's no different from being a serious student of anything. Preparing yourself to be the best at whatever field they want to go into. So, they do it right.
It's painful. They go running in the mountains. It's much different than going to the island of Hawaii or whatever we do in America for training camp. It's certainly much different than the pitiful way we get kids ready with the twenty hours a week in the NCAA, but I don't even want to get into the college basketball thing.
But basically, I agree with the European model. They're proteges getting ready to be professionals.
This is the third in a series. Click to read all three posts in which Vaccaro discusses Brandon Jennings.

November, 20, 2009
11/20/09
10:07
AM ET

By Henry Abbott
ESPN.com
Archive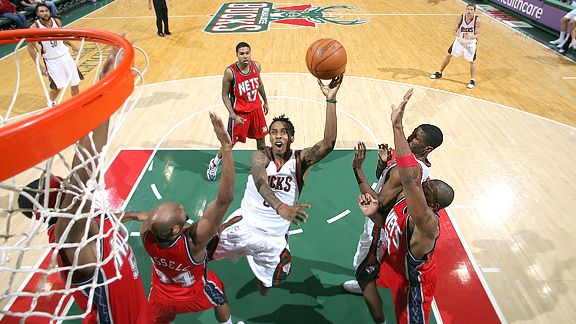 Gary Dineen/NBAE via Getty Images"There's no more questions about whether he can play basketball. All the great coaches, all the great commentators, and all the great universities had nothing to do with it." -- Vaccaro on Jennings
Yesterday,
Sonny Vaccaro explained
why he feels defensive about Brandon Jennings.
Jennings, says Vaccaro, has endured criticism -- and perhaps was drafted artificially low -- as punishment for playing his post-high school year playing professionally in Italy, instead of paying his dues to the powers that be in NCAA basketball.
The way people talked about Jennings leading up to the draft does suggest
opinion-makers weren't at all sure what to make
of the player who has been the shining star of the rookie class in the season's early going.
Vaccaro is a powerful basketball insider, who has played a pivotal role in the careers of may top basketball players, from Kobe Bryant to O.J. Mayo. In the second installment of the conversation, Vaccaro discusses getting to know a young Brandon Jennings, a fateful meeting in an Italian restaurant, and how Jennings came to the decision to skip college.
Do you have a favorite Brandon Jennings moment? When you thought he would be special?
Yeah! This is a true story. He was in eighth grade, going into ninth grade. We had one of my camps or something at Artesia High School. Near his house.
He was playing on this AAU team. The best one. Southern California All-Stars. They had great players. They were really good, and he was beating this team like 100-10. Just killing them.
And the end of the game, he threw a long pass, like over his head and behind his back to get somebody a dunk. I ran after him, I swear to god almighty, and he's like 13 or 14, and I ran after him and said: "Don't you ever do that. You're too good. Don't you ever show up the people you're playing against like that."
I gave him a Sonny speech. It was a Sonny moment.
I don't know why I did it.
But I saw that this kid had this thing about him. But I didn't ever want him to take it for granted, or to embarrass other players. It was a moment.
He didn't play at a lot of my camps. I quit the camps his senior year. He didn't play at the Roundball Classic because I didn't have a Roundball Classic his senior year. Those are the things that the kids usually went through all the process, O.J. [Mayo], Kevin [Garnett], Greg [Oden], Kobe [Bryant] ... they went from the camp to the Big-Time Tournament and all that.
The last time, his junior year his team beat Derrick Rose and Eric Gordon's team in the final of the Big-Time Tournament in one of the greatest summer league's game ever. I just talked to Reggie Rose -- Derrick's brother -- about it a couple of days ago. It was Eric Gordon and Derrick Rose and his Chicago team, against Pat Barrett's Southern California All-Stars team with Kevin Love, Daniel Hackett, Taylor King, Brandon Jennings, a sophomore Renardo Sidney. And they won by two points or something. Derrick and Eric were unbelievable. It was one of the greatest summer league games ever.
Then there was a year of separation. He went to Oak Hill. I didn't talk to him for a year.
Then that fateful call. I flew to New York as soon as I got that call. I wanted to be part of that.
Tell me about the fateful phone call.
I hadn't seen him in a year. That was the first thing. It wasn't like we were continuous, like everybody thinks it was. Then he said I'm in New York. [Vaccaro's wife] Pam and I were going to the draft the next day. So we flew and met Brandon in an Italian restaurant.
Just a coincidence that -- as you embark on sending him to Italy -- it was an Italian restaurant?
No. Most of my restaurants are Italian restaurants. [Laughs].
Turned out to be prophetic.
Yes it was.
You have to understand. That was right before the NBA draft. I kept saying: Do you know what you're doing? They're going to beat you up. And then when you say that I'm the guy who is handling all of this, you're going to get double indemnity here. The two of us ... a perfect couple for Vogue magazine, you know that!
I think I was a little proud that he asked me to do this. That he believed in me.
Had you shared with him in advance that going to Europe was something he ought to consider?
He heard it on the radio! I never spoke to him about it. He heard me say it on the "Loose Cannons" radio show I used to be a regular on. I had nothing to do with Brandon's decision.
I had been preaching "Go to Europe" since David Stern put that stupid rule in. And then he heard me and called me.
It's too simple for skeptics to believe.
I told him they were going to kill him.
We did everything, Pam and I. I did the shoe contract, I did everything. Duff [Agent Bill Duffy] came on in January.
Brandon, me, and Alice, and [Jenning's half-brother] Terrence, and my wife Pam, we walked this walk together. And that's what people don't understand. And to see this happen now. You have to be inhuman not to feel good for him.
I don't know what's going to happen. But one thing we can say, Henry Abbott, there's no more questions about whether he can play basketball. All the great coaches, all the great commentators, and all the great universities had nothing to do with it.
Why Italy, by the way?
Well, because we went to Las Vegas. Right after the draft, as you know, they all go to the Summer League out there. ... He started working out at the Tarkanian gym, and then I got these teams, reluctantly, to come watch. The Italians were really really interested. I met the general manager, and he worked him out personally. The first day, there was great interest. So the Israeli people come. The Russian people come to meet the next day at the games over in the gym, and they wanted to have workouts.
And by the afternoon of the second day, the Italian team had made, to paraphrase, an offer that we couldn't refuse.
I said Brandon, this is a lot of money. We can work out for the Israelis, the Russians, the Greeks. But s---, this is a lot. This is a lot! Let's go for it.
They were good. We met, and we got the deal done, and everything they said it was going to be, it was. They called the coach up, who was in Greece for the World Championships and all that sort of stuff, so they really wanted him. They recruited him, and we never really entertained much else. Two days after that I saw these other guys in the gym, and I said we made a deal.
Basically, the money was great. And Brandon had an affinity for going to Rome. If nothing else, Rome is an international city. A lot of Americans go through it. It has such history to it. The amenities were great. The living quarters, the car for the mom, the school for the brother -- they paid tuition, $25,000 for his brother to go to a diplomat's school -- all the things were good. And it was the highest level of European basketball. That was basically it.
And then we did the shoe deal. I talked to all the shoe companies, they Under Armour stepped up, and I think ... he got the fourth best shoe deal last year, I think the money he's earning this year, is more than what any rookie got this year. I don't know that the other people all got, but Brandon's is pretty damn good. And Under Armour stepped up.
We had the stars and the moon, everything lined up. They were a new company, and he's dynamic, and we go to Rome, and have a beautiful press conference overlooking the city.
I think the one thing that really helped a lot was the honest look that
Bryant Gumbel did on Real Sports
. I think Bryant helped defray the negative stuff that was coming. And I think
Chris Broussard went over there
, and Brandon was the leading scorer in the exhibition season. That was the irony here. Then his coach went brain dead on me [and played Jennings in a limited role].
That happens.
It all happened. But the public didn't know that. They just know he didn't go play for Lute Olson.
Moreso than Kobe and all those guys, he's demonized. Because he took the European route. In the eyes of a public, he was a failure. But in Brandon's eyes, he wasn't. He learned. And that's why, of all the kids, through all the things ... Obviously, my life has been blessed, and every one is special in their own way, but I think I feel better personally, my wife and I, about the outcome of Brandon Jennings to this point then all the other ones.
Because the other ones, the landmines weren't there. When Kobe went out of high school, when Kevin went out of high school, when they all went out of high school you accepted it. That was the rule.
This guy wouldn't accept what they told him he had to do.
This is the second in a series. Click to read all three posts in which Vaccaro discusses Brandon Jennings.
July, 9, 2008
7/09/08
12:07
PM ET
Arizona signee Brandon Jennings has decided to make an unprecedented move to forgo playing in college and instead pursue a professional career in Europe next season before likely entering the 2009 NBA draft, Jenning's attorney, Jeff Valle, told ESPN.com on Tuesday night.

"Over the course of the last two months I have consulted a number of people in basketball before coming to this decision," Jennings said in a statement released through Valle. "I would like to thank the University of Arizona for their interest and support through this process." ...

Valle said Jennings will not even wait for his third standardized test result to see if he got a qualifying score after his second test was questioned by the NCAA. The results from the third test are due later this week.

"That's a moot point now," Valle said. "He's not going to the University of Arizona. Brandon plans on going to Europe."

Valle said a number of European teams have expressed an interest in signing Jennings for next season. Valle declined to say which teams and in which countries.

Valle said that the family will consult with Sonny Vaccaro and likely sign with an agent to help facilitate a contract with a European professional team.
Sonny Vaccaro recently talked at length about the importance of a top American recruit heading to Europe. He sees it, as does just about everyone, as the best possible way to stick it to the NCAA, and the NBA's rule banning players straight from high school.
Jennings is a mesmerizing talent who is considered an elite long-term prospect.
But will he be able to help a top European club over the next year -- when he would be a college freshman? It will be a trick for him to get a big deal in Europe, where teams face a lot of pressure to win now, play very intricate offenses, and prefer to develop point guards over several years.
UPDATE: Jonathan Givony is, in addition to the guy who runs DraftExpress, a consultant who advises several European teams on things like which American players to sign and for how much.
Givony says he can't see a top European club offering Jennings more than $100,000. "He's not strong enough and he's not experienced enough to run an elite club. He has a world of talent, and he'll be unbelievable down the road, but experience trumps athleticism and talent every day in European basketball," explains Givony. "I'd be very surprised if a top team offered him more than $100,000, at most, but stranger things have happened. Jerome Moiso just had his best year ever, and averaged seven points a game. He just signed a huge deal in Russia."
Givony points out an important way that Jennings could be valuable in Europe, however. In a year, Jennings will likely be a top NBA draft pick, and whoever drafts him will be only too happy to buy him out of a European contract for $500,000, which is the maximum allowed by the NBA.
So, in theory, a European team could sign Jennings to a longer deal with an NBA escape clause after one year. Then next summer, they could ask for half a million from an NBA team, and potentially even more from an NBA-bound Jennings himself.
In that scenario, paying Jennings more than he's worth for the first year would be easy to swallow, and Jennings could end up with a reasonably big contract.
May, 16, 2008
5/16/08
5:58
PM ET
Can we admit now that, for NBA-bound players, most universities are not the chaste playgrounds of amateurs?
I know, this O.J. Mayo thing is but one set of allegations, about one player. But stick that on top of every other story you have ever heard about high-stakes college recruiting, like David Falk's assertions on TrueHoop:
It's not competition based on merit. It's competition based on improper inducements. I think it's an abomination.
Add what a GM recently told ESPN's Chad Ford:
"If we started eliminating prospects based off of accusations that they've taken money or gifts, there wouldn't be anyone left to draft."
Put it all together with a big pinch of salt, and ask yourself: At what point do we stop assuming that more time on college campuses means more good influences on elite athletes? Yes, education is great. But when a big part of that education is in in under-the-table dealing, at some point it's better for your character just to move on into the world of the honest paycheck.
Also, I think it's important to realize that there has been a shift. It used to be that if you were talking about people giving athletes special treatment, you were talking about people giving athletes special treatment on behalf of a school. You know, boosters, alumni and all that.
For all I know, that's as rampant as ever. Really not an NBA issue, and I don't hear much about it.
But the stories I hear these days seem to be more and more about agents and financial advisers cozying up to young players.
In many cases, these people probably don't care much about where or if players go to college. Let's assume for a moment that Louis Johnson's version of events is gospel, and that Rodney Guillory was, as alleged, paid to steer Mayo to BDA Sports. So long as he winds up at BDA Sports, he could spend the intervening year in Australia, or on the moon, and the agent's investment would still be worth it.
It's a new day, and from where I'm sitting, the corruption that's a concern now isn't even necessarily a story about college basketball anymore. It's a story about the culture of basketball generally -- from junior high to retirement from the NBA.
What can anyone do about this?
I don't really put much stock in trashing the likes of O.J. Mayo. Poor teenagers, offered cash, a TV, a phone, or whatever will often take some. I'm not sure that's indicative of any great cultural failing.
However, I am very worried that a lot of people surrounding impressionable young athletes are not there for the right reasons. And I think it does affect the state of our game. How many top athletes "get on the wrong track" and never pan out?
How many of those people had the best mentors and role models in their lives -- some math teacher perhaps, a friend, parent, whomever -- crowded out by someone deadset on being close to the kid to make a buck?
The quickest fix is not likely. But athletes could do themselves a big favor, I'm convinced, by listening to Marc Isenberg. He's the guy who wrote the book Money Players, on how athletes should manage their your own business affairs. Isenberg says on his blog what a lot of the smartest NBA people say -- don't take the money:
I tell athletes, hypothetically, if the NCAA said tomorrow it was no longer a violation to take extra benefits from agents and runners, I would still argue strongly that they absolutely should not accept their money. The reasons have been discussed ad nauseam on this blog. Most important, when it comes time to select an agent, I want athletes choosing the best agents based on merit, not illicit relationships and benefits.
Give up a little cash up front, and over time the basketball world gets a market of solid agents, financial advisers, and experts who are lining up to deliver players the best possible services. Good trade.
A longer fix, I think, is for there to be a real minor league system where top players can be developed while being legally paid something that might come close to approximating their value. (It might seem like blasphemy to your typical college coach, but maybe removing elite, NBA-bound players from the educational system would be helpful to colleges too; they'd be left with the players who wanted to go to college and weren't as interested in being paid.)
If such a minor league never really emerges, if I were a top graduating high-schooler, and the NBA kept up its ban, I'd sign a short-term deal to develop under a top coach in Europe while being paid handsomely.
Will Sonny Vaccaro help us understand?
There are various investigations underway from the media, the NCAA, and whoever else. Everyone is trying to piece together this and that. But you could probably do worse than to talk to one of the most powerful men in sports. If I could dump truth serum into anyone and get them to talk to me about this whole O.J. Mayo story, I'd pick Sonny Vaccaro.
He's not close to every top basketball player. But he's close to this one.
He's in Kelly Naqi's article a little, seeming close to all involved. For instance:
[Louis] Johnson added that Guillory and Mayo were supportive of him while his troubles with the law were adjudicated. During that time, he said, their friendship was truly validated at a dinner at the Calabasas home of Sonny Vaccaro, the former shoe company executive. There, seated at the table along with Guillory, Mayo told Vaccaro, "Lou is family." Vaccaro didn't respond to an interview request.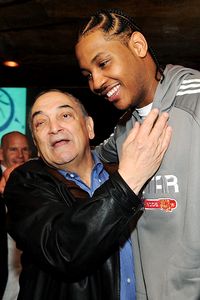 Dan Patrick did talk to Sonny Vaccaro (or here) and Vaccaro used his airtime to savage the NBA's age rule that forces elite players into the NCAA. I'm with him on that one.
But other than that Vaccaro was vague, beyond saying a few times that he had to believe "the girl" -- reporter Kelly Naqi -- had done her homework.
If Vaccaro's serious about cleaning up the game -- and he talks at times like he is -- I wish he would come clean about his knowledge of the inner workings of this Mayo deal, and how it relates to the broader industry.
First of all, let's take the birds' eye view. What you have, in the big picture, are agents who need some way to get into the hearts of players who are scattered all over the country, and are generally prohibited from even talking to those players.
So they need intermediaries. People who will take the time to get to know the kids, and to befriend them, while seeing to it that when it's agent-choosing time, the kid chooses the right agent.
Those people are called runners, and there's a whole industry of running players here, there, and everywhere.
Now, if I wanted to know all about the relationships between alleged runner Rodney Guillory, Mayo's agent at BDA Calvin Andrews, and O.J. Mayo, I'd want to talk to the powerful insider who is close to everyone involved: Sonny Vaccaro.
What kind of relationship do Sonny Vaccaro and Mayo have? They described each other two years ago in a Thayer Evans New York Times article: "Vaccaro said he had a 'very close' relationship with Mayo. ... 'Sonny's kind of a man in the back,' Mayo said. 'He handles a lot of business for me that I don't really know about, not just as a basketball player.'"
Runners are typically people who live near the player they court. Makes sense, right? But Guillory and Mayo lived far from each other. Mayo is from West Virginia. Guillory is from Southern California. So, where would two people like that meet? According to Naqi's report on ESPN.com, the two met at Vaccaro's ABCD camp in the summer of 2003.
In Vaccaro's interview with Dan Patrick, Vaccaro says that he was present with Guillory and Mayo when BDA sports made their presentation. Vaccaro says "we" met Duffy's firm. As in, Vaccaro put himself in the group with O.J. Mayo and Rodney Guillory.
Before he became an agent, Calvin Andrews was an AAU Coach in California. The Slam-N-Jam program he founded has featured high-school players from all over the country like Chauncey Billups, Drew Gooden, Leon Powe, and LeBron James. When Vaccaro was at Adidas, Adidas was a key sponsor of Slam-N-Jam. (A small related point: When Vaccaro retired from Reebok -- which was acquired by Adidas -- complicated huh? -- Vaccaro was replaced by Chris Rivers, who has identified both Sonny Vaccaro and Calvin Andrews as key mentors.)
That picture above, of Sonny Vaccaro and Carmelo Anthony, was taken at a BDA event at this year's All-Star Game. It happened to be one of the first pictures that popped up. But it's relevant, because all kinds of people saw Vaccaro and Rodney Guillory together that weekend.

Calvin Andrews' most prominent client, of course, is that very same Carmelo Anthony. O.J. Mayo got in a little bit of trouble for taking NBA tickets apparently from Anthony.
Don't we all just want to know what really happened here? Just seems to me that when you talk about Rodney Guillory, Calvin Andrews, and O.J. Mayo, you should also talk about Sonny Vaccaro, who would appear to be in position to be extremely helpful in connecting some dots.
Given the opportunity, I, for one, would be happy to talk to him.
Is anyone going to get in real trouble here? Do agents and the like ever really get in serious trouble?
I'm no expert on this, and would generally tend to assume not.
Naqi says: "It is a misdemeanor in California for sports agents or their representatives to provide cash or gifts to student-athletes."
Isenberg and other experts have weighed in, and none of that sounds too scary.
Not to mention, at this point, I have seen no real indication that law enforcement is even all that interested.
However, I have talked to some people who actually know about the law, and they point out that the allegations of charities being abused could make this an atypical case. Speaking generally, when people abuse charities, potential charges like money laundering, tax evasion, wire fraud, and oodles of other legal unpleasantness can enter the discussion.
Also, when it comes to state law, it's not clear that California is the state you'd be worried about. If you read that Naqi report closely, Louis Johnson says that the money allegedly from BDA dried up about the time that Mayo left high school. That means the alleged violations occurred when O.J. Mayo was still in West Virginia.
And West Virginia law is pretty harsh on sports agents.
In that state, it is a felony for an agent to provide anything of value to an athlete or anybody else, as part of an attempt to lure that athlete to sign with you. From the West Virginia Uniform Athlete's Agent Act:
§30-39-14. Prohibited conduct.

(a) An athlete agent, with the intent to induce a student-athlete to enter into an agency contract, may not:

(1) Give any materially false or misleading information or make a materially false promise or representation;

(2) Furnish anything of value to a student-athlete before the student-athlete enters into the agency contract; or

(3) Furnish anything of value to any individual other than the student-athlete or another registered athlete agent.
Later it says the penalty for violating this section is a fine of up to $50,000 and one to three years in a state correctional facility.
(Photo: Jennifer Pottheiser/NBAE/Getty Images)
August, 31, 2007
8/31/07
2:35
PM ET
It's a pretty long speech. I'm listening right now. Fascinating stuff. (Gets in a pretty amazing dig at David Falk too.)
UPDATE: At the end, Vaccaro takes a question about street agents and "Wes Wesley." Vaccaro won't speak about William Wesley directly, but he says essentially that if there are people influencing players inappropriately on college campuses, the coaches should be held to account. And he adds that the shoe companies don't give a hoot how they get the players. They just want the Kobe Bryants and Kevin Durants of the world.