July, 3, 2009
7/03/09
10:21
AM ET
Ron Artest supplants Trevor Ariza as the three-man in the Lakers' triangle. Celtics fans bid a wistful farewell to fan fave Leon Powe. And is Paul Millsap the right guy for OKC's front line?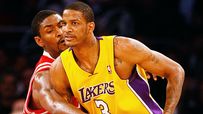 Rob Mahoney of Hardwood Paroxysm: "[Ron] Artest only makes sense offensively in situations where his skills can be utilized without damaging the team concept. Los Angeles, home of the triangle offense, is not that place. Artest's tendency to stop the ball, throw possessions into the wind, and take what can only be described as 'Ron Artest Shots' can't fly well with Phil [Jackson], with Kobe [Bryant], with Pau [Gasol], with Tex Winter, or with just about anyone who has come to know and love (or at least respect) the most dominant offensive unit in the game. The Lakers ... were able to dissect a fantastic defensive team in the Finals because the talent was there and the system was there. Artest brings plenty of one, but substitutes the other for generally poor basketball IQ and the possibility of going bonkers at any particular time. Sweet. On top of that, the Lakers seem to be severing their ties with Trevor Ariza. Signing Artest is doing more than showing Ariza the door. It's pushing him out, throwing his stuff out on the lawn, and handing Ron a molotov cocktail ... The true delight comes in the fact that Ariza could function within the system at a level we can never expect Artest to. Trevor made a habit out of deferring on offense, and perfecting a few offensive skills in his ability to hit the three from select spots and his tremendous finishes ... This team clearly competes at a different level with Ariza on the floor, and that's a credit to just how hard he's worked on his game."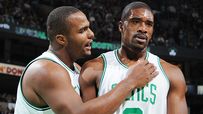 Zach Lowe of Celtics Hub: "I really hope Leon Powe knows how much Celtics fans like him and will miss him. We all know why that is -- the well-documented childhood difficulties, the never-ending series of knee injuries that seemed to happen right when he was turning a corner, and the way Leon responded to all of it by working even harder. He's a bit of a cliché fan favorite, actually -- the scrappy role player who overcomes personal and professional obstacles to contribute to a championship team. But let's talk about basketball. There was something that drew me to Leon Powe from the moment I saw him play: He's a bit awkward ... Leon is not pretty to watch. You see -- almost feel -- every bit of effort it takes him to put the ball on the floor, lower his shoulder into a taller defender and flick a one-handed shot toward the rim. He can't leap much without a head of steam, and he's not quick or explosive enough to beat his defenders with spin moves or dribble-drives ... He often pushed off with his left hand to create the minimal space he had. Every time he attacked the rim, I cringed, expecting an offensive foul. The shots, once released, look a bit like blind tosses toward something approximating the correct area of the rim or the backboard. And they always seem to bounce around the rim and off the backboard before going down. And they went down 52 percent of the time, and 57 percent of the time in the '08 championship season ... He is a graceless, below-the-rim player for the most part, and I love him for it."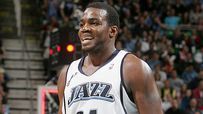 Royce Young of Daily Thunder: "I think the organization sees Uncle Jeff [Green] as its power forward. But if they sign [Paul] Millsap, I guess we'll know they think differently. Unless of course Millsap is being signed just to take Nick Collison's spot, which would be great if the Thunder could sign Millsap for the same money they're paying [Nick] Collison. But that probably has about as much chance of happening as me getting a 10-day contract. Millsap is a nice player. He was excellent in Carlos Boozer's absence last year and that great play earned him what's sure to be a nice contract. But the Thunder's fairly stacked at power forward. Of course there are Green and Collison, but what about D.J. White who played just seven games last year? White looked pretty darn good in those games and with some added weight and a little refining, what's to say he's not going to be an excellent backup big man? Or even Serge Ibaka? He's coming over and playing in the summer league. Maybe he blows management away and makes the roster as an extra big. Now you're jammed full of power forwards, but one of them you just signed for five years and $40 million. To me, signing Millsap isn't a very [Sam] Presti-like move. It seems like a rushed, let's-get-better-right-now move instead of the planned, calculated progression Presti has had since he took over. Signing Millsap would make you either take some clothes to Goodwill or make you completely rearrange everything."
THE FINAL WORD
Bucksketball: An open letter to Detroit fans, re: Charlie V.
The Two Man Game: Welcome to the Big D, Marcin Gortat.
Orlando Magic Daily: A concrete-heavy photo tour of the Magic's new home for 2010-11.
(Photos by Jeff Gross, Steve Babineau, Melissa Majchrzak/NBAE via Getty Images)
April, 26, 2009
4/26/09
6:37
PM ET
The bond between coach Tex Winter and writer Roland Lazenby has to be about as persistent, meaningful and honest as any in basketball.
And today, as the 87-year-old coach struggles after a stroke, Lazenby writes a must-read post on his Lakernoise blog about Winter. Here's just one poignant part:
As Tex lies in a Kansas hospital fighting for his life after a stroke, I hope NBA people stop and contemplate just what he has meant to them, meant to the game. I hope all the players who ever played for him stop and think about what his honesty did for the game itself.

Ditto for the coaches who gained so much from association with him.

I hope they stop and think today about Tex's honesty.

And while I'm offering that advice for everyone else, I'm going to try and take a bit of it myself. Tex spent a lot of time trying to educate me. I'm sure he often thought I was a lost cause, but he never lost patience with me.

The things he told me often got him into trouble. And team "officials" were always trying to get him not to tell me the things he did. But he never wavered in the face of that pressure.

The truth has a sting to it, a deeply burning sting. Tex knew that. He knew that when he said certain things, it was going to cost him.

The great irony of his life is that if he hadn't told the truth, he might have played the political games that made it much easier to get into the Hall of Fame. But if he hadn't been such a truth-teller, Tex wouldn't have been so deserving of Hall of Fame recognition. And, boy, is he ever deserving.

Yes, he was a great coach, and his old-school triangle offense has defined success in the modern game of hoops.

But his primary product was the truth.

And so, Tex Winter is simply too good for the Hall of Fame. It's a place populated with frauds and credit-takers.

Tex is in another Hall of Fame, one a million times more exclusive and far more important. He's in the truth-tellers Hall of Fame, where the population is only the very few truly good ones.
October, 16, 2008
10/16/08
5:48
PM ET
Roland Lazenby is the author of one of my favorite basketball books, The Show, which is an oral history of the Lakers. He is writing a book about Jerry West for Random House. He just talked to Laker consultant and coaching legend Tex Winter, and offers the following insight about the current Laker team.
Tex Winter has always admired how Phil Jackson will keep his thoughts to himself. He takes counsel and advice from his assistants, but Jackson hardly ever lets them know what he's thinking.
That trait has kept Winter busy searching Jackson's demeanor for clues over their two decades of coaching together.
"Phil doesn't let you know what he's thinking," Winter said. "That's a good way for a head coach to go about his business."
Having said that, Winter has better hunches about Jackson than almost anyone.
While the basketball world seems to be speculating on when and where the Los Angeles Lakers will trade forward Lamar Odom, the 86-year-old guru has another take on Jackson's intentions.
Winter thinks Odom will once again wind up starting for the Lakers this season.
"Odom has looked a lot better recently," Winter noted this week. "Thank goodness.
"He's a player. It's a shame when we don't get anything out of him. It hurts our team. But I wouldn't be surprised to see him back in the starting lineup."
It's obvious that among Jackson's many chores in putting the Lakers together in training camp is to find a way to get more out of the very talented, mercurial Odom. That certainly explains Jackson's "mind games" in asking Odom to come off the bench.
It's Jackson's way of challenging him to be more productive, more consistent, a problem that became obvious in June's championship series between the Lakers and Bostosn Celtics.
"I don't really know who's going to be starting," Winter said. "But it's just like Phil to search things out like this. But I think Odom will be in the starting mix."
Another of Jackson's decisions involves trying to use 7-footers Andrew Bynum and Pau Gasol together, a lineup that leaves Winter skeptical.
"I don't know if the twin towers has ever been effective, has it?" he asked. "It kind of puts one of 'em (Bynum or Gasol) out of position, particularly defensively. That's what makes it tough."
The lineup seems even more problematic when you consider the fact that Jackson is trying to improve the Lakers defensively.
Former Bulls GM Jerry Krause recently called Winter one of basketball's few geniuses.
Winter, the longtime aide and mentor for Jackson, had these other observations about the Lakers in training camp:
• The Trevor Ariza Prize: "Ariza has been by far our best player. He's looked pretty good throughout camp. He's not a great shooter, but he's got lots of energy and length. He really picks us up."
• Legs, Legs, Legs: He wonders if Kobe Bryant's legs aren't worn out. "I don't know whether he's tired or those legs are dead. He's been on those legs a long time with the playoffs and then the Olympics. They might be dead."

Winter, a consultant, had hoped to remain with the Lakers throughout training camp, but he's taking himself out of action. He says the shingles that have plagued him the last few seasons have required heavier medication.
For years Winter has been immensely important to Jackson, but Winter thinks the medication has limited his usefulness. So he plans to return home to Oregon to look for treatment that doesn't involve such heavy medication.
When it comes to straight-shooting, old-time basketball gurus, Laker assistant Tex Winter is right up there near the top of the list.
Yesterday he took some time to talk to me about these NBA Finals, and he had plenty to say -- for instance he blamed Kobe Bryant's inefficient offense on poor shot selection, saying the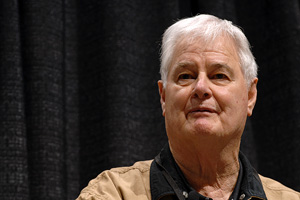 defense had little to do with it.
On Kobe Bryant's decision making, and his matchup with Ray Allen:
Ray Allen has always been very good against Kobe, particularly offensively. Kobe has had a tough time covering him. He has a hard time paying attention to him, but you really have to, with Allen, because he's moving a little bit like Hamilton in Detroit. He's running around a lot of screens, doing a lot of moving, and if you don't pay special attention, he's going to hurt you. And Kobe is the kind of player, he likes to see if he can help a little more, try to come up with steals and someone like Allen can take advantage of that.

I don't think Ray Allen's defense is much of a factor against Kobe. He's getting shots. He got shots in the first ball game. When he took the high-percentage shots, he hit a high percentage. But down the stretch he took some very low percentage shots, and he shot a low percentage.

I think it's just a question of decisions on Kobe's part.

But Ray Allen is a good defensive player. He's a good all-around player.
On Laker adjustments for Game 2:
I feel like it's a learning process, these seven game series -- even though it might not last seven games.

It's a process, and I think that we're taking it in steps. We certainly learned from the first ball game. We knew from our scouting reports and so forth pretty much what to expect, and I don't think there were too many surprises. There are things that during the course of a ball game, in a matchup situation, that you do learn, and make adjustments do.

You have to, as you go along.
On which team should be considered the favorite to win this series:
I think it'll be an interesting series. It's a little early to point out who should be the favorites. With the format and the 2-3-2, it's important for the home team to win their two ballgames, because they've got three on the road.

But I don't think they're going to lose three on the road, though. As good a team as Boston is, even if they do lose one here, I think they're good enough that they're not going to lose three in a row on the road. So then they're back home for two.

It's a cat and mouse game. It's tough. It's hard to predict really, what'll happen.

What I'm saying is, I guess, that we really need to get one on the road.

This could be a critical game for us.
(Photo by Juan Ocampo/NBAE/Getty Images)
October, 18, 2007
10/18/07
12:37
PM ET
Yesterday, Roland Lazenby told us some interesting stuff about the Lakers. (He is quite a guy. He wrote the book on the Lakers, sometimes runs a Laker blog, edits Lindy's Pro Basketball Annual, and does a lot of interesting things associated with the journalism classes latest insight he teaches at Virginia Tech). Lazenby just emailed some more thoughts:
When Kobe Bryant first began speaking out after the Lakers flopped in last year's playoffs, longtime Phil Jackson assistant Tex Winter figured that Bryant had to speak up.
Bryant was the only player with the power and status to make a statement. Plus, Bryant had earned the right to speak. He'd poured his heart into the team for a decade, by all accounts working harder than any other NBA player, and much harder than any other superstar. Who else besides Bryant could challenge the team's obvious personnel shortcomings?
The only problem was, Bryant has been too emotional, too angry about the issue. Each time he has spoken out, the communication hasn't been good. It has been terrible in fact, and he has angered a lot of people, including owner Jerry Buss. Winter agreed that Bryant should speak up, but like many others, the veteran coach was upset at how Kobe went about it.
Jerry Buss' recent comments reveal just how angry the owner is at being publicly challenged by his star player, and Bryant's response of sitting out three days of practice have again proved disastrous. They've irritated his ally, Phil Jackson, and they've confused fans and media alike. It appears to be another childish response, as Bryant's critics have quickly pointed out.
Perhaps Kobe needs to wear one of those WWJD bracelets. You know, What Would Jordan Do?
Facing a similar disconnect with the Chicago Bulls "organization" in 1997-98, Jordan allowed his play to do his talking. The team won, and winning trumped all other answers. In 1998, Jordan had an angry, injured Scottie Pippen as a teammate, and the Bulls struggled until Pippen found some health. Kobe, alas, doesn't have the veteran, accomplished team around him that Jordan did.
But he still has to try to answer with winning.