November, 4, 2013
11/04/13
12:56
PM ET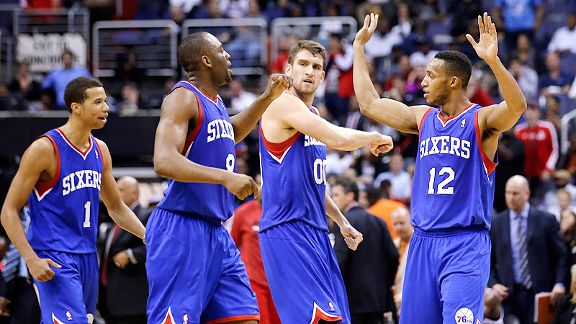 AP Photo/Alex BrandonThe 76ers' 3-0 start is a problem for their long-term goals. That, of course, is the real problem.
The
Philadelphia 76ers
are rolling, and the
Phoenix Suns
and the
Orlando Magic
look like a couple of very respectable teams. Their collective success might even suggest that the phenomenon of tanking doesn't exist. After all, playing two of your first three games against a pair of Eastern Conference favorites is an easy excuse for any team that wants to lose intentionally.
But the Sixers rejected the easy out. They smoked two of the best defenses in the NBA for a combined 221 points.
Michael Carter-Williams
, the No. 11 pick in the 2013 draft, came into the league as a guy you could find a reason to like if you wanted to but not exactly franchise point guard material. He was fearless -- historic, even -- in his debut. For the past two seasons, whispers of "bust" have followed
Evan Turner
. Now he looks like the heady triple threat he projected to be. Using his size and mobility to look like the league's most lethal pick-and-pop monster? That'd be
Spencer Hawes
. Thad Young, meanwhile, is the paragon of efficiency out on the wing.
So, now the Sixers are 3-0 and the NBA's unequivocal feel-good story of the 2013-14 season's opening week. A team whose over/under
professional bookies placed at 16.5 wins
is nearly 20 percent of the way there. Even pessimists can now imagine this team logging a win total in the 30s, especially if Carter-Williams puts up Lillardian numbers and Turner and Hawes continue their late blossoms.
And that would be great, wouldn't it? The team that some had pegged to challenge the 1972-73 Sixers who went 9-73 ends up more than doubling its projected win total and beating out teams with far greater expectations. In a just world, there would be a reward for this kind of overachievement.
Only, the conversation surrounding the undefeated Sixers is a more sober chorus of "Now just hold on there for sec." Rather than celebrate the improbable, we have to examine its implications, as if Philadelphia has swallowed an opiate that makes it feel great in the moment but has long-term side effects.
Writing for TrueHoop after Saturday night's win over Chicago,
Hoop76
's Eric Goldwein cautions that the ramifications of early success, however relative,
could muck up a perfectly good plan
:
They're not even close to contending with contenders. But as currently constructed they're not finishing at the bottom of the standings, either ... As strange as it seems, this roster might be too good -- and more importantly, too well-coached -- to lose 50-plus games.

This all puts [GM Sam] Hinkie in a tough situation. Winning breeds confidence in a way no other form of training can duplicate. It's good for morale. It's good for development. And it's good for the franchise's reputation.

Every game the Sixers win, though, is a major blow to their most valuable asset: their 2014 first-round pick. Keep the roster together, and they could land in the middle of the pack.
On Monday,
Kevin Pelton writes
that the best thing about the 0-3 start isn't the confidence and pride it might breed in Carter-Williams, Turner and Hawes but rather "the potential to raise the trade value of the team's remaining veteran starters -- Spencer Hawes, Evan Turner and
Thaddeus Young
."
The problem isn't that these critiques of the Sixers' 3-0 start are wrong -- it's that they're right. The only way for the Sixers to profit from the success is to part with the players who created it because, in real-world terms, a team such as the Sixers will be punished: Congratulations! You've surpassed our wildest expectations. You outplayed teams that were assembled with the express purpose of qualifying for the playoffs. In exchange, we will make it less probable that you will get your selection of the best young talent in June's draft class and give it to those other teams. Here's the No. 12 pick instead.
Somewhere along the way, the
existence
of tanking became the nub of the debate, but whether teams are actively engaged, partially engaged or only benignly engaged is irrelevant. Addressing "tanking" has always, at its heart, been about creating incentives for winning basketball games, for fostering an environment in which, this morning, a Sixers fan (or player, or general manager) can wake up, smile at finding "Philadelphia" atop the Eastern Conference standings and not have to see those three wins as Pyrrhic victories, or a down payment on a lesser draft pick, or just plain stupid because everyone knows you don't try to win until it's time.
May, 23, 2012
5/23/12
4:19
PM ET

By Beckley Mason
ESPN.com
Archive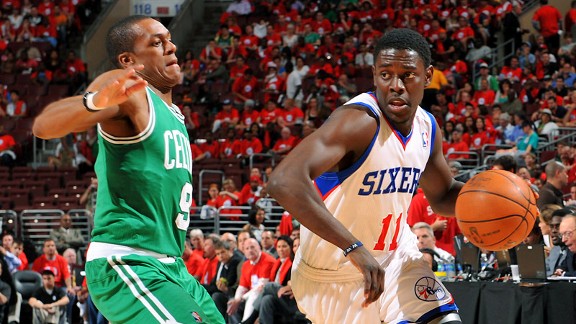 David Dow/NBAE/Getty ImagesWhen he gets a chance, lightning quick Jrue Holiday can be a problem for Boston's defense.
The Boston Celtics had a better regular-season record than the Philadelphia 76ers and feature three future Hall of Famers, a championship pedigree and some guy named Rajon Rondo.
There is a reason they were the favorites to squash the 76ers.
But one thing the Celtics are not is young and athletic, especially with Avery Bradley, who leads Boston in both departments, nursing an injured shoulder.
Philadelphia, on the other hand, has some of the best athletes not just in this series but in the entire league. Jrue Holiday, Andre Iguodala and Thaddeus Young are in an elite stratosphere of athleticism where soaring,
did he really just take off from there?
, one-handed fast-break dunks are possible.
Yet Philadelphia's advantage in athleticism has hardly come to bear in its second-round series with Boston and it now trails 3-2. Part of the problem, of course, is that Boston -- when Rondo isn't inventing a new hoops language in the fast break -- has a way of forcing teams to play its grinding style.
But the other half of the equation has been Doug Collins and Philadelphia's willingness to play Boston's game, rather than abandoning certain regular-season principles to exploit the Sixers' one advantage and tilt the game in their favor.
Run, don't walk
When Holiday and Iguodala get rolling in the open court, they become a watered-down version of Dwyane Wade and LeBron James -- two phenomenal athletes who can start the break with a rebound or steal and are just as likely to finish the break with a thunderous dunk as they are to make the assist.
The 76ers have converted reliably off of turnovers and run-outs, but they still miss out on all kinds of early-offense opportunities by routinely walking the ball up the court.
Because Boston doesn't even try to get offensive rebounds, the Celtics typically have plenty of bodies back. But early motion from sprinting 76ers can foul up the Celtics' defensive organization, yielding early mismatches and four-on-four-type situations that the 76ers can attack.
Instead of immediately looking to set up the offense, the first five seconds of the shot clock should be "Jrue time," in which he pushes the ball to probe and pressure the Celtics before conceding to a five-on-five, half-court possession.
The 76ers turned the ball over less than any other team during the regular season, which is a result of the design of Collins' half-court offense. But 14 of their 15 Game 5 turnovers were in the half court, where Boston's smart defense can cut down angles and passing lanes. Perhaps counterintuitively, the 76ers can play a cleaner game by rushing a bit.
Spacing
The 76ers' continuity offense relies on a lot of dribble handoffs and side pick-and-rolls. These are great for getting big men open 17-footers, but they don't produce a ton of drives to the basket because the Celtics -- after five games -- know the pattern and because the weak side is rarely properly spaced.
For instance: one one-dribble handoff in Game 4 gave Holiday a sliver of daylight to blow past his defender -- except the other three 76ers were all standing within 15 feet of the paint!
More high pick-and-rolls in the middle of the court for Holiday may be a simple solution.
The Celtics defend side pick-and-rolls as well as anyone this side of the Bulls. So keeping the ball in the middle, with shooters like Iguodala, Lou Williams and Jodie Meeks in the corners, can give Young -- who is easily the best pick-and-roll dive man at Collins' disposal -- the space he needs to slash to the rim. With three shooters on the court in Game 4, Young's fourth-quarter dives yielded dump offs to Lavoy Allen for layups as Boston's wings arrived late from their rotations off of shooters.
There's also the issue that a continuity offense like Philadelphia's -- as opposed to San Antonio's "
motion weak
" set -- can rely on non-playmakers to break down the defense. A more spread drive-and-kick attack will let Philadelphia's big men besides Spencer Hawes do what they do best: finish.
Less Evan Turner
With spacing in mind, it's time for Collins to take a real hard look at severely limiting Turner's minutes. Aside from his heroic driving layup at the end of Game 2,
he's been terrible in this series
. His playoff PER has dipped to 9.7, but he's still playing 35 minutes a game in Round 2.
This is great news for the Celtics, who have gleefully abandoned Turner on defense any time he is more than 10 feet from the rim. He's making 24 percent of his midrange shots while making only 40 percent of his rim attempts, because -- though he's reasonably athletic -- he's had a real hard time finishing with Kevin Garnett and Greg Stiemsma waiting for him at the rim.
Turner often looks like a good player -- he's got all the moves. He will spin and cross over and generally look like a genuine scorer, except the ball hardly ever goes in and he doesn't work his way to the line all that often. The Celtics' defense was designed to handle iso-heavy scorers like Kobe Bryant, so suffice to say it works pretty well when Turner decides it's "iso time."
But his individual ineptitude is just the start of the problem. Because he can't shoot, his presence makes it harder for Philadelphia to get the floor spacing it needs. One dimensional though they may be, at least Meeks and Williams demand attention outside the paint, which makes Holiday and Iguodala much more difficult to defend in pick-and-rolls.
Whenever Philadelphia has three viable 3-point shooters on the court, its athletic guards have more space to attack and its clever big men have room to make those nifty interior passes.
Can Doug Collins adjust?
The 76ers play a very, very controlled style and this is a deliberate result of coaching. Collins says he wants his guys to make plays (he famously
told Jrue Holiday to make it happen
in the Chicago series) but his continuity offense doesn't always put them in position to be their best.
Focusing on getting everyone up court immediately and then freelancing for early pick-and-rolls and dribble attacks -- basically what the Denver Nuggets did against Los Angeles -- might be a solution.
The problem is that Philadelphia has a lopsided roster, with fast, dynamic wings and some slow, plodding big men. Specifically, Hawes and Elton Brand, their best big men during the regular season, aren't equipped to play a style that relies on speed and athleticism. The continuity offense fits them well, but in this series it's been the more athletic combination of Allen and Young that's really given Boston trouble.
At this point in the season, it's a tall order to ask Collins and the 76ers to overhaul the focus of the offense in time to pull off an upset.
But they are the underdog, and making such adjustments is what underdogs often have to do to exploit whatever advantage they can claim, rather than simply relying on what got them to this point. It's a risk, but the bigger risk is doing nothing.
December, 29, 2011
12/29/11
11:29
AM ET

By Ethan Sherwood Strauss
ESPN.com
Archive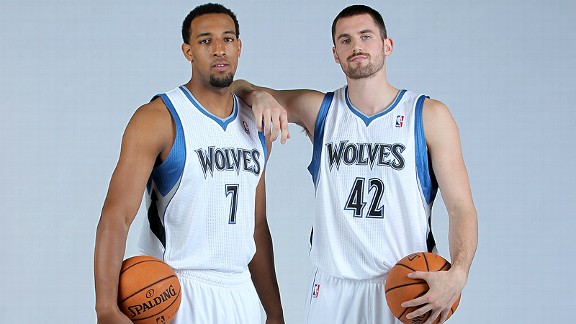 David Sherman/NBAE via Getty Images Kevin Love and Derrick Williams have different listed heights
Stumbled across this when I
wrote of Dwight Howard as a 6-9 center
. Some of you just could not accept the recorded fact that
Dwight Howard is six-foot-nine
. This, despite a link to evidence of Howard's barefoot height. I was astounded, perplexed and in search of even more synonyms to describe a state of utter confusion, shock, and befuddlement. We have his pre-draft measurements--
his pre-draft measurements!
Why do you insist on listening to some sorcerer's
Magic listing
?
Others believed that barefoot height does not matter because "in shoes" is the favored metric. I've heard it before, the argument goes: "They
play
in shoes." I can be sympathetic to this logic line--for a second.
In-game Dwight Howard may well tower to 6-11. But, do we record NFL player height "in helmet"? Do we weigh boxers "in gloves"? Do we act like jockeys are centaurs and measure them "on horse"? Of course not, because there is no need to tweak traditional human measurements.
Moreover, there are those who aren't listed "in shoes." I asked around for some names of infamous height liars, and many thought Kevin Durant shaded short at 6-9. It turns out KD is just the victim of being a truth teller in a liar's world. Per his draft combine, Durant
really is a barefoot six-feet-nine-inches
. But how are fans supposed to believe KD when he dwarfs a "6-9" guy who is 6-6 in real life? This is the problem with allowing a flexing metric to govern our perspective.
The good news: We have more accurate information on player height than ever before. Draft prospects used to get measured at the NBA's pre-draft camp, an experience that was bundled with an intensive five-on-five drill. Many players eschewed the camp's game action, so they also went unrecorded.
Starting in 2009, the NBA Combine allowed for athletes to undergo a physical while engaging in less strenuous drills. From that point forward, the data filled out--save for the occasional European prospect.
After the draft, teams got to (and get to) determine the height of their employees. This is what you see on the player card, and this is what largely informs the public idea of how tall a player is. There is a yearly physical to keep tabs, though teams rarely make changes. For example, the Warriors informed me that Andris Biedrins is their only player to receive a height alteration over the last decade, due to a spurt that took him from 6-11 to 7-0.
While I believe that teams are mostly honest in their height-recordings, the arbitrary "shoes or no shoes" allowance irks. It seems that a larger body should codify one way of doing this, rather than accept an over two-inch margin of error. And what if a team blatantly lies? I asked NBA spokesman Mike Bass about this, and he responded: "I am not aware of any instance where the team was asked (by the league) to change a player's listed height." Perhaps I am cynical and paranoid, but I could easily envision a dystopian future where David Kahn successfully trades "7-1" Michael Beasley.
For now, teams own the means of height deduction. Despite all the hard work Jonathan Givony of Draft Express does in
compiling draft height data
, the almighty player card is the loudest guy at the bar. When I asked him about team listings, Givony remarked: "Generally these pre-draft measurements are ignored when the NBA puts up the player's heights on their rosters and bios online. Don't ask me why."
My theory: That official NBA seal is mightier than established facts. At least Givony's numbers give
me
a reference point for my 2011-2012 All Height Liars Team. Without ado, further:
All Height Liars Team
PG: Jose Juan Barea
("6-0"): We don't know Barea's real height, but J.J. looks like he could bathe in a sealed thimble. This is my only data-blind submission, but only because Barea's height deception is so easily seen.
SG: Tyreke Evans
("6-6"): Leon Trotsky's political strategy was to announce the next far-fetched program right as you were beginning to mobilize against his current far-fetched program. Sacramento will try to convince you that Evans is a point guard. As your brain bounces like a slapped speed bag, they'll tell you he's 6-6. His pre-draft height is 6-4 and unlike Trotsky, he can't maneuver left.
SF: Thaddeus Young
("6-8"): Thad is really 6' 5.75." I could just as easily rank
Donte Greene
here, but Young gets the edge on account of being a more notable player. Also notable: Three teams (Wolves, Kings, Sixers) have the market cornered on height liars. This may be because they're replete with tweeners.
PF: Kevin Love
("6-10"): He measured at 6' 7.75," but that isn't what makes Kevin Love's height deception so dastardly. It's that K-Love
is photographed
at the height level of a "6-8"
Derrick Williams
. Now some would say, "This makes his rebounding all the more impressive." I'm not so forgiving. Turn in your World Championship trophy, you dirty heightener, you.
C: Spencer Hawes
("7-1"): He measured at 6' 10.5," the same as
Joakim Noah
did. But Spencer somehow gained a two-inch advantage on Noah in the official listing. If Hawes lacks leaping ability, it could be because he's wearing platform shoes.
...
I want accuracy, I want "in shoes" to be more unfashionable than socks with sandals. But as I look at this list, I can grasp why some cling to height vagaries, why you might prefer a "6-10" Kevin Love to an undersized striver. Disputed height provides more room for myth making, which is the essence of sports entertainment. These are the fables we tell each other, so as to inspire and awe. And if the sheer height of the giants animates our stories, can you blame people for wanting the freedom to embellish another inch or two? "In shoes," is a license to take a man and make him Paul Bunyan. "In shoes" is so close to reality that it makes Paul Bunyan feel
real
.
Since he was picked in medieval times, we have no pre-draft record of
Kevin Garnett
's stature. In hushed tones, basketball fans rasp, "You know, he's really 7-1. He just hides his true height." Perhaps he does. I would be quite disappointed to learn that there really is no psychological reason behind Garnett's listing, that he really is a barefoot 6-11, that he only seems bigger in my mind's eye. That one-to-three inch "in shoes" zone means a player can be tall as your imagination reasonably dictates. Even the doubt sown by a short-seeming listing can trigger Bunyan visions.
But I'm an "in socks" fanatic, congenitally averse to myth. I just want to know how tall Kevin Garnett is. And I just want you to know how tall Kevin Garnett is.
Follow @SherwoodStrauss
November, 30, 2011
11/30/11
12:03
PM ET
November, 11, 2011
11/11/11
1:33
PM ET
April, 16, 2011
4/16/11
7:34
PM ET
By ESPN Stats & Info
ESPN.com
Archive
The
Miami Heat
had an up-and-down playoff debut against the
Philadelphia 76ers
before pulling out the victory late in the fourth quarter.

The Heat started off slow allowing the 76ers to jump out to a 12-point first quarter lead as Philadelphia shot over 60 percent from the field.
During the regular season Miami allowed an opponent to shoot over 60 percent from the field in the first quarter just twice at home.
The Heat settled down in the second quarter using a 25-to-6 run to take the lead and built it as high as 16 points in the third period.
Miami could not close it out until late though, as they shot just 21.4 percent in the fourth quarter, which was a lower percentage than they shot in the fourth quarter of any regular season game.
During the final frame
Dwyane Wade
,
LeBron James
and
Chris Bosh
comined to go just 2-for-10 from the field.
Their struggles allowed the 76ers to get within one point before the Heat closed the game on a 9-to-2 run, with all nine points coming from the Heat's trio.
Despite the up-and-down nature of the game the 'Big Three' were able to survive their first postseason test, showing resilience that they lacked during the regular season.
Miami trailed by double-digits after the first quarter in four games this season. The Heat lost each of those four games, making today's victory even more encouraging.
They overcame their early struggles by clamping down on the defensive end, especially in the half court.
According to our game footage, in the first 12 minutes of the game Miami allowed the 76ers to shoot just under 65 percent on field goal attempts in the half court, while allowing 1.70 points per possession.
The rest of the game was a different story as the 76ers shot only 31.6 percent in the halfcourt, while only scoring 0.84 points per possession.
Offensively Wade, James and Bosh carried the load, with their biggest contributions coming from the free throw line.
Collectively they shot just 18-for-44 from the field (40.9 percent), but managed to go 27-for-33 from the free throw line. The 76ers as a team combined to take 15 free throw attempts.
Bosh (25 points and 12 rebounds) and James (21 and 14) each recorded 20-point, 10-rebound games. It marked just the second time in Heat playoff history that two Miami players had done so in the same game.
The only other time it happened was when the duo of
Alonzo Mourning
(23 and 13) and
P.J. Brown
(20 and 13) did it in Game 4 of the 1997 Eastern Conference First Round against the
Orlando Magic
.
Thaddeus Young
led the way for the 76ers with 20 points and 11 rebounds off the bench. He is the only 76ers player in the last 20 seasons to record a 20-point, 10-rebound game as a reserve in the playoffs.
Posted by Kevin Arnovitz

In a postseason that lasts more than eight weeks, it's hard to appreciate the full scope of what a team has experienced. While most of us were falling in love with the Boston-Chicago series, the Magic were enduring their own emotional turbulence -- buzzer-beaters, blown leads, sweet vengeance, a suspension for their franchise player, and more sweet vengeance. And that was just the first round.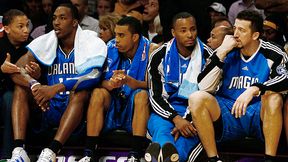 Shock and Awe: Not an unfamiliar site on the Magic bench this postseason.
(Jeff Gross/AFP/Getty Images)
"I've said it throughout the season and throughout these playoffs, the one thing that you can't question with our team is their resilience in situations like that," Orlando Magic head coach Stan Van Gundy said after his team's Game 3 win over the Lakers. "Whether it's from game to game, minute to minute, our team will keep playing."

Normally these sorts of statements are filled with clichés, but not in Orlando's case. Whether the Magic win the NBA title this season or not, they'll have built up enough scar tissue for future battle. Here's a sample of the gut-wrenching ups-and-downs from the Magic's 2009 playoff odyssey:

Redemption: The Magic have a penchant for bouncing back in style.
(Jesse D. Garrabrant/AFP/Getty Images)
Posted by Kevin Arnovitz
Former Pistons coach Chuck Daly is drawing up plays from his hospital bed for Jay Wright to run for Villanova in the Final Four.
Bad break for a good Sixers team:"[Thaddeus] Young sprained his ankle in Tuesday's 98-85 victory, and the Sixers learned the extent of that injury yesterday. An MRI exam also revealed a bone bruise. The team expects him to be sidelined for two to three weeks, which means he could miss the start of the playoffs."
Dave D'Alessandro on Nets coach Lawrence Frank: "Business as usual for L-Frank. Still upbeat, still classy, still team-obsessed, still has his head in the game. He probably knows this is not going to end as well as he had hoped, but this isn't the kind of guy who burns bridges, and the only preemptive strike he believes in would be a 2-0 lead."
SLAM's Lang Whitaker with a stellar Twitpic of "Derrick Rose Colored Glasses."
Interesting conclusion from Ira Winderman on the Heat's backcourt situation: "In a moment of semi-candor, Spoelstra said before the game the loss of Luther Head means the team lacks a needed combo guard. Translation: Cook lacks the needed handle to play point and Quinn lacks the size to defend shooting guards."
I'm still partial my original Darko in Chains tee, but FD has released some new swag in anticipation of a certain potential Finals matchup.
Baron Davis has a confession: "I talk to my beard all the time. He has a mind of his own."
Dwight Howard: Not of fan of the zoo, or Stan Van Gundy's sideline antics. Much more bullish on Philippians 4:13.
Clips Nation on rookie guard Mike Taylor, and the Clippers' proximity to rookie explosions: "Taylor has started the last two games at the point guard, and scored 35 in the game before that against the Knicks. Did you know that the Clippers were involved in the top three rookie scoring performances of the season? (1) Eric Gordon, 41 points against the Thunder. (2) Anthony Morrow, 37 points against the Clippers. (3) Mike Taylor, 35 points against the Knicks. That's correct -- Mike Taylor's 35 are better than any game by O.J. Mayo or Russell Westbrook this season."
At some point the exploits of Charles Charles MaGall will cross from funny to creepy. Right now, his persistent challenges to Dwyane Wade are funny. For now.
Ross Siler reassures skeptical Jazz fans: "I just wanted to address the perception that some/one of you has that your Jazz beat writer is a closet Lakers fan. Although I covered the Lakers for three seasons, I write about them in this space only because they are my frame of reference in covering the Jazz now .. If I left tomorrow to cover another team, I'm sure I would annoy their fans by writing about the Lakers and the Jazz in a blog there. If you're interested, I grew up outside of Washington and still follow the Redskins/Wizards/Nationals more than anything."
From the Golden State Warriors: "Referee Bob Delaney, who worked our game last night, visited the Oakland Police Department during his stay in the Bay Area this week. He spoke to a group of the officers and offered his support for the department following the tragic events on March 21, when four Oakland Police Offers were tragically murdered in the line of duty in what started as a random traffic stop. Delaney has been involved in the training of Police Officers for the last 30 years and said he considers the men and women of the OPD among the best in the world. The funeral for the four offices was held at ORACLE Arena last Friday, when over 20,000 people filled the venue to its capacity."

Reader Eli Steinberger has a thought about Allen Iverson: "Allen Iverson to Europe. It's the perfect storm: 1. Aging superstar 2. Can still score on anyone 3. Refuses to take a smaller role - DUDE, just hop across the pond! Think he'd go for it? He'd get a HUGE paycheck, super-duper-star status, and as much PT as he wants. He could become the first guy to win an MVP in both leagues."
The NBA launches a reality show in China. Buried toward the bottom of the story: "The NBA has opened three league retail stores in China and sales have topped projections by 70 percent. Even sales of Yao's jersey rank only No. 10 in China, trailing such American stars as Kobe Bryant and LeBron James, according to the NBA. The league projects retail sales in China to rise 60 percent this year and another 70 percent in 2010."
February, 14, 2009
2/14/09
12:20
AM ET
Posted by Kevin Arnovitz

One of the best things about All-Star weekend is the breadth of talent all gathered in one location. You can't walk 50 feet in the Sheraton Downtown Phoenix without bumping into an NBA legend, past or present. This makes All-Star weekend the perfect occasion to gather opinions from players.
We thought it would be interesting to survey every player we stumbled across, and pose a single question to them:

Your basketball life is on the line and it comes down to a single possession. You're in isolation. Who's the last guy you want to see defending you? And how do you beat him?

We added that the nightmare defender doesn't have to be a current NBA player. It might be someone they played against in college, AAU, high school, even in a pickup game.
The field poll has just begun, but we're getting an assortment of great responses.
In the first installment of the series, we'll start with our rookies and sophomores:

Kevin Durant
Ron Artest. He's so strong. He uses his body well, his hands. He's very quick. He uses his feet well. You have to try to shoot over the top of him. Make him run around a little bit. Put him in pick-and-roll situations and stuff like that.
Michael Beasley
Reggie Evans. He's one of those guys who just doesn't care about anything. He's plays hard every second of the game. He'll get mad. He'll break your neck before he lets you score on him. You just gotta come with it against him. He and I got in a bit of a tussle, because me being who I am and where I'm from, I'm not one to be scared. But playing against guys like him...I love it. He makes you work a little harder, but it's fun and competitive. I like to bang, and he's a real strong guy.

Al Horford
Probably Ben Wallace. He's tough to move. He's a really solid defender. You can't back him down, so you have to be able to face him up, and probably take a couple dribbles in and try to go off the right or off the left with quick moves.
Thaddeus Young
I play the 4, so all of them are hard to get by. But I'll say LeBron. When you lay the ball up, or you throw a hook shot, it's like he's there. You could've left him, but then he just comes out of nowhere and blocks your shot. And you're like damn, where in the hell did he come from?! I see him get lots of blocks in transition. You'll run the ball up and he just comes out of nowhere and swats it out of bounds.

Al Thornton
My Dad. He's physical -- a real physical lockdown defender.

Derrick Rose
Bruce Bowen. He's just a good defender. He knows every trick in the book. It's really hard to beat him. The best thing to do if he's defending you is pass the ball.
Eric Gordon
Ron Artest. He's a big strong guy and it's definitely tough to hit a shot over him.
February, 13, 2009
2/13/09
8:33
PM ET
Posted by Kevin Arnovitz
After weeks of anticipation, debate, and hype, All-Star weekend has finally arrived. The first major event on the undercard is the Rookie Challenge, which is somewhat of a misnomer...or half-nomer, because it pits the league's best sophomores against the top rookies [insert objections here]. David Thorpe has a terrific preview of the game and what to look for here.
We'll be live-blogging the event. Follow along, won't you...
Greg Oden is going to miss the game. The reason? He bumped knees last night with Corey Maggette.

The only numeric redundancy is Wilson Chandler and Thad Young sharing #21.

Who would win a cage match between Young and Chandler? They both list at 6' 8 and 220, coincidentally.

Warmups underway. I can't emphasize enough how OJ Mayo drains, like, every single shot attempt to perfection.

Oden not playing is a bit of a buzzkill. He's the super-hybrid Frosh-more, which made for an interesting subplot.

Dwyane Wade is rocking his Nation of Islam ensemble.

Starting Lineup Sophs: Stuckey-Durant-Horford-Young-Greena
Frosh: Gordon-Rose-Gasol-Fernandez-Beasley

Kevin Durant at SG...Carlesimo Lives

Gatorade strikes again. An NBA representative just came over to peel off the label on my Dasani water.

Mayo coming off the bench. Innnntersting....

Looks like Rose/Gasol screen/roll is the tactical foundation of Rook

Judging from Horford's quick demand of the ball from the official, the Sophs want to run the Rooks out of the building.

Pace factor: Sophs>Rooks

Sophs: 7 seconds or less

Rudy in the open floor is a thing of beauty.

Eric Gordon is a quality defender, but against Durant, he's in waaay over his head. That mismatch is working for Sophs.

Lopez and Mayo about to check in

Rudy in the halfcourt is a thing of beauty.

E Gordon: 4/4, 10 pts

Rudy from beyond the arc is a thing of beauty.

Hollinger: Suggests that, long term, Gordon's shot might be too flat -- from a trajectory standpoint -- for him to be a truly outstanding shooter.

Jeff Green's True Position...Discuss

Lopez is a surprisingly agile big man

Beasley and Green...exchange talk of trash.

Not sure Stuckey is a pull-up jump shooter.

Thornton can catch-and-shoot uncontested, but still struggles mightily from 18+

Scola is about 8-9 years older than everyone on the floor, Thornton the exception.

One of the weak parts of Eric Gordon's game is his rebounding rate. He's strong, but small and, for whatever reason, has compiled abysmal Crawfordian numbers on the glass.

Have gone the whole way thus far: Jeff Green, Beasley, and Eric Gordon

Reduce that list to Gordon.

If Durant weren't putting up insane numbers every night, we might talk about his passing a little more.

Sort of a bailout. Westbrook's handle still isn't Grade A...and trying to take Durant off the dribble...wellllll....

In one series we saw one of the only flaws in Westbrook [handle] and Rose's [jumper] game respectively. Two super players with two distinct weaknesses.

Probably the prettiest set of the game .

Westbrook taunting Durant...hilarious.

ignited by the Lovian outlet by Gasol.

Dare I say this game is getting away from the Sophs?

Thornton has a really strong dribble game when he gets a running start.

Beasley is running a little hot. Now 2-7

Stuckey knows how to deliver the ball to his bigs...now if only they can get him some in Detroit.

It'll be interesting to see if Beasley develops a real post game as a PF [though as of today, looks like he'll be assuming the SF for MIA]. It's not *imperative* that he do so, but it would add a huge component to his game.

Is there a better practitioner of the PUJIT than Mayo?

Nice to see Beasley find some high % shots for himself.

I wish I could credit Westbrook with that drive, but the welcome mat was out.

The Spaniards almost make tapas.

The Euros have brought a lot to the NBA game, but Bigs-Who-Can-Pass might be the most exquisite.

Gasol definitely gets the Effort Award.

Where's Eric Gordon? In Rambis' doghouse??

Momentum builder for Sophs?

The Under 13 Crowd is very excited for someone named Corbin Bleu, which sounds like a TV dinner entree.

Nice part of beasley's game. Handle + pass

Eric Gordon: Released from Rambis' doghouse

The Los Angeles Clippers: 10/13 for 23 points in 27 minutes

Gordon mentioned today that he was hoping for a littlematchup time with teammate Thornton.

Durant is now officially controlling this pickup game.

Kevin Durant knows exactly where to be on the basketball court at every nanosecond of the game.

Dwight Howard is now working the refs.

The less said about Aaron Brooks' atrocious betrayal of Kevin Durant's unselfishness, the better.

The Sam Cassell Special from Gordon.

Young has learned to use his right hand better.

Durant: Absolutely stroking it. Can shoot over everyone on the floor not named Lopez

To review: Kevin Durant -- 35 points [14/18]

That little lean-in to draw contact on the jump shot and sucker the defender is always referred to as a 'crafty veteran move.' But it's being used here by the Rooks to perfection.

I like Russell Westbrook a lot, but this rookie team is better with Rose on the floor.

That's the thing with Beasley. His skill set is that of a '3', but if you play him at the '4', he's more likely to draw a defender he can take off the dribble along the baseline.

Counter-argument: He can't defend the post.

Durant True Shooting Percentage: 86.1%

The Rooks are going with the Twin Tower alignment down the stretch.

Clipper Darryl is in the building chanting Let's Go Clippers, Let's Go.

Gordon draws contact on the drive exceptionally well.

You can sort of see the value of Durant at the 2. I'm not suggesting that the benefits outweigh the costs, but he's unstoppable against a guy 6 inches shorter than him.

Chandler went to the right spot there...just didn't convert. But a smart little set.

"Set" being a relative term in this game.

The Sophs got the mismatch there. Another good set...

Beasley has had a fascinating game, an encapsulation of all his strengths and weaknesses.

You sometimes forget he can stop on a dime and step back like that, as if here were a 6' 4 guard.

Winners get $15K each. Losers get $5K. $10,000 difference if my math is correct.

Aaron Brooks: Keeping the Rooks in the game.

Hollinger, re: brooks: As Ramon Sessions sits at home and says, 'really??

44 pts...Easily a Rookie Game Record.

Only 2 Rookies in + territory: Rudy Fernandez with a +10; Marc Gasol with +5.

The best rookie/soph game to date? Yes.


Kevin Durant wins the 5-0 unanimous vote for MVP. Go figure.

Amare held the previous record: 36 points in the '04 game at Staples.

Some unsung heroes: I thought Rodney Stuckey had a solid game for the Sophs. He navigates the floor really well. I don't like platitudes like winning ballplayer, but Gasol has the patina of a guy who's going to help some good teams win some games before his career is over.

Brook Lopez needs some refinement, but also played a strong game.

As someone who watches Al Thornton on a regular basis, I can say that he's a guy who benefited greatly from this track meet. He played a relaxed brand of basketball, and seemed very much in his element. He even delivered a couple of smart interior passes on the drive. [!]

Final takeaway: Durant is a freak. But we knew that.

Beasley's maturation will be fascinating to watch, even more so with the Heat's acquisition of O'Neal today, which will move Beasley out of the post.

Eric Gordon should factor more prominently in the conversation as an elite rookie guard.

Jeff Green does everything very well, but nothing exceptional. That's not intended as an insult. There aren't 20 guys in the league you can say that about.

Thad Young's game has come along nicely. I know he had a rough time earlier this season, but his athleticism is starting to round out into a more complete player.

See you tomorrow night for the Skillz Competition.

February, 13, 2009
2/13/09
3:50
PM ET
Posted by Kevin Arnovitz
There's a lot of mutual affection between Thaddeus Young and his college coach, Paul Hewitt. Over the holidays, we visited with Hewitt and spoke with him about Young, and other Georgia Tech products that grew up under his tutelage. Hewitt confessed that he likes to rib his former standout about his, shall we say, less than confident right hand:
If you look at Thad's last ten games his freshman year, he averaged something like 19 or 20 points a game. He really started to get it. He started shooting the three well, attacking the basket. He still couldn't go right [laughs]. That's something we always teased him about, but he's gotten better with that.
I caught up with Young after the sophomore practice today and asked him how his right-handed game was coming along. The question induced immediate laughter from both Young and Sixers' Director of PR Michael Preston. Young then answered it with a light-hearted defensiveness:
Yeah [laughter from both Young and Preston]. Hey, you ask Mike. I've been throwing those right-handed hook shots up, little right-hand flip shots, layups. Now, I don't quite have the running floater yet, but it's getting there.

Hey, you tell Coach Hewitt that I said he can stay off my right hand! [Laughter]
January, 2, 2009
1/02/09
12:27
PM ET
Posted by Kevin Arnovitz
Georgia Tech head basketball coach Paul Hewitt has experienced the full gamut of coaching ups and downs. In 2004, he led the Yellow Jackets to the NCAA title game. He's also suffered some brutal seasons in the unforgiving ACC. Hewitt has been bitten by the one-and-done bug. In recent years, Chris Bosh, Thaddeus Young, and Javaris Crittenton all departed Georgia Tech after a single season. Hewitt recently visited with TrueHoop to discuss Thaddeus Young's evolving game, how the Brandon Jennings experiment affects college recruiting, Anthony Morrow's splashy start in Golden State, Javaris Crittenton's struggles, and his beloved New York Knicks.

TrueHoop: As a recruiter, how can you protect yourself from the one-and-done? Is there any way to target kids who are uniquely suited to the college game but, maybe because of their size, or because they lack a true position, or because they aren't a pure athlete, might be more likely to stay three or four years?

Hewitt: No. I look for kids who are uniquely suited to Georgia Tech. Some of them are a little high on the radar. Some are lower when they get to us, then they develop into quality players. If you look at Georgia Tech as a whole -- not just basketball, but baseball, football, golf -- they've done an unbelievable job of turning out professional players and a lot of them leave when the opportunity arises. It's gone on forever. It went on with Bobby [Cremins]; it goes on with us. I'd love to figure it out one day, but you go after kids who are right for the program. Some of them are going to leave.

TH: As you go around the country and meet kids and their families, is the Brandon Jennings scenario real? Are there Division One recruits who are looking at Europe and thinking that's a legitimate option?

Hewitt: I haven't heard much of it among the kids I've talked to. You hear whispers and rumors: "This kid is looking at it or "that guy is looking at it. The only advice I'd have for kids who are looking at that as an option is that they should have it written in their contract that if they don't make it as a professional player, the pro team pays for their college education, much the way they do in baseball. I hope it works out well for Brandon Jennings. I hope it works out well for any kid that does it. But I think they have to be very, very careful and structure their contract in a way that if they do miss -- and the odds say they are going to miss -- that they have an ample fallback plan.

TH: Do you think Jennings is the tip of the iceberg, or do you think this is a novelty or an experiment?

Hewitt: Today I think it's a novelty. It's such an adjustment to go to Europe as a 17 or 18-year-old kid. There's the language -- you turn on the TV and you don't know what anyone is saying -- different kind of food. You're really put into a man's world because of how the coaches are going to drive you. So right now, it's a novelty, at best.

TH: Thaddeus Young. He almost seems like he was born for the pro game.

Hewitt: He's gotten off to a great start. Every time I run into people from Philadelphia they have nothing but great things to say about him. He's got a great work ethic. He converted from being a 4/5 in high school to a 3 with us. Now when they play him at the 4, it's somewhat natural to him. But he's continued to evolve and develop. He did a lot of good work with Mark Price in the off-season. Mark worked him out last summer at the Sewanee Sports Academy and Thad tells me all the time that really helped him speed up the process of becoming a 3 man in the NBA.
TH: He's really learned how to move off the ball to fill space...

Hewitt: That's right...Particularly for a guy who played around the basket as much as he did in high school. If you look at Thad's last ten games his freshman year, he averaged something like 19 or 20 points a game. He really started to get it. He started shooting the three well, attacking the basket. He still couldn't go right [laughs]. That's something we always teased him about, but he's gotten better with that. But you could see it coming along. I think had he decided to come back for a second year -- and it was a close decision; he decided to make the move at the last minute -- he easily would've been a Player of the Year candidate, an All-American candidate.

Michael Tillery of SLAM talks to Philadelphia rookie Thaddeus Young, who has been playing so well lately:
MT: Well you had a nice game today. I gotta come up with some kind of nickname for you because of your skills around the rim ...

TY: (Laughs) Ask him my nickname.

MT: Who?

TY: Willie.

MT: What's his nickname, bruh?

Willie Green: Who, Thad? Baby Legs.

MT: Baby Legs? (Laughing as I say "wow.") Well, it's apropos. Especially this time of year with everyone worn out.

Philly sportswriter Tom Moore then asks: "Is that a compliment?" and we all laugh.

TY: I don't like it. (Smiling, shaking his head.)

MT: Well, what do you think your name should be?

TY: They said I can't choose.

MT: There it is ...
Young later demonstrates some tremendous self-awareness:
At first I was told that I wasn't going to play some games and I was going to play some games. That didn't sit well with me. I want to play every game, so I'm going to work as hard as I could to play in every game. That's what I did. It's what I kept focusing on was the task at hand -- playing defense.
I didn't play a lick of defense in high school and college, so I had to focus in on that. ... My main job in high school and college was to score the ball. Now I'm a role player and I'm willing to accept that job.

Photo: AP Photo/Chris Gardner