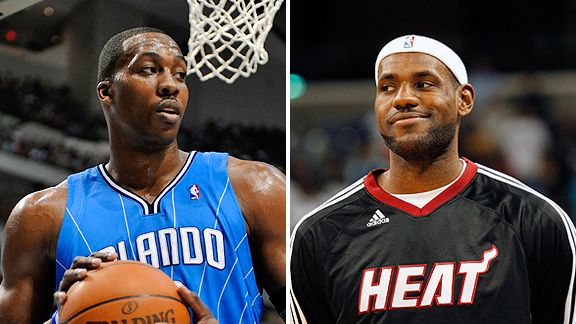 US Presswire
Less than two years after LeBron James' big "Decision," Dwight Howard stressed loyalty.
Nobody wants to be hated. (Well, unless you're Ozzie Guillen.)
So when one player's decision to sign with another team leads to scores of jerseys being used as kindling, deep-throated boos raining down with every touch of the ball and NBA legends taking turns on the punching bag to emphasize their back-in-my-day ideals, others take notice.
"I think Dwight had a lot to [think about]," said Kevin Love on the latest superstar decision to engulf the league, one that managed to supersede most NBA trade deadline and NCAA madness this week. "When he was thinking about it, I'm sure he was thinking that he didn't want to lose any popularity. I don't think LeBron should've lost any popularity for it, but he did.
"Some guys are looking at that now because of what he went through. Obviously, it was on a grander scale, because [LeBron's] an MVP, probably the MVP this year so far, so I'm sure that probably played into it with Dwight."
Earlier this year, Love got a small taste of the kind of pressure Dwight Howard endured before making his pre-trade deadline decision to opt-in with the Magic. With restricted free agency awaiting if he didn't extend his deal before the Jan. 25 deadline for players under rookie contracts, therefore complicating any type of escape plan he may have wanted to hatch, the stakes weren't nearly as high. Still, it was a big move for Love, who ultimately inked an extension before the buzzer to stick around in Minnesota with Rick, Ricky and the gang for four more seasons.
But with an opt-out clause available in the fourth year of his new deal, the heat will certainly be turned up in the summer of 2015, when the bigger markets will surely beckon for the media-savvy Love.
After seeing the attention that accompanied every flip and flop in the Howard saga, months removed from the Chris Paul saga, a year removed from the Carmelo Anthony saga, and a year and a half after the 2010 free-agent bonanza, making up his mind beforehand may pay off in the end.
Not in the literal sense, mind you. The dollar sign-adorned sacks will always be there for a player of Love's caliber. But for increasingly image-conscious star athletes, whose "brands" may be as important as the brand of ball their teams play, a public relations nightmare like the one LeBron James endured last season (and still feels tremors of today) may make a few star players think twice about their choices. Especially when it comes to thinking about ditching a small-city team for the bright lights of a bigger market.
It seems to have already affected Howard, who took the opposite approach of LeBron in his post-decision news conference by making sure to point out how devoted he is to his team … even though, at this point, he only remains tethered to them until next summer, with no telling what may happen thereafter.
"I'm glad this is finally over," said Howard at a news conference on Thursday, playing loose with his idea of finality. "... It's not as easy as some people think. It's been very hard. We're talking a career-changing event. Most people don't see that.
"I'm very loyal and I've always put loyalty above anything."
Loyalty is a funny thing, though. (Hilarious even, if you're Dwyane Wade.)
Steve Nash, now in his eighth season in his second stint in Phoenix, is hailed for sticking it out with a Suns team caught somewhere in between a rebuild and playoff contention, to the point where some say the 38-year-old deserves to go wherever he wants. Yet James, a free agent at the time of his decision, was lambasted for leaving Cleveland, despite the fact that he had given seven good years (and two conference finals) with a supporting cast that was nearly as ill-conceived as the current-day Suns.
The only difference is how you perceive them.
But that perception can make all the difference.
As he noted on Thursday, this one decision is going to change Howard's whole career. Not only in terms of where he played, who he played with and how his team performed. Dwight Howard, the person, will forever be shaped in our minds by how he chose to handle this situation this past week, and by whatever he and the Magic choose to do next year, when, barring some postseason breakthrough this spring, both sides will likely find themselves in a familiar predicament.
If he stays put, Howard will likely be saluted for his loyalty and likely pigeonholed as the anti-LeBron, like Kevin Durant and Derrick Rose before him.
If he goes, Howard will likely be greeted with groans and labeled as selfish, just like LeBron.
Howard isn't just choosing a career path so much as he is choosing who he wants to be in the public eye. For a guy who obviously cares about his career away from the court, such a decision is a scary one. (LeBron's image is still recovering.)
And it's downright frightening when you consider that Howard, despite a body crafted in a Mattel factory, is human. It's easy to assume that athletes, who handle hostile crowds routinely, can overcome a little fan hatred; some may even feed off it, or at the very least use it for motivational Twitter fodder. But the ability to jump higher or run faster doesn't prevent even the most elite physical specimen from feeling the weight of a country's worth of scorn.
James himself seemed to have been shaken by it, saying before the season that he no longer wanted to play the villain role, and more recently discussing the possibility of returning to play for Cleveland someday. And when faced with what may have been a similar burden, Howard hit delay rather than realize the consequences.
Despite all the progress James seemed to make by shucking the unwritten laws of major sports free agency and taking some of the power back to the players' side, the intense backlash that resulted threatens to undercut it.
"Nobody wants to be hated," Howard said on Thursday.
Not even a superman.
Justin Verrier is an NBA editor for ESPN.com. Follow him on Twitter.