February, 16, 2010
2/16/10
1:36
PM ET

By Henry Abbott
ESPN.com
Archive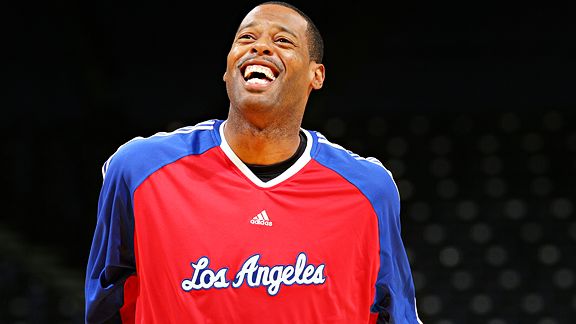 Rocky Widner/NBAE via Getty Images
Big man: Camby fills a major need for the Blazers.
The Los Angeles Clippers are
trading Marcus Camby
to the Portland Trail Blazers for Travis Outlaw, Steve Blake and cash.
All the players have expiring contracts.
For the Blazers, Camby remedies an enormous basketball problem: The total lack of centers since injuries to Greg Oden and Joel Przybilla. It also puts a bounce in the step of a team that has also endured injuries to Brandon Roy, Nicolas Batum, Rudy Fernandez and, to a lesser extent, LaMarcus Aldridge.
On ClipperBlog Kevin Arnovitz once wrote
the definitive story on Marcus Camby's defense
. Arnovitz is a Clipperologist with an analytical mind. I'm a Blazer fan with a blog that needs some smart thinking about this trade. Here's the conversation we just had:
Abbott:
OK, so big picture. When you first hear of this trade, as a Clipper fan and a hoops geek, what's your thought?
Arnovitz:
The Clippers have officially surrendered the 2009-10 season. That's not to say that the deal is ill-advised, but I think anyone who has watched the Clippers closely this season knows that Marcus Camby has been essential to any success they've had on the court.
Abbott:
That being said, why trade his expiring for other expirings?
Arnovitz:
We'll know more about the specifics of the cash changing hands once the deal is official, but Portland's cash represents real savings for the Clippers. I also think we're learning that short-term rentals can get you one of two things (1) marginal players with expiring deals (2) impact players with longer deals. At the end of the day, the Clippers decided that they didn't want to compromise their cap space ... but the opportunity to net a couple of million dollars was attractive.
Abbott:
Before we get to talking about Outlaw and Blake, tell me what I can expect, as a Blazer fan. We should be having a party, right?
Arnovitz:
Camby is one of those guys who polarizes basketball junkies. Some think he's one of the game's best defenders. Others believe that he's completely overrated as a defender and point to his pick-and-roll defense as evidence. (He has a tendency to drop back on virtually every screen.) After watching him closely for a couple of seasons, I now fall into the first camp: He's tremendously effective. The Clippers were 7.7 points per 100 possessions better with Camby on the floor.
He leads the league in rebounding rate
. He's also a good facilitator in the high-low game, and leads power forwards (his nominal position as a Clipper alongside Chris Kaman) in assist rate. The kids in the locker room look up to him and the coaching staff thinks he hangs the moon.
Abbott:
I noticed on
Basketball Value
that adjusted plus/minus suggests Camby's not only an elite defender, but also one of the Clippers' best offensive players.
Arnovitz:
Yes. He knows how to move the ball from the top of the perimeter. And he is a master of the offensive tip.
Abbott:
By the adjusted plus/minus metric, he's a top 30 NBA player.
Arnovitz:
I think that's a fair assessment. My favorite Camby moment of the season: After his 25-rebound performance against Chicago last month, I asked him if rebounders can get into a "zone" the way scorers can. His response: "Sometimes you feel like the ball is like a magnet. But with me, it's not about just going out there and getting it. I study my opponents a lot. I study the projectile of the basketball, try to get myself in a good position to rebound shots." Henry ... I love a center who studies projectiles.
Abbott:
You just like that he's a little geeky.
Arnovitz:
Who wouldn't want a center who studies projectiles?
Abbott:
Geeks win championships!
Arnovitz:
Yes they do!
Abbott:
OK, so we had talked about something like this a while ago, and you had your eyes on Martell Webster. Who is not in this deal. Is that a disappointment?
Arnovitz:
Sigh. Absolutely. The Clippers are in a funny place, in that -- for a losing team -- they're rock solid at four positions. Small forward is the missing piece and there was an expectation that a deadline deal for Camby might allow them to fill that hole in the long-term. In my fantasy world, Webster (or Luol Deng) was that guy.
So tell me about Mr. Outlaw.
Abbott:
I have thought about that player way too much, and will struggle to keep this concise. But some ideas: When he came into the NBA he could not shoot A LICK. Every time he started to, he'd coil and spring in the most bizarre fashion -- some guys lean right or left when they shoot. He would get his upper body going in both directions before he landed, which is really amazing.
It is to everlasting credit, however, that the guy has learned to become a very special kind of shooter. Few NBA players go from never being allowed to shoot to having repeated plays called for them with the game on the line. And every single player who ever makes that leap is, you can guarantee it, a hard worker. Which matters. Outlaw is frank that he really wants to be a star. That's his motivation, and I believe he'll keep working hard because of it. He's a real-deal long athlete, he has this ability to score. He's also everybody's best friend, and to my eyes an important part of why the Blazers have generally been a cheerful team.
However, he is not the most aware player. Some players are really quick thinking, but that's not him. The exact cluelessness that makes him impervious to crunch-time pressure also makes him a liability in complex defensive schemes. His defense has gotten much better, and the sky's the limit for his individual D. But you know how Boston so cleverly rotates to keep everyone covered with help? Hard to picture him thriving in that system. And, there was a game the Blazers lost when Brandon Roy was doubled in the corner on the big play, and he seemed to have no plan. Afterward, we learn that Outlaw was supposed to have cut down the lane, but for some reason didn't. Which was too bad.
Arnovitz:
In your eyes, do the Blazers instantly become a potential Northwest Division champion now that they have a top-shelf center who can protect the basket?
Abbott:
They're five games behind Denver, with intimidating Utah and Oklahoma City in between. This is an amazing division, now and for many years to come. At the season's outset, when the Blazers were all healthy and training camp was something to dream on, the team made news by rigorously refusing to admit to any goal beyond winning the division. It seemed so modest at the time. Now they have been so hurt -- Roy is the ballgame, and he hasn't played in weeks with a tricky hammy that could act up any time. Even with Camby, they still only have one real center -- it's easy to see that they could finish second or third in the division and still declare the season a success.
To me the more important accomplishment is they are now certainly once again a team with the potential to make things interesting in the playoffs.
Arnovitz:
And the logjam at forward ... this clearly eases that?
Abbott:
Right. For Portland, a big part of the analysis is that while one can love Outlaw, when healthy he was only going to play limited minutes, during which time a good player like Nicolas Batum, Martell Webster or Rudy Fernandez would be on the bench. Camby brings his production in place of Juwan Howard and Jeff Pendergraph. Both are total gamers who have been fun to watch, but are playing out of position and out of their primes.
Arnovitz:
In that spirit, I'd tell disappointed Clippers fans something else: They're going to see a lot more of DeAndre Jordan, and I think that's a good thing. Jordan will take his lumps and occasionally embarrass himself, but his development is vital for the team's future. The void left by Camby will potentially give Jordan an intensive two-month boot camp as a rotation NBA center. They'll also see a bit more of the irrepressible Craig Smith, who can score 1-on-1 from the block in bunches.
Abbott:
If you have a player who goes by "Rhino," you ought not cage him.
Arnovitz:
Precisely.
Abbott:
Now, let me play Steve Blake's agent for a second.
He has not been great this year. Andre Miller has been better, especially since his argument with Nate McMillan. Since then Miller has been remarkable, and I was telling people all All-Star Weekend that it did not ring true that Miller was done in Portland. However, coming off an injury Blake's shooting numbers are a little down. But over the last several years, Blake has been a very good shooter. He's that best of things: A player the other team will leave in the corner -- he's usually the fourth or fifth best offensive player -- but who will also stick the open 3 when the ball is swung. He's not done. But for a shooting slump, he'd still be everyone's darling. And to those who say he can't lead an up-tempo team, David Thorpe says hogwash: He ran one of the fastest offenses in NBA history in Denver in 2006.
He's an intense dude. A workout maniac. Sometimes in crunch time I feel like he goes into intensity overload. At the line, with the game on the line, his face does not portray cool confidence. However, I think you want a passionate worker like that. Everybody in the Blazer organization loves having him around, and it wouldn't shock me if he was a Blazer again some day.
Arnovitz:
The Clippers are in an interesting spot with regards to their third guard. Sebastian Telfair has a player option of $2.7M next season. The Clippers would clearly like to move him -- and were reportedly hoping to do so in a package that included Camby. Telfair should be back from injury fairly soon. When he returns, would the Clippers banish him to the end of the bench in favor of Blake in an effort to induce Bassy to seek employment elsewhere next season?
Abbott:
Battle of the former Blazer guards. Boy, oh, boy, if they did that, it would be a real condemnation of Telfair, to bench him at the exact moment they are apparently trying to be up-tempo.
Arnovitz:
On the other hand, the Clippers don't have a lot of depth at guard, and it's likely that Blake could see some time at the 2 behind Eric Gordon. Final thought: Clippers fans are accustomed to finding faint silver linings and here's one that surfaced out of this transaction.
Early reports
had Marcus Camby very, very upset that he was being dealt from the Clippers -- who are 10 games under .500 -- to Portland, a potential playoff team with arguably the league's most supportive fan base. That's a far cry from "Get me outta here!" -- something players might have said in seasons past. Camby is regarded as the utmost professional and he was very comfortable as a Clipper.
Abbott:
Couldn't it also be that he just liked
Spago
?
Arnovitz:
Now he can go to
Voodoo Doughnut
!
July, 19, 2009
7/19/09
12:14
AM ET
Posted by Kevin Arnovitz
Jonny Flynn is making his case for Summer League MVP. We tend to forget that college offenses don't run much pick-and-roll. With the help of Garrett Siler, his own personal Erick Dampier, Flynn is getting the kind of open space that makes him lethal. Saturday's Flynn line: 24 points (7-for-10 from the floor, 4-for-5 from beyond the arc, 4-for-4 from the stripe, 4 assists). He's the single most electric guard here in Vegas.
We were deprived of the Flynn-Darren Collison matchup beyond the first quarter-and-a-half, when the Hornets' guard went down with a sprained left ankle. Flynn and Collison traded buckets for the better part of 15 minutes, as we witnessed the best mano-a-mano of the week. Collison plays with a smart combination of patience and assertiveness. He wants to size up the floor before he commits, but then takes direct action once he has. Before Collison went down, he had 18 points on 11 possessions.

Roddy Beaubois: Breaking the speed limit.
(Jack Arent/NBA via Getty Images)

Go ahead and put Roddy Beaubois directly behind Flynn in the pure point guard Vegas hierarchy. Beaubois doesn't need a screen -- just a little spacing around him. He's fearless and will probably kill himself once he encounters NBA centers, but for Summer League, he's a delight. Saturday's Beaubois Line was very Flynnian: 23 points (9-for-12 from the field, 4-for-6 from beyond the arc, 5 assists).
The Bulls have a project in James Johnson. He's capable of moving the ball, looks like a competent defender, but I don't think he's realized what kind of offensive player he is, wants to be, or the Bulls want him to be. He's 12 for his last 43 shots from the field, though he's managed 24 free throw attempts over that span.
Washington deployed trap after trap against Blake Griffin whenever he touched the ball inside of 15 feet. With Eric Gordon sitting out, there was no one else on the floor for the Clippers who warranted any real attention. The Wizards' strategy was effective, as Griffin had his least efficient game of the week: 19 points on 21 possessions, 10 rebounds, four steals against five turnovers.
JaVale McGee should help Washington's frontcourt rotation a good deal this season. He's got so much agility on both ends, a soft touch, and actually knows how to backpedal against a speedy guard coming off a screen. He got the better of DeAndre Jordan tonight and, prototypically, the guys have similar profiles. McGee put up a gaudy line: 19 points (9-for-11 from the field), seven blocks and four rebounds.
Ty Lawson again took matters into his own hands. He went nuts in the first quarter against the D-League Select team with 15 points, and he was more shooter than slasher. Lawson drained five field goals in the period, three of them from long range. He finished with 21 points on 17 possessions.
Jerryd Bayless appears really happy to be playing big minutes -- even if it's only Summer League. He's pressing a little bit, but when he works a simple drive off a high screen, then kicks it to a shooter in the corner, he's successful. Unfortunately, more times than not, it's penetration in traffic, often followed by careless baseline passes.
Benjamin Golliver of Blazers Edge, here in Las Vegas, on Dante Cunningham: "He's been the most pleasant surprise in an otherwise dismal Summer League for Portland. Pitched by Kevin Pritchard as a Travis Outlaw clone, Cunningham has shown a more instinctive, aggressive nose for tracking down rebounds than Outlaw, but clearly doesn't yet have his shot-creating and shot-making abilities. Through three appearances in Vegas, Cunningham has shown that he's fully comfortable -- and quite effective -- shooting face-up jumpers from the elbows and the baseline, even with a hand in his face. He has found those sweet spots by staying in nearly constant motion during offensive sets and by creating space for himself during effective pick-and-pops with Jerryd Bayless. The question that followed Cunningham throughout the draft process still looms: does he have a position? His is the classic three/four tweener dilemma. On offense, his lack of 3-point range forces him to play 4 for the Blazers but his slight frame prevents him from being a true interior threat. On defense, a Blazers scout this week questioned whether he has the tools to guard multi-talented threes or the size to handle physical fours."
DeJuan Blair recorded his second double-double of the week. Gregg Popovich on what he's getting in Blair: "A rebounder and someone who has a high effort level all the time on the boards, and running the floor. He enjoys playing, which is probably his main gift."
Spoke to the vendors at the NBA store here. They don't have any of the rookies' jerseys in stock. Bestsellers among the vets? Kobe Bryant and Chris Paul.
July, 3, 2009
7/03/09
6:08
PM ET
Portland small forward Travis Outlaw has been one of the NBA's success stories. He arrived in the NBA straight from high school in small-town Mississippi, and at first appeared wholly unprepared. He had essentially dunked his way to great numbers in high-school, and he could still jump in the NBA. But his jumper was a little scary, his defense was nothing special and coaches had a hard time finding a use for him.
But he worked.
And he did something that you seldom see. He entered the NBA with a noted weakness -- shooting -- and has since turned it into his calling card.
The athletic things Outlaw can do -- finishing on the break, catching alley-oops, getting the occasional spectacular block -- now take a backseat to his ability to get off a high quality shot just about whenever he wants. He can catch and shoot from downtown, or drive and show off the high point of release in his mid-range game.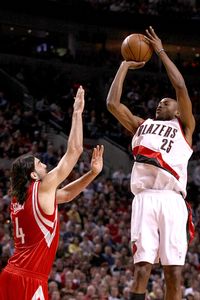 Travis Outlaw is noted for the high point of release on his jumper. "I feel," he says, "like I can get my shot off at any time."
(Photo by Jonathan Ferrey/Getty Images)
That last quality has made him Portland's Option 1b (behind Brandon Roy) as a crunch-time shooter.
He is also noted as a lynchpin of the Portland lockerroom -- when things were frosty between Brandon Roy and LaMarcus Aldridge, it was the smily Outlaw who bridged the gap.
The main criticism of Outlaw is that he is not noted for his defense, and he has been accused of being in the wrong place at the wrong time -- which he acknowledges happens from time to time, but he says, not more than it happens to anyone else.
Today, with the news that Hedo Turkoglu is on his way to being a Blazer, Outlaw is the man in the spotlight. It's hard to imagine that all of Portland's small forwards -- Hedo Turkoglu, Nicolas Batum, Outlaw, Martell Webster -- will see significant playing time.
Many speculate that the Blazers will be making another move -- one that could involve Outlaw, who is young, skilled and affordable enough to be desirable on the trade market.
So, how does he feel about the Turkoglu news? Did it turn his stomach?
"When I first heard about it," he admits, "maybe a little bit. But now it's, aww, things happen for a reason. That's the way I look at it. ... That's just the NBA for you."
Outlaw is candid about the fact that he dreams of being an NBA starter, and one of the big name players fans talk about. He says it really doesn't matter to him which team that happens on. "I definitely want to play more," he says. "I definitely want to get to a place in my career where I'm a starter. I also do want to win. But I could play anywhere in any system, as long as they have a winning mentality."
Does he care at all where that is? "No," he says. "Not really."
Which is not to say he's unhappy with his Portland teammates. Many teams struggle socially with the reality that some players make much more than others. Nearly all of Portland's key players have had huge contracts. I wondered if a big contract like Turkoglu's might upset the balance or create factions. Outlaw couldn't see it. "There's a bunch of great guys in the lockerroom," he says, "and everyone always wants what's best for each other."
Of Turkoglu, he adds: "He's a great player. They had a great year. If he's willing to come over and help us out, fine."
What does this mean for Outlaw, and his role on the team? Has he heard from them? "No," he says. Does he have any idea what their plans are for him? "No idea."
That would seem to put Travis in a stressful place. But Outlaw doesn't seem to feel all that much pressure. He's spending the summer working out ("swimming and shooting, mostly") and spending time in his hometown.
With the ball in crunch time, he looks just as calm and confident as at any other time in the game. ("I've never been afraid to shoot," he says. "When I'm shooting, I just don't want to rush it. I just want to shoot it soft.")
He doesn't seem to be under too much stress now. He has funny stories about what he's up to, including convincing his marketing manager Ty Davis that they needed plane tickets to Orlando, because he had been traded there with Steve Blake for Hedo Turkoglu. "I had him going," says Outlaw, "for about ten minutes. He didn't know Hedo Turkoglu was a free agent."
Relaxed though he may be about crunch time, trades, or the future, he's not immune to nerves.
Outlaw has another story, about having a swimming pool put into his backyard. The workers have a backhoe parked there. Outlaw, Davis, and Danny Ainge's nephew Erik (of the New York Jets) were hanging around and decided to try driving it.
"We were just trying to crank it up," says Outlaw. "We cranked it up. And all of a sudden I got really nervous. What if I run it towards my house, and then I can't stop it? I left it alone."
June, 19, 2009
6/19/09
3:13
PM ET
While the cellar-dwellers prepare their draft board, the NBA's elite have some tough calls to make. Will the Lakers pony up for Lamar Odom? Is Hedo Turkoglu worth exceeding the cap for? And the Cavs confront the reality that they're a couple of rotation players away from Eastern supremacy.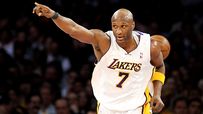 Darius Soriano of Forum Blue & Gold: "We're at the point where [Lamar] Odom's true value to this team is no longer a mystery. When you talk X's and O's, he's the player that makes our strong side zone work as he provides the mobility and length to move from one side of the court to the other, pick up flashing big men, guard perimeter players, trap the ball handler, and still recover to the paint to rebound. He's the player that helps create our tremendous offensive spacing - playing as a PF that can initiate the offense, play on the perimeter (and be effective with the jumper or the drive), find creases in defenses to take advantage of the double teams that Kobe and [Pau] Gasol face, and also play in isolation from any position on the court (wing, top of the key, low block, elbow, etc). And when you talk team building and chemistry, he's also a real leader for the Lakers. Many will point to Kobe [Bryant] or [Derek] Fisher as our leaders - and rightfully so - but it's Odom that has been the stabilizer for our squad. He's been the bridge between our first and second units, the guy that organizes team dinners and brings in a chef for training camp, the guy that is in the middle of the huddle motivating and inspriring our guys for the battle ahead, and the guy whose lighthearted nature and devotion to the team keeps the locker room loose. We need this player."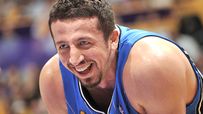 Zach McCann of Orlando Magic Daily: "[T]o other teams, is [Hedo] Turkoglu really worth close to eight figures? John Hollinger's Player Efficiency Rating isn't perfect, but it's probably the best method we have of comparing players. Turkoglu's PER this season was less than Travis Outlaw, Marvin Williams, Grant Hill, Rudy Gay, Anthony Randolph and Richard Jefferson. And PER often punishes player who are shut-down defenders - something Turkoglu is not. We all know the intangibles of Hedo Turkoglu - his ball-handling skills, his abilities to create mismatches, his knack for shooting well in the clutch - are why he's so valuable to the Orlando Magic. But it can't be ignored how much Turkoglu fell off from last season to this season ... It's not like 30-year-old players regularly bounce back after down years. It's hard to imagine the Magic, or any team, think Turkoglu's career year of 2007-08 is the norm. The Turkoglu we saw this season is likely what most people expect out of Turkoglu going forward. Is 16-5-5 with a poor shooting percentage worth $10 million?"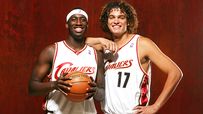 John Krolik of Cavs the Blog: "A rotation big is hard to find. Really hard to find. And even if Andy [Varejao] comes back, this team, as Ben Wallace's corpse made clear in the ECF, is having trouble filling those minutes, especially considering Joe Smith seemed to be out of the playoff rotation. JJ Hickson is a great prospect, but even he has serious question marks at the defensive ends. The good news: LeBron James can give you 15 absolutely unbelievable minutes at the 4 on a nightly basis. The numbers were eye-popping ... this season when he played at the 4: A PER of 38, 39/11/8.5, and 2 blocks per 48 minutes, a higher net +/- per 48 minutes than his minutes at small forward, and he holds his man to less than a league-average PER defensively. And this is all with Wally [Szczerbiak] holding down the three spot and essentially doing nothing and getting exploited defensively. In the playoffs, Wally was simply too much of a liability. With a true rotation-quality swingman, the Cavs could take advantage of LeBron's ability at the four without leaving a hole, and it's much, much, much easier to get a rotation-quality swingman than a rotation-quality power forward."
THE FINAL WORD
Truth About It: The quotable Flip Saunders.
Celtics Hub: The Big Green honor the king of green.
Roundball Mining Company: The latest export to Asia? The Denver Nuggets.

(Photos by Noah Graham, Jesse D. Garrabrant, Nathaniel S. Butler/NBAE via Getty Images)
ESPN's John Hollinger, has some must-read talk about how coaches ought to use fouls and substitutes (Travis Outlaw's wild 3 off the inbounds yesterday? That came at a moment when strategy dictated Houston would foul give Portland two free throws instead of a chance for a 3-pointer) but also writes about the French Spur (Insider):
The most shocking thing about Saturday's loss was seeing Tony Parker run out of gas so visibly down the stretch. He had a breakaway with just less than four minutes left in the fourth quarter when Jason Kidd and Jason Terry both caught up to him. He missed both free throws, and his only shot the rest of the way was a tired-looking 3 off the dribble into the front rim.

Parker played 41 minutes and scored 43 points but had only 12 after the break and none in the final 7 minutes, 33 seconds. His teammates mustered only eight points during that stretch, allowing the Mavs to win despite getting diddly from both Dirk Nowitzki and Terry.

This reinforces the dominant theme of the Spurs' season: not enough help. Parker rarely played 41 minutes during a playoff game in past seasons, let alone 41 minutes of handling the ball for 15 to 20 seconds on nearly every possession. San Antonio got 68 points from Parker and Tim Duncan, but only 22 on 6-of-28 shooting from the others. Once Dallas clamped down on those two after halftime, the Spurs scored only 35 points in the second half.
UPDATE: Wow wow wow. If I could to back in time I'd be sure to put the phrase "Parisian Torpedo" in the headline of this. You see this gem from Gregg Popovich's last press conference? Turns out a card reading "press" tucked into the ol' fedora is all it takes for a drama student to make it into an NBA press conference these days.
March, 20, 2009
3/20/09
10:07
AM ET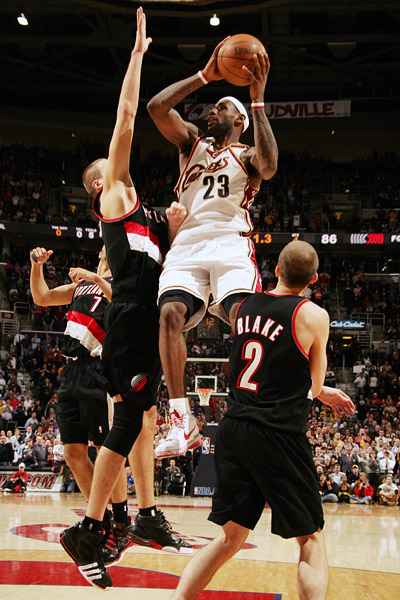 This is a good situation for the Cavaliers.
(David Liam Kyle/NBAE/Getty Images
A couple of days ago I wrote about how it displeased me to see the Cavaliers' dedicate their crunch time offense to long jumpers.
The truth is, of course, that they had good shooters taking fairly open shots. Most nights they'd probably make one or two more of those and win easily. But it didn't look right to me, mainly because that team happens to have the NBA's ultimate weapon: LeBron James on the move to the hoop.
The very next game, James and the Cavaliers got another close game, and another crunch time.
Unfortunately for my Blazers, this time the whole Cleveland team was reading straight from the gospel of getting into the paint. And boy oh boy did it work.
In crunch time against Orlando, the Cavaliers essentially shot 3 after 3 after 3, and only one when a very long and fairly well defended one went in. Coupled with a once-in-a-generation referee's whistle, it felt like trickery ... an escape.
Last night, there was no trickery. Here is how the Cavaliers went about scoring, starting with a tie game at the 4:43 mark of regulation:
Anderson Varejao makes a wide-open 17-foot jumper.
Delonte West makes a layup.
Zydrunas Ilgauskas makes a layup.
LeBron James makes a 12-foot jumper.
LeBron James misses a 15-foot jumper.
Anderson Varejao has a layup attempt blocked.
LeBron James makes a layup.
LeBron James makes an eight-foot shot.
LeBron James misses from 21 feet.
LeBon James misses from 13 feet.
By the overtime, the Blazers -- on the second night of a back to back, and missing two starters to injury -- were gassed. The Cavaliers dominated, especially when they went to the hoop.
LeBron James makes a layup.
Zydrunas Ilgauskas is fouled and makes one free throw.
Zydrunas Ilgauskas makes a 19-foot shot.
LeBron James misses from 23 feet.
Zydrunas Ilgauskas misses from 20 feet.
LeBron James makes a runner from five feet.
LeBron James makes a runner from eight feet.
Mo Williams is fouled, with the game already essentially over, and makes two free throws.

In a terrible bit of anecdote posing as science, I'll tell you that by my tally, the three crunch times, as it were (the last few minutes of the Orlando game, the last few minutes of regulation against Portland, and the overtime) the got to run 26 offensive plays.
14 of those possessions ended with a shot outside 15 feet. Those possessions led to 12 points.
The other 12 possessions ended with shots inside 15 feet. Those led to a whopping 17 points.
In this sample-so-tiny-I-shouldn't-even-calculate-these-numbers, that's 86 points per 100 possessions, compared to 142.
Now of course a big factor there is how the defense plays you -- and I'll grant that the Magic gave up wide-open long balls to good shooters. But you still can't marvel at the efficacy of the Cavalier machine when they are dogged about getting to the hole.
Of course, there's another interpretation of these events: Maybe Portland's interior defense was just not good down the stretch. Every single one of those makes inside 15 feet was against Portland.
Indulge me in a little Friday morning quarterbacking here. I have one little pang of "what if" as a Blazer fan. Did you see Greg Oden in this game? He looked fresh, energetic, and just the right kind of chippy. He and Lebron James were, for a time, tussling with each other, competing to be the big man on that court. Not bad for a rookie, to get in that contest with an MVP.
And Oden hoovered in rebounds at such an insane rate that, despite fouling every few seconds, and not doing much on offense, the Blazers were +5 during his 12 minutes on the floor. (That +5 was better than all the other Blazers and most of the Cavaliers.)
With 1:35 left in overtime, Sasha Pavlovic fouled out. The Cavaliers were up just four, but the whole Blazer squad was clearly gassed -- especially Rudy Fernandez, who is still working back to form after his big fall.
It was time for something outside the box. Oden was fresh and high energy. (More on his night.) He had been benched the vast majority of the night.
I wanted to see Portland go not just big, but twin towers huge. Oden, Joel Przybilla, Travis Outlaw, Brandon Roy, and Steve Blake. Without Ben Wallace suited up for Cleveland, the Blazers would have owned the paint area, where the Cavaliers had their way at both ends in overtime.
Instead James scored twice in the paint, the Cavaliers got three key rebounds (to Portland's two -- both flukey longballs) before the game ended, and that was it.
And one last little point: Stat geeks will tell you that the least efficient shot in basketball is the super long two-pointer. In the final minutes of regulation, Travis Outlaw made two of the longest two-pointers imaginable. Great shots, that kept the Blazers in a close game. But those shots are hardly tougher a few inches further away from the hoop -- where together they would have been worth two extra points in a game that ended regulation tied.
Those little things -- mastering the placement of those feet -- make the difference.
Two points in this game, in this kind of playoff hunt ... that could mean a home court advantage in the first-round of the playoffs. So, watch those feet, Travis.
December, 31, 2008
12/31/08
12:02
PM ET
Posted by Kevin Arnovitz
LaMarcus Aldridge's mid-range jumper is among the most indefensible shots in the game. His length and quick release make it infallible when he's on, whether he's facing up, leaning into his defender -- something he's become more comfortable doing lately -- or fading away. This month, Aldridge has averaged 19.8 ppg on 50% shooting from the field, up from his November totals of 15.9 ppg and 46%. Despite the steady progress, Aldridge still hears the whispers: "soft," "mercurial," "finesse player." Some of these characterizations are disputable. But, as Ric Bucher reports in the upcoming issue of ESPN the Magazine, Aldridge is well aware of his confidence issues, as are the Blazers, and their origins:
"I'm not normal," Aldridge says. "The only person I really trust is myself."

When those are the words you live by, your tendency is to examine everything you encounter with a microscope, looking for signs of deception or dishonesty, for any speck of someone trying to get over. Even something as simple as changing a pregame routine-say, replacing [Blazers video coordinator/assistant coach Kaleb] Canales-requires deliberation and execution, lest Aldridge peer into his scope and find something not quite right.

Of course, Aldridge's lack of faith in his fellow man isn't the first topic of conversation for those who mull whether the Trail Blazers will live up to the expectations that have them skipping right past "playoff team" to "perennial contender." Greg Oden's right knee, Brandon Roy's nagging injuries, Steve Blake's point guard play … each is a lot more top of mind. This team-which has not made the playoffs in six years, which has half a dozen players (including Aldridge) who will be eligible for options or extensions this summer, which has the NBA's second-youngest roster-is just poking its head out from the cocoon. In other words, the Blazers are as fragile as they are enthralling-just like Aldridge.

So this metamorphosis is going to take time, which requires patience, which demands, well, trust that the time spent will be worth it...

Now, after a couple of weeks of subtle hints and a one-point home win over the Kings in which Aldridge is so out of sync that he pleads with McMillan to stop calling his number, the coach has had enough. He orders assistant Joe Prunty to work over Aldridge the next day. Prunty is no bigger than Canales, but after practice he and two other staffers put Aldridge through a post drill-pushing, grabbing and slapping with focus-and suddenly Aldridge isn't grinning anymore. Practice is long and the prepractice film session longer, but Aldridge is revving in midgame form, wheeling and crushing dunks. "Haven't done a drill like that since college," he says afterward...

Later, Aldridge is at his locker when McMillan comes over and slides a hand under his T-shirt. Wanting to see if the new workout has produced the desired result, he frowns when he doesn't find a sheen of sweat. Aldridge, exasperated, says, "C'mon, I've been done for a minute! Dang!" The intrusion touches more than skin; it strikes a nerve.
Aldridge's internal battles aren't merely a personal endeavor. The entire Blazers' organization is mindful of Aldridge's temperament. They're deliberate about how to foster his development while being aware of -- and smart about -- the psychology at work:
BEING A Texan, Aldridge has a particular love of red meat. So it was especially wounding when he thought that Roy had left him out of a trip to a Brazilian barbecue joint in Memphis early last season. So that's how it is, he thought, and steered clear of Roy everywhere but on the court. It wasn't until the summer that Travis Outlaw convinced Aldridge that he had simply forgotten to tell him about the dinner. The issue is a memory now, but that kind of response to a perceived slight is what the Blazers work every day to avoid. They can't afford not to...

One of the main reasons McMillan opted to bring Oden off the bench when the No. 1 pick first returned to the lineup was to squelch Aldridge's urge to defer to him. And while the Blazers' marketers gladly would have followed everyone's lead and made Oden and Roy the thrust of their strategies, Kevin Pritchard and McMillan knew better. Aldridge gets equal time on the cover of the team's media guide and on area billboards.
October, 31, 2008
10/31/08
10:46
AM ET
Even when Greg Oden was out of the picture last season, recovering from microfracture knee surgery, the Blazers were one of the NBA's happiest stories.
The two big stars of the team's resurrection have been Brandon Roy and LaMarcus Aldridge.
Who knew that off the court, there was a chill between those two? Jason Quick of the Oregonian reports that a perceived slight over a barbecue dinner, and two young men who are reluctant to make the first move led to an uninspiring relationship.
Now, however, things have changed, thanks in no small part to the tedium of hanging around a Hollywood set, and the warped blessing of poor cell phone networks. Quick writes:
Early in September, Nike flew Aldridge, Roy and Greg Oden to Los Angeles to shoot a commercial featuring LeBron James.

But the day didn't go as planned. There were delays.


Aldridge and Roy have both long been close to Travis Outlaw, who played the role of middle man. Now, Outlaw jokes, he's no longer needed and has been kicked aside.
(Sam Forencich/NBAE/Getty Images)

Postponements. More delays.

The three Blazers were housed in a trailer. Oden, a notorious sleeper, spent most of the day napping in the back.

Aldridge and Roy watched "New Jack City," and found out they both revered the movie as a classic and that both could recite lines at a moment's notice. But after the movie was over, they were left with just themselves. Neither of their cell phones got reception.

"That was the first time we had been together that long, in one spot, without being able to leave or talk to other people," Aldridge said. "We didn't have any outside contact. We were isolated."

They had nothing else to do but talk.

And so it began.

They talked about their parents. Their girlfriends. Cars. Money. Family.

"I mean, we talked about EVERYthing," Roy said. "That's what really broke it down. At one point, he was like, 'You don't have to keep listening to me,' and I was like, 'No. Keep talking. I'm listening.' Because we are in the same situation in a lot of things, and he said some of the same things I had been thinking."
December, 13, 2007
12/13/07
10:32
AM ET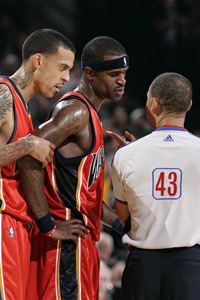 "No, seriously, you don't understand. We're the Golden State Warriors. We can't be losing to the Portland freakin' Trail Blazers."
It's a funny thing that's happening with this Blazer team. Honestly, my expectations have been pretty darned low for this season. But now they're on a win streak of five games -- with wins the last two night in Utah and at home against the Golden State Warriors.
The highlights will give you a little taste.
They're winning games in the strangest fashion. Against Utah, the Jazz opened the game with a layup line. One after another. Add in the absent Greg Oden and LaMarcus Aldridge, and it was clearly going to be a miserable night. But then one guy got hot, and another, and then later another. Everyone seemed to take turns making shots that this team has historically missed.

Last night was much the same. Martell Webster sat out most of the game with flu-like symptoms. And it barely seemed to matter. James Jones, Brandon Roy, Joel Przybilla, and Travis Outlaw did the scoring instead.
Through it all, Joel Przybilla has been the kind of lane patrolling alpha dog that winning teams almost always have.
And now, you're starting to see something that has been missing for a long time: praise for Nate McMillan's Xs and Os. On Tuesday, Portland scooted into and out of a zone defense in a way that clearly kept the Jazz off balance. They have also been scoring out of timeouts, which is usually seen as a crude measure of clipboard chops. The Oregonian's Jason Quick says the team had another couple of tricks at the ready last night:
"I don't know how you give credit to a coach, but he gets an A-plus," said Roy, who had 21 points and seven assists. "Not only his adjustments on the fly, but just putting guys in the right position. He has been really good."

On Wednesday, McMillan fought the temptation to get caught up in Golden State's small lineups, starting the game with an emphasis on attacking the Warriors inside. Przybilla, who entered the game averaging 4.6 points, scored the Blazers' first seven, eventually forcing Nelson to take out undersized center Al Harrington and go with a bigger, yet less skilled center in Andris Biedrins.

Once Nelson went with Biedrins, McMillan countered by substituting Outlaw for Przybilla, and Outlaw took advantage, zig-zagging his way around the court for 12 second-quarter points.
Quick also points out that McMillan is starting to trust the team. He used to yank anyone who made a bad play. But now he's letting them feel their way a bit more, and the trust is paying off.
Now, I have no illusions. I know that in the big picture a five-game winning streak doesn't mean all that much. But when you couple it with low expectations it can really make you feel like singing. Consider very serious blogger Dave, of BlazersEdge:
After a while you get used to watching games. You're sitting there on the couch, Tivo remote in one hand (to rewind and analyze), pen in the other (to make notes for later use). Your eyes dart back and forth, looking for the angle, the story, the trends. I don't want to say it's like a business because it's not. It's very enjoyable. But it's kind of a clinical operation, especially when you know that a few thousand people are going to call you on mistakes you make or things you miss. You watch the moment, but you seldom get to be in the moment.

In the third quarter tonight the Blazers turned me into 100% fan again. Put down the pen, stop rewinding and analyzing, just watch and enjoy. Seeing Trout [Travis Outlaw] and Jones nail shots like they were 10-year pros, Jack and Joel run the pick and roll against a defense that was begging to be exploited, watching that brilliant play as Roy passed to Joel and then back to Roy again for an easy two at the rim ... wow.
(Photo: Sam Forencich/NBAE via Getty Images)