February, 6, 2013
2/06/13
7:40
AM ET

By Kevin Arnovitz
ESPN.com
Archive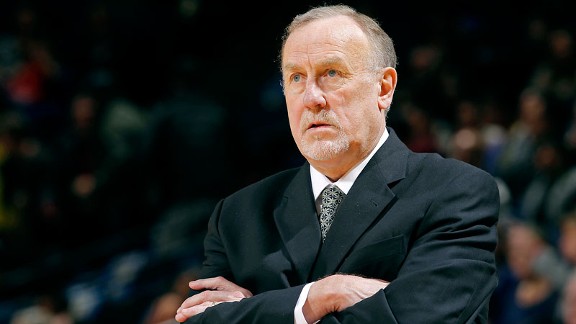 Rocky Widner/NBAE/Getty ImagesRick Adelman: The quiet innovator
Name
: Rick Adelman
Birthdate
: June 16, 1946
Is he an emotional leader or a tactician?
A tactician whose schemes have influenced coaches at every level of competitive basketball. When Adelman wants to motivate a player or address a potential conflict, he's far more likely to sidle up next to the guy at a shootaround or at practice for a quick conversation than make a fuss. Adelman is not a consoler, pep squad leader or speechmaker. His dominant message? Practice is tomorrow at 11. For players who prefer more communication or need hand-holding, this can be difficult, but Adelman has a knack for maintaining harmony.
Is he intense or a go-along-get-along type?
He has the unique ability to manage diverse personalities with his even temperament. Clyde Drexler clashed with an intense Mike Schuler during his early years in Portland, but when Adelman took over, Drexler was on the same page as his new coach from the outset. Adelman errs on the side of less practice, not more, and is constantly mindful of whether his players are in a good place, and that basketball isn't becoming a chore to them. He isn't inclined to develop deep relationships with players, but they're confident he won't play favorites and won't call them out in a group setting. Adelman is a quiet teacher, a stoic and somewhat of an introvert, which is a rarity in this profession. On the road, he's more likely to spend a night in than go out to a dinner where basketball might be the leading topic of conversation. He requires time to recharge.
Does he rely on systems, or does he coach ad hoc to his personnel?
Although his schemes offer a fair amount of flexibility, Adelman certainly falls on the system end of the spectrum. He wants the game played a certain way, something expressed in his corner sets that have been replicated a million times over in the league. A few NBA teams actually refer to these play calls as "SAC" (as in Sacramento), where Adelman refined his offensive approach. While the principles of Adelman's offense remain the same -- all five players engaged, move the ball quickly, remain aggressive as you read and react -- he will adjust and modify the primary options to accommodate different skill sets. The best example would be Yao Ming, who needed to be fed the ball in places on the floor that, in most circumstances, Adelman would prefer vacant.
Does he share decision-making with star players, or is he The Decider?
Adelman believes that a player who buys into the program is entitled to a piece of the enterprise. He doesn't preside over a dictatorship, but most of all, he pre-empts any conflict by making decisions his players can get behind. His system also entrusts players to make decisions and unleash their creativity.
Does he prefer the explosive scorer or the lockdown defender?
He has an affection for high-IQ scorers -- Peja Stojakovic, Kevin Martin, Mike Bibby, even Von Wafer. Under Adelman in Houston, Aaron Brooks got the bulk of the minutes over Kyle Lowry at the point until Brooks went down with an ankle injury in Adelman's final season with the organization.
Does he prefer a set rotation, or is he more likely to use his personnel situationally?
A set rotation works best for Adelman, who wants to avoid making waves that might divert the focus of the team away from what's happening on the court. When Adelman assigns someone to the starting lineup, he'll exercise patience with that player.
Will he trust young players in big spots, or is he more inclined to use his veterans?
Young players, especially those who can score, get plenty of opportunities under Adelman. He took immediately to Cliff Robinson in Portland when the Trail Blazers were among the elite. Rookie Jason Williams led the Kings in minutes during the lockout-shortened 1998-99 season. Houston was largely a veteran outfit during Adelman's tenure. Minnesota has been a MASH unit -- any healthy body will do.
Are there any unique strategies that he particularly likes?
Adelman isn't looking for one specific shot in a possession. He imagines a range of positive outcomes and has created a framework for achieving one of those objectives, which we know generally as the corner offense.
The corner isn't so much a system of play calls as it is a systematic way to promote ball and player movement through smart reads. Multiple players are involved in just about every possession, which keeps offenses humming and players happy.
At its most basic, a corner set will feature three players on the strong side -- at the wing, corner and a big man at the elbow who has the instincts and skills to facilitate offense on the fly, players such as Chris Webber, Vlade Divac or Brad Miller. Offensive players size up the defense, then choose an action that best exploits what the defense surrenders.
In short,
read and react
.
For instance, a dribble handoff is a popular option within the corner. A wing who can capably read a defense will play out the sequence based on what the defense affords him. If his defender is trying to deny the handoff by hugging him tightly, he can slip back door. If the defender goes under the big man, the wing can stop and pop. If the defender is trailing, then take the ball and penetrate, draw contact or, if help comes from the weak side to collapse, make a pass to a shooter in the corner (Stojakovic and Shane Battier were frequent beneficiaries). Of course, the big man can always fake the handoff and, if his defender bites, turn around and shoot an open jumper. While all this is going on, the weakside big might give his weakside small a down screen. This gives the corner crew another option -- a shooter popping out to the perimeter.
A lot of cool stuff can materialize with the corner, and most playbooks around the league include a couple of "C-sets" with multiple triggers. Ultimately, the collective instincts of the five-man unit drive the offense, and each player on the floor is empowered to do something over the course of the possession to test the defense and keep it guessing. The ball moves and, when run correctly, the offense never starts and rarely finishes with isolation basketball. The corner doesn't offer the level of structure found in the Triangle or the continuity offense in San Antonio, but it's easier to pick up and allows players to be a bit more creative -- which can be both an asset and a drawback.
What were his characteristics as a player?
A standout at Loyola Marymount, Adelman was a 6-foot-1 point guard without much of an outside shot and zero speed. But he could defend in the half court, move the ball to the scorers and make a pass on the move. He was chosen by the San Diego Rockets in the seventh round of the 1968 draft, and wore a hockey mask for the first couple of months of his NBA career after breaking his jaw in a preseason game. That Rockets team included Pat Riley. Two years later, Adelman became a charter member of the expansion Portland Trail Blazers team.
Which coaches did he play for?
His first NBA coach was Jack McMahon, regarded as a players' coach. He also played for Rolland Todd, Stu Inman and Jack McCloskey, all of whom lost a lot of games. Adelman then moved to Chicago, where he played for Dick Motta, before moving on to New Orleans, where he played for the nomadic, fiery, profane Butch van Breda Kolff, then finished his career with the Kings and Phil Johnson.
What is his coaching pedigree?
Adelman got his start at Chemeketa Community College in Oregon, where coaching basketball was just one part of the gig. The position was actually the province of the college's counseling department and Adelman's other responsibilities included educating high school kids about the junior college system. Adelman's big break came in 1983, when he got a phone call from Dr. Jack Ramsay asking him to join the Trail Blazers' coaching staff. Ramsay's "turnout" offense, with its continuity, multiple screens, cuts and quick passing, was foundational for Adelman, and Ramsay is very much the spiritual godfather for much of what Adelman has developed as an offensive practitioner. After Ramsay's departure from Portland, Adelman stayed on under Schuler, then took over the head job when Schuler was let go in February 1989.
If basketball didn't exist, what might he be doing?
A lover of history who appreciates time to contemplate, Adelman would be on the faculty of a junior college in California or Oregon.
October, 7, 2009
10/07/09
6:14
PM ET
From the archives, a nice little tribute to Vlade Divac.
They ask Del Harris if he taught Vlade Divac how to flop. He cracks up. "Did I teach Vlade Divac how to flop? Are you kidding me? He came over here and taught the whole NBA how to flop."
September, 21, 2009
9/21/09
12:57
PM ET
Posted by Jay Aych, The Painted Area
Team USA got its redemption with Olympic gold in Beijing in 2008. On Sunday, Team España got its redemption with Eurobasket gold in Katowice, Poland.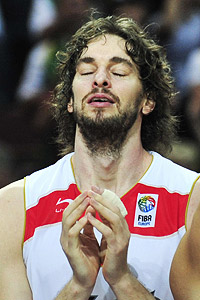 Pau Gasol: On top of the basketball world.
(Aris Messinis/AFP/Getty Images)
After blowing the 2007 Eurobasket gold-medal game to the underdog Russians at home in Madrid, Spain finally won its first Eurobasket title on Sunday, and did so in convincing fashion, beating Serbia 85-63.
Spain thoroughly outplayed Serbia in every facet of the game. The game was never in doubt and the gold medal was essentially wrapped up by halftime. Spain finally ascended to the top of the Euro podium after taking home six silvers and two bronzes all time, including three silvers and a bronze over the past decade.
Speaking of redemption, well, Spanish superstar Pau Gasol's circle is complete as well. After being roundly criticized for his role in the Lakers' defeat in the 2008 Finals, Gasol established himself as arguably one of the NBA's top dozen players in 2008-09, capped off by his skilled performance in L.A.'s championship run through the 2009 Playoffs and Finals. Pau averaged 18.6 points, 9.2 rebounds, and 1.8 blocks while also shooting .600 and doing a fine job defensively against Dwight Howard in the Finals.
Meanwhile, NBA fans may not be as aware that Gasol had unfinished business at the Eurobasket as well, as his disastrous fourth quarter in the 2007 gold-medal game may well have cost Team España the game.
As we wrote in 2007
:
"After such a tremendous Eurobasket for two weeks, Pau Gasol had a nightmare of a final--he just couldn't connect on his interior shots. Some of that has to be credited to the Russian defense, but Pau just could not get shots to fall.

Then he had a 4th quarter he would soon like to have wiped from the records. Pau was 3/8 on FTs and combined that with 3 TOs, including the costly TO with :25 left. All these miscues would have been forgotten if Pau could have knocked down a desperation jumper with :02 left, but his shot just rimmed out. Overall on the night, the Spanish go-to guy was just 4/13 from the floor and 5/12 at the line (14 pts, 14 reb, 3 ast, 3 blk, 5 TO)."
In 2009, Gasol was the dominant player at the Eurobasket, easily winning the tournament MVP for his terrific all-around play over the last two weeks. Pau's stat line for the tourney: 18.7 points, 8.3 rebounds, 2.2 blocks, 1.2 assists, 66 percent from the field, and even four-of-nine from 3-point range. He led the tourney in scoring and blocked shots, and finished second in field goal percentage and rebounds per game.
In '09, Pau kept it going all the way to the end. In the gold-medal game, Gasol led Spain with 18 pts on 8-of-13, 11 rebounds (four offensive) and three blocks. As usual, Pau was also a factor in the interior, deterring scoring at the rim. Gasol didn't do too much damage with his back-to-basket game, as Serbia actually guarded him fairly well on the block with Nenad Krstic and Kosta Perovic. Pau scored a few times finishing in transition, on a couple of drives, finishing on rolls or cuts (two of which were alley-oops).
It's just striking to see how Pau Gasol's basketball world has done a 180 since the deep disappointment of two years ago, when he was a primary reason that Spain lost the Eurobasket as heavy favorites at home, and his NBA career was wallowing in Memphis. Now, it's not crazy to say that Pau Gasol may be headed on a path to the Basketball Hall of Fame.
We noted last week
that the Hall of Fame had set a tenuous precedent by inducting FIBA legends Drazen Petrovic, Dino Meneghin and Drazen Dalipagic. By those standards, Gasol is already a Hall-of-Famer, though guys like Vlade Divac, Toni Kukoc and Arvydas Sabonis fall in the same boat -- qualified by FIBA standards, but falling short by NBA standards -- and it's uncertain how the Hall will treat them.
Also consider that this Lakers team still has some life left in it. If they end up winning another title or two, well, the history of the Hall of Fame has been to reward multiple players from teams with multiple championships (we don't necessarily agree with this, that's just the way it is). Gasol would certainly have to be considered the second-best player of this Lakers team, to date. He's also building some statistical chops, with over 11,000 points and 5,000 rebounds for his NBA career by age 28, with averages of 18.8 points, 8.7 rebounds, 3.2 assists, 1.7 blocks, .520 field goal percentage and a 21.8 Player Efficiency Rating. Give Gasol three rings to go with his FIBA resume, and we think he'll be close to a shoo-in, again based on past precedent.
Make no mistake, Pau Gasol's resume in FIBA play
is
formidable, and it's clear that he is one of the top European players of all time. Pau now adds a 2009 Eurobasket gold to his mantle top, to go along with his 2006 World Championship gold, 2008 Olympic silver, and 2003/2007 Eurobasket silver medals.
Since 2003, Pau has led Spain to three Eurobasket finals, one World Championship, and one Olympic final in six summers of competition (he missed the 2005 Euro due to injury). Every summer Pau has participated in FIBA competition, he has been selected for first team All-Tournament honors. It's no surprise that the rise of the Spanish national team has coincided with the emergence of Pau Gasol as one of the top players in the world.
Gasol consistently shoots above 60 percent at every international tourney, he's always one of the best shot blockers, and is always near the top of the scoring leaderboard -- Pau was the leading scorer at the '03 Euro, '04 Olympics, '08 Olympics & '09 Euro.
In 2003, Pau helped guide Spain to the Eurobasket final, in which they fell to another European basketball power, Lithuania. Pau poured in 36 points and 12 rebounds in the final, and led the tourney in scoring with 26 points per game.

In the 2004 Olympics, Pau led Spain to a 5-0 record in group play. But Spain was unfortunate in that they had to play a talented but underachieving Team USA in the quarterfinals, where they lost by eight points. Pau led the '04 Olympics in scoring (22.4 points per game) and was named first team All-Tournament.
In 2006, Pau led the Spaniards on an undefeated run through the World Championships in Japan. Even though Pau had to sit out the gold-medal game because of a broken foot suffered in the semifinal, he was still was awarded the MVP for his dominant play in the previous games. Pau's stellar stat line for the '06 Worlds: 21 points, nine rebounds and 2.5 blocks per game to go along with 63 percent shooting from the field.
In 2007, Gasol would have been the Euro MVP, if not for the aforementioned fourth-quarter meltdown vs. Russia. Andrei Kirilenko took home the award, but that does not take away how awesome Pau was for the entirety of Eurobasket 2007 -- he averaged 19 points per game on 62 percent field goal shooting, with seven rebounds and 1.8 blocks per game.

As far as 2008, we're pretty sure you remember how Spain pushed a fully stocked Team USA to the brink in Beijing. Pau powered that team with 19.6 points per game on 65 percent field goal shooting and seven rebounds per game, leading the Olympics
in scoring. Gasol scored 21 points in the classic gold-medal game, even though he only played 28 minutes for some strange reason.

Gasol has taken knocks for his inconsistent defensive effort in the NBA in the past, but he has always been a defensive stalwart on the international stage. He's a tremendous defensive presence on the back line for Spain, where he takes full advantage of the FIBA rules. He's been one of the top defenders in international play the last five years or so.
All told, Pau Gasol has taken quite a journey over the past two years, from the depths of two years ago, when he suffered defeat in Madrid and was staring at defeat after defeat in Memphis, to today, when he is standing really quite close to the top of the mountain of the basketball world.

For a full analysis of the gold-medal game, please visit The Painted Area.
September, 15, 2008
9/15/08
2:40
PM ET
October, 1, 2007
10/01/07
4:08
PM ET
(AP Photo/Srdjan Ilic)
A little more than a week ago, Vlade Divac held a massive fundraiser to benefit refugees in Serbia and Africa. All kinds of NBA dignitaries were on hand, and one of them, new Celtic Scot Pollard (that's him in the striped black shirt), agreed to write a blog entry for TrueHoop about what really happened last week in Serbia.
Hey Kids! First of all, let me mention I hate the word blog. Here's my journal of what happened in Serbia last week, September 19th-23rd.
I landed in Belgrade in the late afternoon, and went to the hotel and got a nap. I had dinner at eight, then met with Vlade and several celebrities including Bill Bertka, Glen Rice, Toni Kukoc, Chris Webber, Gregg Popovich and many others, plus some legends of the former Yugoslavia. (I will not insult by trying to spell their names.)
After dinner, some of us wanted to go to a club, to see how Serbs do it.
They do it well.
Rumor has it some guys jumped behind the bar and lost their shirts ... I'm not at liberty to discuss who. (We agreed we wouldn't say it was me and Chris.)
Next day, we had a press conference to explain why we were there. For me, it was just for Vlade. He is such a great person, I wanted to do anything I could to help him. I don't know if I helped at all, but I did smile pretty!
Friday night was the formal affair at the royals' house. I looked really good in my tux. I asked some people to come over and see how good I looked, but they just yelled over, "you look good, Ron Burgundy." The power was out at the Prince's house, but we had a good time anyway, so that when the power came back on, we hadn't missed a step.
After meeting and dining with more important people than I can remember (let's just say I felt like Forrest Gump meeting the president & AGAIN) we went to another club. This one was on the water, on a permanently docked pontoon. Live music, which ended up literally at our table, was great! All classical Serbian songs, and EVERYONE knew them, excepting us foreigners, o' course.
The next day my appearance was around noon in downtown Belgrade. I mostly just took pictures and rebounded and joked around with everybody.
It's humbling going to a country that has recently had a real war and is so poor, and yet I can speak my native tongue to the locals and they can understand and respond in English.
Anyway, this is the day when I realized why Serbia is such a force in basketball. Everyone in Serbia is seven feet tall! Boys, girls, aunts, uncles, it's unbelievable! I felt like I was at a family reunion!
After a quick afternoon nap, there was a get together in Belgrade.
I've been in a lot of full arenas, football and basketball, I've seen large crowds on TV, but I've never seen this many people together in once place, ever. And it was on national television ... so pretty much all of Serbia was watching this.
When I got on stage, I think I took more pictures than the people taking pictures of me! Chris and I brought a little USA to the stage when we split the crowd in half and had one side chant VLADE, and the other, DIVAC! My side won. Then Chris explained that he felt like the first black Serb. The crowd went nuts!!! I suggested his name should be Christic Webberevic.
Ho hum, another nightclub visit after that (pattern?) ... but not before we went to a local restaurant.
Let me tell all the meat eaters out there, if you like meat like I do, Serbia is heaven. Meat, bread, potatoes. Simple stuff, but done SO well.
At this club, though, I was working. They had me be a celebrity bartender. How this helped refugees in Serbia I have no idea, but it was fun pouring shots for people, and yelling really loud. I like to yell really loud.
After working so hard at the club, I was hungry, so went to a hamburger stand.
I would fly back to Serbia to get another one of these hamburgers. It defies logic and description, so I'm not gonna try.
Sunday morning, we had to slum it on the former president Tito's train. Wow, long ride, but pretty cool to be on a train that featured music, a dining car, and lounge areas. The Pollards even shared a room with a bed.
Someone named Glen Rice took Tito's suite, which I didn't get to see 'cause his selfish butt went in and locked the door and went to sleep. (Just kidding, Gmoney, but damn, could I at least get a look?)
We got to Vlade's hometown and they were all there waiting for us. ALL OF THEM! About 30 thousand people decided that work would not be happening that day, closed shop, and came to see us.
One of the greatest moments of my life happened there. When we got off the bus near a monastery, which dates back to the 12th century, the bells started to ring to welcome us. They began again to usher us back towards the train, too. I just got goose bumps thinking about it. Next time you are in an 800-year-old church, if your jaw doesn't hit the floor, let me know ...
In conclusion, I'm sure that I took more than I gave, but if I helped one person who has had a much more difficult life than me, than it was worth the trip. Gotta go, I need to pack to go to Rome for training camp. Bad news: I have to fly overseas for the second time in three days. Good news: not over my jet lag yet!!
Many thanks to Scot Pollard, who is now in Italy with the Celtics. For more information about Vlade Divac's charity event click here and here.
September, 24, 2007
9/24/07
5:02
PM ET
Vlade Divac's massive fundraiser, party, basketball tournament, auction, and more happened this past weekend. It was kind of a Divacapalooza.
The blog Byzantine Sacred Art has some coverage (via BallHype), including Chris Webber saying that Vlade Divac is "the best man I have ever met." Here's one of my favorite parts:
A short movie was played from a huge screen in the stage in which a score of Divac's friends and colleagues praised his efforts and career, including NBA stars Kareem Abdul-Jabbar, Magic Johnson, Bobby Jackson, Yao Ming, coach Phil Jackson, rapper Snoop Dog, Red Hot Chili Peppers, actor Billy Crystal and many others.
That's one of the sweetest juries ever assembled, and they found Vlade Divac awesome on all counts.
Also, on that blog, from the cultural bizarreness department, is a photograph of Glen Rice reportedly delivering the three-fingered salute of Serbia.