January, 3, 2011
1/03/11
11:58
PM ET
By ESPN Stats & Info
ESPN.com
Archive
There was a Kevin putting up monster numbers in the TD Garden on Monday night. But it wasn't Garnett, and this Kevin couldn't do enough to lead his team to victory.
Minnesota Timberwolves
forward
Kevin Love
continued his monstrous season, his 24 rebounds breaking Dikembe Mutombo's decade-old record for most rebounds in a game on Boston's floor.
But as has been the case since the trade for
Kevin Garnett
, Boston prevailed, 96-93, thanks to big games from
Paul Pierce
and
Rajon Rondo
(16 assists). The Celtics are now 7-0 against the Timberwolves since the Garnett deal, winning three times when he didn't even play.
And since that trade, we remind you that the Celtics have the best record in the NBA. The Timberwolves have the worst.

Wafer
Love may have had the night's biggest number, but Celtics guard
Von Wafer
may have quietly outdone him. Wafer had 10 points and six rebounds in 15 minutes in the win. More significantly, the Celtics outscored the Timberwolves by 16 points with Wafer on the floor (they were outscored by 13 with him on the bench, and coincidentally guard
Ray Allen
was minus-13 for the game).
The plus-16 for Wafer was the fourth-best plus-minus in his 136 NBA games, the best since a plus-20 for the
Houston Rockets
in a 107-97 win over the
Toronto Raptors
on March 3, 2009. Monday's game was Wafer's sixth straight with a positive plus-minus rating.
Elsewhere in the NBA:

•
LeBron James
matched his season high with 38 points and
Dwyane Wade
added 31 in the
Miami Heat
's 96-82 win over the
Charlotte Bobcats
. They're the first pair of Heat teammates to score 30-or-more points in the same game since Wade and
Mario Chalmers
last season. The Heat have won 11 straight road games, the first team to do that since the 2007-2008 Rockets won 12 in a row.
Charlotte missed 18 consecutive shots in the 2nd and 3rd quarters, the longest such streak in franchise history, as well as the longest in the NBA this season, according to the Elias Sports Bureau.
• The
Golden State Warriors
couldn't hold a halftime lead against one of the NBA's best for the second straight game, losing 110-90 to the
Orlando Magic
. In their last two games against the Heat and Magic, the Warriors have outscored their opponents by 23 points in the first half, but have been outscored by 50 points in the second half.

Williams
•
Deron Williams
had his 13th 20-point/10-assist game of the season in the Utah Jazz' 102-97 win over the
Detroit Pistons
. His 20-10 total is four more than any other player in the NBA (
Raymond Felton
of the
New York Knicks
ranks second with nine).
• Speaking of the Knicks, they learned that they'll have deal with basketball life without
Danilo Gallinari
beginning when they host the
San Antonio Spurs
on Tuesday. Gallinari will be out for up to three weeks with a knee injury.
With Gallinari on the floor this season, the Knicks have shot 48 percent from the field. When he's been on the bench, they're shooting just 43.1 percent. The Spurs defense figures to be a tough challenge. San Antonio has held its last four opponents to 37 percent shooting from the field.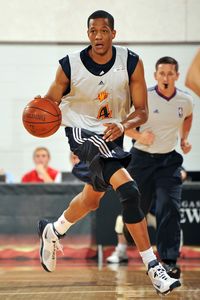 Anthony Randolph: Will soon announce his candidacy for mayor of Las Vegas.
(Garrett Ellwood/NBA via Getty Images)
Posted by Kevin Arnovitz
For the fourth time in five days, Warriors big man Anthony Randolph went berserk at Cox Pavilion in Las Vegas.

This afternoon, he tied a Summer League record as he dropped 42 points on the Bulls. Previous record holders include Von Wafer and Marcus Banks, who both went for 42 in 2007.
Randolph's dominance this week can't be overstated. The scoring exploits are impressive, but Randolph has been at it defensively (12 blocks and nine steals in four games), on the glass (8.5 rebounds per game), and passing out of double teams with poise and precision (zero turnovers today). Randolph isn't only the primary scorer on the floor, but the most creative facilitator.
It's tempting to say that he could still use a little bulk, but his physical presence both in the paint and defending the perimeter with that lanky frame are bothering anyone with the temerity to challenge him.
Do they retire Summer League jerseys?
UPDATE: Apparently, they do. [Hat Tip: Kevin Pelton]
May, 7, 2009
5/07/09
1:24
PM ET
The Lakers push back ... literally. The Celtics bounce back against a Magic team with no answer for Rajon Rondo. Of all the transgressions that went down at Staples Center Wednesday night, none was more egregious than Von Wafer's. And what do Rasual Butler and Montgomery "Scottie" Scott have in common?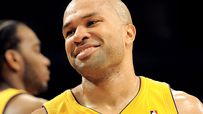 Kurt Helin of Forum Blue & Gold: "Let me start by discussing the topic de jour, Derek Fisher decleating Luis Scola. I loved it as a Lakers fan. This team has been blasted as being soft for a year now, and as recently as a couple days ago by an LA Times columnist. But anybody who watched this team this season saw the mentality was different- this team pushed back, they fought, they were tough. They learned the lessons seared into them in the ugly game six in Boston last year. There have been some hard fouls, some pushing back all season long. What Fisher did was a team leader saying 'Don't f$*%&$ with my teammates.' This is a team sticks up for each other and will push back. There are those that will call this overcompensation, others that at the next loss will pull out the soft card again, but frankly those are people who have not really seen how this team has changed. They are people who do not really have a grasp of this team."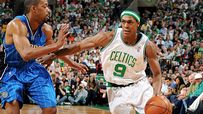 Zach McCann of Orlando Magic Daily: "If you're a Magic fan, and you're sweating bullets after Orlando's 18-point loss to the Celtics, let me ask you this. Did you really go into Game 2 with the expectation of a victory? Did you really think that Orlando -- a team that struggled to put away a .500 team in the first round of these same playoffs -- was going to walk into Boston and routinely take not one, but TWO games inside a sold-out Boston arena? ... The biggest worry is Rajon Rondo. We saw glimpses of dominance from Rondo in Game 1, and we got a large helping of it tonight. He was the best player on the floor, finishing with 15 points, 18 assists, and 11 rebounds, and the Magic have proven to have no answer for him. Despite the fact that [Rafer] Alston gives zero respect to Rondo's jumper, Rondo is still able to penetrate the lane at will. His court vision and ability to always get out of a predicament are up there with any veteran point guard in the NBA. He's amazing, and the Magic better find an answer quick."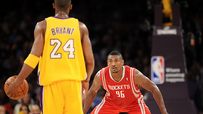 Brody Rollins of Rockets Buzz: "Last night Kobe Bryant was spectacular, but after the first thirty minutes of play the Lakers were no closer to victory despite a seemingly perfect performance. For all the criticism leveled against Bryant that he cannot win a championship without Shaquille O'Neal, he proved them wrong in the second half by distributing the ball just as effortlessly as he was draining shots over Shane Battier ... Perhaps no ejection was more deserving than the one Rockets head coach Rick Adelman leveled against Von Wafer early in the 4th quarter. For many, the Rockets playoff hopes evaporated when Tracy McGrady opted for season-ending surgery in February. Instead, what formed in his absence was a group of role players and hustlers defined by the team-first personalities of Artest and Battier. The facts behind his dismissal remain mysterious, but there is little doubt that Wafer's lack of effort on defense and propensity for playing a one-on-one game led to his confrontation with coach Adelman. In a series where the Rockets are clearly outmatched on a level of pure skill, there is no room for players who don't forfeit their egos at the door."
THE FINAL WORD
Celtics Hub: Baby v. Scal, a study in defensive contrasts.
Philadunkia: Trade proposal -- Andre Iguodala for Ben Gordon.
Hornets247: Trekkies take note -- The Hornets hop aboard the starship Enterprise.


(Photos by Harry How, Brian Babineau, Noah Graham/NBAE via Getty Images)
Late in the third quarter of last night's Rockets vs. Blazers game, Houston inbounded the ball to Von Wafer.
Wafer was a Blazer briefly last season, before being let go. Now he's a Rocket, the keeper of a terrible mohawk (which also seems to have affected a Houston ballboy -- anyone else notice that?) and a terrible thorn in Portland's side with his deadeye shooting and relentless enthusiasm.
Wafer caught the ball with some space, rose to shoot and ... missed badly.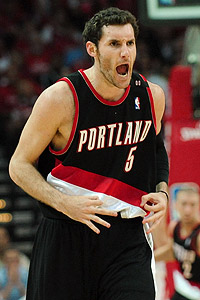 Then he had a meltdown. Just flailing his arms around in a tizzy, not unlike a toddler in the cereal aisle, screaming about some kind of offense.
He then grabbed his elbow, to show the referees more specifically what they had done wrong.
I hadn't seen the play all that closely, and now the game had moved to the other end of the court. But seeing Wafer so mad about that particular offense -- either he was lying, or somebody had enacted that craftiest of NBA moves, to nudge a shooter's elbow -- I suddenly knew precisely what had happened.
I would have bet the person on the next barstool, but I was watching alone at home, so I made a bet with myself: Ten bucks says he was fouled on the elbow, and he was fouled by Rudy Fernandez.
It was a bold call. Frankly, at that point I had just entered the room and wasn't even certain Fernandez was in the game. But a little rewinding and slow-playback revealed that as Wafer caught the ball and rose to fire, Fernandez scrambled to close the space. Unable to reach as high as the ball, he waved a hand in front of Wafer, and, almost certainly, into his shooting elbow.
I owe myself ten bucks.
Now, how did I know it was Fernandez?
One reason is because he's always doing weird stuff. Just always trying something, always thinking, always working little angles. I wholly recommend taking ten minutes to watch only him at both ends of the court. Even when he's standing still he's trying something.
But the bigger reason I knew that was Fernandez was because it was a risky thing to do, and he's the one Blazer who has his risk-o-meter set to "playoffs."
Before the Blazers played their first playoff game, there was a group of voices out there betting against Portland simply because of their lack of playoff experience. I still don't know if I buy it -- their three losses have come to a very good Houston team, and two of them have been exceptionally close -- but that rationale is looking smarter than ever. (Also, history shows that while young teams that make the playoffs don't fare as well, young teams with good regular season records do fine.)
The Blazers have played big portions of this playoff series trying to be safe. Not going for the steal. Not throwing the lob. Not fouling.
The playoffs, however, are a bit like a frontier town when the sheriff is on vacation. Predator's delight.
Fernandez, to my eyes, is the Blazer who walks that walk most comfortably. A lot of Portland's fans (egged on, dare I say, by their local broadcasters) lament things like how Ron Artest or Yao Ming get to hit Brandon Roy's arms.
But I suspect Fernandez sees all that and thinks: We get to hit arms! Cool!
It's not just a matter of fouling. It's also about taking risks in all aspects of the game. To me the signature move of the Blazers' playoff experience so far is the passed up open jumper. LaMarcus Aldridge, Travis Outlaw, Steve Blake ... just about every Blazer has had moments of overt openness -- the gift of a methodical and disciplined offense that was the NBA's second most efficient in the regular season. Even the most disciplined systems still count on shooters shooting at some point or another. Instead of firing away, they have often waited or faked long enough for the defense to catch up, only to move the ball on down the line for what will most likely be a tougher shot with more pressure from the defense and the shot clock.
So, why is it Fernandez knows this already? A lot of people would point out that he has been here before, having played in countless huge games in his elite European career. And it's not hard to see how that could work: If the Blazers lose this series, and spend a summer stewing about a matchup they knew they could have won, how could they not bring a certain edge to the playoffs next year?

I don't buy that playoff experience is the only way to succeed in this environment (Exhibit A: Chris Paul's first playoff games). Teaching is the idea that trial and error is not the only way to learn things. And the Blazers have learned from their mistakes all season long -- the question is how fast those lessons can be internalized and enacted. It's not exactly "now or never," but it sure is "now or not this year."
Down three games to one, widely expected to lose the series, playing at home in Game 5, and maybe trying on the idea that a summer of regret could be starting soon, I suspect the Blazers won't be so cautious Tuesday night. If it's bombs away, the shift in attitude would unleash more of Portland's talent.
And if they don't ... at least the Blazers are gaining some great playoff experience.
(Photo by Ronald Martinez/Getty Images)
February, 21, 2008
2/21/08
5:24
PM ET
It has been reported many places by now that the Denver Nuggets have traded little-used Von Wafer to the Blazers for Taurean Green.
Green was the high-scorer and emotional leader of the two-time NCAA champion Florida Gators. He's an excellent shooter, and a feisty competitor. When you talk to basketball people who have seen him play, they all rave about Green for any number of reasons -- despite the fact that he is small for the NBA.
Green was caught in a minutes trap on a Portland team that loves to play Brandon Roy at point guard, while also having Steve Blake, Jarrett Jack, Sergio Rodriguez, and Finnish prospect Petteri Koponen in the mix.
Wafer, on the other hand, is the classic NBA enigma. He is blatantly athletic, and David Thorpe, who has worked with Wafer, says he is an extremely talented shooter. Yet in stints with the Lakers, Clippers, and Nuggets over the last two and half seasons, he has yet to convince a coaching staff to let him have any minutes.
"He has NBA talent," says Thorpe, "that is certain. But he has never been an NBA player. He has to add that 'je ne sais quoi' that turns talent into bankable production. That said, I'm not sure he ever really has had that 20-plus minutes a night it takes to figure out if you can play at this level. And he has been great in summer league and the D-League."
Thorpe suggest that Portland has recently managed to develop Travis Outlaw from a talented player into a productive one -- perhaps Portland has designs on doing the same for Wafer.
If that's to happen, it will likely have to happen quickly: Wafer is a free agent at the end of the year, and with five picks in the upcoming draft and Rudy Fernandez likely coming from Europe, there's a lot of competition for roster spots in Portland.
On Blazers.com, Kevin Pritchard alluded to the injury to James Jones, saying "we had a positional need to fill with some of the injuries we're having to endure and with Von Wafer we think we're getting a player who can provide us with some offensive firepower."