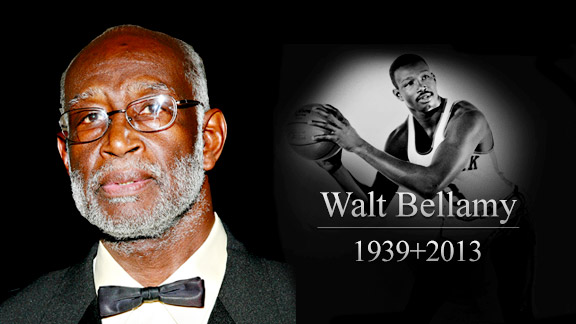 When someone is really good or great, but never the best, his accomplishments tend to be overlooked or disregarded. The disdainful treatment is even harsher for those who seemingly have the tools to be the best, but settle into a groove of "merely great." Not only have you failed to be the best, but you teased us with the possibility that you were in fact the best.
Such is the NBA career of Hall of Fame center Walter Bellamy, who passed away Saturday at age 74.
The No. 1 overall pick of the Chicago Packers in the 1961 NBA draft, "Bells" blew the door off the hinges in his rookie season. He averaged a Herculean 31.6 points to go with a mammoth 19.0 rebounds. On top of that, he shot 51.9 percent from the field. That was good enough to not only lead the NBA for the 1961-62 season, but also to set a league record. The spectacular season easily secured Rookie of the Year honors for Bellamy.
The performance seemingly foretold greater things to come for Bellamy. However, his scoring average steadily dropped from 31.6 points per game in his rookie season to 16.7 in 1967-68. The average might have been cut in half, but over this same span, the talent surrounding Bellamy had practically doubled.
Simply put, the 1961-62 Packers were historically horrific. Of their 10-man rotation, six of the players were out of the league the very next season. Three others combined to play just 212 more NBA games -- the equivalent of 2.5 seasons. Then there was Bellamy, forced to produce so much when given so little. The decline in points scored by Bellamy wasn't due to eroding skills, but rather was a sign of improving teammates.
By 1964-65, Bellamy was averaging 25 points alongside Hall of Fame forwards Bailey Howell and Gus Johnson. The trio took the Baltimore Bullets to the Western Division finals. In 1966-67, Bellamy averaged 19 points alongside Willis Reed and Dick Barnett. The trio took the New York Knicks to the postseason for the first time since 1959.
And this is where Bellamy's career takes perhaps its biggest hit.
The Knicks had to decide which center to keep, Reed or Bellamy. Reed, nearly three years younger, was the pick, and Bellamy was traded to the Detroit Pistons for Dave DeBusschere in December 1968. The Knicks subsequently appeared in three NBA Finals and won two titles. Was Bellamy holding the Knicks back? Probably, but not because he lacked talent. It was just mismatched talent.
Bells was a big, bruising center. At 6-foot-11, with a muscular barrel chest and a rear end perfect to gain position on the boards, Bellamy was an inside terror, but didn't possess a deft passing touch. Reed had that passing touch, as did DeBusschere -- and that's what coach Red Holzman needed out of his big men.
Bellamy's stay in Detroit was the nadir of his career and he was mercifully traded in February 1970 to the Atlanta Hawks. At the back end of his playing days, Bellamy enjoyed a renaissance in Georgia. Placed alongside the penetrating and high-scoring combination of "Sweet" Lou Hudson and "Pistol" Pete Maravich, Bells was freed to cruise for sledgehammer dunks and bruise for boards. These talented Hawks pushed Atlanta to the playoffs for four consecutive seasons.
Bellamy retired in 1974. If this trio, or something like it, had come together a decade earlier in Bellamy's career, he might have achieved a greater impact on the game. If he didn't have the misfortune of being drafted by the NBA's first expansion franchise in nearly a decade, he would have enjoyed more stability. If there had been free agency in his time, he could have decided his own destiny instead of always being at the whim of a trade.
As such, we're left to contemplate the strange career of this talented center.
The idea that individuals control their fate is a powerful one in our society. However, the reality that our individual choices and, thus, fate are constrained by circumstances demands reckoning. Bellamy's career exemplifies that. A man with great skill who performed with a sense of pride still faced a situation filled with uncertainty and chaos. He played out a career that didn't quite live up to his talent level. He never made an All-NBA team, since he was perennially blocked by Wilt Chamberlain, Bill Russell and Kareem Abdul-Jabbar. Despite it all, though, Bellamy was a four-time All-Star and one of just seven players in NBA history to amass more than 20,000 points and 14,000 rebounds in a career.
So even if he was never the best, Walter Bellamy remains one of the greats.