July, 20, 2008
7/20/08
5:30
PM ET
By Maurice Brooks
Where's the Love?
When the summer league schedule was released, Knicks vs. Timberwolves was a must-see matchup. Without New York's Danilo Gallinari (his back is still sore) and Minnesota's Kevin Love (sore Achilles) it is simply game No. 49 of 53.
Love posted a double-double in three of the four games he played in. The one game he didn't was Saturday when he was on the floor for just 18 minutes before getting injured. He led the tournament in rebounds per game and his final averages are: 18 points, 13.5 rebounds, 1.8 assists, 48 percent from the floor and 75 percent from the foul line.
Here are his game-by-game points and rebound totals:
Game 1: 18 points and 13 rebounds
Game 2: 18 points and 17 rebounds
Game 3: 26 points and 15 rebounds
Game 4: 10 points and nine rebounds
---
Non-Stop Cheering From Nate
While the game is pretty lackluster, New York's Nate Robinson, who is not playing today, has been fairly entertaining with his non-stop chatter from the stands. While his teammates appreciate his words of encouragement, I'm sure head coach Mike D'Antoni, who is seated directly in front of him, probably wishes he'd quiet down.
Minnesota's Pops Mensah-Bonsu (21 points) is letting his athletic ability shine through. His hops around the basket and his trips down the lane for buckets are the best thing about this otherwise unwatchable game.
Just like yesterday when they got blown out by the Bobcats, the Knicks have decided to let the Wolves rough them up today.
Showing off a nice touch from the outside, Anthony Roberson has 15 points for N.Y., which is down 20 in the fourth quarter. And yes, despite the deficit, Nate is still talking.
Speaking of Nate, this is his fourth straight year of playing summer league ball. At halftime there was a brief ceremony at center court where his No. 4 jersey was retired. I guess that explains why the jersey of the 2007 summer league MVP could be seen hanging underneath the far-end scoreboard this afternoon.
---
Lopez Switches Teams
Phoenix's Robin Lopez is not with the Suns for their game against the Wizards because he practiced with the select team earlier today.
The Suns' Judson Wallace is having a game to remember. He hit his first four shots -- including three 3-pointers -- on the way to 11 points. He also has three rebounds and two steals.
After his hot start, Wallace has missed six of his last seven. Phoenix's Alando Tucker has erupted for 10 fourth-quarter points and leads all scorers with 20.
The Wizards quit playing in the fourth quarter, getting outscored 30-6 on the way to an 88-69 loss.
Dee Brown was the only Washington player in double digits with 10 points. Tucker netted 25 and D.J. Strawberry added 20 for the Suns.
Here is what Tucker told me after the game.
On how he performed:
"I feel like I did a good job creating off the dribble, but I'm trying to get better and be more consistent with my jumper. Critics were saying last year that my jumper wasn't consistent."
Comparing last summer to this summer:
"I'm always trying to learn from my mistakes. I think I did a lot better this summer than I did last year. The coaches wanted me to take on more of a leadership role and that's what I tried to do."
On his approach to defense:
"That's something else I've been trying to get better at. Defensive intensity is what I tried to focus on out here."
On the Suns' coaching change:
"I wish [Mike] D'Antoni all the best, but he only had seven or eight players in the rotation. Terry Porter will give me a better chance to play more and I think I will show what I can do."
---
No Bayless Tonight?
There is a chance that Jerryd Bayless' 36-point special against Phoenix on Saturday will be his final shining moment at summer league. According to a summer league official, the Portland rookie, who was added to the select team today, attended the noon practice, but did not participate because of pain in his hand. He had an MRI and the results were negative.
(UPDATE 1: I just spoke to Bayless and he says the hand is fine and he is playing.)
(UPDATE 2: Did Bayless lie to me? The game just started and instead of playing he's sitting on the sidelines with a bag of ice on his left hand. While the Hornets and Blazers were warming up for the game, Bayless was presented with the T-Mobile NBA Summer League Top Rookie award aka the MVP trophy.)
"We came in here looking to get better as players and individuals and to get our team better and I think we did that," said Bayless after the game. "We won three and lost two and now we can move on and start getting ready for the regular season. My hand is OK. It's a little sore. I'm not sure what happened."
In four games, Bayless averaged 29.8 points, 4.8 rebounds and 1.3 assists, while shooting 48.5 percent.
---
Who Needs Security?
When Carmelo Anthony walked into the arena, two huge body guards walked closely behind him keeping an eye on his every move. Meanwhile, fellow superstars Deron Williams, Chris Paul and O.J. Mayo today and LeBron James on Saturday moved around the arena body guard free.
---
Wesley Has Shown Up
Arriving just in time for USAB training camp is "basketball icon" William Wesley. He took a courtside seat next to Chris Paul for the Hornets vs. Blazers game.
---
Brown's In A Giving Mood
Hornets' point man Bobby Brown is going out in style. The ball is in his hands on every play and he continues to make the right decisions. Too bad there wasn't an all-tournament team because he deserves something for his outstanding play. He has nine points and seven assists at halftime.
If the Hornets thought they were going to have an easier time because Bayless was out of the lineup, they were mistaken. J.R. Pinnock started in Bayless' place and had a Bayless-type performance. He went 11-for-19 from the field (4-for-5 on treys) and finished with 30 points and six rebounds as Portland rolled 78-63.
Brown had 13 points, 10 assists and four rebounds.
Maurice Brooks is an NBA editor for ESPN.com. He can be reached at mbrooksnba@gmail.com.
July, 19, 2008
7/19/08
6:33
PM ET
By Maurice Brooks
Q & A
D.J. Augustin's only contribution for the Bobcats today was putting pen to pad to appease the fans and even without their prized rookie in the lineup they roughed up the Knicks by 32.
I briefly chatted with the point guard after the game.
TrueHoop: What's up D.J., I noticed you've sat out the past two games with left knee tendinitis. How do you feel?
Augustin: I feel good. I hit my knee in the first game and then I fell on it against the Warriors a couple of days later so I've just decided to rest it.
TrueHoop: Before the injury, how do you think you were playing?
Augustin: I think I did alright. I had to make some adjustments, but it wasn't really hard.
TrueHoop: Your three-game averages of 19.7 points and four rebounds are good, but critics can point to the fact that you only averaged 1.3 assists. What do you think is the reason your assists numbers were so low?
Augustin: Everybody is trying to get used to playing with each other. We were only playing together for four days.
TrueHoop: Are there any players who have caught your eye this week?
Augustin: I'm surprised with how many teams have a bunch of great players like Nate Robinson.
TrueHoop: What's your plan for the rest of the summer?
Augustin: I'm going to keep working hard so that I can be as prepared as possible for training camp.
---
Will Belinelli Bounce Back?
Last night against the Kings, summer league darling Marco Belinelli was terrible -- six points on 1-for-10 shooting with no rebounds.
The Warriors are taking the floor right now against the Raptors. I'll be interested to see if he has lost any confidence in his jumper.
The first quarter is in the books and Belinelli missed his only attempt.
Toronto's Joey Graham is putting in work once again, making 5-of-7 shots for 12 points.
I don't know if Golden State's Anthony Randolph drank a Red Bull during a timeout or what, but he is playing with more energy in the second period. He seems determined to get to the cup and he hit the boards so hard in one sequence that a fourth of the crowd applauded his effort.
Randolph's field-goal percentage is down (4-for-14), but he is making a living at the foul line where he is 12-for-14. Anthony Morrow is leading the Warriors with 21 points on a scorching 9-for-11.
Just like the real Warriors, Golden State's games are all entertaining. Heading into the last period, Belinelli only has six six points but he has handed out six assists.
John Lucas is doing a good job running the show for Toronto. He leads everyone with seven helpers.
Randolph and Belinelli wrapped up their summer league experiences in style. He had a monster game for the Warriors, who went 4-1. He finished with 26 points and 12 rebounds. Proof of how aggressive he was are the 18 trips to the line he earned, making 16. He misssed 12 of his 17 shots from the floor, but who is going to argue with those final numbers?
Belinelli was the primary ball handler for the Warriors at stretches and he didn't disappoint, notching 14 points, eight assists and three steals. He finished 4-for-14 and thrilled the crowd with a couple of long bombs.
---
Donte the Chucker
Houston's Donte Greene leads all players in Vegas in shot attempts with an average of 17.3 per game. Couple that with the fact he hasn't had an assist in three games and you feel fairly comfortable calling him a jacker. Like most players who rely on their jump shot, he is streaky. In the first half today, he has started 2-for-8 but you know that isn't going to keep him from shooting. The Rockets' coaching staff simply have to hope he catches fire.
Houston's Joey Dorsey, who is not playing today because of an ankle sprain, is walking very slowly with a limp.
We are six minutes into the third quarter and Greene has already had enough time to fire up six more shots -- 3-pointer (made), 3-pointer (made), 3-pointer (missed), layup (made), jumper (airball), jumper (airball).
As we start the fourth, Greene is 5-for-16, while Aaron Brooks is 1-for-10. Ew.
(Update: Greene finished 5-for-19 and Brooks went 3-for-15. On another note, Dorsey managed to get himself ejected.)
---
Airball
Despite being 7-feet tall, the Wizards' JaVale McGee was having trouble scoring from around the basket (0-3 from the floor, two points in 12 minutes of play), so he came up with a new game plan. The center decided to launch a triple from the top of the key area. The result? The ball fell short of the rim by three feet triggering laughter on the Washington sideline and earning McGee a seat on the bench where he received an earful from a coach.
---
Love Gets Hurt
Early in the third quarter, Minnesota's Kevin Love appeared to roll his ankle and was helped to the locker room. I'll try to get an official word. Before the injury, Love had 10 points and nine rebounds.
The Bucks' Joe Alexander is still searching for his jumper. He has missed five of his first six shots and has just four points, two boards and an assist midway through the third.
It turns out that Love has a sore right Achilles and will not return to the game.
Alexander's cold shooting continued after halftime -- he went 1-for-5 and finished with eight points.
---
Love, Mayo and Lopez To Be Teammates
Three of the top performers here in Vegas -- Memphis' O.J. Mayo, Phoenix's Robin Lopez and Memphis' Kevin Love -- were all picked to scrimmage against/get crushed by the U.S. Olympic team in practices next week.
---
Slow Day For MVP Candidates
First Love gets hurt, now Portland's Jerryd Bayless just had a quarter where he didn't attempt a free throw. Maybe Bayless is a little tired, but he doesn't appear to be playing with his usual fire. He missed both of his shots during his five first-quarter minutes.
Actually, the entire Portland team appears to be sleep. The Suns raced out to a 17-4 lead and haven't looked back, leading by 10 after one.
It's now late in the second quarter and although he is shooting more jumpers instead of driving to the hoop, Bayless is scoring. He's hit a couple of jumpers and has seven points. As I'm typing, he just shot an airball that was so short, I don't know if he'll be credited with a missed shot or a turnover for a bad pass.
Like all good players, Bayless apparently can turn it on and off at will. Right now he has it on. He erupted for 10 points in the third quarter -- mainly on jumpers -- and has four more points early in the fourth for a total of 23. The leading scorer in summer league is 9-for-18 from the field and Portland has a three-point lead.
There is no need to have a vote for MVP tomorrow because Bayless clinched it with his performance tonight. He went crazy in the fourth quarter scoring 17 of his team's 22 points. He drained short jumpers, long jumpers, runners and layups. He hit the game-winner with under 10 seconds left -- a floater in the lane.
His stat line reads like this: 36 points on 14-for-26 from the floor, 6-for-6 from the line, three boards, three steals and an assist.
---
King James Is Here
Sitting courtside for the last of today's seven games -- Cavaliers vs. Hornets -- is LeBron James. I wonder if he likes what he is seeing? The Cavs lead by five late in the first quarter.
Maurice Brooks is an NBA editor for ESPN.com. He can be reached at mbrooksnba@gmail.com.
July, 16, 2008
7/16/08
5:02
PM ET
By Maurice Brooks
Gallinari out with sore back
I was running late today -- as usual -- and I get to the arena for the Knicks vs. Spurs game in time to read this from the Associated Press.
"New York Knicks rookie Danilo Gallinari has a sore lower back and is listed as doubtful for the remainder of the Las Vegas summer league.
The forward from Italy, the No. 6 overall pick, was hurt during the Knicks' opener, a 97-94 victory over Cleveland on Monday. He rebounded from a scoreless first half to finish with 14 points, shooting 5-for-7 after halftime.
Gallinari didn't dress for New York's game against San Antonio on Wednesday. An MRI revealed no significant findings, and he will rest and get treatments the rest of the week in Las Vegas before returning to Italy."
---
Knicks vs. Spurs
Reigning NBA Summer League MVP Nate Robinson, who didn't play in New York's opening game, is off to a slow start shooting (1-for-5), but has handed out three assists.
It's late in the third quarter and the game is tied at 53. Bad news for New York fans, Renaldo Balkman was just carried off the court with an apparent ankle injury.
Robinson's shooting didn't improve as the game went on. He finished 2-for-10 from the floor (including missing five of six treys) as the Knicks lost 82-67.
For the second straight game, San Antonio's George Hill didn't make a shot. He missed all 10 of his attempts Tuesday and was 0-for-6 from the field today. His poor shooting didn't prevent him from rebounding (six boards) or passing well (four assists).
Big men James Gist and Ian Mahinmi both had a double-double in the win.
---
Roberson's big deal
Earlier today, it was reported that the Knicks are going to sign Anthony Roberson to a two-year deal. Through three quarters, he is 3-for-10 for a total of 10 points off the bench. Does this mean the end of the Stephon Marbury era in New York?
Roberson finished the game 4-for-13, but led the Knicks in scoring with 12 points. He also had two assists and two rebounds.
---
Reggie the Cameraman
It's early in the first quarter and Kings head coach Reggie Theus is in the stands videotaping the game between Sacramento and Dallas. I have no clue why he's personally doing that, but he has to like what he's seeing. Sacramento 10, Dallas 3.
Man has this game been brutal to watch. The Mavericks led by 14 at halftime and by 20 after three quarters. Gerald Green has knocked down a few jumpers and leads all scorers with 18 points for Dallas. He's also grabbed seven boards in easily his best showing of the summer. The athletic Charles Rhodes has also reached double digits in points for the Mavs.
The only noteworthy thing I can bring up about the Kings is, why does Jason Thompson keep ice-grilling the Mavericks after routine dunks when his team is down 20 plus? I never dunked in my life, so maybe I can't relate.
---
Thorpe on Sacramento's Jason Thompson and Sean Singletary
David Thorpe of ESPN.com weighs in on a pair of Kings.
"Thompson is an immediate upgrade to the Kings frontline as an athlete. They had the least athletic frontline in the league last year. He's got a nice combination of skills with size and projects as someone who can play well next to Spencer Hawes. Geoff Petrie likes his offensive sets to include pinch-post action. For that action to work effectively, the big has to be able to make that shot or get to the rim while being a good passer. Both Thompson and Hawes look like they'll be able to do those things.
"Making a game-winning shot in an NBA Summer League game, while playing well in general, sends him into the rest of the offseason thinking positive thoughts. The alternative to that would have been scary because he's coming from Rider. You don't want him questioning if he can play on this level. That thought is no longer an issue."
On Singletary: "Beno Udrih is the starting point guard in Sacramento, but he is more of a score first, pass second type of point guard. That style works for him. If the Kings want more of a true lead guard, Sean may be the answer. He was a prolific scorer in Virginia, but has been a pass-first guy in summer league. Kevin Martin told me Saturday that he really likes the "way that kid plays and passes."
---
Wake Me At 8:30 p.m. ET
The first two games of the day were both blowouts and neither featured a great individual performance. Hopefully things will get better in the late games when the trio of Kevin Love, O.J. Mayo and Donte Greene take the floor in three separate games. I'm most interested to see how Green follows up his 40-point effort.
The Sixers and Wizards on playing right now. When Philly took Marreese Speights, I didn't boo, but I didn't cheer either. I took a wait-and-see approach. Although it's summer league, I'm impressed by what I've seen so far. The big body has a nice touch around the basket and brings energy to the floor. He is definitely good enough to crack Philly's regular rotation. Today he has combined with Jason Smith to score 20 of the Sixers' first 22 points.
Speights and Smith both had monster games as the Sixers rolled. Speights had 24 points and 13 rebounds, while Smith had 24 and 11.
---
Kevin Love aka Chairman of the Boards
Kevin Love, who needs a good nickname by the way, is ridiculous. No really he is. Anyone who can get 20 points and 10 rebounds on a nightly basis without ever having a play called for them is special. He had all of his gifts on display in the second quarter of Minnesota's game against the Lakers. He drove to the hole for a bucket and a foul. He followed up a missed shot with a layup. He filled the lane for another basket on the break. He penetrated and kicked it out to a teammate, who drained a jumper. And of course, he threw his signature outlet passes. Through three quarters, he has 16 points, 13 rebounds and four assists -- which is more than anyone on either team. Problem is, the Wolves still enter the last people trailing by two. There are going to be a lot more games that follow that pattern in his future.
The Lakers' Joe Crawford hit a layup in the closing seconds to ruin Love's big night. Love finished with 18 points (9-for-18), 17 rebounds and two blocked shots. Teammate Corey Brewer also had a strong game in defeat, dropping in 19 points.
---
Greene Is Smooth
In the final game of the night, Donte Greene has splashed three jumpers -- one triple, two doubles -- for the Rockets in the first quarter. He kind of glides around the court, chomping on his gum at a frantic pace, on offense until it's time to raise up and unleash his jumper, which keeps hitting the bottom of the net. Eight minutes into the period and he has seven points already.
Joey Dorsey entered the game midway through the first quarter for the Rockets. The power forward has been doing what he does -- he got called for a charge and pulled down two rebounds in six minutes.
With his height, if Greene continues to shoot the ball this well, he will be a nightmare to defend. He scored 10 points on 3-of-6 shooting in the first period.
Greene has cooled off but Dorsey continues to be a problem. He just had back-to-back dunks, has pulled down eight rebounds and leads everyone with three assists.
Remember all that stuff I was saying earlier about Greene? Forget about it. He has missed seven straight in a variety of ways.
Cleveland's J.J. Hickson isn't having a much better go of it. He has missed six of nine shots, but still leads the Cavs with nine points.
If you are the best boxer in the world, why do you have to travel with an 11-person entourage? Floyd Mayweather and friends have seen enough of this contest, leaving midway through the
fourth quarter with the Cavs up four.
Houston's Maarty Leunen is having a day. He is 5-of-6 from the field (3-of-4 on treys) and leads everyone with 17 points.
Hickson closed out the game in style by making four of his last six shots and led the Cavaliers with 18 points.
Greene took 17 shots (making four) to score 17 points. Teammate Aaron Brooks had an outstanding all-around game, posting 16 points, including the game-winning free throws in the closing seconds, and seven assists.
Maurice Brooks is an NBA editor for ESPN.com. He can be reached at mbrooksnba@gmail.com.
July, 14, 2008
7/14/08
5:30
PM ET
By Maurice Brooks
The Tractor
The sight of Robert "Tractor" Traylor running up and down the floor for the Cavaliers is exactly what summer league hoops is all about. The veteran, who last played in the NBA in 2005, is trying to earn a roster spot.
He is performing well for a guy who hasn't been in the league in a few years -- making three of his first four shots, while pulling down a board and giving out an assist.
Traylor finished with eight points and three rebounds in 17 minutes.
---
The Rooster
Meanwhile, New York's Danilo Gallinari is not off to a good start. The No. 6 pick in the draft has missed his first five shots before splashing a jumper with just over two minutes left in the third quarter.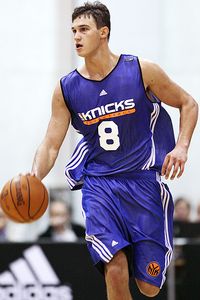 Gallinari is going to turn boos to cheers in N.Y.
(Laura Rauch/AP)
ESPN's rookie guru David Thorpe weighs in on what he's seen so far from Gallinari.
"Basically the first adjustment he has to make is to the style of play in summer league with these athletes compared to a physical but smooth, smartly played European game. These are boys for the most part, compared to the men he is used to playing against. There isn't any kind of rhythm to what's going on. He's obviously a good shooter, but the NBA line is further back than the European line -- so he has to change his shooting habit, meaning he has to bend his knees more to make up for the difference in range.
"Physically, he looks great. He's not a stick figure, he has a great body. One thing I love, even though he missed his first five shots, it didn't impact how hard he played and because of that he has now scored eight points in the last two minutes. The teaching point: You can't let success on shots impact effort. He has that figured out. He kept fighting and now look, the Knicks have the lead thanks to his play."
The Knicks lead 68-67 after three quarters thanks to Gallinari, who knocked down two long jumpers, followed up a missed shot with a dunk and made two free throws after drawing a foul on a strong post move.
He has picked up in the fourth quarter where he left off in the third. To the crowd's delight, he just nailed another jumper and is clearly in a groove now.
Everyone in Knicksland feels good as the Knicks edged the Cavaliers by three and Gallinari showed that he is a player. After a scoreless first half, he finished with 14 points on 5-for-11 shooting (0-for-4 on treys). He pulled down six rebounds and handed out two assists.
---
The No. 26
New York's Wilson Chandler didn't have ice on his elbow after the game, but it has to be sore after firing up 21 shots. He played extremely well, making 11 of those attempts to finish with 26 points. With Quentin Richardson and Stephon Marbury in the crowd, he also tallied eight rebounds, three assists, two steals and two blocks.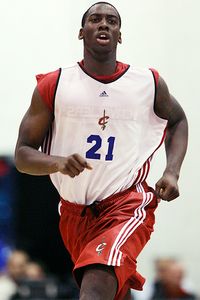 Hickson looked like the real deal Monday afternoon.
(Laura Rauch/AP)
Cleveland rookie J.J. Hickson, who played only one year at N.C. State, matched Chandler's 26 with 26 of his own. He went 11-for-15 and grabbed nine rebounds.
Here is what the No. 19 pick had to say after the game.
"I was trying to be aggressive. I competed well, but not well enough because we didn't win," Hickson said. "My role is to play hard and block shots. I wouldn't have come out of college early if I didn't think I was ready to play on this level."
Thorpe, who just updated his Rookie Report, liked what he saw from Hickson.
"He got his points with a skilled face-up game. He gave a great effort and was very active and physical. He finished well around the rim."
---
Nuggets vs. Raptors
I've watched the entire first half of this contest and have yet to be moved to write anything. Joey Graham continues to play as if he has a point to prove and leads all scorers with 11 points. Dahntay Jones is high man for the Nuggets, who lead 39-34, with eight.
Although he hasn't scored a point, I'm happy that Nuggets guard Chris Lofton is on the floor. The former University of Tennessee standout, who made more triples than anyone is SEC history, had a cancerous tumor removed from one of his testicles in March 2007.
He didn't get drafted, but is now trying to catch on with Denver.
---
Blazers vs. Wizards: Bayless Is the Truth
It took Jerryd Bayless all of 15 seconds to be whistled for his first summer league foul. That was about the only thing that didn't go his way during the first 10 minutes of his professional career. Playing mostly off the ball, he went to the line eight times -- making six -- and led all players with 10 points. Despite his lack of size, the Portland guard had no problem creating his own shot.
Petteri Koponen did a good job of running the team, and although he didn't have an assist, he did score five points as the Blazers took a two-point lead after one quarter.
Washington big man JaVale McGee is still trying to work the kinks out of his game, missing five of his first six shots in eight minutes.
It's halftime and Bayless has run his point total up to 17. It's not supposed to be this easy.
In the second half, Bayless has continued his strong play, but it has been Koponen who has impressed with his outside shot. He just hit back-to-back long jumpers and has 19 points for the game.
Bayless just fired in two pivotal free throws with 12.3 seconds left to give himself a game-high 27 points and the Blazers a four-point lead.
He finished with 28 points (5-for-12 from the field, 18-for-23 from the line) in a Portland victory.
---
DraftExpress President Jonathan Givony
DraftExpress president Jonathan Givony has joined me courtside to give his thoughts on the first half of Wizards vs. Blazers.
TrueHoop: What did you think of Portland's Jerryd Bayless in the first half?
DraftExpress: Probably the most impressive first-half performance by any rookie in the summer league so far. He played a similar role to how Portland will use him in their real offense at the 2 alongside a big point guard -- Koponen/Roy. I love how aggressive he was, trying to get to the rim, finishing with both hands. He's athletic, skilled and doesn't fall in love with his jumper like a lot of combo guards these days tend to do. He also competed admirably on defense and tried to take a charge.
TrueHoop: I think Portland's Petteri Koponen did a nice job of handling the rock and can play both guard positions.
DraftExpress: He was very impressive, much better than last year. I'm very intrigued by his combination of size, ballhandling skills, athleticism and basketball IQ. He showed a lot of poise and has a pretty stroke and didn't look bad defensively.
TrueHoop: Washington's JaVale McGee didn't look good at all out there. What did you notice?
DraftExpress: No surprise here whatsoever. This is how he looked in college often. The Wizards would be the first ones to tell you that he is two or three years away. Still, you can't ignore his physical tools. The guy is a freak, look at his arms an
d athleticism. He just needs to learn how to play.
---
Getting Up and Down
At Thomas & Mack, the Suns and Rockets are playing at break-neck speed. As a result, Houston's Donte Greene is in position to break the summer league record for points in a game (42). The forward hit 7 of 10 shots and 7 of 8 free throws for a first-half total of 23 points. He scored 19 in the first quarter.
He got his buckets in a bunch of different ways -- off the dribble, cutting to the basket, knocking down jumpers. He hustled for loose balls and played hard on both ends of the floor.
Phoenix, which leads 64-51, received strong contributions from Robin Lopez and D.J. Strawberry.
Lopez went 4-of-5 from the field and the line en route to 12 points. He had a monster dunk and a big rejection.
Strawberry, who led summer league in helpers last year, has 17 points, five dimes and four rebounds.
Greene finished the game with 40 points. He went 12-for-20 from the floor, 5-of-10 from deep and 11-of-12 from the charity stripe in Houston's 100-97 comeback win.
Lopez, who is known for his defense, showed he has offensive skills, too. His final numbers: 19 points (5-of-13 shooting) and five rebounds.
---
The Love Era Has Begun
Somebody tell Kevin Love that in the NBA you have to move your feet. He picked up four fouls in seven minutes and now finds himself sitting on the bench. Before he left, he did some good things. He put the ball on the floor, drew a foul and was awarded the basket on a goaltending call for his first two pro points. He also knocked down a 15-foot jumper and passed well in the half-court set. On the defensive side, he snatched a board, and his first outlet pass ended up out of bounds. The point guards are going to need time to learn to appreciate his ability to get them the ball in stride.
Midway through the second quarter, the Mavericks have doubled Minnesota's point total.
It's a safe bet that Love is going to lead summer league in rebounds. He attacks the glass as if his life depends on it. If the ball comes off anywhere near him, it's his. In the first half, he struggled from the line, missing three of seven, but still finished with eight points and five rebounds.
In the second half, he is trying to score more. He has two putbacks. He made a layup off a nice pass from Corey Brewer. He just hit a hook shot. The good: Love has 16 points and 10 rebounds. The bad: He has six fouls and his team is still down 20.
Love finished the game with 18 points and 13 rebounds. The Mavericks got the 88-74 win.