February, 7, 2014
Feb 7
11:42
AM ET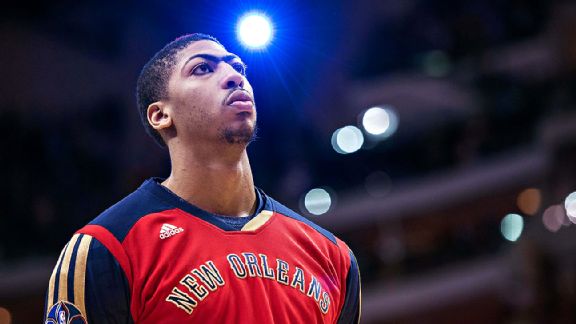 Jerome Miron/USA TODAY SportsAnthony Davis is a bona fide superstar. Now comes the hard part: building a winner around him.
For all the dealmaking, recruitment and asset management that go into building a winner in the NBA, the most reliable way to engineer a contender is by the sheer luck of the draft. More specifically, landing the top pick when a surefire superstar is on the board.
In the spring of 2012, six months after Chris Paul departed for Los Angeles, the Pelicans lucked their way into Anthony Davis. They didn't have an owner at the time, nor more than 650,000 television households in their market, but they had the No. 1 pick.
Davis has lived up to it thus far. He ranks fifth in the NBA in player efficiency rating (PER) at 26.72, nearly a five-point uptick from last season. He's an intuitive pick-and-roll player with good hands and good timing. He's a gazelle in transition and a lethal cutter in the half court. He drains 43 percent of his midrange shots, and few in the NBA gets to the line at a greater rate than Davis, who converts 76.6 percent of his shots when he's there. So long as he maintains his health, he's poised to be one of the five most efficient offensive players in the game for the next dozen years.
That's just the appetizer because defense projects to be Davis' greatest long-term asset. At 20, he isn't yet the quickest decision-maker on the floor, but he's just getting started on a team that can't keep a healthy lineup together. When it comes to basic pick-and-roll stuff, matching up with a perimeter ball handler off a switch and shot-blocking instincts, he's already proficient and getting better.
"A.D. is a phenom in a different realm," Pelicans coach Monty Williams says. "Everyone wants to compare him to Tim [Duncan]. I see him more like LaMarcus [Aldridge], but with a better handle. And what A.D. does that throws you off is he'll get two steals and five blocks. He does it a different way. He can do more from a [ballhandling] standpoint."
Davis' presence alone puts the Pelicans at a sizeable advantage over the overwhelming majority of the league. For at least the next five years, they get the chance to construct something special with Davis, and it doesn't matter that they play in a tiny television market that's expressed a longtime indifference toward NBA basketball. Bring them a dynamic top-five superstar and they'll start following.
---
A cornerstone like Davis provides a firm foundation, but plenty of organizations have botched the task of building up from there. Cleveland was never able to develop the right combination of parts around LeBron James and is currently stuck in the mud trying to do the same around Kyrie Irving. Orlando got close with Shaquille O'Neal and Dwight Howard but never cracked the code. The head start provides a huge opportunity, but it's fraught with difficult choices, without much time to deliberate. Management must quickly identify who they are and where they want to go.
"We knew we were going to get Anthony [Davis], so what do we want to do with him?" Pelicans general manager Dell Demps says. "Do we want to keep this veteran group? Or do we want to kind of start over? Or -- and it was the route we chose -- do we want to build through a combination of free agency and the draft?"
[+] Enlarge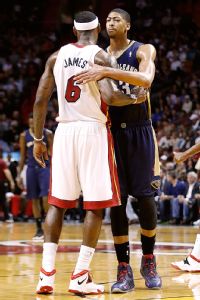 AP Photo/Joel AuerbachWill the Pelicans struggle to build around Anthony Davis like the Cavs did around LeBron James?
Early on in the process, Demps identified a couple of features that were important to him when he went surveying the league for available players.
"We really were targeting guys between the ages of 23 and 25, what we call 'young veterans.'" Demps says. "We were trying to say, 'Let's get a bunch of guys who have already been through the ringer a little bit, had some ups and downs, know the league, but are still young and in their athletic prime.'"
In addition to youth, Demps values certain skill sets. In his vision of an NBA offense, dribble penetration is the most effective way to generate the highest-percentage shots, and he wants perimeter players who can attack defenses off the dribble.
Eric Gordon fit both. After a game of chicken with the Clippers (for whom keeping Eric Bledsoe out of the deal was their prime objective), New Orleans landed Gordon as their consolation prize in the Paul deal. Seven months later, much to Gordon's chagrin and despite his playing only nine of 66 games in New Orleans, the Pelicans made him their first max player of the post-Paul era.
Right about the same time, Demps nabbed Ryan Anderson, another player in the Pels' coveted 23-to-25 demographic. Anderson wasn't a conventional big and, like Davis, power forward is his natural spot, but the Pelicans wanted some stretch alongside their prized draft pick, who is devastating when he has ample space to work.
From the Pelicans' perspective, things looked promising: A future superstar in Davis, a prototypical modern-day stretch-4 on an affordable contract and a shooting guard with two-way capabilities. Gordon made too much and wasn't the perkiest guy in the office, but the Pelicans would still have in the neighborhood of $18 million in cap space and a decent first-round pick when Summer 2013 rolled around.
---
Late last spring, Demps started hearing rumors that Jrue Holiday might be available. After being initially rebuffed, the Pelicans struck a deal with Philadelphia on draft night 2013, sending the Sixers the No. 6 pick (Nerlens Noel) and their top-five protected pick in the 2014 draft.
"It all kind of went back to our plan," Demps says of Holiday, referring to his target demo and ideal skill set. "Jrue was the perfect guy. He's injured now, but when you look at his injury history before he went down, he'd played 96 percent of his games. Defensive-minded, can guard the other team's point guard, can score, make plays and can become an elite-level point guard in the NBA. We also wanted to pair someone with Anthony and they could grow together. The two picks -- maybe we could've drafted guys like that. But with Jrue, we got that guy and he's proven and getting better."
A week later, Operation 23-to-25-Year-Old continued when Demps showed up on the doorstep of Tyreke Evans at midnight on July 1. Evans' approval ratings as a player waned after winning Rookie of the Year 2010. But even though he's missed a bundle of games over the past few seasons, he's been efficient offensively when on the court.
From Demps' standpoint, Evans was miscast in Sacramento. Rather than think of him as a point guard with the occasional bout of tunnel vision, Demps saw Evans as a scoring wing who passes the ball at a healthy rate and still had some upside. Demps promptly put an offer sheet of four years and $44 million in front of Evans, who soon arrived in New Orleans as part of a three-team deal, with New Orleans' starting center Robin Lopez headed to Portland.
"That was a tough one," Demps says about shipping out Lopez to Portland. With Davis, Anderson and Lopez, the Pelicans had a reliable and diverse three-man frontcourt rotation -- the do-it-all power forward, the stretch big and the 7-footer who can protect the rim and doesn't need the ball. On top of that, Lopez carried a favorable deal: two years and $10.5 million, a bargain for a competent starting big man with a PER of 19.
Demps felt as if it would be easier to find a stopgap center who could give them some defense than land a dynamic scorer like Evans -- and because of cap restraints, the Pelicans couldn't acquire the latter without casting off the former. Even if you have a charitable view of Evans' game, it's a reach to appraise four years and $44 million of Evans as a more valuable asset than two years $10.5 million of Lopez.
Sources around the league say the Pelicans' intention was to unload Gordon to generate the space to pay Lopez, but no reasonable offers surfaced. The Pelicans deny they've ever actively shopped Gordon, but multiple team executives say that Gordon has never vacated the display window since last summer.
---
It's ironic that the service Lopez provided inside are now cited by both Demps and Williams as the team's most pressing need, all the while they'll shell out $78 million for the Gordon-Evans duo over the next three seasons. Lopez might not be Roy Hibbert, but cutting an affordable starting center loose then lamenting the lack of interior defense six months later is the equivalent of setting a perfectly good couch on the curb, then complaining there's nowhere in the den to sit.
"In a perfect world, I'd like to have a monster big who commands attention," Williams says. "To me, that's the biggest thing we have to address -- to get somebody like that next to A.D."
[+] Enlarge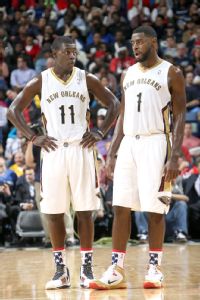 Layne Murdoch/Getty ImagesNew Orleans is relying on Jrue Holiday and Tyreke Evans to help lift the franchise to the next level.
When a team desperately needs a conventional center, chances are there's a top-shelf power forward in close proximity who'd rather have his jaw wired shut than deal with Marc Gasol, Howard and company every night as a 5 (see Aldridge, LaMarcus; Garnett, Kevin in Minnesota). As a general policy, organizations do everything they can to keep that guy happy.
Demps says that bringing in a bruiser wouldn't compromise the Davis-Anderson frontcourt pairing, which has destroyed the league offensively (115.4 points per 100 possessions in the 324 minutes they've shared the floor and a plus-6.0 differential). He pointed to last season's rotation as proof.
There's a popular sentiment around the league that with the max commitment to Gordon, the acquisition of Evans and the drafting of Austin Rivers in 2012 (and to a lesser extent, the trade for the scoring point guard Holiday), Demps has constructed a glorified AAU team of ball dominators. In an era when most NBA offenses are predicated on spacing, what a team really needs are wings who can shoot from distance, something Evans can't do. And if these wings are playing with a rarified talent like Davis, they need to be expert pick-and-roll practitioners. Neither Evans, Gordon nor even Holiday can list that as a strong suit.
Demps confidently backs his vision, and his arguments aren't without merit. He points to the lineup data: The Pelicans' desired closing unit -- Holiday, Gordon, Evans, Anderson, Davis -- dominated the league offensively this season before its members started dropping like flies, scoring an ungodly 123.5 points per 100 possessions. The assist rate for that lineup is over 20 percent, well above the league average. Even when the three ball dominators share the floor, their assist rate is a respectable 16.8, about the league average.
"One of the goals was to make sure we had a team that's deep and hard to guard," Demps says. "We wanted to be hard to match up against, and we were before the injuries happened. At times, we were unguardable."
This isn't an unfair characterization. The night Holiday fractured his right tibia, the Pelicans were ranked seventh in offensive efficiency. That gangbusters unit gives the Pelicans a slew of options in the half court Have Davis and Anderson run a stagger screen up top for Holiday or Evans. Davis rolls, while Anderson pops -- both lethal in that context. Gordon spaces the floor on the weakside. Holiday can too, if Evans is the ball-handler. And if Holiday mans the point, Evans can be ready and waiting to cut or start the second-side action if he gets the pass. With the collective offensive skill set on the floor, there's plenty more where this came from.
---
Sitting behind his desk at the Pelicans' new training facility in Metairie, La., Williams is in no mood to discuss the Pelicans' offensive potential. Williams is a serious guy, Eeyore to Demps' Tigger, and as the coach of a team occupying the 12-spot in the West, the prospect of such a conversation is unseemly.
"I'm so tired of talking about offense," Williams says. "I don't care how many offensive guys you have -- from Ryan, to Tyreke to Eric to A.D. to Jrue, the bottom line is you have to defend. ... Our defense is horrible and you just can't play offensive basketball all the time. All the top teams? Their defense is sound. Our defensive mindset has got to get better."
While Williams is disgusted with the current state of his 26th-ranked defense, he believes there's precedent from his first season on the job for vast improvement -- so long as the Pels can keep bodies on the floor. New Orleans has strong bookends with Holiday at the point and Davis up front and it's difficult to believe that with those two guys accounting for the ball and the rim, the Pelicans can't have at least a league-average defense.
"





Our defense is horrible and you just can't play offensive basketball all the time. All the top teams? Their defense is sound. Our defensive mindset has got to get better.


"


-- Pelicans coach Monty Williams
New owners often like to redecorate the front office when they buy the place, but Pelicans owner Tom Benson pledged his support for both Demps and Williams. Almost immediately after the completion of the sale, new Pelicans executive vice president Mickey Loomis extended Williams a contract extension. A few months later, one was extended to Demps. Along with the new deals, Demps and Williams were given an imperative -- win sooner than later.
The injuries that have decimated the Pelicans have rendered that nearly impossible. Holiday and Anderson are sidelined indefinitely, as is starting center Jason Smith. The Pelicans now start Brian Roberts and Alexis Ajinca at point guard and center, respectively.
"The injuries make it hard to evaluate our plan on the court," Demps says. "But we have a young core and we want to keep adding to it."
The investments in Gordon, Evans and Holiday will make that process difficult. Demps will have the mid-level exception to work with, but little else. Unless it lands in the top five, the Pelicans' first-round draft pick this season will go to Philadelphia to complete the Holiday deal. In retrospect, the Gordon contract was excessive for a player who looks increasingly like a third option and doesn't feel comfortable playing at much less than 100 percent. Evans has his attributes, but a deal more akin to Paul Millsap's two-year $19 million contract in Atlanta would leave the Pelicans less hamstrung when it's time to pony up for Davis' max extension.
The errors in planning are easy to enumerate and Demps tacitly admits some of his primary goals are cleaning up his own mistakes. Fortunately for the Pelicans, a single truth lies beneath the spreadsheets:
When you have a budding star like Anthony Davis, you can afford to make mistakes.
Still, if you wander off into the woods, you still need to be able to see the trail. When the Pelicans heal, we'll have a better gauge of their navigational skills.
November, 9, 2013
11/09/13
1:11
AM ET
By ESPN Stats & Information
ESPN.com
Archive
Davis
Anthony Davis
had a career game for the
New Orleans Pelicans
on Friday, setting a career high with 32 points, tying a career high with six blocks, and grabbing 12 rebounds to boot in a
96-85 win
over the
Los Angeles Lakers
, improving the Pelicans to 3-3 on the season.
In Pelicans (formerly known as the Hornets) franchise history, only two players have had games with at least 30 points, 10 rebounds and five blocks. Alonzo Mourning, who did so seven times when the team was based in Charlotte, and now Davis.
Davis, who has four double-doubles in six games this season and is averaging a double-double for the season, is doing this all before his 21st birthday.
In fact, Friday night, he became the youngest player in NBA history to have a game with at least 30 points, 10 rebounds and six blocks, at 20 years, 242 days old, according to the Elias Sports Bureau. He broke the record shared by Shaquille O'Neal and
Chris Webber
, both of whom were exactly 20 years, 309 days old when they pulled it off in 1993 and 1994, respectively.
The season is young, but Davis is averaging over 23 PPG, 11 RPG and four blocks per game this season. Since blocks became an official stat in the 1973-74 season, only three different players have averaged those numbers over an entire season:
Kareem Abdul-Jabbar
,
Hakeem Olajuwon
(twice) and
David Robinson
.
The Pelicans have improved to a modest 3-3 this season, but it's impressive when you consider they went a combined 48-100 over the last two seasons.
Davis has been arguably as valuable to his team as any player in the league this season. With Davis on the court, the Pelicans are outscoring opponents by six points per 100 possessions this season. But with Davis off the court, opponents are outscoring them by 11 points per 100 possessions.
He has been especially valuable in the rebounding department. With Davis on the court, the Pelicans are outrebounding opponents by seven rebounds per 48 minutes. But with Davis off the court, opponents are outrebounding them by 12 boards per 48 minutes.
Davis' effect has been considerable on the club dating to last season as well. In 2012-13, New Orleans went 23-41 (.359 win pct) with Davis in the lineup, and just 4-14 (.222) without him.
November, 23, 2012
11/23/12
10:27
AM ET
By Justin Havens, ESPN Stats & Information
ESPN.com

Derick E. Hingle/US PRESSWIREAnthony Davis put up 21 points in his NBA debut against Tim Duncan and the Spurs.
In an article in June, ESPN Insider Chad Ford addressed the growing hype around Kentucky Wildcats big man
Anthony Davis
. Before Davis had even played an NBA game, Ford had some strong praise:
"There isn't an NBA scout or GM in the league who doesn't have him No. 1 on his board. I'll take it a step further. Every GM and scout I spoke with told me he'd take Davis No. 1 in the 2011, 2010, 2009 and 2008 drafts. Yes, ahead of
Derrick Rose
,
Blake Griffin
,
John Wall
and Kyrie Irving… [Marcus] Camby is probably his floor. Many GMs and scouts believe that players like
Tim Duncan
and
Kevin Garnett
are his ceiling." -- Chad Ford, June 26, 2012
He's just six games into his career, but Davis actually is exceeding expectations if that's possible. He's had some durability issues early on, but his efficiency when he's been on the court has been outstanding. In fact, it's made comparisons to Tim Duncan look like an understatement.
Again, it's only six games. But Davis is also in his age-19 season; Duncan was already in his age-21 season as a rookie. The connection between Davis and Duncan goes beyond preseason comparisons -- they may be at different ends of their careers, but both players are doing things never seen before at their respective ages.
About a month into his career, Davis' production (in terms of efficiency) would be the best in more than 30 years for a player in his age-20 season or younger, exceeding even the debuts of LeBron James and Shaquille O'Neal. In fact, Davis' current PER mark is the sixth-best in the NBA this season.
On the flip side, Duncan's season is just as impressive. He ranks third in PER this season, behind James and
Kobe Bryant
. If Duncan can keep it up, it would be the highest PER posted by a player in his age-36 season or older in the last 30 seasons, exceeding the impressive end-of-career runs of
Karl Malone
,
Hakeem Olajuwon
and
Kareem Abdul-Jabbar
.
While it is admittedly early, the historically-relevant performances of these two big men could be worth monitoring as the season moves along, particularly considering the parallels drawn between the Davis and Duncan by our own analysts prior to the start of the season.
July, 27, 2012
7/27/12
1:29
AM ET
The ultimate fantasy parlor game for the hardcore NBA fan:
All expenses paid from your doorstep to an NBA arena 10 times during the 2012-13 season. First class on your preference of air carrier (that means double qualifying miles!) and the penthouse suite at the hotel of your choosing. Once you're at the venue, you can sit wherever you like.
Only two disclaimers: You can't attend a repeat matchup (for instance, only one of the two Heat-Thunder games) and you can visit a specific home floor only twice (for instance, no more than two Lakers home games at Staples Center).
Which 10 games do you want?
My 10, in chronological order:
Oklahoma City Thunder at New Orleans Hornets, Nov. 16


You never need an excuse to drop into New Orleans, but Anthony Davis' arrival warrants a visit.
Davis projects as one of the best defensive players of his generation. A home date against an offensive juggernaut like the Thunder will be Davis' first graduate-level exam in the defensive arts. We'll be waiting for that first switch when Davis -- as sound a perimeter defender as big men come -- finds himself face-to-face with Kevin Durant.
New York Knicks at Brooklyn Nets, Dec. 11


The two teams launch the season against one another on Nov. 1, but opening games, even ones filled with anticipation, are often nothing more than throat clearing by both clubs. But six weeks into the season, the Knicks and Nets will have forged an identity and sculpted systems (or at least tried to). And any intrigue that materialized in the first matchup will resurface in Round 2.
Throughout its history, Brooklyn has traditionally existed as a cultural, demographic and rhythmic counterpart to Manhattan. In 2012, the borough is as healthy as ever. Can that vitality fuel a fan base and, if so, what are some of the collective features of those devotees? Will it resemble anything like New York's storied baseball rivalries of yore?
Houston Rockets at New York Knicks, Dec. 17


How many intriguing characters can you cram into a two-hour NBA drama on the league's most dramatic stage?
The cast starts with Jeremy Lin, who sparked nightly riots at Madison Square Garden during a glorious run in February and March. Then there's Carmelo Anthony who classified the offer sheet Lin signed with Houston as ridiculous and whom reports claim didn't want to play alongside Lin anyhow. Knicks owner James Dolan, whose favorable-unfavorable numbers among fans already hovered at congressional levels, further enraged the base by choosing an inopportune time to tighten the purse strings. Finally, the New York fans for whom a supernova performance from Lin would be every bit as wrenching as it would be exhilarating.
Oklahoma City Thunder at Miami Heat, Dec. 25


As the clock ticked away on the Thunder's season in Game 5 of the NBA Finals, something sparked in Kevin Durant's eyes. His proximity to the Heat's celebration a few yards down the sideline was unbearable. Durant was no longer interested in marshaling a troop of upstarts whose athleticism could challenge the most polished outfits in the league. At that moment, he graduated to a title-or-bust guy.
That drive should propel the Thunder to a romp through their 2012-13 schedule. The Thunder won't be adding a new piece, unlike the 1995-96 Chicago Bulls when Michael Jordan returned and the team won 72 games, but Oklahoma City has a chance for a prolific season during which they lose only two or three times a month. The crescendo will start building on Christmas afternoon when the Heat arrive.
Los Angeles Lakers at Los Angeles Clippers, Jan. 4


Angelenos don't share a lot of communal civic experiences, not even in sports. The baseball and hockey rivalries between the city and Orange County have never been meaningful; but last season the Lakers and Clippers developed something real.
The Lakers are still the gold standard in town, but, for the first time last season, the Clippers brought charisma and star power to the party. With Chris Paul and Blake Griffin on the floor, the Clippers legitimately believe it's a fair fight and that was evident during the team's three-game season series. Don't expect any dip in the intensity in 2012-13.
Miami Heat at Indiana Pacers, Jan. 8


The Pacers have to feel like the Eastern Conference semifinals slipped through their fingers. By no means was it a choke job of any kind, but they had a 2-1 lead against a wounded Heat team that was imploding on the scene.
Indiana should put another quality squad on the floor in 2012-13, but windows don't stay open for very long in the NBA. That's especially true for teams like the Pacers that have to carefully choose the right moment in time and hit the target when those opportunities arise. The first rematch with the Heat at Bankers Life Fieldhouse (while we're choosing buildings, why not go to the best?) should open a few wounds between two teams that went at it intensely in May.
Miami Heat at Los Angeles Lakers, Jan. 17


The Heat and Lakers were hyped to death in 2010-11 as two freight trains bearing down on each other toward a collision in the 2011 Finals.
That matchup never came to fruition and the lines on the Kobe-LeBron parallel have faded, but Heat-Lakers is still event basketball, especially at Staples Center. The colors on the floor pop beneath the creative lighting scheme while public address announcer Lawrence Tanter's baritone brings gravitas to the game. Since one Lakers home game is a must on the NBA tour, the choice is easy.
Miami Heat at Boston Celtics, Jan. 27


The climax of most homecomings usually occurs during opening introductions, then gradually fades over the course of the night unless the returnee goes unconscious or hits the dagger. Allen is certainly capable of draining a game winner, but his return trip to the TD Garden will be especially entertaining because, when it comes to crowd reaction, Boston fans are utterly unpredictable.
Allen could be greeted like a New England prince or could be taunted from the moment he sets foot in the arena two hours prior to tip for his ritualistic individual shootaround. It's anyone's guess.
New York Knicks at Denver Nuggets, March 13


Of all the returns to the scenes of the crimes, this figures to be the most compelling. You have to talk to a lot of NBA fans in Colorado before you find one who has nice things to say about Carmelo Anthony.
When Anthony walks into the Pepsi Center in Denver on March 13, 25 months will have passed since he'd cleaned out his locker. Time can heal, but in the case of the Nuggets faithful, you have to wonder if there's not a deep, pent-up resentment of Anthony. Of course, Anthony knows this, and that reaction will only incite him.
San Antonio at Oklahoma City, April 4


Provided the Spurs aren't locked into a seed and on their conservation diet, it's hard to experience anything other than top-shelf basketball when these two teams match up. Their Western Conference final proved to be the best chess match of the spring, and the stylistic contrasts should be every bit as pronounced in 2012-13.
Tim Duncan re-upped for three years with San Antonio, but as his career winds down, it's worth fully experiencing his final performances. Kobe Bryant, Dwyane Wade and LeBron James will always be indelible in our minds, but conjuring up mental images of Duncan's greatness when he retires will require a deeper plunge into our memories.
June, 29, 2012
6/29/12
1:05
AM ET
By ESPN Stats & Info
ESPN.com
Archive
Kentucky's
Anthony Davis
(
New Orleans Hornets
) and Michael Kidd-Gilchrist (
Charlotte Bobcats
) went 1-2 in the 2012 NBA draft, marking the first time in the common draft era that college teammates were selected with the first two picks.
Overall, Kentucky had six players (Terrence Jones, Marquis Teague, Doron Lamb, Darius Miller, Davis and Kidd-Gilchrist) drafted in the first two rounds, a high for any school in the first two rounds in the common draft era.
In the past three years, Kentucky has had a total of 14 players drafted, a high for a school over any three-year span, according to the Elias Sports Bureau.
Including Davis and Kidd-Gilchrist, Kentucky coach John Calipari can now claim to have coached seven top-five picks in his career. And three of those picks have gone No. 1 overall (Davis,
John Wall
,
Derrick Rose
).
Davis became the fifth player to be drafted No. 1 overall after winning a national championship, joining Danny Manning, James Worthy, Magic Johnson and Kareem Abdul-Jabbar.
Davis averaged just 14.2 points per game in his lone collegiate season. It's the lowest scoring average by a top overall pick in his final college season in the common draft era, just less than the 14.5 points per game
Patrick Ewing
averaged in his final season at Georgetown.
And Davis is the third consecutive freshman to be drafted with the top pick, having been preceded by
Kyrie Irving
in 2011 and Wall in 2010.
Teammates being drafted in the first round was a theme in this year's draft.
North Carolina, Duke, Connecticut, Syracuse, Vanderbilt and Washington joined Kentucky as schools with multiple players taken in the first round.
It's the most schools with multiple first-round picks in a single draft in the common draft era.
From that list, North Carolina, Kentucky and Connecticut all had multiple players selected in the top 15. It's the first time since 1998, and just the third time in the common draft era, that three schools had multiple selections in the top 15.
North Carolina also had multiple top-15 picks in 1998, along with Arizona and Kansas. In 1981, Maryland, Utah and Notre Dame each had multiple players go in the top 15.

April, 6, 2012
4/06/12
5:04
PM ET
Last week, we toyed with the idea of
abolishing the NBA draft
in an effort to address tanking and other inefficiencies in the way talent is distributed in the league.
We used Kentucky freshman center Anthony Davis as a case study because he's unanimously projected the be the No. 1 pick in this June's draft. Once chance determines the outcome of the lottery on May 30, we'll have a clear picture of who will employ Davis and for how much, although Davis will have virtually no say in the matter.
As a thought experiment, we proposed that all rookies enter the free agent market as an alternative to the draft. Fans of many small-market and/or struggling franchises wrote in that such a system would widen the gulf between the haves and have-nots in the NBA, presumably because talented players like Davis would never willfully choose to go a small market or failing team, especially if presented the opportunity to play with the Heat or Lakers.
We presented a counterargument, that despite the allure of sunshine, banners and superstar teammates, it's possible incoming rookie would have other things on their minds. If given the privileges enjoyed by young, talented prospects in almost all other labor markets, these players might consider factors like geography, the potential to put up big numbers, compatibility with a coach, a good cultural fit with the organization and, of course, how much that organization could pay him.
On Thursday night, Anthony Davis appeared on Jimmy Kimmel Live to talk about his NCAA championship, academics, eyebrow shaping and where he'd like to play in the NBA.
Here's the exchange...
Jimmy Kimmel: I know you're a big Michael Jordan fan. He was your childhood idol. He was everyone's childhood idol. So does that make you feel like you'd like to go play in Charlotte, where he's an owner?

Anthony Davis: Whoever pays me the most money.
The list of teams
that could pay Davis the most of his services in a free market looks roughly like this: Phoenix, Cleveland, Portland, Boston, Indiana, New Orleans and New Jersey. Only the Celtics can fairly be deemed a glamour franchise and they appear on the list only because the contracts Kevin Garnett and Ray Allen come off the books this summer.
The appeal to give Davis the same rights as other talented job-seekers isn't rooted in any fear that Davis won't be able to provide for his family on a rookie-scale salary or might have to live in a city he doesn't like.
It's about creating a landscape where being a poorly-run team hurts your long-term prospects as a franchise, and where being smart gets you a leg up. You can present that intelligence to a free agent rookie in any number of ways -- by managing your cap so that you can offer him the most money, by winning big, or maybe by just showing a potential employee
you care about his future
.
We can try to diminish a franchise's lousiness by giving it the best odds at receiving the top talent, as we do with the lottery and draft. Or we can address the root cause and make lousiness a liability.

March, 29, 2012
3/29/12
11:23
AM ET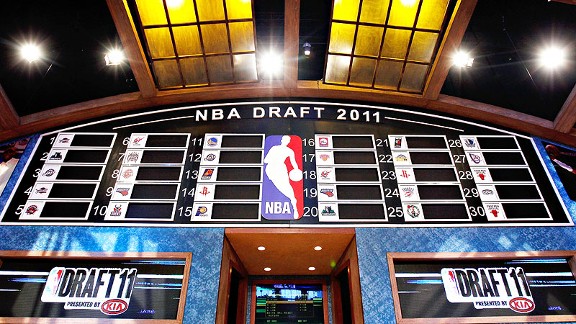 Mike Stobe/NBAE/Getty Images
We know it's pretty. We know it's fun. But the draft isn't good for the NBA.
A couple of weeks ago, thousands of med school graduates logged onto the National Resident Matching Program (NRMP) website to find out where they'll be spending the next few years of their lives as medical residents.
"National Match," the system that governs this process, includes an extensive application (which takes into account a medical student's standardized test performances) and interviews by invitation. Once those face-to-face meetings are over, hospitals list their candidates in order of preference, while the future residents do the same for hospitals. Those rankings are fed into a computer where an algorithm processes them, then figures out where there's mutual interest. On National Match Day, the assignments are announced.
NRMP isn't perfect, but it's regarded by people in the medical industry, as well as economists who study labor markets, as a very effective way of pairing talent with institutions. Candidates can target hospitals based on any number of personal factors. An aspiring thoracic surgeon might seek out Massachusetts General. Maybe another candidate wants to stay close to home, and thus ranks local programs highest. The best and the brightest will go hard for the elite institutions -- the Mayo Clinics and MD Andersons of the world (and those hospitals will naturally seek out the choice prospects).
However candidates measure these factors, residents generally land in places that make sense for them, while hospitals sign up residents who fit their criteria.
It's all relative, of course. The finest hospitals and the most polished candidates are more likely to snag their top choices -- but that's only natural. Law school grads who finish atop their classes land plum associate positions at firms where they'd most like to work and same holds true across most professional sectors.
This is how the labor market works -- talented people and prestigious institutions generally get the pick of the litter. But it's not how it works in the NBA, where the most gifted young players are assigned through the draft to teams, regardless of personal preferences or market value.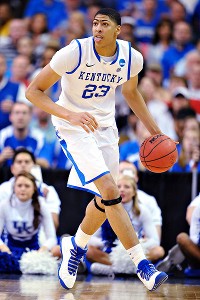 Paul Abell/US Presswire
The most talented young player anywhere has no say over where he works.
The NBA as the real world
Can you imagine how the restrictive parameters of the NBA draft would play out in any other business? Would we tell the a once-in-a-lifetime engineering grad who wants to negotiate a position and salary at the top tech firm in the Silicon Valley, "No, actually, you're required to work for the sector's laughingstock, a company managed by incompetents with no clear vision of the future -- at a fixed salary that's set by a third party." Yet this is the governing philosophy every spring when the NBA distributes members of the incoming draft class to the league's 30 teams.
Right now, most experts have Kentucky big man Anthony Davis slated as the best prospect in the upcoming draft. He is
a transcendent presence on the floor
with extrasensory defensive instincts. Davis will have almost no right to negotiate his salary. He won't be allowed to choose the city he lives in, his bosses, his co-workers, the facilities where he plies his craft, the team training staff who will take care of his body or the corporate culture of the place. Barring a dramatic trade, Davis will likely be rewarded to a franchise that's failed miserably this past season -- and possibly
one that's failed strategically
in an effort to secure his services.
The privilege of choice
We have no idea where Davis would like to work if given a voice in the matter. Is the Chicago kid someone who wants to stay close to family, even if it means taking less money or playing in a small market like Milwaukee? Would he and his representatives approach the Heat, the big dogs in the East who could use a center, even though Miami couldn't offer the money or touches Houston could? Maybe there's an NBA coach who dazzles him with the power of persuasion, or a team that could pair him with a dynamic point guard, like Cleveland. Then again, maybe Davis just wants to go where he can make the most money -- playing time, viability, co-workers and geography be damned.
On the other side of the equation, teams like the Rockets or Suns won't even have the opportunity to make a pitch to Davis. Neither Houston nor Phoenix can be fairly characterized as a serious contender this year but, rather than tanking, both teams decided to put a competitive product on the floor every night for their fans. Even though Houston and Phoenix could each use a frontcourt presence like Davis, by outperforming expectations and generally trying to win basketball games, neither can bid for his services.
This is Houston's reward for finding diamonds in the rough like Chandler Parsons and identifying, acquiring, then locking up a previously obscure player like Kyle Lowry. Observers have chided Phoenix for hanging onto a franchise legend like Steve Nash (who still ranks as one of the league's most efficient point guards). Why? Because Nash makes the Suns
too
competitive, thereby sullying their chances to sink to the bottom of the standings where they could vie for a top pick this June.
Instead, chances are Davis will land with Charlotte, New Orleans or one of the other teams racing to the bottom of the standings. These doormats know the best way to secure elite talent at below market value is to lose as many games as possible to increase their odds in the NBA lottery.
What can be done?
These disincentives and inefficiencies have been well-documented, so what's the remedy? How can we create an NBA that better approximates life in the real world, where the most competently run companies can tout their reputations to attract the most skilled prospects, and where those prospects get to consider the factors that are most important to them as they mull over where they'd like to work?
The league could institute its own "National Match," where teams and players were wed based on mutual interest. The NBA could
have teams bid on draft slots
. Some have proposed an auction system used by many fantasy sports leagues, in which a prospect is assigned to the highest bidder.
Novelty has its appeal, but addressing the inherent inequities of the draft might be best addressed by Occam's Razor -- simply declare all eligible incoming rookies free agents.
Rewarding competence

Free agency would address the unfairness of the current draft system, as discussed above. It would eliminate any incentive to tank, allow each team the opportunity to make its sales pitch to the prospects of their choosing and grant the same freedom to top talent that's afforded to hotshots in virtually every other corner of the private sector.
For NBA teams, free agency would put a premium on expertise and the ability to evaluate the field. No longer can the general manager who's picking in the top three bask in the comfort of knowing he'll, more likely than not, land a superior prospect at discount.
Meanwhile, teams that apply their smarts to assess talent will be rewarded for that. And organizations that compete will reap the benefits of their dedication. They'll be able to approach a desirable young player and his representatives and say, "We care about winning. Hop aboard." And organizations that exercise fiscal discipline can outbid those who don't.
A new emphasis on identity and strategy
The ripples of a free agency system would extend far beyond these basic corrections. A profound feature of a free agency system will be empowering NBA teams to cultivate corporate cultures and identities, like firms in the business world that compete for elite talent.
What is your sales pitch to prospects?
That all depends, but it better be something.
Some of the league's most respected teams already understand this. When Mark Cuban took over the Dallas Mavericks, he immediately transformed a dingy organization into a workplace that attends to the comforts of its players -- the finest locker rooms, facilities, team aircraft and other perks. The Mavs became the Singapore Airlines of NBA teams.
The Lakers and Celtics sell mystique.
San Antonio is a place where buttoned up professionals go to play.
More recently,
Oklahoma City has projected a culture of character
. For all the talk about small-market teams being at a disadvantage when it's time to retain their superstars, Kevin Durant and Russell Westbrook readily re-signed in the league's third-smallest market, without a hint of drama.
Each team that's interested in seriously competing in the rookie free agent market will need to sculpt its identity. Maybe in an effort to attract devout athletes -- of which there are many -- an organization decides to place a premium on faith.
In a league where player development has too long been an afterthought, a team might make that its calling card. If it can build a reputation for coaching rookies up, that could become a meaningful selling point.
Certain teams might reject rookies altogether, whether because these organizations are risk-averse when it comes to extending large contracts to unproven prospects or because they don't want to absorb young players into a veteran culture.
Others might want to populate their rosters with guys committed to mastering the new wave of data-driven strategy. Still others might want particular players for a very specific schematic system.
Opening up the labor market would allow teams to better to lay down organizational blueprints for the long haul, to actualize their visions for the future. And anytime we have the opportunity to reward vision, we should.
Upheaval that creates stability
Proponents of parity may argue that such a system would only widen the gap between the haves or have nots, but if we work within the existing salary cap structure, I have a hard time buying it.
Are we certain a supernova would accept a role as the fourth or fifth option with the Lakers at the rookie minimum, when the Hornets could lavish him with a robust deal and promise 35 minutes a night -- during which he could pad his resumé for his next big contract? If you're a bona fide wing, do you really want to go to Miami, which has two guys who are pretty good already situated and little money to spend, or make a name for yourself in Washington, a team in a terrific market with cap room to burn and a dynamic point guard who needs a shooter beside him?
Another benefit of self-determination for rookies would be a likely uptick in retention. A young player who chooses his destination based on his personal criteria is far more likely to stick around long-term. In that same spirit, an organization that excitedly recruits a prospect is probably going to be more committed to its investment than the team that grabs the "best player on the board."
HoopIdea: Finding a solution
The NBA draft has grown into one of the league's great cultural events, and one that's beautifully telegenic -- young men realizing their professional dreams, tearful parents overcome by pride, a night when hope is restored to fans of struggling teams.
But the spectacle of a four-hour pageant -- as much fun as it is -- feeds a system that encourages bad behavior, favors incompetence over achievement and cheats young men of the privileges that talented people in a free labor market should receive.
JOIN THE CONVERSATION
You can give us your ideas and talk with us and other fans in the following places:
And for the truly ambitious: Shoot a short video of yourself explaining your HoopIdea, upload it to YouTube and share the link with us on Twitter or Google+.