September, 4, 2013
Sep 4
2:41
PM ET
By Justin G. Trogdon
ESPN.com
Archive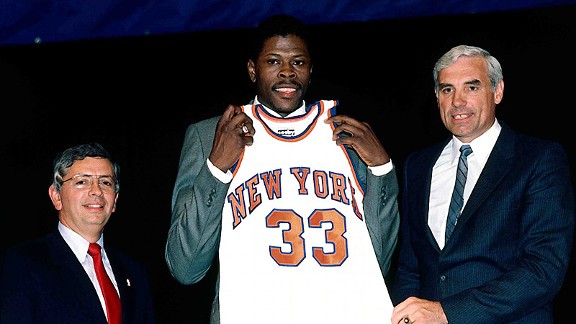 Noren Trotman/ NBAE/ Getty Images
Back in 1985, the Knicks scored the top pick in an unweighted draft lottery and landed Patrick Ewing.
I was asked how I would end tanking in the NBA. We could get radical and do away with the draft altogether, screw parity and let the free market determine what each player is worth right out of college and which teams are willing and able to pay for him. That's the libertarian answer that you might expect from an economist.
But I'm a bleeding heart liberal economist, one that's concerned about equity. And in the NBA, equity means parity -- every team having a fighting chance.
The NBA draft tries to equal out the playing field by trying to direct the best talent to the teams that need it most. However, by doing so, we're forced to risk tanking to improve parity. (Or at least the chance for parity, assuming management and owners know what to do with their draft picks.) How should the league manage this balancing act between parity and tanking in the draft?
Here's the thing, they already have a great tool to tip the scales away from tanking, all within the current system of amateur drafts, luxury taxes and limited first contracts. But first, a history lesson.
Go back with me to 1985. New Coke. "Back to the Future." Stallone at his apex.
And Patrick Ewing.
If ever there was a reason for teams to tank to get a chance at the first pick, Ewing was it. But, my colleague Beck Taylor and I have crunched the data, and we found no evidence that teams tanked that year (Taylor and Trogdon, 2002). Why? In 1985, the first year of the draft lottery, every non-playoff team had an equal shot at Ewing (at least in principle).[1] Once a team was eliminated from the playoffs, there was no benefit from additional losing. In fact, the lottery was instituted to avoid tanking, which we showed was happening even in the prior season. So if the lottery was supposed to end tanking, why is it still a problem?
Jump ahead to 1989. New Coke is gone. Milli Vanilli. Shoulder pads. And the NBA switched to the current weighted lottery system, which gives teams with worse records more opportunity for higher picks (i.e., more pingpong balls). Eliminated teams don't guarantee higher picks by losing, but they increase their chances. Here's the key point from our analysis of this system -- teams were likely to tank again, but
not as much as in the pre-lottery days.
That means the league already has a tool to address tanking -- lottery weights. The lottery weights are a control dial that can be set to tweak the parity/tanking tradeoff. On one end of the dial, the weights are the same for all teams (e.g., 1985). This would eliminate tanking but there's a chance a "good" non-playoff team gets the top pick (less parity). On the other end of the dial, the weights just sort the non-playoff teams from worst to best to determine the draft order (e.g., pre-1985). The teams most in need of talent get the best options (more parity), but lots of tanking. You could even
use the lottery weights
to reward the winningest teams post-elimination.
If Adam Silver, the next NBA commissioner, is serious about ending tanking, he doesn't need to reinvent the entire draft process to do it. He's already got the right pingpong ball machine for the job.
Justin G. Trogdon is a senior research economist at RTI International.
May, 5, 2013
May 5
12:31
AM ET
By ESPN Stats & Information
ESPN.com
Archive
AP Photo/Julio CortezJoakim Noah came up huge for the Bulls as they eliminate the Nets in Game 7
For the first time since Michael Jordan's shot over
Craig Ehlo
in Game 5 of the 1989 Eastern Conference First Round, the
Chicago Bulls
won a "winner-take-all" game on the road. It is the first time the Bulls won a Game 7 on the road in franchise history going 0-6 previously.
The
Brooklyn Nets
failed in their attempt to become the ninth team in NBA history to win a series after falling behind three games to one. The Nets fall to 0-2 all-time in Game 7s and have not won a playoff series since 2007.
What went right for Bulls?
Joakim Noah
talked the talk and then walked the walk. After Chicago's Game 6 loss Noah said, "We're going to go into a hostile environment in Brooklyn and we're going to win."
Noah made certain of that with 24 points, 14 rebounds and six blocks. Considering his foot injury, it was a heroic and historic performance. Read on for more on where that stat line stands among the all-time greats below.
Noah had a series high 1.33 points per play and shot 71 percent from the field Saturday.
With
Kirk Hinrich
out,
Marco Belinelli
and
Jimmy Butler
came up big. Belinelli poured in a playoff career-high 24 points. Butler played the entire game and was stellar defensively – holding
Deron Williams
to 4-11 FG and
Joe Johnson
to 0-5 FG when they were matched up.
What went wrong for Nets?
Johnson
Johnson – who had several clutch moments during the regular season – went ice cold. Johnson scored just six points, missing 12 of his 14 shots.
The Nets never led in the game - trailing by as many as 17 points, but they were able to cut the deficit to single-digits for most of the last quarter-and-a-half.
Johnson's struggles were part of the reason Brooklyn couldn't complete the comeback. After an alley-oop dunk at the 6:37 mark in third, he missed his last seven shots of the game, six of them coming from beyond the arc.
Elias Sports Bureau Stat of the Game
Noah became the first player with at least 20 points, 10 rebounds and five blocks in a Game 7 win since
Kevin Garnett
in 2004. In fact since blocks became official in 1973-74 the only ones to reach those numbers in a Game 7 win besides Noah and Garnett are
Dikembe Mutombo
, Patrick Ewing and Elvin Hayes.
August, 7, 2012
8/07/12
4:36
PM ET

By Kevin Arnovitz
ESPN.com
Archive
July, 12, 2012
7/12/12
12:59
AM ET
By Ryan Feldman & Gregg Found, ESPN Stats & Info
ESPN.com

US PresswireWould the current U.S. Olympic team have a chance against the Dream Team?
Kobe Bryant
believes the 2012 U.S. Olympic team would beat the 1992 Olympic team. Is he correct?
According to AccuScore, which ran 10,000 computer simulations, the 1992 team would win 53.1 percent of the time and by an average margin of one point per game.
No one will ever know the true answer, but let's take a look at the Next Level analytical facts about the rosters at each point of their careers to help make the case either way.
REBOUNDING AND DEFENSE
Much has been made about the current team's weak frontcourt. The 1992 team had four players who grabbed at least 15 percent of available rebounds in 1991-92 (
Charles Barkley
,
Patrick Ewing
,
Karl Malone
,
David Robinson
). The current team has three players at that rebound rate last season (
Tyson Chandler
,
Blake Griffin
,
Kevin Love
).
The 1992 team had two players (Ewing, Robinson) who blocked at least 5 percent of the shot attempts they faced in 1991-92. No 2012 player had a block percentage higher than 3.4 last season (Chandler).
SHOOTING
Four current members had a true shooting percentage (a measure of shooting efficiency that takes into account 2-pointers, 3-pointers and free throws) of at least 60 last season (Chandler,
Kevin Durant
,
James Harden
,
LeBron James
). Chandler (70.8 in 2011-12) led the NBA each of the past two seasons. Only one of the 1992 members had a 60 true shooting percentage (Barkley), although three others fell just short of that threshold in 1991-92 (Malone, Robinson,
John Stockton
).
PASSING
Five Dream Team members assisted on at least 25 percent of their teammates' field goals in 1991-92 (Larry Bird,
Clyde Drexler
,
Michael Jordan
,
Scottie Pippen
, Stockton), plus Magic Johnson had a 49.3 assist percentage in his most recent NBA season (1990-91). LeBron,
Chris Paul
,
Russell Westbrook
and
Deron Williams
had a 25 assist percentage or better last season, but none were as high as Stockton (53.7), who was in the midst of leading the league in assist percentage for 10 straight seasons.
AGE, EXPERIENCE AND CHAMPIONSHIPS
The 1992 team was about 2½ years older on average (28.8-26.2). Other than Bird and Magic, every Dream Team member was 30 years old or younger. Every member of the current team is 29 or younger, other than Kobe, who is 33.
But the NBA experience level is about the same. The 1992 team had, on average, 7.3 years of experience per player. This year's team has 7.1.
As far as NBA titles, give the edge to the 1992 team. Its players had a combined 12 championships as they entered the Olympics -- five by Magic, three by Bird and two each from Jordan and Pippen.
The 2012 version has seven championships among them, carried by Kobe's five. LeBron and Chandler each have one. The current team has members of each of the past four NBA champions, while the 1992 team had members of the then-past two champions.
PLAYER VALUE/EFFICIENCY
Using average win shares per 48 minutes in their previous NBA seasons, (including Magic's 1990-91 season and not including
Christian Laettner
), the 1992 squad's average is higher by 9 percent (.215-.198). Prefer player efficiency rating to win shares? The Dream Team's PER was 3 percent higher (23.8-23.0).
IN THEIR PRIME?
Other than Laettner, all 11 Dream Team members are Hall of Famers. And only two could be considered in the twilight of their careers. Bird had just finished his last NBA season, while Magic had retired the previous year, although he made a brief comeback in 1995-96. As for this edition, one could make the case that all but the 33-year-old Kobe on the roster could appear on another Olympic team again.
The 2012 team gets under way with an exhibition game Thursday against the Dominican Republic on ESPN at 9 p.m. ET. Only time will tell whether this team is the modern-day Dream Team.
June, 11, 2011
6/11/11
1:10
PM ET
By ESPN Stats & Info
ESPN.com
Archive

Nowitzki
It's hard to say that a player who entered the 2011 playoffs as one of only four players in NBA history to average over 25 points and 10 rebounds per game for a postseason career had a lot left to prove.
In the case of
Dirk Nowitzki
that is exactly how it felt this postseason. Particularly after
Dallas Mavericks
head coach Rick Carlisle proclaimed him one of the 10 best players all-time despite lacking the one thing that ultimately seems to define every great player's career: a ring.
Nowitzki is now closer than he ever has been to relieving this burden and cementing his legacy. In the process he also has the chance to remove himself from some unwanted lists among great players.
Nowitzki, with 10 all-star selections, is tied for the sixth-most by a player without an NBA title in league history. The only players with more are
Karl Malone
(14),
Charles Barkley
(11), Elgin Baylor (11),
Patrick Ewing
(11) and
Allen Iverson
(11).
Malone, Baylor and,
LeBron James
are the only other players in NBA history besides Nowtizki with career averages of more than 23.0 points and 7.0 rebounds without an NBA championship to their credit.
His 22,792 points are 23rd-most all-time in NBA history, but 10th-most among players to never win a ring.
This postseason though, Nowitzki hasn't just pushed himself to the brink of a championship but has also established himself as one of the premier clutch postseason scorers.
Nowitzki has been at his best in crunch time, defined as those moments under five minutes left in game with the score within five points or fewer. He's scored 26 points in those situations in the Finals while going 8-for-13 from the field. The entire 'Big Three' of the
Miami Heat
have combined to score just 21 points in crunch time.
Over the last 15 postseasons only O'Neal and
Michael Jordan
(1997 and 1998) have averaged over 10 points per game in the fourth quarter of an NBA Finals series. Each of those players led their teams to NBA Championships while also winning the Finals MVP award, something Nowitzki is well on his way to doing.
If the Mavericks win the title and Nowitzki takes home Finals MVP honors, the legacy that his coach was hyping up will be solidified. He would become the 11th player in NBA history to have at least 10 NBA All-Star appearances, a regular season MVP award and a Finals MVP.
Hakeem Olajuwon
William Davidson
Pat Riley
Adrian Dantley
Patrick Ewing
First of all, as I mentioned earlier, one of my missions for my day on the set of these commercials promoting the NBA on ESPN was to hit the craft services table.
Mission accomplished. I have been hitting that thing hard -- right down to the free espresso. I'm unlikely to sleep at all tonight.
I had an interesting conversation with Hubie Brown, who's in some of these commercials.
We talked about Shawn Marion's trade demands and stuff. But I'm a Blazer fan, so I also asked him if he could think of any young players in NBA history who have been through anything like what Greg Oden is facing, and Brown told the tale of Patrick Ewing.
Ewing's rookie year he started out scoring like crazy (although his rebounding was underwhelming) and then right around the All-Star break he tore his ACL. "At that point," recalls Brown, "if you look at the history, guys who tore their ACL came back to perform at about 50% of what their athleticism and talent would have dictated. But Dr. Scott, the Knicks' doctor, had just perfected the surgery, and he had done it on Bernard King."
So, there you go, Greg, something to think about. At one point they thought Patrick Ewing was a good bet to be cooked. He did all right for himself.
Another example, of course, is Bill Walton before he became the star we know. "No one ever talks about that," says Brown. "He missed about 80 games over those two seasons before Jack Ramsay took over." The Blazers then were pretty miserable. The rare times in his career that Walton played a lot of games, and was healthy in the playoffs, he practically always won titles -- one in Portland, and another in Boston nearly a decade later.
Now, as to the TV commercials -- they're good. Understated. Funny. Hats off to the creative people at Wieden + Kennedy. Sure, I'm probably biased because seeing it happen live, you can't help but root for it. But I'm pretty sure the one with the three Celtics and Jeff Van Gundy will be remembered. And the one they're shooting now, with Chris Bosh busting on Mike Breen, that's really cool too.
We get to watch the shooting live, on TV monitors, listening to headphones. On the headphones, it's especially clear that Bosh has a good, deep, resonant voice. If you ever need an NBA player to sing bass in your barbershop quartet, you'd want to call Chris Bosh first.