December, 24, 2014
Dec 24
5:27
PM ET
By ESPN Stats & Information
ESPN.com
Archive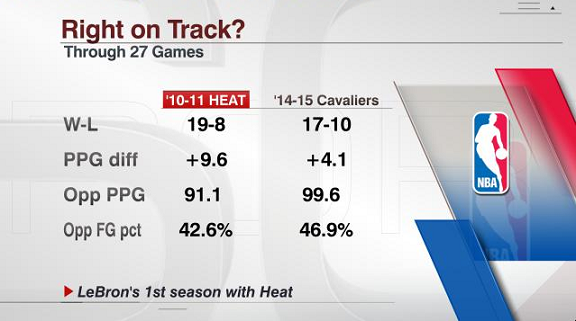 LeBron James
will meet his former team for the first time this season when the
Cleveland Cavaliers
visit the
Miami Heat
at 5 p.m. ET on ABC.
James helped guide the Heat to four straight NBA Finals appearances – the first team to accomplish that feat since the Celtics from 1984 to 1987.
Now, he's trying to guide the Cavaliers back in that direction. He'll also be trying to help his team snap a 10-game losing streak against the Heat.
The Heat enter this game at 13-16 after a disappointing home loss to Philadelphia on Tuesday. Over the last 30 years - only two teams finished below .500 in the season after making it to the NBA Finals (1998-99 Bulls and 2004-05 Lakers).
Cavaliers defense improving
The Cavaliers have been playing better defense as of late. Cleveland started the season 5-7 but has posted a 12-3 mark since then.
The Cavaliers allowed 102.7 points per game in their first 12 games of the season. They've allowed 97.1 points per game in their last 15.
Cleveland still ranks 23rd in defensive efficiency this season, allowing 105.3 points per 100 possessions. Each of the last 13 NBA champions ranked in the top 10 in defensive efficiency in the regular season.
James doesn't usually lose on this day
LeBron James is averaging 26.9 points in eight Christmas games, the second-highest scoring average on Christmas among active players that have played in at least five such games.
The only player with a higher average is
Kevin Durant
(31.8 points in five games)
James' 7-1 record and .875 win percentage on Christmas is tied for the third-best among active players who have played at least five games on this date. Ahead of him on that list –
Mario Chalmers
(5-0, 1.000) and
Dwyane Wade
(8-1, .889).
When the Cavaliers win, they ...
Move the ball -- when more than 55 percent of their two-point shots are assisted, they win 73 percent of the time. When they are below that mark, they win 42 percent of the time.
Protect the paint -- When the Cavaliers opponents get more than 17.6 percent of their points from midrange, the Cavaliers win two-thirds of the time. When they get less than that, they win only half of the time
Heat will try to slow it down
The Heat are playing at the slowest pace in the NBA- 91.7 possessions per 48 minutes and their offensive production has suffered in James' absence.
Miami is shooting 46 percent from the field and averaging 94.2 points this season, compared to 50 percent and 102.2 points last season.
Elias Sports Bureau Stat of the Night
Who scored the most points in their first game against a team they won a title with?
Danny Ainge scored 39 points for the
Sacramento Kings
against the Celtics on Dec. 27, 1989.
December, 24, 2014
Dec 24
2:34
PM ET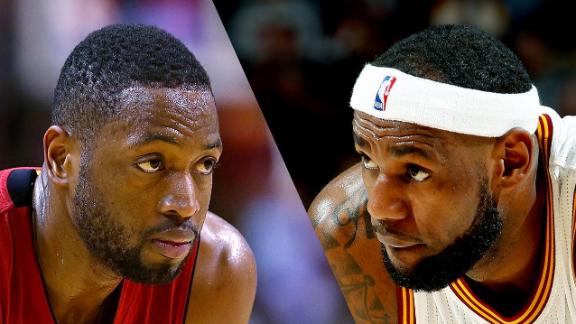 MIAMI -- Heat starting center Chris Bosh continues to recover from a calf injury and is doubtful for Thursday's Christmas showdown against LeBron James and the Cleveland Cavaliers.
Bosh went through an extensive workout with the Heat's training staff Wednesday and did some light shooting drills after the team's practice at AmericanAirlines Arena.
Heat coach Erik Spoelstra wouldn't rule out the possibility of a surprising change in status by Thursday morning but said he wasn't planning on Bosh being available to face the Cavaliers.
The Heat have been without Bosh since he strained his left calf in a Dec. 12 victory against Utah. He has missed the past six games, which has culminated with the Heat blowing a 23-point lead in the third quarter on the way to Tuesday's 91-87 home loss to Philadelphia.
"The majority of his time, I don't want to be misleading -- 80 to 90 percent of his time -- is with [trainers] right now," Spoelstra said. "He did a bunch of work with them [Tuesday] morning and then came up to our shootaround and did some light shooting. So that's it."
Bosh did not speak with reporters after Wednesday's practice.
Over the weekend, Bosh said he wouldn't rush the recovery process but hoped to make enough progress to possibly play Thursday. The game marks James' first visit to Miami since his surprising departure in free agency this past summer to return to Cleveland.
December, 23, 2014
Dec 23
10:15
PM ET
Associated Press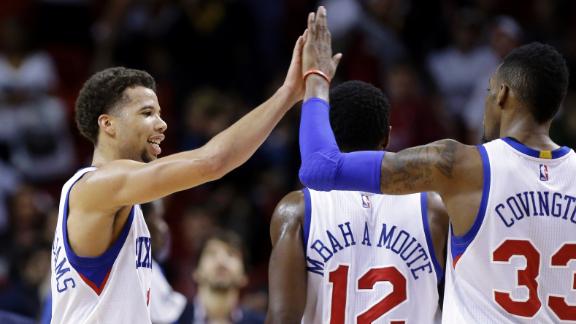 MIAMI -- Michael Carter-Williams scored 20 points, Luc Mbah a Moute added 19 and the Philadelphia 76ers erased a 23-point second-half deficit to stun the Miami Heat 91-87 on Tuesday night.
K.J. McDaniels scored 13 for the 76ers, who've won two straight for the first time all season. Jerami Grant and Robert Covington each had 11 for Philadelphia.
Dwyane Wade scored 17 of his 23 points in the first half for Miami, which was outscored 49-30 after halftime and plays host to LeBron James and Cleveland on Thursday in a Christmas Day showdown.
And this was anything but the way the Heat wanted to go into that one.
Shawne Williams scored 17 and Mario Chalmers added 11 for the Heat, who missed four 3-pointers that would have given them the lead in the final minute.
Miami also turned the ball over 22 times, helping Philadelphia score 21 points.
December, 23, 2014
Dec 23
6:55
PM ET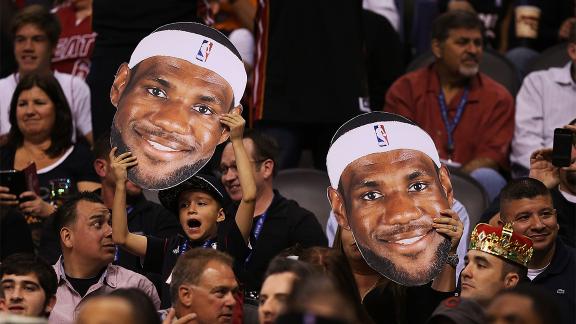 Last Thursday, the renowned Cleveland Orchestra held one of its annual Christmas concerts at beautiful Severance Hall, minutes away from Cleveland's "Little Italy" neighborhood. Late in the show, during a break between songs, Santa Claus came up on stage to riff with conductor Robert Porco.
"And who is at the top of your nice list?" Porco asked.
"Well, LeBron of course," Santa said. "The King!"
The crowd ate it up, laughing and applauding at the same time -- visions of sugar plums surely replaced by visions of LeBron dunks for Clevelanders this Christmas season.
December, 23, 2014
Dec 23
1:21
AM ET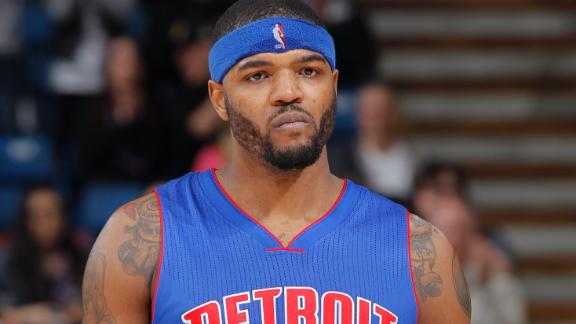 The Miami Heat have formally applied to the league office for a Disabled Player Exception in the wake of Josh McRoberts' season-ending knee injury in a move they hope will help them land free agent Josh Smith, according to league sources.
Sources told ESPN.com on Monday night that the Heat have launched the application process in hopes of being granted the exception before Smith picks his next team once he clears waivers.
At present, Miami can offer only a $1.4 million veteran minimum contract to Smith, but a DPE after losing McRoberts would be valued at $2.65 million.
Sources say the Houston Rockets, however, remain confident they have the inside track to land Smith even if Miami is granted a DPE this week, given Houston's clear need at power forward and Smith's close friendship with Rockets center Dwight Howard.
The Rockets still have their biannual exception available, valued at nearly $2.1 million, to offer Smith, who was stunningly waived Monday by the Detroit Pistons with $26 million left on his contract over the next two seasons after this one.
Sources say the Rockets, with Howard leading their recruiting pitch, believe Smith will ultimately choose Houston over Miami and the Dallas Mavericks