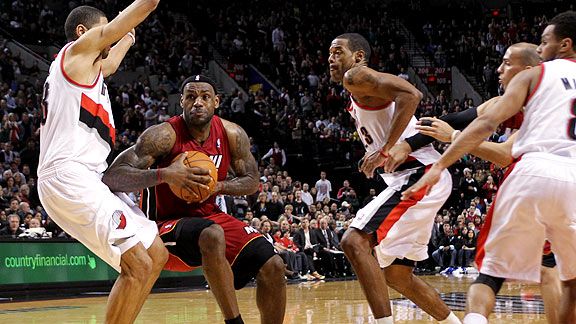 Tom Hauck/Getty Images
LeBron James scored 44 points, played center, snapped at his bench and taunted the crowd in Portland.
PORTLAND, Ore. -- It was not long ago that LeBron James was immersed in being a victim, covering it with a façade of defiance while making commercials and using Twitter to ask for sympathy that never arrived.
With the season's midway point in sight and the Heat as hot as any regular-season team in the past decade, James' attitude is undergoing a change. It is hard to determine whether it is permanent or convenient but it certainly is different.
With boos cascading down on him from the standard feisty crowd at the Rose Garden on Sunday night, James offered a public display of his mood swing. After nailing a 3-pointer that sealed the Heat's 13th consecutive road win -- 107-100 over the Trail Blazers thanks to his remarkable play in the fourth quarter and overtime -- James didn't walk to the Heat huddle when the Blazers called a mercy timeout.
Instead he looked up to the fans, raised his arms and encouraged them to continue booing. Which they did. And James smiled.
Earlier this season, after a tough overtime loss in Memphis, James grumbled that he didn't understand why fans booed him, especially fans in places like western Tennessee, somewhere he never considered in free agency. Then, he said, it bothered him.
"Being on a new team, being with new guys, being in a new system," James said, "the boos don't always help when you're not as comfortable as you want to be. Right now we're very comfortable together, I'm very comfortable."
It showed in Portland, home to rabid and knowledgeable fans, as he invited the hate. Eight years ago, on his first trip to here, James dressed head-to-toe in University of Oregon gear for the television cameras after the game, hoping to play to the locals. Those days, obviously, are long over.
"I like boos, I don't have a problem with the boos," James said. "I've grown accustomed to it. I enjoy it."
There are a lot of people who like James and, since last summer, there are now a lot of people who don't. For a time it clearly wasn't a position he was used to. Now James seems to be content to give both factions what they want, a meeting in the middle of surrendering to it and embracing it.
"I've kind of accepted this villain role everyone has placed on me and I'm OK with it," James said. "I'm in my comfort zone."
The MVP-villain James had something for everyone against the Trail Blazers. It was James in full bloom by giving his fans and haters plenty to point toward.
He scored a season-high 44 points, eight of them in an impressive overtime during which Portland managed just seven.
He had 13 rebounds, ripping many of them away in crowds and outrunning everyone to the other end.
He was the Heat's center in overtime, a role he's played only a few times in his career for such an extended period. But he effectively took Marcus Camby, who had 13 rebounds in regulation, out of rhythm and out of making an impact.
James had some thunder dunks, some pretty passes, some fury that helped the Heat overcome a seven-point deficit with two minutes to play in the fourth.
"You look at games like this and moments like this and you really understand why we decided to team up and come together and make this a special run," said Dwyane Wade, who had 34 points of his own on a night when players not named James, Wade or Chris Bosh combined for just 11 points.
"He's a great player and I'm a fan of his on the court and I'm just glad I get to experience it in the same jersey he wears."
That was one side, now for the other.
James complained constantly to the officials and didn't mind showing them up. Once upset about a call, he put his hands behind his back and skipped down the court after putting the ball down and making an official run 50 feet to chase it down.
He fumed and yelled at coaches when he was taken out of the game just before the end of first half. A mistake on the bench about the number of fouls on him created a miscommunication. When coach Erik Spoelstra called a timeout to get him back in the game, he stood on the floor shaking his head at the bench.
He brushed off Dante Cunningham, who received a huge ovation for a hard foul on James in the second half. "He hit the floor, I didn't, so I'm OK," James said.
This was James at his most comfortable. This was James making play after play playing everything from point guard to center. It was James the Hero and James the Villain. His perspectives seem to change but right now it doesn't seem like he cares which category he's put in.
For now there's no more asking, "What should he do."
He's just doing it.