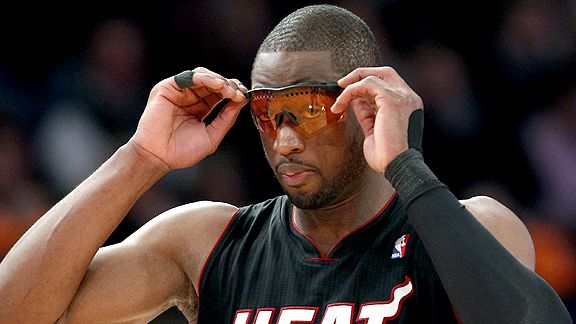 AP Photo/Kathy Willens
Dwyane Wade's vision just wasn't the same after he checked out near the end of the third quarter.
NEW YORK -- Dwyane Wade was absolutely right late Thursday night.
It was one of those things you could nitpick, dissect, break down and wonder about ad nauseum. This particular decision might not have changed the outcome of the Miami Heat's 93-88 loss to the New York Knicks at Madison Square Garden.
But it certainly set the wheels in motion.
And that's what makes it worth further examination. It deserves to be scrutinized, because it proved to be one of the pivotal moments of the game, when the one thing the Heat had working for them amid struggles everywhere else -- Wade's nearly flawless ability to score -- was removed from the equation near the end of the third quarter, never to be seen again.
So, in essence, it might have been the substitution that sank the Heat. Wade had made 13 consecutive shots and was 14 of 15 from the field when he went to the bench with three minutes left in the third quarter as part of coach Erik Spoesltra's normal rotation.
The term "hot" would be an understatement to describe Wade's offensive temperature at the time. The migraine didn't appear to bother him. Those specially-tinted goggles he wore seemed to give him X-ray vision. He was locked in, having already dropped 33 points on the Knicks. Alicia Keys, Spike Lee, Kanye West, Howard Stern, Tracy Morgan and Magic Johnson were all courtside and in store for another dramatic performance in the Mecca.
"We all know about this league," LeBron James said of Wade. "If a guy's got a hot streak, you got to keep giving it to him. It's not rocket science. When a guy's got it going, you just keep on feeding him. And D-Wade had it going."
And Wade carried it with him, right to the bench with 2:52 left in the third quarter and the Heat leading by seven. To be specific, the substitution was Mike Miller in, Dwyane Wade out. The Heat never saw that version of Wade the rest of the night, a night that went all downhill from there for Miami.
Wade finished with 34 points, 16 rebounds and five assists. He also had six turnovers and missed eight of his 14 free-throw attempts. But for three quarters, the good outweighed the bad for Wade. He was on fire.
But when he re-entered the game to start the fourth quarter, Wade was as frigid as the weather outside Madison Square Garden. He would not make another shot. Wade was 0-of-7 from the field, with two fouls and a turnover the rest of the way. The Knicks outscored the Heat 29-15 in the fourth quarter after Wade couldn't rekindle the magic.
Spoelstra is a stickler for details and has settled into a regimented substitution pattern, specifically when it comes to handling Wade and James. In hindsight, this was one instance when Spoelstra should have ridden the hot hand as long as Wade had steam coming out of those funky goggles.
To Wade's credit, he didn't publicly disagree with Spoelstra's move to pull him in the midst of one of the best grooves he's been in all season. But Wade did admit that it disrupted his game.
"A little bit, yeah," Wade said diplomatically. "But it's not the reason we lost the game. Of course, it broke my rhythm a little bit, but it's part of it. I have to take breaks. I need to, especially going down the stretch."
The truth is Wade needed a rest at that point about as much as he needed pointers on how to put the ball in the basket. He had it rolling. He was the only thing the Heat had going for them on a night when James missed 17 of his 24 shots. A night when Chris Bosh was left in Miami with a sprained ankle. A night when Pat Riley scored as many points as Zydrunas Ilgauskas, Mike Miller, Eddie House, Carlos Arroyo, Erick Dampier and Juwan Howard contributed in a combined 90 minutes of court time.
Yes, Wade did the respectful thing and went to the bench on schedule, the way he normally does during that stage of the game. But he should have just as respectfully refused. Or maybe Spoelstra should have embraced the roll he was on, and broke from his resting routine.
"I could have probably told Coach I wanted to stay," Wade said. "I just stayed with what we normally do. That's one of those things right there you can nitpick at. I could have told him. He could have said … But I sat down. I took my rest. Because I knew I was coming back in the fourth quarter to go for that push."
That push never arrived. Actually it did. The Knicks made it. And Wade wouldn't make anything else. Dunks, nifty moves, pull-up jumpers, hard drives and twisting layups defined his game through the first three quarters against the Knicks. In the fourth, there were missed free throws, defensive lapses and errant shots from the field.
I nearly caught a migraine watching it. Wade went from magical to less than mortal.
And on a night when the Knicks weren't themselves either, and played one of their best stretches of defense this season, coach Mike D'Antoni couldn't even take credit for what happened to Wade.
"It was nothing that we did," D'Antoni said. "He finally missed a few shots. He's human. We just kept trying to tighten it up and help as much as we could."
Sure, Knicks guard Landry Fields did a decent job of staying in front of Wade and being in just the right position to get schooled. But the only thing that stopped Wade on Thursday was the Heat's substitution pattern.
"I was looking for an opportunity to get him out," Spoelstra said of weighing the pros and cons of pulling Wade before he ultimately decided to maintain his routine. "When I got him out in the third, he was really in a great rhythm right there, so it was a tough call. I put him in there in the fourth. I don't think fatigue was a factor."
Wade didn't think so, either.
"Before that, I was just real aggressive, playing a different role," Wade said of his approach before he was pulled. "When I came back in, I trusted my teammates. I got off the ball. I gave guys shots. They just didn't go down. I was playing point guard at that time, so I was facilitating. They just didn't go in. That's all it was."
And it was enough to alter the course of the game. The Heat didn't lose their lead during the two minutes, 52 seconds Wade sat on the bench at the end of the third. In fact, they extended a seven-point lead to 73-64 entering the fourth quarter.
But Wade's momentum was gone.
There's a widely known saying in the NBA that Dean Smith, the former University of North Carolina coach, was the only person who ever held Michael Jordan under 20 points a game.
To a lesser degree, that was the case Thursday night with Wade.
The Knicks certainly weren't the ones who took Wade out of his game.
No, the only thing that stopped him was his coach's stubborn devotion to order.