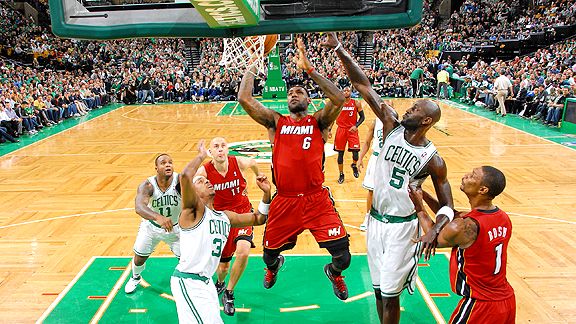 Brian Babineau/NBAE/Getty Images
A rivalry is brewing between Miami and Boston, but they'll be on the same side Sunday, like it or not.
LOS ANGELES -- For one night, at least, LeBron James is willing to forgive Rajon Rondo for that pesky little peek into the Miami Heat's huddle during last Sunday's game in Boston.
And Celtics forward Kevin Garnett won't carry a grudge from that running forearm shiver that Dwyane Wade delivered his way in the lane on that flagrant foul last week. Gone, too -- at least momentarily -- is the bitterness, intensity and rage that have come to define what so far has been a one-sided rivalry between the Miami Heat and Boston Celtics.
Why? Because tonight at the Staples Center, the two top teams in the Eastern Conference have no choice but to unite for a common cause as East teammates in the All-Star Game.
James, Wade and Chris Bosh join Garnett, Rondo, Paul Pierce and Ray Allen in the goal of helping the East team knock off Kobe Bryant, Blake Griffin and the West squad for midseason bragging rights. And for now, that task is bigger than any level of beef between the Heat and Celtics.
"Right now, we come down here as allies," Pierce said of setting aside any grudges with the Heat. "Maybe we'll leave as enemies. But now we're allies. And it's all about having fun."
Making that transition from trying to frustrate one another just a week ago to fraternizing this week in Los Angeles isn't as simple as flipping an emotional switch. Especially when there's been so much angst between these adversaries.
The Celtics (40-14) and Heat (41-15) are essentially tied atop the East, separated by mere percentage points in the standings. But James, Wade and Bosh have failed to beat Boston in three tries this season, with the final regular-season matchup set for April 10 in Miami.
Because of everything that's happened -- on the court and off it -- between these teams over the course of the season, it should come as no surprise that players from both sides can't quite agree on how easy it will be to set aside their differences for 48 minutes Sunday night.
"No, it's not that easy," said James, whose struggles against the Celtics date to last season, when his Cleveland Cavaliers were eliminated by Boston in the second round of the playoffs. "But we understand this is something different. We will be rivals once again Sunday night, when we all leave and go back to wherever the teams take each other. But for right now, we're trying to win for one another. It's East versus West at this point, and we understand that."
But that level of understanding hasn't been taken for granted.
Not only are the Heat's top stars playing alongside the core group of Celtics, they're also playing Sunday for Boston coach Doc Rivers, who finds humor in the All-Star irony. Rivers said he monitored the room closely when the East team held meetings over the weekend to prepare for the game.
The Heat and Celtics have a combined seven players on the East roster, with Joe Johnson and Al Horford representing the Atlanta Hawks. Orlando's Dwight Howard, Chicago's Derrick Rose and New York's Amare Stoudemire round out the 12-man roster.
"I'm going to talk trash before the game," Rivers joked of the Celtics' strength in numbers. "It's funny. We just had our big meeting, and guys were pretty good. You could see there were some guys -- because I'm an observer canvassing the room -- who sat together. You could see some who kind of sat by themselves. The guy I felt sorry for is Dwight. He didn't have a teammate. Everybody else has a teammate they can talk to. Dwight's all by himself, so I just sat by him."
Rivers said his coaching strategy might include playing the four Celtics together and rotating in other players. He also joked that he might give the player closest to free agency the chance to audition alongside the Celtics' lineup. That player just happens to be Howard, who can become a free agent after next season. But James said he wouldn't mind filling in at power forward with that Celtics' unit.
It was only a week ago when Bosh was getting an earful of Garnett's ranting wrath in TD Garden. Now, it's almost like those words were never exchanged. Almost.
"You don't want to be on edge all the time," Bosh said. "You want to have some time to relax. You don't want to feel like you're in competition with somebody every time you see them, especially when it's supposed to be a break. I think everybody takes that to heart."
Yes, even Garnett.
"I don't like the word 'fraternizing' and I don't like the word 'fronting,'" Garnett said of the notion that players would pretend to be friendly for a few days. "You tend to be a little more relaxed when you come out here. I've been doing this now for what, 14, 15 years. So yeah, absolutely. You know what this weekend is about. Competing is one thing. Socializing and being friends is another. I know how to separate the two. But my demeanor on the court is what it is."
Wade and Garnett seemed to be far removed from their flagrant exchange during last Sunday's game. Wade's forearm jolt to Garnett was seen by some as retaliation for a hard screen Garnett set on Heat forward Mike Miller moments earlier. Miller has twice been tested for a concussion in recent days.
But bygones seem to be bygones. Wade and Garnett sat beside each other during Saturday night's All-Star skills competitions. Wade and his young son, Zaire, playfully chided Garnett when Heat forward James Jones defeated Allen and Pierce for the 3-point shootout title.
So it is possible for the Heat and Celtics to have compassion for one another. At least for a little while.
"This is basketball," Wade said. "It's not like we're fighting or boxing. We're not going against each other right now. When we get back to the season, yeah. When we play Boston, they want to beat us and we want to beat them. But right now, we both want to beat the Western Conference and have a memorable All-Star Weekend for ourselves and our families."