Why don't Heat run their best play more?
March, 18, 2011
3/18/11
10:35
AM ET

By Kevin Arnovitz
ESPN.com
Archive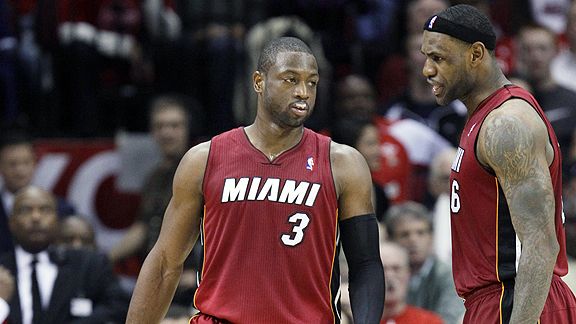 AP Photo/David J. Phillips
The Dwyane Wade-LeBron James pick-and-roll: 25 points on 14 possessions over the past six games.
Nearly everyone had something to say last summer when LeBron James opted to join forces with Dwyane Wade in Miami, but no one had a satisfying answer to the most compelling basketball question:
How do you defend a Dwyane Wade-LeBron James pick-and-roll?
There's no easy answer, which is why it's been surprising the Heat haven't challenged their opponents more aggressively this season to confront that proposition.
The Heat currently have the Eastern Conference's most efficient offense, and they'll throw some clever stuff at you in the half court, but there's been a nagging sense all season that we haven't really seen their true offensive showpieces.
Yet, lost amid everything swirling around the Heat following their home loss to Chicago nearly two weeks ago was a wrinkle that surfaced in Miami's offense during the final eight minutes. On four separate occasions down the stretch, James set ball screens for Wade on the left side of the floor -- and the Heat scored buckets on three of those four possessions, totaling seven points (a third of their total fourth-quarter output).
Three of these four picks came out of the Heat's set offense, a familiar package of plays that originate with an entry pass from the point guard to a big man at the elbow. The guard then clears to the corner and sets a screen to free up a wing. This gives the big man at the elbow a couple of triggers -- hit that man coming off the wing, or just pass it over to the other wing and play a little pick-and-roll on the strong side of the floor.
Not coincidentally, James was acting as one of the Heat's two big men in these three possessions, as the Heat fielded their small-ball lineup. And on all three sets, James chose to work with Wade in a pick-and-roll rather than pass the ball to Mike Miller or Mario Chalmers on a cut. Each time, Wade rejected the screen and drove baseline, getting to the rim with mixed results.
In one instance, Wade beat the Bulls' help for an easy lay-in. On another he missed as Omer Asik changed the shot at the basket. And on yet another his shot rimmed out, but he was primed for the putback.
Wade and James hooked up again when the Heat were down three points at the 1:20 mark. The action occurred at the same spot, but on this possession the Wade-James pick-and-roll was nothing more than a contingency plan after a broken play that was defended perfectly by Chicago. The Bulls had enough of Wade's baseline drives, so they trapped him near the corner. Wade pitched the ball back to LeBron on the left wing. With the entire Chicago defense now tilted toward the Wade-James side of the floor and two defenders closing in on him, LeBron sent the ball over to Chalmers, who was wide open behind the arc on the weak side. Chalmers tied the game 84-84.
While narratives about crying and the Heat's inability to beat either Boston and Chicago dominated the media, the Heat came back two nights later and ran seven Wade-James pick-and-rolls -- the most they've orchestrated in a single game this season. The Heat lost that game to Portland -- their fifth consecutive setback -- but the defeat was far and away their most efficient offensive performance of the slump. And what was the most efficient product of this efficient outing?
The seven Wade-James pick-and-rolls generated 13 points on seven trips downcourt -- good for 185.7 points per 100 possessions.
And they were exquisitely executed. In fact, two of the possessions yielded buckets for guys other than Wade or James. On the first, the Trail Blazers converged on Wade as he turned the corner and glided into the paint, so Wade kicked the ball out to Chris Bosh, who was spotted up to the left. Two points.
A few minutes before halftime, Wade split Wes Matthews and Gerald Wallace, and delivered another kickout -- this time to Chalmers, whom Andre Miller left to help out on the Wade-James action. Three points.
Some of these sets against Portland didn't come out of the Heat's elbow action with James playing the 4, but were garden-variety top-of-the-floor numbers. A couple of others looked identical to the three left-side actions against the Bulls.
But on two possessions in the first half, the Heat went small -- and LeBron James rolled to the hoop for four of his easiest half-court points of the season. The first set was Chicago redux: Wade turned down the screen to drive baseline. Wallace shaded LeBron as he sank low to ensure Wade didn't get to the rim, so Wade shuttled the ball over to LeBron.
Ball-fake, dribble, layup.
The next LeBron James roll occurred after he pasted Matthews on the screen. With Matthews on the wrong side of LeBron after the switch, all it took was a simple bounce pass into the lane from Wade. LeBron didn't even need a dribble -- he simply collected the ball and laid it in, as Marcus Camby couldn't contest quickly enough.
Two nights later, the Heat shook the monkey off their back against the Lakers. Remember the decisive possession?
A high screen from James for Wade
.
Against the Spurs, one of the Heat's best-looking sets came in an ATO, or after-timeout situation (
see the 1:19 mark
). Wade drew Richard Jefferson on the switch, pump-faked, got Jefferson in the air, drained the shot, and-one.
All in all, the Heat have run 14 James-Wade pick-and-rolls in their past six games. They've recorded baskets on 11 of those 14 possessions for a total of 25 points. (I'm counting the Wade miss and immediate putback because his capacity to collect his own shot was a direct result of the pick-and-roll.) That's a 78.6 percent success rate and 178.6 points per 100 possessions.
It's absurd to believe the Heat would score upward of 150 points if they ran a Wade-James pick-and-roll several dozen times per game, but why does it seem more likely you'll see a porpoise swimming alongside a jet ski in Biscayne Bay than the Heat run an action that has devastating implications for the defense? Since that pivotal drive in the Lakers game, the Heat have run exactly two James ball screens for Wade in two games -- zero in a loss against the Thunder.
I threw some of those eye-popping stats at Wade.
"
Really?
" he replied.
Given the success, why not run it more?
"We try to give teams different looks and hit them with it at different times," Wade said. "Once you do something in this league and you keep doing it, eventually someone is going to figure out how to stop it. We like those statistics and we run it when we feel like we need it and our team is in a drought, or if the team is so consistent or comfortable with what we're doing, now we want to throw them off. I'm sure we will run it more, because now we're getting comfortable with it. But we don't want to overrun it."
This answer isn't entirely satisfying. After all, John Stockton and Karl Malone never worried about overrunning the pick-and-roll. For that matter, neither did Steve Nash or Amare Stoudemire in Phoenix. Granted, Wade and James are two perimeter players and the scheme might not surface on the floor as naturally as a small-big pick-and-roll, but I can't help but wonder if LeBron is a reluctant screener. Does LeBron clearly see the value of being a screener, say, the way Paul Pierce does?
"I think he's starting to see that," Wade said. "Coach is going to continue to drive that point home. In a lot of our drills, a guy has to come and screen -- and LeBron is in there. He's not always handling now. And he's starting to see the benefits of it. On a guy like him, sometimes [defenses] are going to switch. Think about guards -- they're not really used to showing on screens, so he might get an easy basket. Or he goes right into the paint and rolls into the post, where he can be very effective. So I think he's starting to see that this can open up his overall game, and he's going to want to do it more."
As much as we discuss how working in the post could help the expansion of LeBron's game, acting as a screener with Wade might have an even higher yield for LeBron.
That should be encouraging for the Heat, because we still haven't heard a plausible answer to the question:
How do you defend a Dwyane Wade-LeBron James pick-and-roll?