AUBURN HILLS, Mich. -- They were the four most important -- and potentially dangerous -- words Miami Heat coach Erik Spoelstra spoke Wednesday night.
"We aren't there yet," Spoelstra said.
He could have been talking about a number of things when that assessment was made before Wednesday's game against the Detroit Pistons.
The cohesion among LeBron James, Dwyane Wade and Chris Bosh? While that remains a work in progress, the Heat's key three players have figured out enough about themselves and each other over the course of this season to present a tremendous headache for any team they face down the road.
The revolving door at point guard and center? It was obvious a long time ago that those two positions would be the Heat's greatest weaknesses. The players who have been shuttled in and out of the starting lineup in those spots have proved, at times, to be as interchangeable as they are insignificant.
What Spoelstra was addressing instead was his team's final frontier of development. It's the one chink in the Heat's armor that threatens to derail their progress and weaken their prowess.
It's their bench.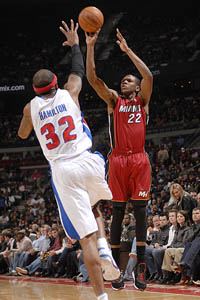 Allen Einstein/NBAE/Getty
The Heat welcomed James Jones back into the rotation Wednesday.
Seventy-one games into the season, a combination of injuries, inconsistent production and one or two ill-fitting parts still have the Heat searching for the one thing that remains missing from their arsenal: a set playing rotation Spoelstra knows he can rely on heading into the playoffs.
One of the Heat's biggest priorities over the final dozen games of the regular season was to solidify some sense of order among their reserves to maximize their production and shore up what's easily the biggest question mark on this team.
The Heat took a significant step in that direction with their 100-94 victory over the Pistons. James, Wade and Bosh combined for 66 points, 15 rebounds and 13 assists to lead the Heat to their sixth victory in the past seven games.
But it was Miami's bench that provided the boost that lifted the team out of a stretch of sluggish play that allowed the Pistons to control the game through the first three quarters. Mike Miller, James Jones and Eddie House combined for 26 points off the bench to make sure Miami wouldn't let one get away.
"It's very important, because we know how huge the bench is to come into a playoff series," James said. "Guys have to keep their confidence up. We want them to have their confidence, because when our bench plays well, when our role players play well, we're very hard to beat. Those guys were aggressive. And when they put pressure on the defense, it makes it easier on everybody else."
For much of the season, that hasn't been the case. The Heat's bench has made life more difficult for James, Wade and Bosh than it needed to be. Miami has spent most of the season ranked at -- or very near -- the bottom of the league in bench production.
Injuries that have kept Udonis Haslem (foot) sidelined since November and kept Miller (thumb) out the first two months of the season made it impossible for the Heat to establish any chemistry with their top two reserves unavailable.
And injuries that have knocked Zydrunas Ilgauskas (foot) and Mario Chalmers (knee) out of action over the past two weeks have assured Miami it won't be able to establish any sort of rhythm with its roster over the season's final month.
This has presented a unique set of challenges for Spoelstra -- issues that have prevented him from getting to a firm eight- or nine-man rotation at any point of the season. Yes, Boston has had problems with injuries all season, but its top seven or eight players have remained intact for most of the season.
And Chicago has spent weeks without starters Carlos Boozer or Joakim Noah -- or both. So, it's no coincidence that the Bulls have made their ascent to the top of the East standings once those two players returned and allowed coach Tom Thibodeau to establish some sense of a normal rotation.
But for the Heat, that process has been a season-long struggle.
"You deal with the hand you've been dealt," Spoelstra said. "We've never had our full complement of players for the regular season. But some teams have to go through that. It's also allowed us to look at different rotations and explore things that are unique to our team with our versatility, playing guys at different positions. But we're starting to get more comfortable now, when it counts."
Wednesday delivered some progress amid the rotational patchwork.
The lineup on the floor when the Heat made their 18-0 run to take the lead featured James, Bosh, Miller, Jones and Eddie House, who took over as backup point guard behind Bibby in Chalmers' absence. Another of Spoelstra's shifts in the fourth quarter had the Heat playing without a point guard or center, and surrounding Bosh, Wade, and James with shooters in Miller and Jones.
It was a case of mixing and matching at its ultimate madness. And it's as unconventional as it gets, especially among playoff-bound teams at this point in the season. While most teams headed for the postseason have zeroed in on a set eight-man rotation, the Heat spent Wednesday night using 10 different players in the first 14 minutes of the game against Detroit.
Spoelstra seems to be using this late-season stretch to experiment as much he is aiming to win games. He has 11 games left to find some combinations that work. Last week, Wade said he endorsed the Heat's plan to shuffle the deck until the right cards fell into place.
"We've got some great individual players, and we're still trying to put it together to become a great team," Wade said. "I would like to have other guys come in and get into the playoff mode. I wouldn't mind giving up ... minutes. I would love to see other guys get in there and really come in and take some minutes. Just come out there and make our team deeper and better."
The Heat have an opportunity to get deeper and better over these final 11 games, which include eight matchups against teams that are outside of the playoff picture.
"We're going to need to contribute," said Miller, who combined with Jones to convert five of their 12 attempts from 3-point range. "When we're aggressive, it makes a big difference."
That difference can be huge in the playoffs. For now, it remains a process of growing pains and small gains. Earlier this season, LeBron wore it as a badge of honor when he was forced to play all five positions in Miami's search for productive combinations.
But this time of the year, it would be more of a burden.
"For me, I haven't had to play so many positions [before]," James said. "It's not like I'm uncomfortable. I'm comfortable with it, but it's unique. But we're going to keep pushing. We're going to keep building every day until there are no more games left."
Spoelstra underscored that sentiment.
"We have to make sure we're improving and getting a game that's ready for the playoffs," Spoelstra said. "Anything else is bad karma."
Under normal circumstances, the Heat would use these final regular-season games as tuneups.
Instead, when it comes to establishing a playoff rotation, they're still test-driving.