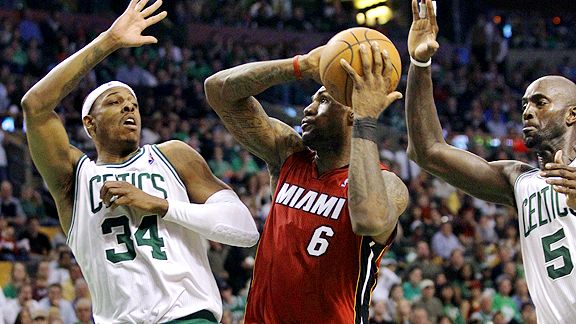 AP Photo/Charles Krupa
Game 3 was not a banner night for LeBron James, who struggled to get his offense going.
Exactly one year before Game 3 of the Celtics-Heat series, LeBron James dropped 38 points against Boston in a 124-95 Cavaliers blowout. Over the next three games, James shot a combined 18-for-53 from the field, the Cavaliers lost all three games, and James ended up leaving Cleveland for Miami.
On Saturday night, James had a performance that was eerily similar to his last three games in a Cavaliers uniform. James hit two of his first three jump shots, but failed to make an attempt from outside the paint in the final three quarters of Miami's 97-81 loss.
He wasn't able to find lanes to the basket, and most of his forced drives ended in offensive fouls or desperate floaters that had little hope of finding the net. His passing lanes were cut off, and he finished with as many turnovers as assists. The effort was there for James, and he finished with five blocks along with two steals, but it wasn't enough.
On offense, LeBron is not simply a shooter, a slasher, a scorer or a passer. He is a controller. When he's on his game, LeBron is always a step ahead. When the defense loads up for a drive, he raises up and hits a jump shot. When they leave a lane open, he explodes through it for a basket or a foul. When he forces more than one set of eyeballs to fixate on him, he finds a teammate for an easy look.
The best version of LeBron does not play within the flow of the offense. He creates the flow of the offense.
That version of LeBron James was not in the TD Garden on Saturday. Just like the Pistons did in 2006, the Spurs did in 2007, and the Celtics themselves did in 2008 and 2010, Boston's defense was able to take the flow of the game away from LeBron, forcing him to react to their defensive rotations and pressure rather than control the game as he saw fit.
When the Celtics' defense put LeBron into a reactive mode, the two-time league MVP had few answers. He lost confidence in his improved midrange jumper. Save for one nice pass to a cutting Wade after a UCLA cut that put LeBron on the block, his post game was nowhere to be found. The synergy he showed with Wade in Games 1 and 2 was a distant memory.
Some of the blame for LeBron's performance can be put on his teammates -- the shooters didn't do a great job of spacing the floor, Bosh wasn't there to help LeBron in pick-and-roll situations, and while Wade was unquestionably the best Heat player on the floor, most of his offense came in isolation.
Still, the fact of the matter is that James is too good and too accomplished to need his teammates to free him up. He is a two-time MVP, one of the best players in the game, and he needs to find a way to make his game work when a defense like Boston's steps up its intensity and takes his bread and butter away from him.
LeBron has a new supporting cast capable of doing things his teammates in Cleveland could only dream of doing. He's slowly but surely added to his bag of tricks since his arrival in Miami. He has the tools, both on his team and in his own game, to prevent being overwhelmed the way he was on Saturday. There are no excuses for LeBron's Game 3 performance, and he knows that.
The playoffs will be easier for him in Miami than they were in Cleveland because of the way Wade and Bosh can pick up the slack for him, but the onus is still on LeBron to lead (or co-lead) his team to victory. His new teammates and new skills will only help him if he's willing to use them. If he falls back into old habits and defaults to trying to overpower a defense too good to be overpowered, he could end up tasting some very familiar playoff disappointment.