MIAMI -- Speaking at the Heat's practice on Saturday, LeBron James was given the chance to explain his shooting woes in the Finals. His answer was interesting.
"One thing about me, you just be aggressive," LeBron said. "And when you have the shot, you take them. Some of the same shots I've taken in the other series, they went in. They're not going in for me right now; that won't deter me from taking that opportunity once I get them again."
Herein lies the problem.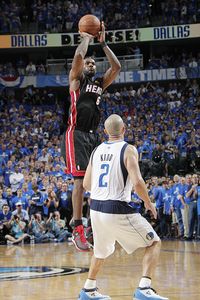 Glenn James/NBAE/Getty
This 25-footer was LeBron James' latest attempt at hero-ball.
Back in the Chicago and Boston series, LeBron hit some impossibly tough shots with the game on the line. He played hero, nailing every pull-up jumper, every fadeaway, every ill-advised shot. He hit them all.
When hero-ball goes well, it's addictive. As we're seeing now in the Finals, it's the hardest of basketball drugs to kick. All the roaring crowds, the perpetual highlights on "SportsCenter," the chest bumps from teammates? That is a high. And LeBron wants to feel that way again.
So in Game 5, when LeBron pulled up from 25 feet with Jason Kidd guarding him and the Heat down by two points with a shade under two minutes remaining, that is LeBron desperate for his next fix. That is pure hero-ball.
There were 10 seconds left on the shot clock, but instead of driving against the 38-year-old Kidd, James pulled the trigger on a shot that would have given the Heat the lead. He fell prey to the dramatics. After the shot release, LeBron kept his right hand high, holding his follow-through for all to see when the ball splashed through the net.
And the ball clanked off the back rim.
Those aren't high-percentage shots, but they are electrifying when they go down. I mean, look at these shots he hit against Boston in Game 5. There is absolutely no difference between those shots and the one he took against Dallas in Game 5 -- except for the result.
"So the same shots that he gets talked about [for]," Dwyane Wade said Saturday, "missing the 3 here, missing the 3 there, shouldn't have took that, should've attacked -- it's the same shot he hit against Boston at the end to close it out, two big 3s."
This is troubling. Wade justifies James' current shot-taking purely because LeBron hit similar shots in the past. Hero-ball has this effect. No matter how many times LeBron or Wade hit backbreaking 3-pointers in Chicago or against Boston, it is still a low-percentage shot, and one of the lowest on the totem pole of Good Idea shots from LeBron or Wade.
Of course, everyone's piling on LeBron now for his propensity to settle for 3-point jumpers instead of driving to the basket. But these shots are nothing new. The poor decision-making was there all along, but most people were blinded by the results. But not everyone.
When James took down the Celtics, TrueHoop's Henry Abbott wrote, "In knocking off the Celtics, LeBron James hit some tough contested 3s, which delighted many but left me doing that little low, whistle-under-your-breath thing. Lucky. A 33 percent 3-point shooter hitting two guarded 3s go in in a row, that's not greatness. That's rareness."
Hero-ball flared up in the Chicago series, and in Game 1 of the NBA Finals, but now it's coming back to bite them. After the Heat took the first game in this series, I set off the warning sirens, saying that hero-ball shot-making wasn't sustainable. Even though LeBron and Wade rationalize these shot attempts by claiming they've hit them before, it still doesn't make it sound basketball. This hero-ball addiction is something they'll have to shed if they want to win the next two games.
Because sometimes, the only thing that separates a hero and a fool is the result.