October, 22, 2014
Oct 22
11:30
AM ET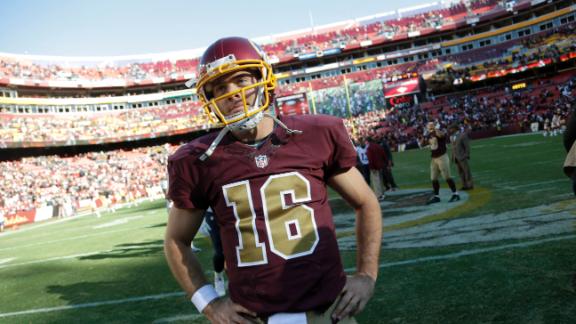 Here are five questions facing the
Washington Redskins
entering Week 8 at Dallas:
Who will play quarterback? It still appears as if Colt McCoy will be the guy, barring Robert Griffin III looking more ready than anticipated. So we're going to assume it's McCoy. Now the question becomes, what does that mean for the offense? A lot of short passes: 71.2 percent of his career throws have been within 10 yards of the line of scrimmage, according to ESPN Stats & Information. But if Dallas crowds the line too much, then McCoy showed last week he can throw accurate downfield to DeSean Jackson.
How will the defense fare minus Brian Orakpo? We all know he wasn't having a Pro Bowl season rushing the passer, but he was still a solid player in other areas and he still applied some pressure; he just didn't get home, which is what he needed to do. So replacing him is more than just from a pass-rush standpoint. Rookie Trent Murphy has a ways to go before he can be considered a solid all-around linebacker; most of his job has been rushing the passer in a nickel set. I do wonder, though, how he'll fare in this area when he has a chance to play a lot. Murphy is not going to wow anyone with explosion. This will provide him that opportunity. But Murphy also has to prove he can play the run and do well in coverage. Dallas will test him.
Can they build on last week's win? The problem is, it's not as if the Redskins played well. They made mistakes that, against a better team, would have cost them the game -- offside on fourth and 5; turnovers, etc. Sunday looked like two struggling teams playing a game someone had to win. But a win certainly eases tension for a week and sometimes, to use a baseball analogy, you just need a bloop single to emerge from a slump. But they appeared like a team that still had a ways to go.
Can the run game get going this week? To think the run game is the fault of Griffin's absence is just wrong. It's going to take more than a running threat at quarterback to change this area -- and it's not like he was a threat when they were in I-formation in the past, yet they ran well. Griffin's return will at times hold the backside end from pursuit, but the blocking has to improve. His return won't change interior pressure in the run game. At times I wonder if the run game is more predictable; if that happens, then you better have dominant blockers. Washington does not. I'm surprised, and disappointed, by what has transpired in this area. It's on many, including the running back. Also, the Redskins have faced three teams ranked in the top 10 in yards per carry (Seattle, Arizona and Jacksonville). In the next nine games, Washington plays six games against teams that currently rank 23rd or worse in yards per carry -- and none in the top 10.
Can they slow the Dallas offense? The Cowboys have scored 30 or more points in four of the past five games. They have a top-10 quarterback (Tony Romo), the NFL's leading rusher (DeMarco Murray) -- by nearly 300 yards -- and one of the best receivers (Dez Bryant). And they're playing behind one of the NFL's best offensive lines; it's not a group that succeeds by scheme, it's a group that makes a scheme look good. There's a difference. Finally, in the past four games Dallas has averaged 6.39 yards per play (No. 4 in the NFL during that time, one spot ahead of Washington) and 431.2 yards (also fourth, 14 spots ahead of Washington). The Redskins' defense has actually played better at times than given credit for, though it gets obscured by big plays allowed thanks to breakdowns and no game-changing plays (two huge factors, of course). The hard part will be a secondary with weak safety play and young corners will be tested quite often. Also, the Redskins' offense must do better: This is where the talent supposedly is, yet the Redskins have failed to score more than 20 points in five of their seven games. Again, it's not just about Griffin's absence.