December, 18, 2014
Dec 18
2:45
PM ET
ASHBURN, Va. --
Washington Redskins
defensive end
Jason Hatcher
could not practice again, and he's not optimistic about his chances for the season finale, either. But left tackle
Trent Williams
did return to work.
Williams was limited in practice, along with linebacker
Keenan Robinson
. Safety
Brandon Meriweather
(toe) and linebacker
Gabe Miller
(ankle) also did not participate. Safety
Trenton Robinson
missed practice because he was sick.
Meriweather tried to practice Wednesday, but did not look good doing so.
"He didn't feel right about it," Redskins coach Jay Gruden said. "It was sore. You know, big toes for guys who have to backpedal are really, really hard."
On Wednesday, Gruden wasn't optimistic about Hatcher, who has been bothered by a knee injury. This season, he's dealt with issues to both knees as well as a hamstring.
"It's given him some problems here, and we're trying to do everything we can to speed up the process. He can only do what he can do," Gruden said. "We're just trying to get him right for this week or maybe next week. Only time will tell with that."
But Hatcher told
The Washington Post
that there's a possibility his season is over and that he's looking forward to the offseason.
"I never was pretty much healthy all season," Hatcher said. "I'm looking forward to these eight months, getting my body healthy and be the player I've always been."
December, 18, 2014
Dec 18
12:50
PM ET
ASHBURN, Va. -- When he crossed the goal line, running back
Chris Thompson
learned a quick lesson about touchdowns in the NFL: They mean a lot more than any other one he had ever scored.
It was his first since joining the
Washington Redskins
as a fifth-round pick a year ago. And it came in his first real action from scrimmage.
Thompson
"I had no celebration because I couldn't believe it," Thompson said. "It was like, 'I really just scored in my first actual game playing on offense.' It meant the world to me and it felt good, and hopefully I can be here and get many more. It's an amazing feeling."
On the play, Thompson read blitz as did quarterback
Robert Griffin III
, so it became an open catch-and-run. But Thompson learned other lessons when carrying the ball or going out for passes. Here are two:
Pass routes
Thompson noticed the Giants altered their approach when he was in the game after early success. When they saw him enter, New York would go to a nickel package so a safety (
Quintin Demps
) would cover him instead of a linebacker.
That caused Thompson to hurry up more than necessary.
"I was pretty fast running my routes," Thompson said, "and making my decisions too quick and not letting everything work out."
On one route, Thompson hustled out of the backfield, stutter-stepped in front of Demps and cut inside. But he was too quick to his cut and Demps was never fooled and easily tackled him for a short gain.
"I should have broke out," said Thompson, who caught three passes for 22 yards. "When they had their nickel personnel in and I started to speed up my routes because I knew I was going against a defensive back."
Run game
Thompson carried the ball three times for 12 yards. On one carry, a 6-yard gain, Thompson took a zone-read handoff from Griffin. When he watched the play again, Thompson said with a little more patience he would have cut it to the outside and would have gained at least 10 yards. On the play, there was a hole to the left.
That also speaks to his vision.
"I should have been more patient," Thompson said. "As soon as I grabbed the ball I saw
Tyler Polumbus
flash across my face and I thought to cut it back behind him automatically. Had I just been a little more patient I could have bounced it because he didn't cross my face as fast as I thought he did. ... I need to work on my eyes a lot more, too."
Thompson said the coaches did not tell him those were bad plays. It's just that he knows more was available had he taken his time just a little bit.
"I know what I can do," Thompson said. "And I know what I should have done."
For what it's worth, Thompson kept the ball from his first touchdown. It's being engraved -- and will then be given to his parents.
December, 18, 2014
Dec 18
9:30
AM ET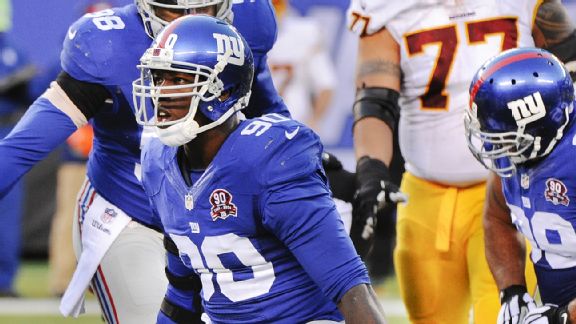 AP Photo/Bill KostrounJason Pierre-Paul has had a very good season defending the run.
ESPN Insider Adam Schefter hits five of the biggest questions around the league once a week during the NFL preseason and regular season, and sporadically throughout the playoffs and offseason. Have a query of your own? Submit it here.
Something that has perhaps flown under the radar is that Jason Pierre-Paul will be a free agent this offseason. Do you think the New York Giants will let him test the market? Where could he go?
He has had a very strong year, being an elite run defender. There aren't many, if any, defensive ends who have stopped the run as well as he has. And for that, he is going to want to be rewarded.
December, 18, 2014
Dec 18
8:54
AM ET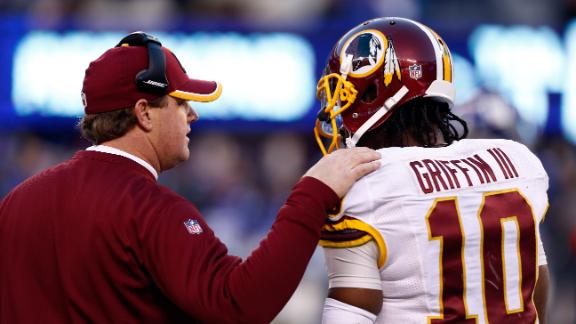 ASHBURN, Va. -- On Tuesday, quarterback Robert Griffin III explained his rationale for staying off social media. He was tired of having his words twisted or scanned for deeper meaning.
A day later, his coach expressed a similar sentiment.
When Jay Gruden was asked about outside perceptions of his relationship with Griffin, he said he was only worried about coaching him. But Gruden also said regardless of what he says about Griffin, it gets taken to an extreme.
"No matter what I say about Robert, it's going to get twisted one way or the other," Gruden said. "If I say he is doing great, it's going to be I am too easy on him. If I say he needs to work harder, it means I said he's lazy. If I said he needs to work on his fundamentals, it means I don't like him."
Griffin will start Saturday's game against Philadelphia, his first start since being benched after the Nov. 23 game at San Francisco.
It hasn't always been necessary to twist Gruden's words. He has been direct about the state of Griffin's game on multiple occasions this season, none more so than the day after a 27-7 loss to Tampa Bay on Nov. 16.
"Robert had some fundamental flaws," Gruden said then. "His footwork was below average. He took three-step drops when he should have taken five. He took a one-step drop when he should have taken three on a couple occasions, and that can't happen. He stepped up when he didn't have to step up and stepped into pressure. He read the wrong side of the field a couple times. So from his basic performance, just critiquing Robert, it was not even close to being good enough to what we expect from the quarterback position."
December, 18, 2014
Dec 18
8:00
AM ET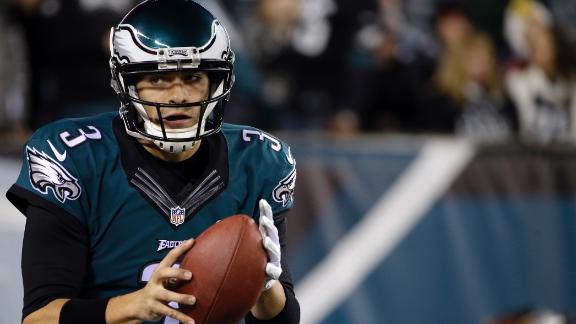 When:
4:30 p.m. ET, Saturday
Where:
FedEx Field, Landover, Maryland
TV:
NFLN
The
Washington Redskins
left Philadelphia in an upbeat mood, despite a loss. Their offense had scored 34 points, and while they blew a lead in this Week 3 game, there were issues they felt were fixable. Needless to say, their performance since that game hasn't gone the way they had hoped.
And while the
Philadelphia Eagles
are in better position than Washington, they've put themselves in a must-win situation. At 9-5, the Eagles will need help to make the postseason, and a loss could end their chances. The teams have combined to lose eight straight games, though six of those belong to the Redskins.
ESPN.com Eagles reporter Phil Sheridan and Redskins reporter John Keim look ahead to Saturday's game:
Keim:
It looked like the Eagles were starting to roll and then they lost two straight, albeit to two good teams. Is it just a matter of losing to good teams, or is there something else at play here?
Sheridan:
Well, losing to good teams has been a theme of this whole season. The Eagles' first loss was at San Francisco, their second at Arizona. The 49ers have dropped off a bit, but at the time, they were among the teams you'd consider among the elite in the NFC. The Cardinals are obviously poised to win the NFC West. The Eagles' next loss was to the
Green Bay Packers
, by a 53-20 score. That one really raised eyebrows.
But the Eagles got to 9-3 before these last two losses. The Seattle game was disappointing, but they are the defending champions. Not too much to read into that. The loss Sunday to Dallas was something else. It's a team the Eagles beat in the season finale to win the division last year and beat 33-10 in Dallas just two weeks earlier. To get manhandled like that at home felt like a major step backward.
The Eagles now have five losses, all to NFC teams that are (or were) playoff contenders. So what's going on seems to be that the Eagles are hitting their heads on the doorway to the elite level. And the biggest reason for that, it seems to me, is their lack of a franchise quarterback.
Nick Foles
didn't look like one before he got hurt, and
Mark Sanchez
hasn't looked like one since.
Bottom line: The Eagles are going to have as many urgent questions going into this offseason as they've had in the last few years.
Eagles defensive coordinator Bill Davis said this week that, on tape, it looked like
Robert Griffin
III was regaining his "swagger" and that maybe the time off helped him. Does that line up with what you're seeing from the quarterback? Where is his head these days?
Keim:
Yes, it looked like Griffin played with more confidence Sunday. He was not always perfect and there were issues in the pocket -- not all of his own doing, either. But he did not look like the confused lost quarterback we saw against Tampa Bay and San Francisco. There was still hesitation in the pocket, but there were other plays Griffin made that resulted from a more confident quarterback. Some of his runs showed more of the explosion of the past -- haven't seen that a lot at all lately. When he had time in the pocket, he made some nice throws. Griffin seems to be in a better place mentally these days. He looked more relaxed during practice last week, more himself. I don't care what his issues are, it has to be difficult maintaining your own confidence if you keep hearing the head coach has no confidence in your game.
How would you rate Mark Sanchez's play lately (and that of the offense)? Seemed like the offense was humming along before hitting Seattle and Dallas -- the time of possession disadvantage in those games was unreal.
Sheridan:
Sanchez is exactly who he's always been, a guy who will throw roughly about as many interceptions as touchdown passes. He has looked good against Carolina and Tennessee and not so good against Green Bay and Seattle. He is a quarterback who can win you games, but he is not going to elevate your franchise to a higher level and keep it there.
The offense, especially the running game, looked quite good in the win at Dallas. But it was 1-for-5 in the red zone, and a lot of that falls on the quarterback and the play calling. You're right about the time of possession, which was in the 40-minute-to-20-minute range in those two losses. It's a stat Chip Kelly dismisses, but it represents opportunities your opponent has to score and time your defense spends working to prevent that. There's a reason other coaches do care about time of possession, and before it's all said and done, Kelly may come to care as well.
It seems like a lifetime ago that these teams played. In that game, the Eagles were dealing with injuries along the offensive line and couldn't really get
LeSean McCoy
going.
Brian Orakpo
was a factor. How is the Washington defense holding up through all this losing, and will Jim Haslett set the dogs on Mark Sanchez?
Keim:
Not sure how much he'll blitz. They blitzed on 15 of 43 dropbacks in the first meeting and were not hurt a lot by that tactic. Sanchez seems to be OK against the blitz (87.0 passer rating; 5 TDs, 3 INTs). Haslett will blitz early and if he sees struggles, he'll call for more. The defense gives up a lot of big plays in large part because of coverage breakdowns in the secondary. Sometimes it's a basic coverage that is somehow botched or a defender's eyes are focused on the wrong area. It leads to issues -- and wide-open targets. The front seven has issues because of injuries to linebacker
Keenan Robinson
and end
Jason Hatcher
(not sure if either will play). They've done well at times and they're clearly not the only reason this team is 3-11. Their defense gets put in a lot of bad spots because of the offensive turnovers and poor special teams play. But they also hurt themselves with mistakes and while they don't always give up a lot of yards (10th in NFL), they do give up points (27th).
How will the loss of
Trent Cole
impact the defense? Along those lines, I liked
Marcus Smith
's athleticism a lot in college, but he's done nothing and I'm curious as to why.
Sheridan:
We're all a bit curious why, but I'd say we're more curious why the Eagles drafted the outside linebacker from Louisville when there were a handful of defensive backs available when they were on the clock. The Eagles said then that the premium on edge rushers made Smith worth taking a little high. Then they moved him to inside linebacker, where he has failed to get on the field for more than a few snaps all season.
With the Cole injury, Smith is working on the outside again. It will be interesting to see if he can give the Eagles anything before his rookie season ends. But
Brandon Graham
, another dubious first-round pick, will get the first shot at replacing Cole.
Cole is a tough player for the Eagles to lose. He's relentless, whether he's playing the run or rushing the quarterback, and apparently tireless. His 6.5 sacks this year don't tell the full story. Cole was a Pro Bowl end in the Eagles' 4-3 scheme and made a relatively seamless transition to 3-4 outside linebacker. His energy level will be the hardest thing for Graham and Smith to replace.
Have to ask about him: Has the perception about
DeSean Jackson
changed down there? The rumblings about his lack of enthusiasm for blocking and not playing with apparently minor injuries sound very much like what was said about him inside the Eagles' facility after he was released.
Keim:
When he came here, I expected a receiver who made big plays and who did not like to block and who probably wouldn't play unless he was at or near 100 percent. That's pretty much what the Redskins have gotten this season. I don't hear coaches complaining about his blocking because, again, it was obvious before he came here. It took them a while to quit putting him in position to be a key blocker (on some receiver screens, for example.) And I don't think anyone could have expected any different given the perception. So I don't see how it's changed. Nobody should be surprised by any aspect of his game because it's pretty much what he had put on film in Philadelphia. There were instances last week he took a long time getting back to the huddle after a deeper route. But he makes big plays and that's what they wanted -- he's been open for more, too.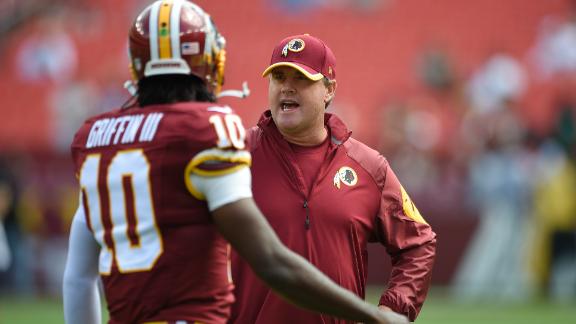 December, 18, 2014
Dec 18
6:00
AM ET
ASHBURN, Va. -- The
Washington Redskins
practice at 11:10 a.m. with an open locker room immediately after. Here are three areas of interest:
Offensive coordinator Sean McVay: He'll address the media Thursday and while there isn't much he's going to say that's different than coach Jay Gruden -- and certainly isn't as honest. But it's always good to hear more perspectives and I'm curious what McVay saw Sunday from Robert Griffin III that they feel they can build upon. And if he saw Griffin being more decisive on when he wanted to take off and run. That's how Griffin played as a rookie, but it's not something we've seen often. It'll be tricky for him Saturday because of how varied the Eagles' looks are; more so than New York's.
Injuries: One reason I was concerned about the Jason Hatcher signing was because of his age (31 at the time) and durability. When he had an issue with his knee before the season I definitely wondered if he'd make it through the season. But his latest issue is with his other knee. His impact was strong in the first part of the season and progressively waned, whether because of the injury or just age I don't know. The Redskins have an older line that will need repair in the offseason. Anyway, we'll get an update on Hatcher and left tackle Trent Williams and his shoulder injury.
On the blog: I'll have a preview of Saturday's game with my Philadelphia Eagles colleague Phil Sheridan. I'll also take a look at what Chris Thompson learned from his extensive playing time against New York; I love talking to the kid because he's engaging but also insightful. Also, my pal Chris Russell of ESPN980 took an in-depth look at Bruce Allen's five-year tenure. It's a balanced look and it shows that Allen does have value to the franchise. The problem, of course, is that the team's record in his tenure has been horrific. Granted, Mike Shanahan had a lot of power and say in the decision-making. But Allen also had quite a bit and eventually you can't run from your record.
December, 17, 2014
Dec 17
5:45
PM ET
ASHBURN, Va. --
Washington Redskins
defensive end
Jason Hatcher
and left tackle
Trent Williams
missed practice Wednesday, and tight end
Jordan Reed
was absent due to the birth of his first child.
Hatcher (knee) did not play Sunday against the
New York Giants
.
"It's given him some problems and we're trying to do everything to speed up the process," Redskins coach Jay Gruden said. "He can only do what he can do. We're just trying to get him right for this week or maybe next week."
Williams was not expected to practice until later in the week, if at all.
Linebacker
Gabe Miller
(ankle) did not participate while safety
Brandon Meriweather
(toe) and linebacker
Keenan Robinson
(knee) were limited. Both went through individual drills, though it was apparent that Meriweather was favoring his toe. Robinson said after practice that he's still not sure about playing Saturday against the
Philadelphia Eagles
.
Running back
Roy Helu
(toe) was a full participant and looked good performing agility drills.
December, 17, 2014
Dec 17
5:00
PM ET
ASHBURN, Va. -- Jim Haslett didn't have an issue with
Bashaud Breeland
's penalties in Sunday's Week 15 loss at the
New York Giants
. Besides, Haslett said even the NFL told the
Washington Redskins
that two of the penalties shouldn't have been called.
Breeland
One of Breeland's two taunting penalties and one of his two pass interference penalties should not have drawn flags, Haslett said.
"I like the way the kid competes," Haslett said. "I'd take that over the other way. There's a fine line because you don't want to hurt the team and we don't need penalties hurting us, obviously. We could eliminate them from the game, but we also want to be aggressive at the same time."
Haslett did call the taunting penalty disappointing and that Breeland should not engage in extracurricular chatter or activities.
But the last thing Haslett wants to do is tone down Breeland's physical style.
He was flagged four times for 70 yards
(the two that the Redskins said the NFL told them shouldn't have been called totaled 32 yards).
"There's a guy in Seattle who's made a lot of money because he's aggressive and plays that style," Haslett said of the Seahawks'
Richard Sherman
. "Not saying he's that guy, but he has that same competitiveness.
"He's so much more comfortable in what he's doing. He has no fear in who he's playing. He'll get better and better. You love his confidence and you love his aggressiveness. I'd like to have everybody play that way. Now, eliminate the other stuff but he's the kind of guy you're looking for."
December, 17, 2014
Dec 17
3:50
PM ET
ASHBURN, Va. -- When the play ended, and quarterback
Robert Griffin III
was sacked, the
Washington Redskins
set up to run another play against the
New York Giants
. But they had to wait for their receivers to finally get in place.
Jackson
To some it looked like a lack of urgency, especially by receiver
DeSean Jackson
. But coach Jay Gruden blamed it on him being winded, which Jackson said was an issue.
On the play, Griffin was sacked with one minute, 36 seconds remaining. Jackson returned to the line of scrimmage with 1:09 left, four seconds after fellow receiver
Pierre Garcon
. Jackson said he was playing at 85-90 percent health after missing the previous week with a knee injury. And he had just run a deep route.
Jackson said they should have sent in a sub for him.
"It's tough, being out a week you're a little winded and that had something to do with that, too," Jackson said. "Just got to figure out a way to get someone else in there, maybe if they see me go downfield with a long pass and coming back 50, 60 yards to the huddle trying to get the play off in time. That's tough. We'll try to do a better job with that."
On Monday, Gruden said of Jackson's return to the huddle, "I don't think he was loafing or tanked it or anything like that. I think he just might have been a little winded and a little frustrated."
Jackson, of course, would like to be running downfield more against his old team this week, the
Philadelphia Eagles
. That is, if he's catching passes at the end of that running. He's caught 50 passes this season, five for touchdowns. After averaging 27.48 yards per catch from Weeks 5-9, Jackson has cooled off. Since that time, he's averaged 12.36 yards on 14 catches -- though he was missed on two deep balls vs. Tampa Bay in Week 11.
His knee injury hasn't helped.
"Just trying to get back to 100 percent," Jackson said. "Last week I was 85, 90 percent so hopefully this week I'll feel better."
What he doesn't feel like doing is talking about the Eagles.
"I just don't really care too much for it," he said. "The first game was the first time playing them. Now a whole season went on. They're playing and I'm playing here. I don't put too much energy into that and outside of that I don't care too much about it."
Later, when a reporter asked him about the Eagles' defense, Jackson said, "Not talking about them, bro."
But he did see
LeSean McCoy
's imitation
of him
.
"Me and Shady, that's my boy," Jackson said. "Funny impression. We talked about it. We have a great relationship. He's like a brother to me. I laughed at that one. He got me on that one."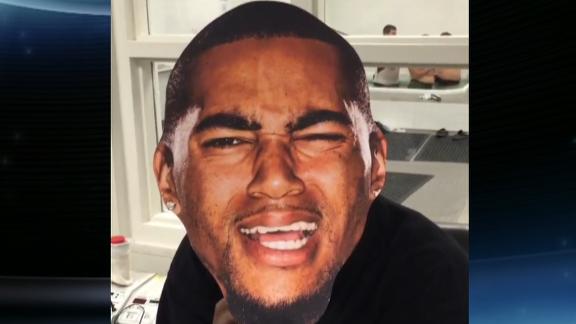 December, 17, 2014
Dec 17
12:45
PM ET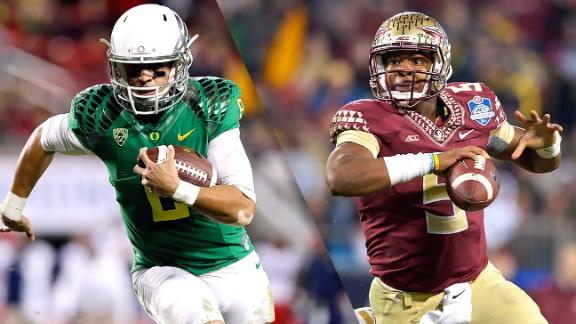 ASHBURN, Va. -- The Washington Redskins' defensive front hasn't produced enough big-time plays – and there's a chance that
Brian Orakpo
won't return via free agency. That's why Todd McShay went a certain direction with his first mock draft.
Yes, mock drafts. That's the point we're at in this season, with two games remaining and a team owning a 3-11 record. The Redskins currently own the fifth pick.
This pick will be debated for a long time considering how much time remains before the draft. And yes, the Redskins have multiple needs so there are a few directions they can go here. Oh, and, finally, we still don't know all the players who will be available.
That said, in
McShay's first mock on the Insider's page
, he has the Redskins selecting Missouri defensive end
Shane Ray
. If the Redskins remain in a 3-4 next season – and I say "if" on the chance that they change defensive coordinators and then schemes – then Ray would be transitioned to outside linebacker. One note: Ray is only a junior and hasn't yet declared for the draft.
Anyway, here's McShay said of Ray: "The Redskins need a lot of help on defense, and in particular could use a legit pass-rusher with Brian Orakpo unable to stay healthy and
Trent Murphy
currently starting opposite
Ryan Kerrigan
. Ray would help immediately. I studied the Missouri defense on tape a lot during last season's draft process, and it was Ray who jumped out on tape as the most talented player on a front that included
Kony Ealy
and
Michael Sam
. He is an absolutely relentless pass-rusher who is tough, aggressive, can bend the end and has an explosive first step. He's also versatile and has improved his ability to convert speed to power."
As for the wisdom: You never have enough pass-rushers. Also, there was a split in the organization last season about re-signing Orakpo and he'll now be coming off an injury, plus only having recorded 1.5 sacks. The real question will be how they project Murphy, last year's second-round pick. It would be tough to draft a player fifth overall just to be a part-time player, though that one skill can change games.
I haven't watched Ray play much at all, and while this might not be a popular pick, the Redskins need defensive playmakers. If there's a better one available, I'm all ears. I'm not wedded to a position or a player.
For those wanting an offensive lineman: McShay's first lineman was picked at No. 10, Iowa's
Brandon Scherff
– a right tackle who could also shift to guard. I would not select a lineman at No. 5 who would be best suited for guard. Trade down and pick? Sure. As for safety, Alabama's
Landon Collins
was projected to Chicago at No. 9. McShay has five defensive ends being picked in the first eight. Yes, all of this could change dramatically in the next four months.
December, 17, 2014
Dec 17
10:00
AM ET
By
ESPN.com staff
| ESPN.com