Washington Redskins:

Dallas Cowboys
March, 14, 2014
Mar 14
10:00
AM ET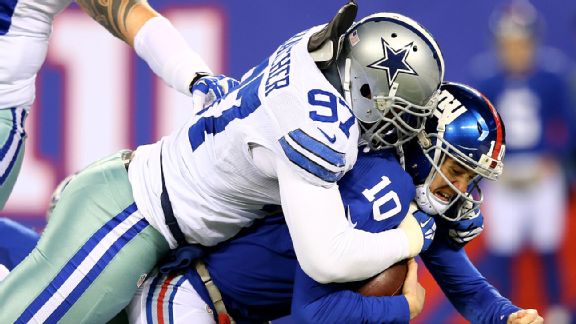 Elsa/Getty ImagesNewly signed Redskin Jason Hatcher is coming off a career year in which he had 11 sacks.
The Redskins finally made the big move many anticipated they'd make, though maybe not with the player they thought it would be:
Jason Hatcher
. He just happens to also come from their hated rival, an added bonus for Redskins fans (that is, if he plays the way they hope).
Hatcher will be reunited with former defensive linemate
Stephen Bowen
in Washington. He'll also be returning to a defense that uses a base 3-4 front, though is often in nickel packages. Hatcher flourished as a 4-3 lineman a year ago.
For more insight into this move, ESPN.com Cowboys reporter Todd Archer and Redskins reporter John Keim exchanged questions and answers.
What are the Redskins getting in Hatcher?
Archer:
I don't think they're getting a guy who will get them 11 sacks a season, if that's what you're asking. He played defensive end in the 3-4 in the first seven years of his career and never had more than 4.5 sacks in a season. But he might be a good combo mix of a 3-4 end and 4-3 tackle, especially with how much nickel defense teams play these days. He's a three-down player, but he turns 32 in July and you have to wonder how much he has left. You also have to wonder if his season was the result of a contract year. I'm surprised he went to a 3-4 team, honestly.
He's a guy who flourished in a 4-3 now he's going to a 3-4, how will he fit in Washington?
Keim:
I think he'll fit nicely (and I'm sure his new deal convinced him a 3-4 was, well, OK). But he won't strictly be a 3-4 end. I'm sure he'll play end in a base package and inside in their nickel package. They used the latter nearly 70 percent of the time last season. I know his role changed in Dallas last year, but I can't believe the Redskins would deviate too much from where he had success as a rusher. And clearly that success came inside, as the Redskins know better than anyone. One team source said Hatcher's inside pressure was the best they'd seen against them in a few years. They lacked the ability to generate much push of their own, with only
Barry Cofield
a consistent threat. With his nose tackle duties, it's hard for him to stay fresh as a rusher too. The Redskins absolutely needed what he showed he could do last season. There was too much pressure to generate a rush with just their outside linebackers or by blitzing. They got little from the line. He won't need to get 11 sacks, but if he gets in the 5-6 range that would be a big bonus. Really, they need him to push the pocket and be a presence. Not enough of that last season.
Why the sudden jump in sacks?
Archer:
Contract year? No, that's too cynical. I think he found a good fit and a coach who really worked with him on pass rushing. In the 3-4 he was basically a hold-the-fort kind of guy and let
DeMarcus Ware
or
Anthony Spencer
make the plays outside. He really took to Rod Marinelli in 2013 and I thought he would have stayed in a 4-3 scheme after complaining a little bit about how limited he was in a 3-4. What's funny is that if Jay Ratliff didn't get hurt (or stay hurt) then Hatcher would have likely been the one technique and really not had a chance to get after the passer as much. He was able to break the mold of what Marinelli excels with at the three technique but he did a good job. He does not have a variety of moves but he can close pretty fast for a big guy. But I'll leave it with this: He had 16 sacks in his first seven seasons. To me he's more that guy than a guy who can put up double-digit sacks in multiple years. Maybe he'll prove me wrong.
Was this a move to weaken a division rival?
Keim:
Do you really think owner Dan Snyder would revel in signing a player away from the Cowboys and Jerry Jones? OK, so do I. It's always a bonus when a team can poach a player from a division rival. But they felt snagging Cofield from the Giants might weaken them a bit. The Giants still went on to eventually win another Super Bowl. But Hatcher was a good player on a bad defense and it's tough to lose such a guy. The Cowboys' D was weak enough already. That said, it doesn't sound as if Dallas made much of a push to bring him back. I wonder what everyone will think when he's a 34-year-old entering his third season here; what can he do then? But it's reasonable to expect Hatcher to make an impact this season and the next.
What is the impact on the Cowboys, now losing Hatcher along with Ware?
Archer:
Well, they were 32nd in the league with those guys, so I guess they can't be worse. Ah, that's too cynical too. I think they made a mistake in not working out a deal for Ware. Now, I wouldn't have done what the
Denver Broncos
did with $20 million guaranteed, but I think he's got a lot left in him. The Cowboys drew a line with Hatcher and didn't want to cross it. They weren't going to pay him nearly $28 million on a deal, that's for sure. The Cowboys are looking at using waves of players to get to the quarterback -- albeit guys who have never really gotten to the quarterback much. And they're not done adding guys, obviously. Well, they shouldn't be done adding guys.
Sean Lee
becomes
the face of this defense
. Now he just has to stay healthy, which he has yet to do. Lee is their best defensive player and playmaker. Personally, I think they'll miss Ware more than Hatcher. Ware was a guy that needed extra attention every week. Hatcher wasn't that guy.
What does this mean for former Cowboy Stephen Bowen?
Keim:
I wondered the same thing, but multiple team sources said not to take the next step and assume Bowen won't be here. The problem is, Bowen carries a hefty cap number this year ($7.02 million) and is coming off microfracture surgery. He also turns 30 at the end of this month. Add that up and you'd think he'd be in trouble. But he remains in their plans, so if something is done with his contract I'd still expect him back. Another note and maybe you know this, but apparently he and Hatcher are best friends.
March, 10, 2014
Mar 10
10:00
AM ET
Here are the top 15 free agents, followed by their rankings, entering Tuesday's signing period as compiled by NFC East reporters Dan Graziano, Todd Archer, Phil Sheridan and John Keim. There are some strong options at the top, but there is not a lot of depth in the NFC East when it comes to free agency. And if Dallas'
DeMarcus Ware
gets released, he vaults to a top spot on this list. As always, ESPN's free-agent tracker will keep you updated during this period.
1. LB Brian Orakpo, 8.5:
The Redskins used the franchise tag on him, so barring a surprise, he'll be back. It's a controversial move among fans, but the Redskins need his pass rush and promise to unleash him more often. His career best for a single season is 11 sacks.
2. DT Linval Joseph, 8:
A very big, strong and young (25) interior run-stuffer who has also shown the ability to create pressure from the interior, Joseph could be available because of the Giants' depth at defensive tackle and their many needs.
3. DT Jason Hatcher, 8:
He is coming off an 11-sack season, but he turns 32 in July and Dallas doesn't have much cap space.
4. LB Jon Beason, 7:
The Giants are working hard to sign him before free agency opens, as his leadership and high-energy play at middle linebacker helped transform their defense during the 2013 season.

Nicks
5. WR Hakeem Nicks, 7:
This grade is based on talent and past accomplishments, and a feeling that he was being overly careful in 2013 in order to hit free agency healthy. Lacks his early career speed, but knows how to play the position as well as anyone.
6. WR Jason Avant, 7:
For a team in need of a third-down possession guy, the sure-handed Avant will be a great value.
7. P Donnie Jones, 7:
The Eagles are expected to re-sign Jones, who was an underrated contributor to their NFC East title team.
8. DE Anthony Spencer, 6:
He is coming back from microfracture surgery, so the cost won't be high.
9. LB Perry Riley, 6:
The Redskins need to re-sign him because they already have a hole at inside linebacker after
London Fletcher
retired. But they won't break the bank for Riley, who needs to improve in coverage.
10. DE Justin Tuck, 6:
Coming off an 11-sack season that came out of nowhere after two down years, Tuck turns 31 later this month but is a locker-room leader and a 4-3 defensive end who can set the edge against the run.
Vick
11. QB Michael Vick, 6:
With
Nick Foles
' ascension, Vick is looking for a chance to start elsewhere.
12. RB Andre Brown, 5:
He played very well in his first few games back off a broken leg, but faded down the stretch and fumbled too much in the final few games. He is likely not a guy who can be relied on as a starter, but potentially a valuable piece.
13. TE Brandon Myers, 5:
A huge disappointment in New York after catching 79 passes as a Raider in 2012, Myers also contributed little as a blocker. The Giants are likely to let him go. He could fit better with a different system.
14. CB Terrell Thomas, 5:
He played all 16 games after missing the previous two seasons because of ACL tears in the same knee. Thomas believes he can hold up as a starter off a real offseason, and would like to cash in.
15. S Danny McCray, 5:
He is a core special teamer only, so the Cowboys could find value here.
December, 20, 2013
12/20/13
10:22
AM ET
By
ESPN.com staff
| ESPN.com
Things haven't gone quite as planned for the Washington Redskins this season. With their season and franchise crumbling around them, the Redskins travel this week to face the rival Dallas Cowboys -- no stranger to dysfunction themselves. From lightning-rod ownership to polarizing quarterbacks, which NFC East team gives fans more reasons to scream?
Join Redskins reporter John Keim, Dallas reporter Todd Archer and NFL nation reporter Kevin Seifert as they discuss the state of these two franchises. Contribute your thoughts and questions beginning at noon ET.
December, 20, 2013
12/20/13
9:30
AM ET
The
Washington Redskins
' season can't end soon enough, with the future of the organization to be decided shortly thereafter. The
Dallas Cowboys
might have their own decisions to make around that time, depending on how the next two games unfold.
It's not exactly a throwback to the old Redskins-Cowboys rivalry storylines. Or even what it was like a year ago in the regular-season finale when the NFC East title was on the line. Dallas still has a shot at the playoffs, but, as usual, the Cowboys are a .500 team that can never seem to get it together late in the season.
But they look like a model of consistency next to the dysfunctional Redskins, who have lost six straight, have numerous stories citing anonymous sources and benched their franchise quarterback a week ago (ostensibly for health reasons).
ESPN.com Cowboys reporter Todd Archer and Redskins reporter John Keim break down the game.
John Keim:
Is Jason Garrett finally on the hot seat? If not, why aren't the Cowboys ever more than mediocre under him?
Todd Archer:
Jerry Jones has said Garrett is safe, but I just have a hard time believing that would be the case if they miss the playoffs for the third straight season with him as the coach. But I don't know that Garrett would be paying for only his sins. He'd be paying for Jones' sins, too. Garrett has had some missteps as the coach, but Jones is the one responsible for the players, and, frankly, there have not been enough players for years here. The drafting has been poor. The free-agent decisions have been mixed. That's on Jones. And Jones was the one who hired Monte Kiffin as defensive coordinator and made sure Garrett gave up the play calling this year. But as we know, Jones will not fire the general manager, so Garrett would be the one to pay with his job.
Meanwhile, Mike Shanahan sure seems to be acting like a coach looking to get out. I know he's saying he wants to stay. Is there any possibility he could be back in 2014?
Keim:
There's a possibility, but it still feels far-fetched. There's so much nonsense going on here these days that, regardless of who's at fault, it's hard to justify continuing this regime. But owner Dan Snyder might not want to pay him $7 million -- in addition to the money he'd have to pay the coaching staff. That's a lot of cash. Still, it appears the only way that Shanahan could return is if he brings in new coordinators. Of course that means his son, offensive coordinator Kyle Shanahan, would have found a job elsewhere. But if you're Snyder, why would you think it would be any different if Shanahan gets a chance to hire another staff? This is the one he thought would work. And I'm not blaming the staff, but, rather, do you trust the guy in charge to somehow hire one that is much better? How many proven guys would want to work here knowing it could be a one-year deal? Also, there would have to be a major repair job between the coach and quarterback
Robert Griffin III
. But the players support Shanahan and I've heard that Snyder still likes him. So, crazy as it sounds, there's a chance.
How did the players respond to the Green Bay loss -- after the game and later this week?
Archer:
They are saying the right things. They say they believe, but there does feel as if there is some desperation this week. Same with frustration. I don't know how they could not be frustrated with the way they lost to the Packers. It was there for them to win, and they let it get away. But to be clear, the coaches let it go just as much as the players. I'll say this for Garrett, he has been able to keep this team on track. He does not stray from message, and, as a result, the players stay in the moment. This is a huge game for a lot of the core players who have been here. If the Cowboys can't win this one or can't make the playoffs, there could (some would say should) be big changes. They know what's on the line.
Because Griffin is a Texas native, a lot of folks here want to know what's going on with him. How has he handled the "benching," and is there a worry he might not get teammates back on his side?
Keim:
No, I don't think that he can't get teammates back. I know many are tired of the drama surrounding Griffin, but I don't think they're tired of him. All he needs to do to maintain his teammates' confidence in him is work hard, lie low and win. Griffin has handled the benching well. He was into the game against Atlanta; he has worked hard in practice; he said all the right things the day he was benched. He's definitely upset about what happened, but it hasn't caused him to feel sorry for himself.
Staying on quarterbacks, how would you rate
Tony Romo
this season, and is he fairly or unfairly criticized?
Archer:
Romo's been solid. I know that will drive some people crazy who only look at his fourth-quarter interceptions against the Packers or his decision late against Denver. I'd make the argument the Cowboys would not be sniffing a playoff spot the past three years if not for Romo. But the season has not been all candy and ice cream for him. His completion percentage is still pretty good (64 percent), but he has missed some easy throws or made his receivers have to work too hard. He's not moving as well as he did in earlier years. Maybe that has something to do with the offseason back surgery. Maybe it's because he's 33. But Romo has largely been able to stay away from the bad plays. With 29 touchdown passes and nine picks, he has done that, but everybody will remember the Green Bay game.
The Redskins gave away a lot to get Griffin. Now they're playing
Kirk Cousins
. Is it a deal where they're trying to drive trade value for a guy late in a season to help them in April?
Keim:
They say that's a potential benefit if Cousins does well, but they'd never say publicly that was the real reason. Also, the coaches really like Cousins, so I'm not convinced they're in a rush to trade him. If, for some reason, the staff returns, the Redskins could hang on to both quarterbacks to give them another year to see how Griffin responds to a full offseason. What if, at the end of next season, Griffin is no different than he is now? Or, if he improves the way you hope, then you can peddle Cousins. I also can't imagine anyone offering the Redskins a first-round pick (which is what they think he might fetch). A second-rounder? Perhaps, depending on how the final two games unfold.
The Redskins faced a bad defense at Atlanta. Now they get another one. Is the Dallas defense bad because of injuries or other factors? Where are the Cowboys most vulnerable?
Archer:
Well, they haven't been good even when they were relatively healthy. The injuries haven't helped, but they had injuries last year with defensive coordinator Rob Ryan and weren't this bad. The four best players remaining --
Brandon Carr
,
Orlando Scandrick
,
DeMarcus Ware
and
Jason Hatcher
-- have struggled the past couple of games, if not longer. That can't happen. Their best defensive players against Green Bay were
George Selvie
,
Barry Church
and
Sterling Moore
. That just can't happen. The scheme is fine. Other teams have succeeded with it. But Monte Kiffin has not changed enough to combat the injuries. He has not played to the strengths of the guys who are left. At least, he hasn't done it enough. The Cowboys just don't have any answers. They are as bad against the run as the pass, and now they can't get any takeaways.
Any differences with how the offense runs with Cousins and Griffin?
Keim:
Cousins runs plays mostly from under center compared with Griffin, who lined up in the pistol formation. They're obviously different in terms of style. The Redskins have not run the zone-read with Cousins (although I do believe he can run it; he's as fast as Philadelphia's
Nick Foles
, who runs the zone-read on occasion). The real difference is that Cousins is more comfortable in the pocket and has better footwork right now than Griffin, caused in large part by the lack of work the latter received in the offseason while rehabbing his knee. Cousins will run a lot of bootlegs, although Washington also ran those with Griffin. Cousins has been more decisive, but part of that is because he knows he can't run from pressure like Griffin.
Do you think Dallas will ever be a strong contender again under Jerry Jones?
Archer:
That's the big question. I'll say yes only because things are cyclical in the NFL. Jones has plenty of great qualities as an owner. He wants to win. He will do everything he can to win. He is willing to do what it takes. But Jones the general manager often gets in the way. The Cowboys seem to change philosophies from year to year. One year they like this kind of player only to move on to a new player the next year. Jones said something this week on his radio show about how he does not worry about fan apathy because of the "show" the fans got in Sunday's game against Green Bay. He seemed oblivious that his team lost. He was happy it was a good show. How can he think that way? But Jones won't change. He will be the ultimate decision-maker. I think they will be a strong contender again, but it could take some time.
Obviously, the season has been a washout for the Redskins. How much joy would they take in killing the Cowboys' season?
Keim:
After six straight losses, I think they'd feel good beating anyone right now, but, yeah, beating a team in the playoff hunt would make them feel better. And if it's Dallas? All the better, although I don't sense any real hatred toward them. But for the fans, if they can watch Dallas' playoff hopes take a dive because of the Redskins, that would cause them to temporarily forget the craziness of the past couple of weeks. But the word "joy" is not the one I'd use to describe much of anything around here. There are a number of Redskins who will be playing their final home game, including likely retiring linebacker
London Fletcher
, so that will provide a little motivation, as well.
October, 13, 2013
10/13/13
6:30
PM ET
By
ESPN.com staff
| ESPN.com
Join our ESPN.com NFL experts as they break down the Washington Redskins' visit to the Dallas Cowboys. Contribute your thoughts and questions beginning at 8:30 p.m. ET. And, be sure to visit our
NFL Nation Blitz page
for commentary from every game, as well as fan photos and the latest buzz from Twitter. See you there.