Washington Redskins:

Philadelphia Eagles
March, 10, 2014
Mar 10
10:00
AM ET
Here are the top 15 free agents, followed by their rankings, entering Tuesday's signing period as compiled by NFC East reporters Dan Graziano, Todd Archer, Phil Sheridan and John Keim. There are some strong options at the top, but there is not a lot of depth in the NFC East when it comes to free agency. And if Dallas'
DeMarcus Ware
gets released, he vaults to a top spot on this list. As always, ESPN's free-agent tracker will keep you updated during this period.
1. LB Brian Orakpo, 8.5:
The Redskins used the franchise tag on him, so barring a surprise, he'll be back. It's a controversial move among fans, but the Redskins need his pass rush and promise to unleash him more often. His career best for a single season is 11 sacks.
2. DT Linval Joseph, 8:
A very big, strong and young (25) interior run-stuffer who has also shown the ability to create pressure from the interior, Joseph could be available because of the Giants' depth at defensive tackle and their many needs.
3. DT Jason Hatcher, 8:
He is coming off an 11-sack season, but he turns 32 in July and Dallas doesn't have much cap space.
4. LB Jon Beason, 7:
The Giants are working hard to sign him before free agency opens, as his leadership and high-energy play at middle linebacker helped transform their defense during the 2013 season.

Nicks
5. WR Hakeem Nicks, 7:
This grade is based on talent and past accomplishments, and a feeling that he was being overly careful in 2013 in order to hit free agency healthy. Lacks his early career speed, but knows how to play the position as well as anyone.
6. WR Jason Avant, 7:
For a team in need of a third-down possession guy, the sure-handed Avant will be a great value.
7. P Donnie Jones, 7:
The Eagles are expected to re-sign Jones, who was an underrated contributor to their NFC East title team.
8. DE Anthony Spencer, 6:
He is coming back from microfracture surgery, so the cost won't be high.
9. LB Perry Riley, 6:
The Redskins need to re-sign him because they already have a hole at inside linebacker after
London Fletcher
retired. But they won't break the bank for Riley, who needs to improve in coverage.
10. DE Justin Tuck, 6:
Coming off an 11-sack season that came out of nowhere after two down years, Tuck turns 31 later this month but is a locker-room leader and a 4-3 defensive end who can set the edge against the run.
Vick
11. QB Michael Vick, 6:
With
Nick Foles
' ascension, Vick is looking for a chance to start elsewhere.
12. RB Andre Brown, 5:
He played very well in his first few games back off a broken leg, but faded down the stretch and fumbled too much in the final few games. He is likely not a guy who can be relied on as a starter, but potentially a valuable piece.
13. TE Brandon Myers, 5:
A huge disappointment in New York after catching 79 passes as a Raider in 2012, Myers also contributed little as a blocker. The Giants are likely to let him go. He could fit better with a different system.
14. CB Terrell Thomas, 5:
He played all 16 games after missing the previous two seasons because of ACL tears in the same knee. Thomas believes he can hold up as a starter off a real offseason, and would like to cash in.
15. S Danny McCray, 5:
He is a core special teamer only, so the Cowboys could find value here.
November, 14, 2013
11/14/13
12:00
PM ET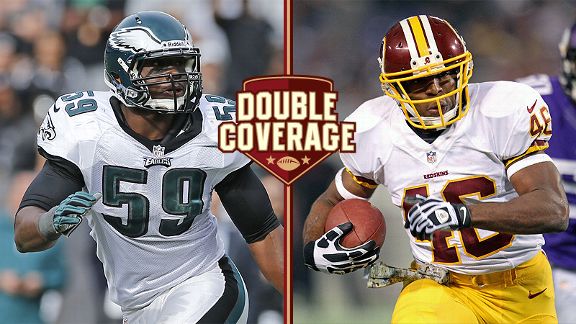 AP Photo, USA Today Sports ImagesExpect a closer game this time around between DeMeco Ryans' Eagles and Alfred Morris' Redskins.
Remember the Chip Kelly revolution? It was televised, on "Monday Night Football" no less, back in September. The first half of Kelly's first game as an NFL head coach looked more like the running of the bulls, and FedEx Field was Pamplona.
Things settled down considerably after that. As Washington comes to Lincoln Financial Field for the rematch, both teams look different at quarterback.
Robert Griffin
III was tentative that night in his first game back after knee surgery.
Nick Foles
was on the sideline as
Michael Vick
ran Kelly's uptempo offense.
The teams meet again with much on the line. The Eagles are 5-5 and, with the 5-5
Dallas Cowboys
on their bye, can slide into first place in the NFC East with a win. Washington is 3-6 and can get within one game of the division leaders. ESPN.com Eagles reporter Phil Sheridan and his D.C. counterpart, John Keim, dig a little deeper.
Phil Sheridan:
The Eagles haven't seen RG III & Co. since the season opener. They were able to do a good job of disrupting the rusty Griffin and bottling up
Alfred Morris
. How far have those two and the rest of the offense come since? Is RG III all the way back?
John Keim:
The offense has come a long way because Griffin's legs are once again a part of the equation. Without his legs he's an ordinary player and it's an ordinary offense. But with the threat of his legs and with Alfred Morris' running ability, the Redskins can use play action. When the Redskins can use play action their offense can be dynamic and explosive. When they can't? It's what you saw in the opener. Morris has had a terrific season and the only thing holding him back is more opportunities. I think Robert is back to being able to make plays and hurt teams in the pass game, except during times when you know they must throw the ball. Griffin isn't quite as explosive, but unlike in the opener he's now willing to run at any point and keep the ball on the zone read. He still has to develop as a passer, something that was true last season as well. He needs a full offseason.
The Eagles surprised the Redskins in that first game a little bit. How has the Eagles' offense changed or progressed since that game? And how much of that is because of the changes at quarterback?
Sheridan:
The Eagles' offense has had major growing pains. That first half at Washington got everyone excited about how Chip Kelly could revolutionize the NFL. And it has been more evolution than revolution since. With Nick Foles at quarterback, obviously there is less threat of the quarterback running 40 yards as there was when Michael Vick was in there. At the same time, Foles seems to keep the tempo up where Chip Kelly wants it, makes quick, smart decisions and generally runs the offense as it is designed. Vick is great or terrible. With the still mysterious exception of the Dallas game, Foles is reliably good and, at times, better than that. He doesn't fire the imagination the way RG III does, but he's a smart quarterback.
This offense had the huge advantage of sucker punching Washington in the opener. No film, no tendencies. Now that defensive coordinator Jim Haslett has had weeks of film to analyze, how do you think he'll approach the Eagles this time?
Keim:
I think the plan will be to stop running back
LeSean McCoy
and they felt good about how they played him in the second half of the opener, mainly by how they aligned their defensive linemen. They focused hard on stopping
Adrian Peterson
last week, but in doing so got hurt badly by play action, which the Eagles do well. I think more than anything the players will be less surprised by what they see. Those packaged plays destroyed the Redskins in the first half; you can talk all you want about keeping your eyes on your keys, but when you get in the game it's tough. They won't yet share their game plan with me (I hate that!). They went a lot off Oregon tape in the first game and a little off the preseason; now they have their own game against them and nine others. The problem they'll still encounter is trying to handle all those weapons.
So much talk about the offense, but how has the Eagles' defense progressed? Where have they struggled? What have they done well?
Sheridan:
Progress is exactly the right word, John. The Eagles got humiliated in Denver by that
Peyton Manning
guy. The final score was 52-20, but Manning could have scored another 20 if he'd been inclined and remained in the game. Since then, no team has scored more than 21 points against the Eagles. They've gotten some breaks. No
Aaron Rodgers
or even
Seneca Wallace
for most of Sunday's win in Green Bay.
Mike Glennon
and
Terrelle Pryor
aren't striking fear into defenses, either. But they also acquitted themselves well against
Eli Manning
and
Tony Romo
. Mostly, they have focused on fundamentals and the run game, with solid success. They did well against Morris in the opener and feel like they can force Griffin to beat them. I guess the difference is that this time, he can.
Bigger picture this time: Is there still a sense Washington is on the rise under Mike Shanahan or has this season lit a fire under his chair? Put another way: Does Washington still feel like it's in the division race in the wretched NFC East and is that a firewall for the head coach?
Keim:
I think they still feel they have a shot, which is probably different than saying they're in the race. To be in a race you have to win a couple of games and I think they understand that. Last year's streak is fresh on their minds, too, so they know it can be done. I think this season has to call into question more about Shanahan and the direction of the franchise. I think the offense is on the rise because they have excellent young talent. Some will point to the salary cap penalty and Griffin's injury to explain all their ills. Those do explain some problems and prevented them from addressing certain areas. (I think some people forget that free agency does not solve everything and never has in Washington.) But they clearly don't explain all of the issues. I also know in the summer the head coach was rather excited about what this team could do, knowing both the cap and Griffin's injury situation. Shanahan has one year remaining on his contract, so these next seven games could determine his future . I don't think he'll get fired, but will he be given an extra year? If they go, say, 5-11 can you give an extension? What helps Shanahan is that he has changed the culture at Redskins Park and I have a hard time seeing his players quitting on him. It gives them a chance to finish better than they started.
Because the NFC East is down and the Eagles are 5-5 they have to be viewed as contenders. But do you think they're a good team on the rise or do they have a ways to go?
Sheridan:
Maybe a little bit of both. Some of the offensive numbers are ridiculously good. We take 450-yard games for granted with Kelly's offense. Foles has thrown 16 touchdowns and zero interceptions. McCoy leads the NFL in rushing. The defense is solid, which is more than half the league can say. And yet the Eagles haven't won a home game, went two weeks in a row without an offensive touchdown and have gotten wins against pretty suspect quarterbacks. So a good team? Probably close. On the rise? That's where it all gets interesting. They are young on defense but getting a little older on the offensive line. The offensive stars aren't that old -- McCoy is 25,
DeSean Jackson
26 -- but they have wear on their treads. So much depends on Foles, I guess. If he's the real deal, then this team should continue to improve. If Kelly still feels he needs to find The Quarterback, then this season will feel more like a one-off than a stepping stone.
September, 11, 2013
9/11/13
8:50
PM ET
Throughout last season, it was fun to go back and watch the
Washington Redskins
games. Just to see how they pulled plays off. Who was fooled by
Robert Griffin
III this week? Did you see that defender run right past the ball carrier (a question asked almost every week)?
They ran an offense that was new to the NFL, one that was a bit unusual but a lot energizing.
That's why it was fun to see up close Chip Kelly's offense with the
Philadelphia Eagles
. There's so much to like about what he does. And, like the Redskins a year ago, they put a lot of stress on a defense -- but it's even more.
On one play, I counted four different options for quarterback
Michael Vick
. He could hand it off to running back
LeSean McCoy
. Or he could keep it himself. Or he could throw a bubble screen. Or he could hit the tight end down the seam. If a defender moved the wrong way, or perhaps was just leaning a certain way, Vick could make a decision. And then put the ball in the hands of a potential playmaker, likely in space.
Other times, the Redskins would have six in the box but the play design made it feel like there were four. Linebackers hesitated or flowed too far over, honoring where McCoy appeared to be heading. As soon as they overcommitted, McCoy would cut back.
It was interesting to watch. And that part of it won't change.
But the pace? And the hits on Michael Vick, a quarterback proven to not be durable? That's the tricky part. They can run a fast tempo with a quarterback who isn't mobile;
Tom Brady
isn't about to run. But
In the end, I'm with
Peyton Manning
who says it's the quality of plays that count and not the quantity.
"I still think it's about the execution," he told ESPN.com's Jeff Legwold.
Eventually the Eagles may be forced to only go up-tempo in spurts: the red zone, after big plays. But, regardless, Kelly's offense will work. He has the necessary ingredient to do so: talent.
Defenses will adjust, as they tried to do against Washington last season. Sometimes it worked; sometimes it didn't. The Redskins shredded Dallas on Thanksgiving Day, using zone read play-action passes. So, in the second game, Dallas often took that away by rotating a safety after the snap about 10 yards off the ball in the middle and played man outside. The result? Washington running back
Alfred Morris
ran for 200 yards, gashing them outside.
But the Redskins also scored fewer points in the second game against each division opponent (averaging 30.7 in the first game; 24 in the second). They also beat each of their three rivals in the second game. It'll be interesting to see what happens the next time Washington faces Philadelphia. Also, what will happen if the Eagles don't get the favorable field position much of the game like they had the other night? And what impact will this have on their defense if there are a series of quick three-and-outs?
Still, as long as the Eagles stay healthy their offense will work. That would probably be true regardless of the tempo.
September, 9, 2013
9/09/13
6:49
PM ET
By
ESPN.com staff
| ESPN.com
Join our ESPN.com NFL experts for "Monday Night Football" as the Philadelphia Eagles visit division rival, the Washington Redskins.
Contribute your thoughts and questions beginning at 6:45 p.m. ET. See you there.