Lessons Learned: David Amerson
September, 27, 2013
9/27/13
10:30
AM ET
ASHBURN, Va. -- I did not expect to do another one of these with David Amerson so soon, having just talked to him about lessons he learned a week ago. But Amerson is a young guy in an important role for the Redskins' defense. Lessons will be learned every week -- good and bad; playing a rookie corner leads to growing pains for himself and the defense. Last week he did a nice job at times in press coverage, which he did not play at NC State. There were positives. But there also were negatives as three of Detroit's biggest gains occurred in part because of how he played a ball. I wrote about one of them after the game (a double move by Lions receiver
Kris Durham
. It was set up all game as Detroit kept running in-routes off this particular look. So Amerson played heavy on the inside and Durham turned it outside). Give Amerson credit: He is willing to provide insight about what he has learned and displays maturity when doing so. Not every player would be that way as a rookie.
Here are a few other things Amerson learned:
[+] Enlarge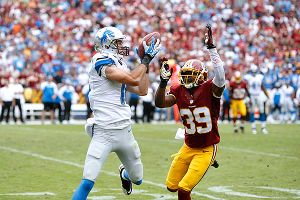 AP Photo/Joe RobbinsKris Durham came up with a big 33-yard catch in the fourth quarter of the Lions win over Washington.
1. Playing press coverage.
He's improved at this in part because of his length -- he's 6-foot-1 with long arms. "The more I get coached up on it the more natural it is. I feel fine right now. It's to my advantage and the length plays a part on getting hands on a receiver and reaching around guys. That definitely helps out a lot. [I'm still adjusting to] just staying patient. That's the biggest thing. It's only a few guys in the league that have mastered that. That's the biggest thing, the more patient you are and knowing you can be aggressive with a guy or soft shoe a guy .... The little things."
2. When to go for the ball.
Amerson wants to pick off passes; it's what first attracted attention to his game two years ago when he intercepted 13 passes in college. But he went for a pick the other day that was difficult and it led to a 41-yard gain. "I thought I had a good chance of making a play, which I didn't, but it's the way I've always been. Go for the play and try to make that big play. Sometimes you come away with it and sometimes you come up short. Anytime you go for the ball rather than just a tackle, if you don't make that play you know it could be a big gain or whatever. It comes with the territory."
3. Blown coverage.
This play likely stems from his inexperience. The Lions showed a look that told everyone else to play zone. But Amerson wasn't sure (a similar situation happened versus Green Bay and led to a big play then, too). This time, the Lions only had a tight end to his side. Amerson was about five yards off the ball. At the snap everyone else drops into a zone; Amerson started trailing the tight end going across the field. That left an open area where he was supposed to be and the Lions turned it into a 47-yard gain. "We were talking about it during the week and we did it in practice but we didn't do it much .... One week I lock a tight end on the backside and the next week we won't and we'll zone it. It depends if he's a threat or not. I didn't know whether to lock or zone it off so I locked it, which was the wrong decision."