Behind enemy lines: Calvin Johnson
September, 19, 2013
9/19/13
8:00
AM ET
The last time
Detroit Lions
receiver
Calvin Johnson
faced the Redskins he fared rather well: nine catches, 101 yards and three touchdowns. Yes, it was three years ago but Johnson's star hasn't diminished at all since that game. And he's still considered one of the most dangerous offensive players in the NFL.
He'll also face a defense struggling to stop anyone -- and one with a struggling secondary.
Here's what Johnson had to say during a conference call with the Washington media:
[+] Enlarge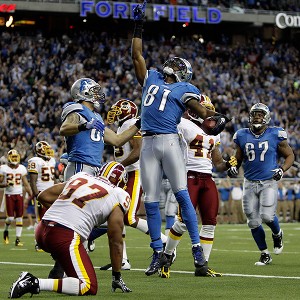 AP Photo/Paul SancyaThe last time the Redskins faced Calvin Johnson, the wide receiver burned them for 101 yards and three scores.
... Where the Redskins have struggled:
"Just making tackles, I guess. There's been a lot of yards after the catch and guys breaking tackles."
...
On if the Lions are anxious to face this defense:
"Obviously, we go back and watch the film too, but we see the same things that they see. Obviously it's a copycat league and teams try to go back and exploit the same things that other teams have had success with. The fact that they play a lot of single-high defense, it seems like there are a lot of opportunities."
...
On how the Lions' offense changes minus Reggie Bush:
"It shouldn't change at all. I'll put it like that."
...
On how Arizona defended them differently without Bush:
"We didn't see much Cover 2 from the Cardinals last week, in the first half, but definitely in the second half and towards the end of the game. They played two-man, stuff that'll try to help eliminate the passing game."
...
Attacking the Redskins' rookies in the secondary:
"You try to go at those guys. You try to put them in difficult situations where they have to make a difficult decision and a lot of times that inexperience leads to the offense being able to make a big play. We'll see how well-coached those guys are and how much they rely on their technique and coaching when it comes to game time."
...
On possibly facing DeAngelo Hall:
"I wouldn't be surprised. He's a savvy vet. He knows what he's doing. He has great ball skills. I wouldn't be surprised at all if he followed me around .... When you prepare for somebody like that you want to be on your details. You don't want to tip routes or do anything like that to give him a head start so he can jump your route because he will definitely jump your route and try to get to the ball, so that is one thing you want to try to stay away from."
...
On whether this is the sort of game teams need to win to be considered a title contender:
"Yeah, no doubt. Like I was saying earlier, when teams aren't playing so hot, we have to exploit that."