What to expect: Redskins' defense
July, 18, 2014
7/18/14
9:00
AM ET
The subtle changes will help. Brian Baker hammered home the importance of details when it came to the pass rush. If a player was off by a couple inches with his first step from a certain look, then Baker went to work correcting the mistake.
Baker had no trouble chastising the big names, either.
When it comes to the pass rush, Baker's arrival could be a big one. It's not as if the
Washington Redskins
did not work on various aspects of the rush in the past. They did. But before Baker, they were taught by defensive line coach Jacob Burney, who focused more on rushing with contain. One player said that in the past the coaches were more focused on their assignments; Baker emphasizes fundamentals and how they can win on a play. Entering camp, the outside linebackers have more confidence in what they can do as pass-rushers than they had in the past.
[+] Enlarge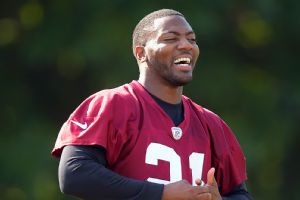 John McDonnell/The Washington Post/Getty ImagesRyan Clark, signed in the offseason, should help the Redskins improve communication in their secondary.
The inside linebackers should be helped, too, by the arrival of coach Kirk Olivadotti --
Brian Orakpo
has raved about him in the past, having worked with him as a rookie. Olivadotti also will help shape the game plan, notably in the red zone (a trouble spot). He was a highly respected coach here in the past and someone that Jim Haslett tried to re-hire several years ago (only to see the job go to Bob Slowik).
Whether this makes the Redskins' defense a lot better remains to be seen. They still have issues and major question marks: three players 30 or older along the defensive line who are coming off surgeries; a first-time starter at inside linebacker in
Keenan Robinson
next to
Perry Riley
; a secondary that wasn't dramatically upgraded.
Also, the Redskins potentially will have five starters at least 30 years old. A defense that hasn't been very good either will be in decline or transition. The Redskins hope they have plugged some holes with the older guys --
Ryan Clark
at safety;
Jason Hatcher
in the pass rush -- but neither is a long-term solution.
Will they be more aggressive?:
That is what we keep hearing. But you need to be careful with this, too. If you are going to be overly aggressive, your secondary had best hold up. In the past, the secondary was placed under too much stress and it showed. Their yards per pass attempt allowed typically rank among the worst, which is why some evaluators consider this a boom-or-bust defense. One school of thought I've heard this offseason from a few people smarter than me is that they should focus more on bend-but-don't-break and stress red zone defense more than anything.
Hatcher
But there is no doubt the Redskins want, and need, more from their four-man rush. They want their mindset to be more aggressive when pursuing the quarterback. That means not just rushing with contain (it's not as if that's all they ever did in the past, just that it was more of an emphasis).
A stronger four-man rush would enable them to give the secondary more help in coverage. But a year ago the Redskins were 13th in the NFL in sacks per pass attempt when rushing with four defenders (all numbers here according to ESPN Stats & Information). However, they were 29th in yards per pass attempt allowed in that scenario.
It's hard to believe their four-man rush was even that good a year ago -- the Redskins clearly disagree given their offseason emphasis.
But it also points to another issue: Even with a solid pass rush, the secondary must play better than in 2013. Can they? Clark's arrival helps; even if has lost a step or two he's still better than what Washington had last season -- and 10 times better when it comes to communication. Some issue arose last season with rookie cornerback
David Amerson
being out of place. During the spring, Clark was constantly shouting out what to watch for on the play. But for the defense to improve the way it must, he still needs to play at a certain level.
I do think the Redskins will be aggressive with their fast nickel rush, using linebacker
Trent Murphy
with Orakpo and
Ryan Kerrigan
. Their versatility to rush from anywhere helps and enables coaches to give more creative looks. But they also need Hatcher to stay healthy and productive.
By the way, the idea that Hatcher won't be a factor because he's back to being a 3-4 end is silly. The Redskins want him for his interior rush; they play nickel at least two-thirds of the time. When they do, he'll rush inside. Which is what he did in Dallas last season en route to 11 sacks. Not sure he'll get 11 again, but if he gets seven or eight he will be a big upgrade.
Numbers game:
The Redskins rushed with six defenders only 19 times last season. But, again, you can be aggressive without sending more. Seattle plays smart, aggressive and fast -- and the Seahawks sent six rushers only 25 times (by contrast, Arizona did so 106 times). If the Redskins increase that number a lot, then it might lead to more sacks but also more big plays allowed. That is not the tradeoff they need.
What they must do:
Tackle better. The Redskins allowed 756 yards after contact in the run game (23rd worst in the NFL) and 544 after contact by receivers (22nd worst). They were 26th in the NFL for their combined yards after contact allowed. Improve this area and the defense will be better, with or without a ton of sacks. Clark is a better tackler than
Bacarri Rambo
. But it wasn't just Rambo missing tackles;
Brandon Meriweather
had some issues early on, but playing in the box more should help him. Former linebacker
London Fletcher
missed too many; Keenan Robinson, though, has to prove he can handle this role. Though he should be better in coverage, Robinson has to show how he can play going forward against the run. If he anticipates well, his speed should be a tremendous asset.
If the Redskins' offense cuts down on turnovers and the special teams improve, the Redskins' defense will be helped. But to take a big step they must help themselves. It's a major storyline to watch.