Washington Redskins:

2013 Black Monday
December, 31, 2013
12/31/13
5:45
PM ET
The
Washington Redskins
will interview with Carolina defensive coordinator Sean McDermott this weekend, according to multiple reports (and confirmed by a league source). They've also requested permission to interview Seattle offensive coordinator Darrell Bevell.
Let's take a look at McDermott's data:
Age:
39
[+] Enlarge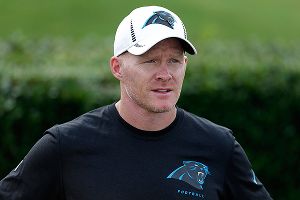 AP Photo/Chuck BurtonPanthers defensive coordinator Sean McDermott could be a contender for the Washington Redskins' head coach job.
What he's doing:
McDermott has been the Panthers' defensive coordinator for the past three seasons. Head coach Ron Rivera is a former defensive coordinator so it's tough to know how much of the Panthers' success stems from McDermott. Regardless, the Panthers' defense finished No. 2 in both total yards and points per game. McDermott inherited a unit that ranked No. 26. They were No. 27 in his first year and 18
th
a year ago. They went from 28
th
to 10
th
in scoring in those years.
Past stops:
McDermott started with Philadelphia in 2001 as a scouting administrative coordinator and worked his way up in the organization, becoming the secondary/safeties coach in 2008, the linebackers coach and defensive coordinator from 2009-10, replacing the late Jim Johnson.
What I've heard about him:
All I knew about McDermott was that Philadelphia fired him after the 2010 season and that his current Panthers' defense is a good one. Earlier this year, former Eagles coach Andy Reid texted ESPN.com columnist Ashley Fox about the interest in McDermott becoming a head coach: "He deserves it. Hard working. Smart. Honest. Good person." Two others who worked with him described him the same way. One NFL executive said via text, "I really like Sean. He will be a very good head coach, smart, disciplined, confident." McDermott also was described as a no-nonsense guy; detailed, tireless. He worked under a fantastic defensive coordinator in Johnson and clearly paid attention. But during his last season as the Eagles' defensive boss, McDermott was criticized for having schemes that were "too complicated."
Is he a good fit:
I like that the Redskins are talking to him and not just fixating on an offensive coach. It would be foolish to focus on one side of the ball, perhaps passing up the opportunity to find a good coach. I like the qualities he possesses and I think those would be welcomed at Redskins Park. Whether it's McDermott or someone else, it would be good for the Redskins to find an assistant coach with energy and a desire to prove himself. But if you're going to hire a defensive head coach, he'd better have a good plan for quarterback Robert Griffin III and the offense. His most important hire would be the offensive coordinator, who will work closely with Griffin.
Suggested reading:
The initial story on McDermott being fired in Philadelphia
…
ESPN.com columnist Ashley Fox wrote about McDermott
earlier this season and his continued rise…
How the Panthers' defensive staff operates
…
McDermott said he believes he'll be a head coach
some day....
Problems in Philadelphia.
December, 31, 2013
12/31/13
9:45
AM ET
ASHBURN, Va. --
Washington Redskins
general manager Bruce Allen called the coaching list an open one, saying there's a spot for all sorts of backgrounds. Allen said they will talk to people who have no head coaching experience, who are currently college coaches and some whom he's never met.
"I want to hear what their dreams are, what they can do, the fire in their belly to coach the Washington Redskins, to inspire the kids on this football team," Allen said.
Among the names that likely will be on their list, as well as other teams: ex-Chicago coach Lovie Smith, Cincinnati offensive coordinator Jay Gruden, and Cincinnati defensive coordinator Mike Zimmer. Former Green Bay coach Mike Sherman, currently the offensive coordinator in Miami, was a possibility, but a bad finish with the Dolphins might have changed that as his job is reportedly in jeopardy. The Redskins would be interested in Jon Gruden, too, though it does not sound as if he shares that interest. Seattle offensive coordinator Darrell Bevell is another name who will surface for most vacancies.
One note: Being on a list and being a strong candidate are two different things. They likely will have 10 to 12 names on the list before it gets pared down.
Other names that could surface: Baylor's Art Briles, for the obvious connection to quarterback Robert Griffin III – which could keep him off the list as well --and Texas A&M's Kevin Sumlin. They've also talked to Bill Cowher, but, that too does not appear to be of mutual interest.
Allen said he has no blueprint for what systems he wants the coach to run. Defensively that could mean a return to the 4-3. Offensively it could mean going to a different blocking scheme.
"It's the person who has the understanding and the knowledge of what he wants to teach the players," Allen said. "As I said at the beginning, we're going to look for someone who is a leader first and it could be on the offensive side of the ball, defense or special teams. There have been a couple special teams coaches who have made great head coaches. We're going to keep an open mind."
This will be the sixth head coach hired under owner Dan Snyder. None have lasted more than four years and none have finished better than .500. Allen tried to play down the lack of success in Snyder's ownership.
"I can't speak for the prior years. I can speak for Mike's years, and Dan was very supportive of all of Mike's wishes and ideas," Allen said. "This is the Washington Redskins. This is a very high-profile team. When the
Dallas Cowboys
or the Washington Redskins are in first place it's a lot of news, and when they're in last place it's a lot of news. I think coming into this environment, knowing that there is a nucleus, I think it will be a very attractive position to coaches."
December, 30, 2013
12/30/13
6:15
PM ET
ASHBURN, Va. -- As he headed to and from the Redskins' facility, carrying personal belongings, offensive coordinator Kyle Shanahan allowed that he was at peace. He, and seven other Redskins assistants, were fired Monday along with head coach Mike Shanahan.
Not only did Kyle Shanahan exit with personal ware, he also left with his confidence. After six seasons as an NFL offensive coordinator, Shanahan remains upbeat about what he's accomplished -- and about where he's still headed. He should: The Redskins finished in the top 10 in total yards for the second consecutive year. And it's the fourth time in his six seasons as an offensive coordinator that his offenses ended up in the top 10 in total yards.
[+] Enlarge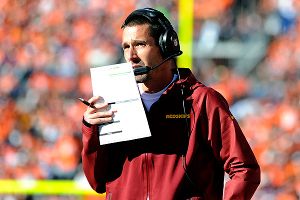 Steve Nehf/The Denver Post via Getty ImagesKyle Shanahan's offense finished in the top 10 for two straight seasons.
"I'm pretty confident in myself," Shanahan said, when asked last week where he felt he stood as a play caller. "I feel good about myself as far as I think I'm good at what I do. I'm really trying hard not to brag on myself, I'm just trying to answer your question honestly that I'm confident in what I've done and I'm confident in my future. ... I'll continue to do a good job."
Shanahan was not the only offensive assistant fired. Quarterbacks coach Matt LaFleur and receivers coach Mike McDaniel also were told they would not be retained. Offensive assistant Richmond Flowers also was let go.
But Shanahan is the one the players will miss most.
One opposing defensive coach, who faced the Redskins within the past two seasons, called Shanahan an "above average coordinator" who could be outstanding with the right head coach. His flaws, according to this coach: managing the game and play calling in critical situations. Other complaints over the years: he threw the ball too often and sometimes got too cute with his play calls.
But the Redskins moved the ball under Shanahan. They finished among the top 10 in total yards in consecutive years for the first time since 1991, the last of six straight years in the top 10. The problem is that Washington went from fourth in points per game a year ago to 23 this season. The No. 4 ranking in points in 2012 marked the only time Washington has finished in the top 10 since 1999.
"I liked Kyle's work ethic, his attention to detail," tight end
Logan Paulsen
said. "You know how in chess you play someone who is really good and they can see a couple moves ahead. I always felt he could do that. ... One thing I remember is talking to [tight ends coach Sean McVay] and said, 'Why don't we just run this?' He said, 'It doesn't have answers if you get into a bad coverage.' But the thing about Kyle and his staff they worked very hard to make sure every play has an answer so you never in an awful look."
Since 2000, the Redskins have been mostly dreadful on offense when it comes to scoring -- despite offensive-minded head coaches in Steve Spurrier, Joe Gibbs, Jim Zorn and Mike Shanahan. They've ranked 25th or worse in terms of scoring seven times since 2001 and 20th or worse 11 times. They ranked 13th in points per game in 2005, the next best finish after 2012.
"It's well put together," quarterback
Rex Grossman
said. "When he gets in a rhythm he's the best in the NFL. You can feel it as a player and it allows you to have success. ... If you're not in the right look, you do have answers so you don't feel stuck, which is a good thing and it's hard to coordinate."
Fullback
Darrel Young
said, "I respect everything he did for me, this team and this offense. All the people that criticized him, we still had
Alfred [Morris]
as one of the top 10 rushers in the league."
But Shanahan did not earn the complete trust of quarterback
Robert Griffin
III. And there is this matter: The Redskins finished 24-40 under the Mike Shanahan regime. In a bottom line business, that's the number that jumps out.
"You don't have a good record and that starts with myself as much as anybody else," Kyle Shanahan said last week. "The ultimate goal is wins."
December, 30, 2013
12/30/13
3:15
PM ET
ASHBURN, Va. -- They expected the news, yet it still resonated. For weeks the
Washington Redskins
players answered questions about Mike Shanahan's job fate. For days they read he was going to be fired.
When it finally happened Monday, the news still hit the players.
"It just got real," defensive end
Kedric Golston
said.
"Everyone expected it, but it doesn't make it that much easier," tight end
Logan Paulsen
said.
"It definitely becomes a lot more real and makes the situation more sad," linebacker
Ryan Kerrigan
said.
Shanahan was fired shortly after 9 a.m. Monday morning as players were trickling in for their end-of-season physicals. Others were already packing up the belongings in their lockers.
It comes at the end of a 3-13 season, which is why the firing wasn't much of a surprise. They finished 24-40 in Shanahan's four seasons.
"Frustrating," fullback
Darrel Young
said. "We failed a Hall of Fame coach. It was a lack of execution by the players this year."
The players know that few, if any, current assistant coaches will stick around. The firing impacts coaches the players had relationships with, in some cases for four years. But the players also know there's a bottom line for them, too. Some players won't fit what a new coach wants to run, whether offensively or defensively. So their futures are at stake, too.
"It's also difficult because we have to learn a new scheme," Paulsen said. "We have to adapt to a new coach, a new coach who you might not fit their system. So a lot of guys might be gone. That's always difficult. It will be a complete culture change. But right now I just feel for coach and the staff and hope it works out for the best for them."
And, as players who have been around here know all too well, a new coach doesn't always bring results. The Redskins will be looking for their seventh full-time coach under owner Dan Snyder, who bought the team in 1999.
"Just because you change coaches doesn't mean that all is fixed," Golston said. "You have to now start the work to build something to be successful.
"Whenever you have a coaching change it's tough because you have new philosophies. You have to understand their communication, understand what he means when he says something and what his pet peeves are, what his practices are like, what his offseasons look like. All those things are new to you, so it brings uncertainty so you have to adapt on the fly. It's never a good thing."
The Redskins' season unraveled in a hurry. They were 3-5 after a home win versus San Diego and then blew a 13-point second-half lead at then 1-7 Minnesota. There was a palpable difference in the locker room after that game, as if the players knew they had blown their chance. They never won again.
"The turning point was the Minnesota loss," Young said. "I [still] went into every game thinking we were going to win, but to look back now that was the turning point in the season. It felt like we were playing good football … and all the emotions that go into it changed a lot for us."
Last year at this time the Redskins were preparing for a playoff game against Seattle, coming off seven straight wins and full of confidence -- about that game and the future. Despite Robert Griffin III's knee issues in the offseason the rest of the roster felt good and were buoyed by what they considered a strong training camp.
"And then to be where we're at now," Golston said, "to lose in the ways we lost some games, it's been unfortunate just because you don't have many years in this business to let one slip away and let something like this happen."
In the end, though, something wasn't working.
"None of these coaches played a down this year," Kerrigan said. "It's all on us. We can complain and say we all like this coaching staff and don't want them to be fired, but if we played better we wouldn't be in this situation. That's what hurts me."
December, 30, 2013
12/30/13
10:25
AM ET
John McDonnell/The Washington Post via Getty ImagesMike Shanahan failed to overcome several challenges during his tenure as the Redskins' coach.
ASHBURN, Va. -- You can point to on-field issues as the major reason for the downfall. The
Washington Redskins
turned the ball over 34 times -- 20 more than a year ago. That stat could explain their plummet from NFC East champs to bottom dweller in one year.
But there's more to the Redskins -- and ultimately
Mike Shanahan's demise
as their coach -- than just turnovers. Not everything was the coach's fault, but a number of issues led to this season's 3-13 record, and the 24-40 overall mark in his four years.
Griffin's knee
The Redskins' offense was not the same as the one in 2012 in part because
Robert Griffin III
was not the same quarterback. His surgically repaired right knee had robbed him of some explosiveness, leaving him still fast but less dangerous. Also, defenses were more disciplined against the zone read option Washington had run with success his rookie season. One opposing defensive coach earlier this season said his team did not fear Griffin's ability on the play.
But where the knee really affected Griffin was in his offseason work. He had to spend time rehabbing more than improving his game, especially in the pocket. He faced a wider variety of coverages this season and more blitzes. And the lack of offseason work showed in his inconsistency as a pocket passer.
Griffin did show flashes of his rookie success. Against Chicago, he threw for 298 yards and ran for 84. But he also needed more help than in 2012, whether from his receivers winning on their routes or from his line protection, and he did not always receive it.
Relationship with the quarterback
Shortly after the 2012 season ended, judging by Griffin's veiled comments, it was clear a problem existed between the coach and the quarterback. In separate news conferences, one would say one thing and the other party would say the opposite. Shanahan would tell the media that Griffin needed to learn to slide and get down better to avoid hits. That prompted Griffin to text ESPN's Trey Wingo that he knew "where my responsibility is within the dilemma that led to me having surgery to repair my knee and all parties involved know their responsibilities as well."
Griffin
When asked during a media session in the spring whether he liked how he was used last season, Griffin merely said he liked to win. He had dodged the question, but in doing so, it further raised eyebrows. From Griffin's perspective, he had lost trust in the coaches because he believed that after the initial injury, they ran plays they had told him they would not call, such as the zone read option.
By the spring, it became clear the relationship between Griffin and Shanahan needed to be monitored. Shanahan was not pleased with the fact Griffin occasionally attended events with team owner Dan Snyder, and believed it left the quarterback feeling entitled. According to an
ESPN.com story earlier this month
, Shanahan considered quitting after last season in part because of that relationship.
During this past summer, if Griffin came out and expressed optimism about his situation, Shanahan would follow in his own news conference by contradicting his quarterback -- or at least tempering his enthusiasm. Eventually, Griffin started talking after Shanahan so he would know what the coach said.
Griffin said during one news conference later in the season that it took time to build that trust, saying he was still doing so in Washington even after 18 months together. He was benched with three games left, ostensibly to keep him healthy in the offseason, but it further eroded any trust left and made it clear it would be very, very difficult to repair.
Salary cap
The Redskins were hit with a $36 million salary-cap penalty for their handling of the 2010 uncapped year. You can debate all you want whether it was deserved. They had to deal with the reality.
The timing could not have been worse for the Redskins, who learned of the penalties the day before free agency began in 2012. They lost $18 million in cap space that year, as well as in 2013, and it stopped them from pursuing certain players. In 2012, for example, they had planned to woo Tennessee's
Cortland Finnegan
, but could not.
They still managed to sign receivers
Pierre Garcon
and
Josh Morgan
early in the 2012 free-agency period. But they could not adequately address other problem spots, such as right tackle or the secondary.
Last offseason was worse, as they could not sign any expensive free agents. They were able to retain all but one of their own key free agents. They preached that familiarity and continuity would help them overcome those issues, with 21 of 22 starters returning from the NFC East championship team. It did not.
Bad decisions
There were personnel mistakes, too.
Josh LeRibeus
, a third-round pick in 2012, was inactive for every game this season and was approximately 30 pounds overweight entering last offseason's workouts. Morgan is a prime example of why having more money to spend the past two years wouldn't have guaranteed anything. He caught a combined 68 passes the past two years -- 20 this season -- while averaging $6 million.
LeRibeus
Shanahan also agreed to bring back defensive tackle
Albert Haynesworth
, who signed a $100 million deal a year before with the previous regime. Shanahan made it known to Haynesworth in their first meeting that he did not like his 2009 performance. But he opted to keep him around and it led to a conditioning debacle in the summer, uninspired play during the season and an eventual suspension.
Shanahan agreed to trade multiple draft picks for quarterback
Donovan McNabb
, only to watch him fail in his one and only season. They traded a third-round pick for injured tackle
Jammal Brown
, who was largely ineffective in his two seasons because of injuries.
And Shanahan "staked his reputation" on quarterbacks
Rex Grossman
and
John Beck
in 2011. Beck failed miserably while Grossman moved the offense, but his penchant for turnovers hurt.
Shanahan also hired first-year special teams coordinator
Keith Burns
; the players never fully bought in. But the real problem was the fluidity of the special teams unit, perhaps a casualty of the cap penalty. Putting a first-year coach in charge of such a group proved too difficult.
They received contributions from two draft picks this season -- corner
David Amerson
and tight end
Jordan Reed
-- but the rest provided little help, whether from scrimmage or special teams. Of their 34 draft picks, only 12 were full-time starters or played pivotal roles in 2013. That led to a lack of youthful depth in the secondary and at linebacker, and unproven depth along the offensive line.
Despite all of that, the Redskins were poised to be contenders this season, based on their finish a year ago. However, the foundation was weaker than originally thought, and now the Redskins face a hard road back.