Washington Redskins:

2013 Week 1 PHI at WAS
September, 10, 2013
9/10/13
2:45
AM ET
LANDOVER, Md. -- Ten observations from the Redskins'
33-27 loss
to Philadelphia:
1. The Redskins did not look like a team intent on defending the NFC East title.
Not on this night. Yes, they showed something by rallying to make the final score close and forcing Philadelphia to recover an onside kick to clinch the win. Sure, that's good. But a heck of a lot more was expected than for fans to go home saying, "Well, at least they were resilient and didn't quit." This quality does matter, and it's why they rallied from a 3-6 record in 2012 to make the postseason. And it'll matter if they go into Green Bay and win on Sunday. It'll also matter in future weeks. OK, so you can't question their attitudes. But they didn't solve a lot of questions, either, about the secondary or about where
Robert Griffin
III is at with his game. You can't go crazy drawing grand conclusions from one game, but you also can't assume you'll bounce back the same way you did last year. I don't think the Redskins think they're guaranteed the same thing will happen; I do think they're confident in what they can and still will accomplish.
[+] Enlarge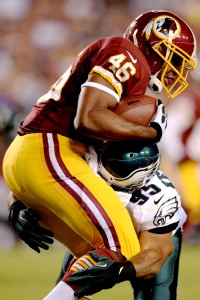 Patrick Smith/Getty ImagesAlfred Morris rushed for 45 yards on 12 carries and had trouble holding onto the ball.
2. Griffin had the expected rust after an offseason of not much practice and no games.
That's fine. What I didn't expect was a sloppy effort on the run game. Running back
Alfred Morris
gained only 45 yards on 12 carries and fumbled twice. Morris looked good in camp. But he and the run game needed to let Griffin ease into the game and couldn't do so. His yards weren't the issue; had the score been different he probably would have finished with good numbers. But the fumbles were a problem and led to nine points. The one in the end zone was about concentration.
3. It didn't help that Washington started 10 of its 13 drives inside the 20.
The Redskins did not start a drive outside their 20 until their second possession of the third quarter. Did it make a difference? Of the 10 drives that began at the 20 or worse, the Redskins scored once. They managed 12 first downs on those drives, but nine occurred in the final two series. In comparison, Philly started five of 14 drives at its 20 or worse. Only one of those drives ended in points (a second would have if not for
Michael Vick
's lateral returned for a touchdown by a heads-up
DeAngelo Hall
).
4. A big problem for the run defense was simply about numbers.
Eagles coach Chip Kelly does a terrific job of putting his offense in favorable spots, and as long as his blockers make their block, a big play can follow. It really was left to the Redskins' front seven to get off blocks and make plays, and when they did, they stopped the Eagles. It just didn't happen enough early. It didn't help that Washington's offense couldn't do anything, which meant the defense was always on the field (53 of the Eagles' 75 plays came in the first half). Blame the defense for some bad play, but they were put in many bad situations. Philly started four drives in Redskins' territory and scored touchdowns on three of them. This offense is too dangerous to give such breaks.
5. Back to the Eagles' offense. The first touchdown of the second half is a perfect example.
The Redskins had six defenders in the box; the Eagles countered with six blockers. The problem is Philadelphia forces teams to honor the ball to where it appears it's going. On this play, if they were going to run, based on
LeSean McCoy
's alignment (to the left of Vick and a bit behind) it would have been an inside zone to the right. On the handoff, tackle
Barry Cofield
slides to his left to cover the gap and linebacker
Perry Riley
races to the outside. But tackle
Stephen Bowen
was blocked to the back side and linebacker
London Fletcher
had to wait, but that bought time for yet another blocker to arrive. A huge gap was created. It didn't help that the safeties -- corner
E.J. Biggers
was playing strong safety -- couldn't stop him. If McCoy gets to the third level, forget it.
6. Another sequence showed how Kelly's offense operates.
Actually, it was the second and third plays from scrimmage. Vick connected with tight end
Brent Celek
off a zone read fake; slot corner
Josh Wilson
scrambled to catch up. It was a 28-yard gain. On the next play, the Eagles had the numbers to the left. Wilson was in the slot, but showing blitz. That left two receivers to block two corners -- and no one on Jackson. A bubble screen turned into a 16-yard gain. "They did a good job with their run-pass numbers," Fletcher said. "If the numbers weren't to their liking as far as whether they would run the ball, then they would throw it and vice versa. They did a good job with that."
7. It left the Redskins' defense stressed.
And if they did not make one-on-one plays, then they were in trouble. The key for any good defense is to swarm to the ball. But the Eagles made that tough the way they spread the field and forced Washington to honor every intention. There was one time in which
Brian Orakpo
tripped up McCoy in the backfield for a short gain. Had he not gotten him down, McCoy would have run for 20 yards. The hole was that big. It happened time and again. The scheme is good, but the talent really makes it work. When you have McCoy, Jackson and Vick, you have players well-suited to playing in space.
8. The defense knew what was coming much of the time. They just couldn't stop it.
The same cannot be said for the offense, particularly early. Receiver
Pierre Garcon
said the Eagles threw looks at them they had not practiced against or had seen before. At least the offense had plenty of Oregon tape to study to prepare for Kelly -- and they knew the offensive talent better. The offense had to go back three years to Arizona's film to try and guess what Eagles' defensive coordinator Bill Davis would do. "It's hard to prepare for that," Redskins guard
Kory Lichtensteiger
said. "We still have rules that should work against anything. We just didn't execute as well as should have."

9. The Eagles were unconventional at times, sending two defenders through the B gap for example.
It was by design. They caught the Redskins on an inside zone with the perfect blitz to handle the play. They caught them on an outside zone with a call perfect for that run. "They did things that had it gone a different way we could have made them pay for being unsound sometimes," Lichtensteiger said. "But we didn't, so they look like geniuses and here we are."
10. The secondary had a rough night tackling.
Rookie
Bacarri Rambo
missed Celek on his 28-yard catch and run (wrong angle perhaps)? He also missed Vick in the open field, getting juked outside. I don't know this for sure, but Hall said the coverage was busted on the 25-yard touchdown pass to Jackson. There was no safety deep. Rambo was playing up. "There was supposed to have been a couple guys back there," Hall said. "I don't know exactly what went wrong, but there was definitely supposed to be a couple guys." Biggers was playing out of position (I saw him work at strong safety during one practice) and missed an open-field tackle on McCoy. Join the club. Again, give Hall credit for a heads-up play, and rookie corner
David Amerson
did a solid job, even undercutting a route for a breakup and near interception.
September, 10, 2013
9/10/13
1:15
AM ET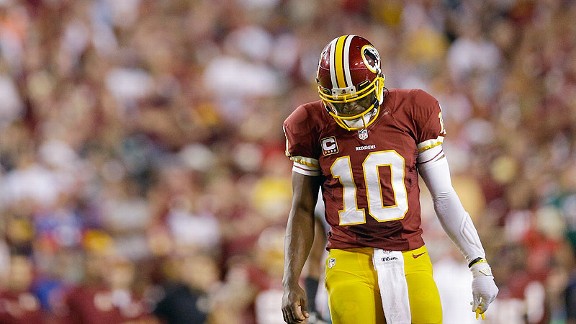 AP Photo/Patrick Semansky"I'm responsible for the way I play," Robert Griffin said. "I didn't play very well in the first half."
LANDOVER, Md. -- The night held such promise for
Robert Griffin III
. As the crowd cheered his name during introductions Monday, Griffin kneeled and pounded the turf, as if he was about to do something he couldn't believe. Like play a game exactly eight months after surgery. He paused and hustled down the field, waving a big Redskins flag.
It went downhill from there in the Washington Redskins'
33-27 loss
to the
Philadelphia Eagles
. At least for the first 30 minutes -- and a few more in the second half.
And then it became a night of more questions, and a lot of nit-picking, that one game won't answer. Was Griffin still hurt? Was the quarterback just rusty? Was he planting and driving when throwing the ball? Was his timing off? Let the debating begin.
This wasn't what anyone expected, least of all Griffin. Not after the journey back. Not after knowing how hard he had worked to return in eight months after knee surgery. And not after his history. Griffin was used to accomplishing grand things in big moments. This qualified as a big moment.
Instead, he was left to defend his game and night and to soothe the worries of Redskins fans. What he didn't do is point to his surgically repaired right knee as a reason why he struggled early. Yes, Griffin completed 30-of-49 passes for 329 yards, two touchdowns and two interceptions. Respectable numbers, indeed. But he was just 5-of-11 for 53 yards in the first half.
"I'm responsible for the way I play," Griffin said. "I didn't play very well in the first half. You move on from it. I'm not going to sit here and say I was rusty. I have to be accountable for that."
Griffin threw the ball much better when we saw him in training camp. Early in camp, he sometimes did not step and drive into the ball the way he had when throwing last season -- and the way he did as camp unfolded. The coaches noticed it, too; quarterbacks coach Matt LaFleur even pointed it out (after the fact). But when camp ended, and the media got its last good look at Griffin, those issues appeared to have ended. His timing seemed off, but the knee appeared sound and he could drive when throwing the ball. Some might still question Griffin's playing; those people did not see him in camp.
However, Griffin was not really placed in live action at game speed until Monday night, having not played in the preseason. It makes a difference for anyone, even a second-year quarterback who many think wears an "S" on his chest. The Redskins aren't second-guessing their decision not to play him in the preseason, either.
"The one thing I look at is that I'm hoping he's going to be with us for a while," Redskins coach Mike Shanahan said. "Our priority was getting him ready for the season and not putting him in there too quick. We would be quite disappointed if he got hurt the second week of camp, and then we'd be talking about, 'Why did you practice Robert when he might not have been ready?' He was ready to play. He looked like he was in good shape."
Some plays stood out for Griffin, both good and bad. He made a decision on his first interception that he rarely, if ever, made a year ago -- throwing into triple coverage to
Santana Moss
down the middle. The ball had no chance of being completed. On his second interception, Griffin did not put a lot of zip on a pass to the outside. Corner
Cary Williams
made a terrific read and a diving grab.
At times, Griffin did not seem to plant and drive on his throws, or transfer his weight to his front foot. Sometimes it's hard to do so in the pocket; sometimes a quarterback must throw from different angles. But was it a trust issue for him with his knee? Only Griffin knows, and he insists that wasn't the case. Still, for Griffin, it was an uneven performance. And when you're coming back from an injury, everything will round back to that issue, whether it's real or imagined. Griffin knows until he plays well for a full game -- until he shows his old form -- there will be doubts, there will be questions. He's not about to feed them.
"I was comfortable out there and I felt good," Griffin said. "I was able to escape the pocket and move around."
The Eagles threw some unexpected pressures at him, showing looks the Redskins would call undisciplined. They worked. They made Griffin look a little slower with his reactions, which led to more questions: Could he cut the same after surgery on his anterior cruciate ligament?
Keep in mind, though, that Griffin had some lousy first halves last season, too. Against Cincinnati in his home debut, for example, Griffin completed 5-of-10 passes for 36 yards in the opening half. But, back then, he wasn't coming off an injury, and the focus was more on the Bengals' defense, not Griffin's knee.
"I think just we didn't play well," Griffin said. "You guys can sit here and pick apart technique. Is he rusty? Did he not play well enough? I just think we didn't play well in the first half at all. There's no other way around it."
But as Griffin got warmed up in the second half, he found his rhythm. He eluded pressure on a third-down pass in the fourth quarter, sidestepping the rush the way he did in 2012, though the ball fell incomplete. Griffin's second touchdown pass was a thing of beauty. It required touch and rhythm as he dropped a perfect 24-yarder over the top of a safety to receiver
Leonard Hankerson
in the back of the end zone. He was delivering more passes on target, in rhythm. Still, there had to be some consequence for not playing in the preseason, or not practicing against a full defense until three weeks ago. Even for a talent such as Griffin. The first half qualified.
"He did a great job," Shanahan said, "for not playing [in the preseason]. He made some big-time plays."
There just weren't enough. And they came too late.
September, 9, 2013
9/09/13
11:51
PM ET
LANDOVER, Md. --
Observed inside the Washington Redskins' locker room after their 33-27 loss to the Philadelphia Eagles:
Kerrigan
Still ailing:
Linebacker
Ryan Kerrigan
was still being evaluated for his concussion after the game. No word yet on how bad it was; we can't talk to him because he had concussion symptoms. And it was hard to tell how he was doing based on how he looked. He was talking to one of the team doctors afterward.
Tough go:
The Eagles managed 443 yards of offense and ran 77 plays. They averaged 5.8 yards per play, a hefty amount. "When you're wrong, you're wrong. That offense is going to be a force to be reckoned with in this league," corner
DeAngelo Hall
said. But, linebacker
London Fletcher
said, "They didn't run any plays we haven't seen. The passing game was everything we've seen them run. They may have had one or two or three concepts we haven't seen before, but that happens every game."
Offense surprised:
Receiver
Pierre Garcon
, who left the game with cramps, was fine afterward and spoke as long as any player in the locker room. He was one of the first to talk; he was also the last one to talk. "We didn't know what they were going to do on defense," Garcon said. "They surprised us. They had a lot of looks we weren't expecting, and we didn't get a hang of it until the second half. "
Mood:
I've seen the Redskins react much worse to a loss. It was not a completely silent room by any means; there was disappointment and some befuddlement because of how the game transpired. But they had the feel of a team that had been in this spot before and wasn't going to overreact to one defeat. "This is a 16-round boxing match and Round 1's over, so we'll go a round next week," center
Will Montgomery
said.
September, 9, 2013
9/09/13
10:40
PM ET
LANDOVER, Md. -- Thoughts on the Washington Redskins'
33-27 loss
to the Philadelphia Eagles on Monday night.
What it means for Washington:
It's one thing to lose; it's another to look the way Washington did much of the night in its loss to Philadelphia. The Redskins opened the season with high hopes, obviously, and now have some questions to answer. It's only one game, but quarterback
Robert Griffin
III looked sloppy -- rust or lingering issues? He looked better in the second half, but his play will remain a storyline as the week, and season, unfolds. It was a bad start, even though it was a solid comeback.

Stock report falling:
Running back
Alfred Morris
had a bad game, with 12 carries for 45 yards. But it was more than that: Morris fumbled on his first carry, leading to an Eagles touchdown one play later. And he dropped a pitch in the end zone that he fell on and then was tackled for a safety. Debate calling for a pitch in the end zone all you want, but it's a basic play he botched. Morris is a better runner than what he showed, though he needs a little more help from his line. But it was a bad opening night for a run game that was terrific in 2012.
Stock report falling, part II:
The Redskins couldn't stop
LeSean McCoy
, who rushed for 184 yards on 31 carries. His cutback runs were effective against the Redskins' defense. The Redskins had to use their nickel defense all night; the Eagles shredded it on the ground.
Turnover woes:
The Redskins turned the ball over only 14 times last season and had a differential of plus-17. But they turned it over three times Monday night, leading to 14 points. Both of those touchdowns were set up deep in their own territory, leading to easy scores. Morris' fumble occurred after the Redskins' defense had held Philadelphia to a field goal and led 7-3. One play later it was 10-7. Then with Washington needing a good opening drive in the second half, Griffin threw an interception on an out route. Two plays later it was 33-7.
What's next:
The Redskins play at 0-1 Green Bay in a game that isn't a must win, but an 0-2 hole is never welcomed. Coming off the loss to Philadelphia, the Redskins have more worries than just the Packers. They now need to worry how long it'll take Griffin to return to the player he was before his injury.