Washington Redskins:

2013 Week 15 WAS at ATL
December, 15, 2013
12/15/13
9:38
PM ET
1.
Robert Griffin III
said all the right things Wednesday after learning he'd be shut down for the season. And he handled himself the right way Sunday. There's no doubt he knew the camera would be on him quite a bit. But he appeared to be in the game the entire time -- celebrating, upset when the two-point conversion failed, sitting next to offensive coordinator Kyle Shanahan and
Kirk Cousins
as they looked over snapshots during the game. It's exactly the way Griffin needed to behave.
2. I thought backup
Rex Grossman
was pretty good talking about how Griffin conducted himself Sunday. Here's what he had to say: "Great. It's a tough situation, but at the same time he's a good person and he has a bright future. He's the franchise quarterback. I think this situation is tough because it's so dramatic and he's handling it with class and going with it. It's not that big a deal, I think." Wait? Not a big deal? Here's why he said that: "Because he's going to have all the opportunity in the world to be as successful as he wants to be and he has a long time to get ready and his career is still [going up]. He understands that. Everybody does."
[+] Enlarge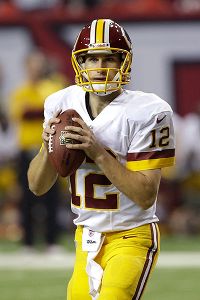 AP Photo/John BazemoreKirk Cousins had a nice day passing, throwing for 381 yards, but his three turnovers proved costly.
3. It's hard to praise Cousins for his performance without it sounding like a shot at Griffin. One doesn't have to be about the other. They're different. They have different strengths, which is why one offense will never look exactly the same for two quarterbacks. The zone read flourished last year; Cousins couldn't run it. Cousins is more comfortable in the pocket. Naturally, more plays will be called for him there. I'll say this: Atlanta's defense is really bad and the Falcons were using three rookies in the secondary. That's not taking anything away from Cousins because he still must execute and he did. He did that well, aside from a couple of plays (the turnovers, obviously). Those turnovers were the difference in the game and Cousins does throw picks. I remember one scout before the 2012 draft worrying about this part of his game. That must change. Anyway, seven turnovers in a game after having 14 all of last season. The Redskins should not have been in the game given that statistic.
4. But I liked how, on Cousins' 53-yard touchdown pass to
Pierre Garcon
, the ball landed in the receiver's arms right after he made his double move. No hesitation. I liked how Cousins used his eyes and didn't lock in on guys. He was decisive with his throws and was able to step into his passes. Cousins also usually gave receivers a chance to gain yards after the catch. He also avoided negative situations or third and real long. The Redskins were 5-of-10 on third downs with all but three for 6 yards or less. Makes a difference. Cousins helped by hitting checkdowns in certain situations, thanks to keeping his eyes downfield.
5. The problem with covering the
Washington Redskins
now is that so much of what goes on right now doesn't pertain to football. Rather, it's about reacting to various reports, or trying to find out what's true and what isn't. NFL Network reported today that Kyle Shanahan plans on setting out "on his own path next year." Shanahan denied this in a text Sunday night, saying it's "100 percent not true." But I do know that he's never liked when people refer to he and his dad as the "Shanahans". And that it would be good for him to be on his own, away from the questions that surround coaching for your father -- especially when you're not winning. He did a good job publicly trying to distance himself from the quarterback switch last week.
6. I don't blame Mike Shanahan for being annoyed with questions about his job status or situation. And he did answer a lot of these things publicly last week. But these stories keep getting leaked so the local media is then forced to ask about them. It's a bad cycle, but it starts with the leaks. Simple as that. You know why sports reporters get into this business? To cover games, not Watergate.
7. I had no problem with the Redskins going for the two-point conversion. You're 3-10, win the game when you have the chance. They had been picking apart the Atlanta secondary all game. They used a lot of screens and rub routes throughout the game and the Falcons did not handle them well. Naturally, on the two-point conversion they ran one that the Falcons finally defended. Cornerback
Desmond Trufant
didn't let himself get picked by
Josh Morgan
, instead clamping on to Garcon, the primary read.
8. However, Morgan appeared open. Cousins blamed himself for the play, something he does quite a bit. He's more honest about his bad plays than his good ones. "My initial reaction is I had Josh open on an offscheduled play and if I had set my feet, I may have been able to drill it into Pierre. That's a play I clearly didn't have a good enough feel for."
9. Give the Redskins' defense a lot of credit for how they played. Atlanta scored 20 points off turnovers , with one touchdown drive starting at the Redskins' 2. Atlanta started four drives in Washington territory (managing 20 points). The Redskins forced six punts and held Atlanta to 243 total yards. Linebacker
Brian Orakpo
had a terrific game with eight tackles, 1.5 sacks, three tackles for loss and two quarterback hurries working against left tackle
Lamar Holmes
. Orakpo used speed and power and set up Holmes well; he got him outside and then when Holmes set wide, Orakpo would get into his chest and cut inside. Defensive lineman
Chris Baker
played one of his best games -- maybe his best -- with four tackles and a hurry. He did a nice job shedding blocks, too, and making stops.
10. Running back
Alfred Morris
was too loose with the ball and it hurt Washington twice. His fumbles did not lead to points, but they occurred deep in Atlanta territory so they took away the Redskins' chance to score. Think another field goal would have made a difference? His game was like too many others: "Good game, but …" Morris finished with 98 yards on 18 carries and was terrific on the inside zone pitch; the Falcons linebackers overflowed and gave him cutback alleys. "A rope-a-dope deal," as
Logan Paulsen
called it. At times when the linebackers tried to read the play, it bought time for the offensive linemen to reach them.
December, 15, 2013
12/15/13
8:35
PM ET
ATLANTA -- They praised him for his command in the huddle, the poise he showed in the pocket and his decisive passes. Quarterback
Kirk Cousins
provided what the
Washington Redskins
needed in the passing game.
[+] Enlarge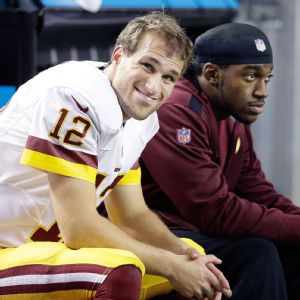 AP Photo/David GoldmanRedskins QB Kirk Cousins, sitting beside inactive teammate Robert Griffin III, watches as the Falcons' offense takes to the field in the second half.
Yes, he took advantage of a weak pass defense using three rookies in the secondary. Cousins also made one play after another, which is one reason the Redskins only
lost 27-26
, despite seven turnovers. In his first start of the season, with coach Mike Shanahan saying he benched
Robert Griffin III
to keep him healthy for the offseason, Cousins completed 29-of-45 passes for 381 yards, three touchdowns and two interceptions. He became the first Redskins quarterback to pass for at least 300 yards in his first two starts -- his debut occurred in Week 15 last season.
"It was a gutsy performance by him," Redskins backup quarterback
Rex Grossman
said. "A lot of chaos during the week."
Chaos doesn't seem to even sum up the week. For Cousins, though, it was about an opportunity. He capitalized in a big way. But Cousins didn't focus on what he did well, instead pointing out his mistakes, including his fumble and the failed two-point conversion.
"Those four plays, if they go differently, it's probably a much better result," Cousins said. "[On the interceptions], the ball needed to be thrown further in and it's a completion and we're moving the chains. That's something I'll never do again. Every in cut I throw now will be where it needs to be."
The coaches still liked what he showed.
"It was nice to see him go out there and play with a lot of confidence," coach Mike Shanahan said. "He kept his composure and did a heck of a job leading us down the field. Just proud of the way he handled himself."
Cousins responded to adversity well. He threw a first-half interception from his own 1-yard line, failing to lead receiver
Aldrick Robinson
on an in-route. But on the next drive, Cousins connected with receiver
Pierre Garcon
for a 53-yard score. Cousins led field-goal drives on the next two series.
After his second interception, this one with 5 minutes, 45 seconds left in the game that led to a Falcons field goal and a 27-20 lead, Cousins drove the Redskins for what nearly was the game-winning series. He connected with receiver
Santana Moss
for a three-yard touchdown. On this series, Cousins completed 10 of 13 passes for 85 yards.
"He was just making very quick decisions," Grossman said, "getting the ball out quickly and accurately and conducting himself like a vet."
In recent weeks, Griffin had been hit much more than Washington liked. Sunday, Cousins was sacked once and hit only three times. He avoided potential sacks by getting rid of the ball or finding his checkdowns, which also helped him stay away from third-and-long situations as well.
"I had time," Cousins said. "I felt I was given a chance to succeed."
For the first time in several weeks, the Redskins' offense played with confidence. Players did not want to make it look like any positive comment about Cousins was a knock on Griffin. But there are differences.
"Kirk does a good job of asserting his own energy and his own mentality into the huddle," said Redskins tight end
Logan Paulsen
, who stressed that there's no issue with Griffin in this regard. "Rob is more laid back. Kirk demands a certain type of tempo and you saw that [Sunday] a little bit. Guys were in and out of the huddle. Guys were more energetic."
There's no threat of Cousins running the ball, unlike Griffin. That means he has to keep his eyes downfield and handle himself in the pocket differently, knowing his legs aren't a good option. The Redskins did not run the zone read option, focusing more on bootlegs and drop-backs.
"He was very poised to step into the situation he did," Redskins running back
Alfred Morris
said. "He did a phenomenal job commanding the huddle and commanding the game and overcoming adversity. He had turnovers; it happens. But it shows the character he has that he didn't let negative things like that bring him down."
December, 15, 2013
12/15/13
7:40
PM ET
ATLANTA -- Less than five minutes into his news conference, Mike Shanahan was asked a question that, as many had all week, veered away from what he'd rather talk about: football. Instead, it addressed the chaos from throughout a week that saw different stories leaked almost daily.
This time, Shanahan decided enough was enough. So when asked what he could do to stop the reports from coming out, Shanahan ended his news conference.
"OK, thank you gentlemen," he said as he walked away.
[+] Enlarge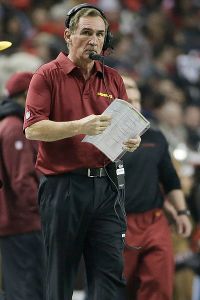 AP Photo/David GoldmanRedskins coach Mike Shanahan can't avoid speculation about his job security as his team tries to finish out a miserable season.
Perhaps 30 seconds earlier, when asked about the latest story of the day, Shanahan said, "We're just disappointed we lost the game. I'm tired of talking about the job. If you want to talk about this game, if you want to talk about Dallas or if you want to talk about the
New York Giants
, that's great. We're a football team. I'd sure like to concentrate on that."
It's been a long week for Shanahan and the Redskins because of the controversy surrounding his job and whether or not he'll return in 2014. Stories have popped up almost every day, and they've run the gamut from he's trying to get himself fired to not wanting to leave, but only returning under certain circumstances (perhaps with an extension and with the assurance he could run things his way).
Then there was the decision to bench quarterback
Robert Griffin III
, which increased the scrutiny. Shanahan said he only wanted Griffin healthy for the offseason, but this move led to more speculation about ulterior motives.
It weighed on the players, who welcomed the three-hour respite provided by playing a game.
"It was so nice to get out there," Redskins tight end
Logan Paulsen
said. "I don't have Twitter, I don't have Facebook, I don't listen to the radio, and I don't listen to news. But this is so saturated, it's touching everywhere. I'm watching Thursday Night Football, and at halftime they're talking about the Redskins. I've never had a situation where I had such a hard time staying away from it. Family and friends call me about what's going on. I'm like, I don't want to be talking to you guys about this. It's difficult, but it is a sanctuary to come here to play, and a sanctuary during the week at practice. Even though it's overwhelming, we have an opportunity to lose ourselves in the game."
At 3-11, the noise will continue to grow because the questions won't be going away until a decision is made.
"We don't pay attention to it. We just have to keep our blinders on," Redskins receiver
Pierre Garcon
said. "You just have to let it roll off your back."
It was a postgame topic. It will be one throughout each of the next two weeks. That means there will be two days they can just like being players again.
"Once we're between the lines, it's all the game," linebacker
Brian Orakpo
said. "Everything else is out the window. Regardless of the drama, we came out trying to win a game and we fell short, but we fought hard to the end."
December, 15, 2013
12/15/13
4:16
PM ET
ATLANTA -- Thoughts and observations from the
Washington Redskins
'
27-26 loss
to the
Atlanta Falcons
:

What it means:
Not everything was
Robert Griffin III
's fault. And you can't start dreaming of a first-round pick in exchange for
Kirk Cousins
, although he showed plenty to still make him intriguing. It also means that you can't turn the ball over seven times and expect to beat any team, even one that shares a 3-10 record. Cousins had some terrific moments and showed positives, but he also made a couple of bad throws that led to costly interceptions. Cousins looked like a young quarterback making his second NFL start. But he does a good job ignoring past mistakes and nearly led a comeback win. Cousins is a more aggressive passer than Griffin, which works for and against him. The Falcons seemed to have a good handle on Washington's passing attack in the second half, as the Redskins did not sustain momentum from the end of the first half. The Redskins have now lost at least 11 games for the fifth time in owner Dan Snyder's tenure.
Two-point failure:
The Redskins, with nothing to lose, went for a two-point conversion with 18 seconds left in the game rather than force overtime. They played for the win, and it's tough to blame them. The Redskins had hurt Atlanta on rub routes and picks throughout the game. It appeared they tried another one on the right side, but the Falcons picked it up and denied
Pierre Garcon
the go-ahead points.
Costly mistakes:
With their seven turnovers, the Redskins turned the ball over half as many times in this game -- against a 3-10 team that had forced 12 all season -- as they had in all of 2012. This statistic also is a big reason the Redskins are 3-11 (and the 14 turnovers last year explain why they were 10-6). The Falcons turned those turnovers into 20 points. Plus, there were two fumbles by running back
Alfred Morris
deep in Atlanta territory and a third by receiver
Santana Moss
that cost Washington a chance for at least three field goals and maybe more.
Stock report:
Going up: Linebacker
Brian Orakpo
and defensive lineman
Chris Baker
both played outstanding games. Orakpo was disruptive, generating pressure, sacks and penalties and not always off one aspect of his game. He won with speed, going around the edge, and strength driving into the tackle and cutting inside. Baker did a nice job with penetration and shedding blocks at the line. Going down: Funny thing is, Cousins had a strong game but turned it over three times; Morris had a good game but fumbled twice. The defense surrendered 27 points, and there was the usual soft zone coverage, but it did its job quite a bit, too.
Up next:
The Redskins host the
Dallas Cowboys
, giving them a chance to spoil someone's playoff hopes in their home finale.