Washington Redskins:

2013 Week 6 WAS at DAL
October, 14, 2013
Oct 14
4:00
AM ET
DALLAS -- Thoughts and observations from the
Washington Redskins
' 31-16
loss
to the
Dallas Cowboys
:
It's shocking that the Redskins lost by 15 points on a night when the defense: held Dallas to 213 yards; held receiver Dez Bryant to 36 yards receiving; held Tony Romo to a 72.9 passer rating. The defense deserves credit. But when you're playing poorly, losses like this happen. Or when you're a bad team. After five games there's no reason to think the Redskins are anything but a bad team. They play like bad teams do, with all the mistakes being made at the wrong times. Anything can still happen, but at least last season they could point to a handful of early games that showed what they could do. What game can they point to this season as proof that they are on the verge of ... anything?
The offense managed 433 total yards and converted 8-of-16 third downs. But they couldn't convert in the red zone and they turned the ball over twice (once when Robert Griffin III was hit and fumbled; he threw an interception in part because the receiver, Santana Moss, slipped after the ball was released. Just a fact. Griffin had other areas you can knock.). It wasn't good enough.
I don't know if Keith Burns is a good special teams coach or not. The Redskins had a guy in Danny Smith who was, like it or not, considered one of the best in the NFL. Yet they made mistakes under Smith, too. So is it now all Burns' fault? The problem for Burns is that, unlike Smith, he did not have a reputation to soften the blow of bad games. He needs to prove himself as a coach. Fair or not, he hasn't done it so far. Sunday, he lost Logan Paulsen on all his special teams units (Fred Davis had to play some; Josh Morgan was in kick coverage in addition to returning kicks and punts). Burns lost Bryan Kehl to an injury. He lost his long snapper. It didn't help.
But there's just no defending special teams this year. They've been bad in all phases. But the Redskins have now surrendered two long returns, one for a touchdown; had a punt blocked and have done little in the return game. Who knew Richard Crawford's injury this summer would hurt so much in the return game?
I always go back to the 2000 season when the Redskins won six of their first eight games with high-profile talent (the Deion Sanders year, in case you forgot). But they finished 8-8 and their coach, Norv Turner, was fired. When fullback Larry Centers was asked about the chemistry, he essentially said you find out about how strong it is when you get punched in the mouth. The Redskins have been drilled in the mouth. They seem to have a strong locker room. But how they respond will impact the next several years. It'll help define Mike Shanahan's tenure in Washington.
I'm just as confused as the Redskins are on the non-fumble in which Jerome Murphy blocked a Dallas player into the ball. The officials said Murphy pushed him into the ball. "I thought you could do it," Murphy said. "That's how we're coached up to do it. If you see someone close to the ball you want to line him up to the ball so you can hit him." Said Shanahan, "You can block somebody into the football if they're engaged." It was not a call that could be challenged. It would have given the Redskins the ball at the Dallas 24. So, yeah, it would have helped. But the Redskins had plenty of other chances. "So many things we can make an excuse for," Darrel Young said. "Controversial call. Move on from it."
Alas, more special teams. And I'll just let Young have the floor: "It's embarrassing for us as a blocking unit. It's not on the returner if he has 10 guys in his face. ... It just sucks man. ... If I have to give a grade on special teams it was an F today. I'm one of the core guys and I played terrible. We lost on special teams. ... This week in practice special teams has to be different. We do the little things right. I guess we're just not executing. Teams aren't outscheming us, they're just outplaying us." So there you go.
Griffin showed more of his old nimbleness and speed, running nine times for 77 yards. But he completed just 19 of 39 passes for 246 yards. If he throws more than 30 passes in a game, this offense is in trouble. It's just not their strength. But he also was under too much pressure and as the pressure increased his throws were more off-target. He needs to be better in the red zone, that's for sure. He is not helping them win games like he did last season. But I saw too many guys losing battles, on the line and at receiver, as well. Griffin needs more help than he did a year ago. I also think Griffin and the coaches will see he left yards out there in the pass game, whether because of overthrows or not seeing an open target.
Dallas lost starting running back DeMarco Murray and their best defensive player in end DeMarcus Ware, both in the first half. It didn't matter. They found a way to win despite something going against them. The blocks we saw on those long returns? I haven't seen those out of the Redskins this year. No big lanes. Nothing. I did see a big lane for Alfred Morris on his touchdown run, yet another example of how his patience forces defenses to overflow to where he's running. Some other runs were missed because blocks couldn't be sustained, whether on linebacker Sean Lee or, in Reed's case, on the backside linebacker. The latter turned one potential solid run into a 3-yarder.
The mistakes in this game, which were plentiful, came after two weeks to prepare.
October, 14, 2013
Oct 14
3:01
AM ET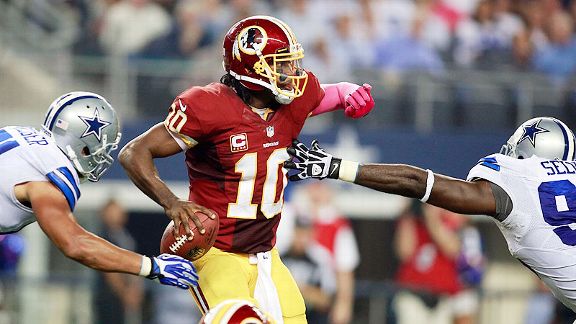 Tim Heitman/USA TODAY Sports"We're close on offense," Robert Griffin III said. "But close doesn't do it in this league."
ARLINGTON, Texas -- He targeted special teams, a good place to start after the
Washington Redskins
' latest loss.
Darrel Young
, his voice going a mile a minute and full of fire, stopped with this unit, blaming them for the loss. He could have continued on to other aspects of the team. And nobody would have stopped him. When you're 1-4 and you had designs on contending for a division title and perhaps the Super Bowl, there's no simple reason you lost. Again. There's no simple way to turn it around.
Play better? Of course.
The problem is there's no one spot that's consistently failing the Redskins. It's all of them. The offense can't generate points in the first half, constantly putting the team in a deficit. They've trailed at the half in each game. The defense struggled for the first three games, yet they did their job in Sunday's
31-16 loss
to the
Dallas Cowboys
. And there is the special teams. The woeful special teams.
"Every phase they kicked our butts [on special teams]," Young said.
"That was the worst special-teams performance since I've been here," Redskins special-teamer
Niles Paul
, in his third season, said. "We were outplayed in every phase of special teams. Just a meltdown."
But this isn't just about the special teams. It's about a team that can't find its way, one year after it ended as one of the hottest teams in the NFL.
If Robert Griffin III hadn't gotten hurt in that Seattle loss.
It seems so long ago. And it seems like more than an offseason between then and now. It feels like a lifetime.
"It's definitely an awkward feeling," Redskins cornerback
Josh Wilson
said of their start.
Chances are, their fans are feeling something other than awkward.
It's also tough to see it getting back anytime soon to that pre-Seattle-injury point, when they felt with a healthy Griffin they could have gone on a long run. It's not just the 1-4 record; it's the way they've gotten to this spot. Just overall sloppy play. Before the game, one Redskins team official said they just needed to go out and play well. That way, even if they had lost, they could see something upon which they could build.
What do they build off of this game? The defensive performance was solid, limiting Dallas to one legitimate scoring drive (the first one of the game). But they could not stop the Cowboys in the red zone. Yes, it was a better showing than the defense had in the first three games. Heck, they held receiver
Dez Bryant
to 36 yards and harassed quarterback
Tony Romo
into a 72.9 passer rating. They held Dallas to 213 total yards. You look at those numbers and you think one thing: Washington won.
Instead, the Redskins lost by 15. Goodness.
An offense that seemingly took a step forward against Oakland before the bye week regressed Sunday night. They couldn't stop a Dallas pass rush despite the Cowboys losing end
DeMarcus Ware
. They couldn't convert in the red zone. They turned the ball over twice, once inside their own 5-yard line. One step forward; two back. Griffin looked more spry; it didn't matter.
"We're close on offense," Griffin said. "But close doesn't do it in this league."
No, it does not. Sure, the Redskins show signs of life at moments. But they're not playing winning football. Sometimes that's a tough term to define, but not when you watch this team. Too many penalties. Too many missed tackles. Too many breakdowns.
"I feel every week we're getting better," running back
Alfred Morris
said. "I'll stand by that. But at the same time it seems like we get better in one area and we take a step back in another area. You can't do that and win games."
[+] Enlarge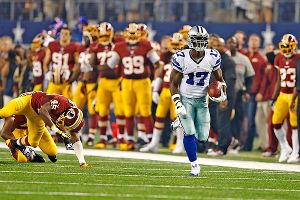 AP Photo/James D. SmithAfter a penalty wiped out a good punt and forced them to kick again, the Redskins watched Dwayne Harris return the punt for a touchdown.
They're not good enough to overcome 12 penalties for 104 yards, as they had Sunday night. If you're good and you commit that many penalties you're considered aggressive, and perhaps that undisciplined style is part of your charm. When you commit that many and you're 1-4? They question your discipline and coaching and say you don't do the little things well. It's all true.
When you're playing like the Redskins are now, you have an illegal-motion penalty on a fourth down, wiping out a punt that left Dallas at its own 16-yard line. So you kick again. And the returner,
Dwayne Harris
, takes it 86 yards for a touchdown -- and you lose one of your top special-teams players along the way in
Bryan Kehl
, who hurt his knee on the play.
"We found the enemy," Young said. "It's us. … It sucks. At the end of the day it's unfortunate, but we have to move on from it."
That's all they can do. The question is, how do you fix this? The Redskins need to prove they can play well for an entire game. That, not the number of games, is the answer. If they don't start doing that, they can play 20 games and still keep finding ways to lose. It's good for the Redskins that the defense is playing well; it'll have to play even better.
Not that they're counting themselves out. They won't do that, nor should they.
"I don't feel like a team that can't rebound," Redskins nose tackle
Barry Cofield
said. "I don't feel like a team that is out of it. I definitely don't feel like that. We're going to go back to work. All the losses hurt. They should hurt."
If they don't turn it around soon, they'll start to hurt even more. An entire season would then come crashing down.
October, 14, 2013
Oct 14
12:56
AM ET
ARLINGTON, Texas -- Observed in the locker room after the
Washington Redskins
'
31-16 loss
to the
Dallas Cowboys
.
Morris
Reality check:
For the fourth time this season the Redskins had a quiet locker room. But there was more of a shell-shocked look on the faces of the players. Nobody is more surprised by the 1-4 start than the Redskins' players and coaches. "Lack of execution is costing us games," running back
Alfred Morris
said. There's still a long ways to go, and perhaps that's why
Reed Doughty
spent several minutes "coaching" up
Jerome Murphy
in the locker room, going over scenarios and different plays. But they all know time is getting short.
Ouch:
Cornerback
David Amerson
left the game in the second half with a concussion. Coach Mike Shanahan did not have an update after the game, but Amerson will be evaluated throughout the week. Special-teamer
Bryan Kehl
said he felt something pop in his knee on the Cowboys' second-quarter punt return for a touchdown. The killer on that play: Kehl had the angle on returner
Dwayne Harris
. "I would have made the tackle," Kehl said. He'll undergo an MRI. Long-snapper
Nick Sundberg
suffered a knee injury as well. Shanahan was not sure how serious it was, but Sundberg could not finish the game.
Dead zone:
The Redskins had three trips inside the red zone, but settled for field goals of 20, 32 and 33 yards. Meanwhile, the Cowboys had four trips in the red zone and came away with three touchdowns. That's a 12-point difference. "I think we had a solid game, but we need touchdowns instead of field goals," Redskins center
Will Montgomery
said.