Washington Redskins:

2014 NFL franchise tag
March, 3, 2014
3/03/14
5:40
PM ET
The franchise tag wasn't the best option for either side.
Brian Orakpo
potentially loses long-term security. The Redskins might have to pay more to keep him around than they wanted.
But it was the one the Redskins needed to do -- and Orakpo is glad for one thing. It means he's not going anywhere else. For another year at least. In the meantime, the two sides will continue to work toward a long-term contract. Orakpo said he's optimistic a deal can be reached.
"Hopefully we get that done and make this work for both of us," Orakpo said. "I'm relieved that we're moving forward. This is the next step. I'm happy we're not in a stalemate like we were before. Hopefully we can get that long-term deal done, but as of now I'm glad to make this step."
The Redskins designated the non-exclusive franchise tag, which means if another team signs him they would receive two first-round picks. The move will cost Washington $11.45 million against the salary cap (barring a multi-year deal). The Redskins have approximately $30 million in cap space and now more than a third will be tied up in Orakpo. They can
free up more cap space
by releasing other players.
"That's something I have no control over," Orakpo said. "You don't want to lose more players and then try to make more holes. You want to keep the ones you want and keep adding so we can get to that level like Seattle was last year."
Orakpo said there is risk in playing on a one-year deal.
"There's always risk when you play this game," he said. "That's why the long-term security is very important to players. I won't BS you and say it's not a risk. It's not something you think about when you're out there. You want to make sure you're secure, especially when it's your time and your contract is up. I'm excited ... they're not letting a home-grown talent just walk out there."
Orakpo has 39.5 sacks since joining the Redskins as a first-round pick in 2009. He played only two games in 2012 after suffering a torn pectoral muscle, his second. But he played all of 2013 without his arm being an issue.
One thing that would help Orakpo is more game-changing plays and sacks. He's never had fewer than eight sacks, but his career best is 11. However, the Redskins asked their outside linebackers to drop into coverage more than most or to rush with more of an emphasis on contain. Defensive coordinator Jim Haslett said earlier this offseason
they planned to turn their outside linebackers loose more
.
"That's what they informed me not too long ago," Orakpo said. "We'll see what happens. I know they have a lot in store letting the chains off a little bit and we're able to get after it and make more plays. I'm excited."
March, 3, 2014
3/03/14
12:00
PM ET
The Redskins
will use the franchise tag
on
Brian Orakpo
, which makes it clear: The price of losing him outweighs the price of keeping him. It's the right move for this season. Whether it's good for the long term won't be decided until (or if) he signs a long-term contract.
[+] Enlarge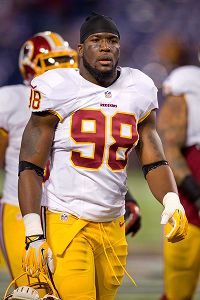 Bruce Kluckhohn/USA TODAY SportsApplying a franchise tag on Brian Orakpo doesn't answer what his worth is to the Redskins.
It's not as if the Redskins have been sold on this idea from the get-go. It's been clear for a while that there's a division in the organization when it comes to Orakpo's value. Is a player who has never made All-Pro worth an eight-figure contract?
No player, including Orakpo, wants the franchise tag, knowing it does not provide the long-term security he desires. If Orakpo gets hurt this season, he would damage his ability to land a big contract -- especially considering he's had two torn pectorals, the second of which limited him to two games in 2012.
But it's not as if the tag is great for the Redskins, either. All it does is ensure they keep their best pass-rusher for another season at a high price, one that could impact their ability to make other moves. They'll now pay $11.455 million to a player with a career-high single-season sack total of 11. However, he is consistent and has averaged 9.6 sacks in his four full seasons (the Redskins do drop him into coverage more than other pass-rushers). That makes him worth it -- at the right price. If his deal averages $11.5 million a year, it's tough to think that's the right price. For one year? They can absorb it, with approximately $30 million in cap space.
Still, this will make it tougher to fill all the holes that exist -- of which there are many. The Redskins need two starting safeties. They need to re-sign inside linebacker
Perry Riley
as well as replace retired inside linebacker
London Fletcher
. They need more depth at corner. At receiver. Along the offensive line. The draft can provide help, but without a first-round pick, it'll be more difficult.
But the Redskins also knew they couldn't solve every issue in one offseason. Nor should they try to; that will only lead to forced (read: bad) decisions. And if they had let Orakpo leave, it would've created another large hole that would've require extra resources to fill. Maybe not $11.455 million, but certainly a good chunk of change. It's possible, too, that the Redskins have a sense of how it will play out with potential free-agent replacements and know their choices will be more limited than desired.
They don't have a young backup ready to ascend to a starter's role. Perhaps in 2015
Brandon Jenkins
could be that guy. Defensive coordinator Jim Haslett, who likes Jenkins, said at the end of the season he thought it could take Jenkins another year or so to be ready for a big role. It's not realistic now. They also haven't talked contract yet with another free-agent linebacker,
Rob Jackson
.
Why not the transition tag? Well, if you want Orakpo back, you're taking a chance someone might offer him a contract you don't want to match. Then Orakpo would leave without compensation. If you want him back, the franchise tag means he'll return. Yes, it costs more. But if the goal is to keep him here and keep negotiating a long-term deal, then don't mess around.
If the Redskins fail to build a good defense this year, I wouldn't blame it on Orakpo's contract. It's not as if free agency has been a panacea for the Redskins -- or any team -- in the past. It's taken them several years and a variety of reasons to reach this point of having to replace bad starters and having little depth. Sure, the Redskins could sign a few players for the $11.455 million they'd have to pay him this season. But that assumes all are productive. That's far from a guarantee, which anyone who has followed the Redskins since free agency began should know.
And keep in mind that even with the franchise, the process will not be over. The debate over Orakpo's worth will continue.