Washington Redskins:

adam gettis
December, 10, 2013
Dec 10
2:30
PM ET
In between stories on quarterbacks, owners and coaches, still need to take a look at various parts of the roster -- and the future. Because of the likely change in coaches, some of the drafted players might not have the future they once thought they might in Washington. The 2012 group yielded two starters, both of whom should be in that role in 2014 as well. Beyond that, there's only one other player who has done much of anything and that's backup quarterback
Kirk Cousins
. They need (needed) one of the three linemen to develop into a starter. None are yet projected that way.
Quarterback Robert Griffin III (first round). I'll sum this up fast since you probably have a good handle on this player. Great rookie year; injury; no offseason; inconsistent this year; not as explosive; inaccurate. He still projects as the quarterback of the future, perhaps in part because the head coach won't be here. There are issues Griffin must fix, which will be the case no matter who coaches here in 2014 or what scheme they use. He does need an offseason and he does need more time. But, fair or not right or wrong, he'll be connected to Mike Shanahan's ouster so the pressure will increase on him. Griffin will have to show legit improvement.
Guard Josh LeRibeus (third round). Coach Chris Foerster said he's finally back to the point he was a year ago. So that means this past year was wasted because LeRibeus did not take a serious offseason approach. A third-round pick who has yet to be active in his second season can rightly be called a bad choice. Plus the Redskins thought he might eventually shift to center, but that's no longer the case. So he's not as versatile as hoped. If he doesn't make a 180-degree change in his approach this offseason he'll be out of here in a hurry no matter who's coaching.
Quarterback Kirk Cousins. Well, we might see a little more of him for at least one game. He's intriguing, but he needs to show more before you can envision another team surrendering a high pick for him. The sample size is small (though not every team will view it the same way of course). Tough to measure Cousins' progress this season because the games he's entered have been massive blowouts where the defense knows what he'll do and where he'll take chances he might not ordinarily. It'll be an interesting offseason for whoever coaches if Cousins does play and fares well.
Linebacker Keenan Robinson (fourth round). Had he stayed healthy he would have been groomed to possibly replace London Fletcher. Now? He has to show he can be healthy enough to make a roster. There's no way you can count on him.
Guard Adam Gettis (fifth round). He did play a little Sunday when Kory Lichtensteiger had an injury. Other than that, his action has been limited to special teams. He now works at both left and right guard. The problem with Gettis is that I can't imagine, at 292 pounds, how he fits into another system. So if this staff goes, his future depends on the next offensive system. He gets driven back in pass protection, though he does have strong legs and can anchor.
Running back Alfred Morris (sixth round). Morris has had two excellent seasons and it's clear he was not just a product of the zone read. He's not a game-breaker, but he is a good back, especially when allowed to be a one-cut guy. He runs with power and excellent vision. But he still needs to improve in the pass game to become an all-around back.
Tackle Tom Compton (sixth round). He was better this summer than last, but again guys like Compton can get squeezed out by new regimes. It's clear he still has a ways to go or they would have inserted him by now.
Corner Richard Crawford (seventh round). Had he stayed healthy he would have been a fifth corner and punt returner. Now? His future here has to be in doubt because of the looming change and because he's coming off an ACL tear. He faces a long road.
Safety Jordan Bernstine (seventh round). Gone. A horrible knee injury ended his time here.
December, 5, 2013
Dec 5
5:50
PM ET
ASHBURN, Va. -- Two mornings a week at 6:30,
Washington Redskins
offensive line coach Chris Foerster brings in the young linemen to the meeting room. They analyze the previous day's practice. Then, after practice, they'll stay on the field an extra 10 minutes or so to work on what they've seen on tape.
The goal is to give them more instruction and push them closer to being game ready. Foerster says they are ready. That doesn't mean they'll play, however. Just that they like where the second-year linemen --
Josh LeRibeus
,
Adam Gettis
and
Tom Compton
-- are headed.
"I've said to them, 'You guys are all ready to play,'" Foerster said. "They've progressed as far as they can as practice players. There's nothing like game reps. That's when we'll truly know where they are. But if you're preparing a guy to play who never played an NFL game, you'd look at all three and say they're as ready as they're gonna be; time to put your feet to the fire and see where you are."
[+] Enlarge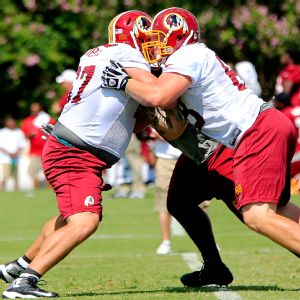 Geoff Burke/USA TODAY SportsJosh LeRibeus, left, and Tom Compton participate in drills during training camp earlier this year.
They'll all likely remain on the sidelines. There's no indication the Redskins are going to make any changes in their offensive line this week -- or, perhaps, for the rest of the season barring injuries.
So if they're ready, then why not?
"We'll play the best players," Shanahan said. "That's coaches [decision]."
As in Mike Shanahan.
In the meantime, here's an update on where the three young players are at according to Foerster:
LeRibeus
His offseason was bad and it set the stage for a preseason that began rough as well. LeRibeus, a third-round pick, showed up for spring workouts approximately 30 pounds overweight. Foerster said he would have competed for a starting job had he taken the offseason more serious.
Here's Foerster: "During camp he had to get himself back to where he was a year ago. That took the better part of camp. While he played well in preseason he still wasn't back to the form where he finished the year before. Unfortunately for him he went home for a few months and didn't take care of business. It took all offseason and then he had injuries when he came back so his progress could have been sped up during the offseason and got him back to where he was sooner. Then the offseason he got injured because he was not in shape. It was a vicious cycle for him.
"If he had to play you'd have the same player he was a year ago. You'd like to be better than that because he did get play time last year. He had more chances to develop because he did play last year. From the start of the season to where he is now, I feel good that is at where he left off a year ago."
As with the other two linemen, LeRibeus has improved at understanding the offense and knowing more than just his responsibility. Foerster remains upbeat about LeRibeus. He's no longer focused on center, just the guard spots. Foe
More from Foerster: "Josh has the quickness. He may not be as good in top-end speed as
Chris Chester
and Kory [Lichtensteiger], but this is a 325-pound guy that has the same quickness. He's not as fast, but he has the size and the power to go with the quickness. Not many guys at that sizes can be quick enough to play in this zone run game and the things we're trying to do. That's his advantage. If he can keep everything else in place, stay in shape and stop on top of things, then that's his strength."
Gettis
He works at both guard spots after sticking primarily to right guard in his first two training camps. Foerster wanted him, and the others, to get proficient at one position before asking them to learn another.
Foerster loves how Gettis, a former fifth-rounder, can anchor. He has strong legs, which help him overcome weighing only 292 pounds. Gettis did a much better job this summer at blocking the linebackers in the run game.
Foerster: "He's really worked hard. He came into camp and had a great offseason, got a lot more reps in camp. His pass pro always has been good and he had to improve his run game and he did a great job improving that in the offseason and preseason. It's coming off the ball, his understanding of where he's going to run and his angles. He got to the second level on blocks; those were his issues and he's done a much better job."
Compton
After spending his first two summers at left tackle, Compton started working on the right side after the final roster was set. Now he takes an equal amount of reps at both spots. Foerster said it would have been difficult for Compton to play the right side early in the season.
The big issue they worked on in the offseason was strength. Compton, a former sixth-round pick, struggled on counter moves because he lacked the strength to re-direct defenders. Therefore, when they'd cut back inside, he had created no gap and they had an instant edge.
Foerster: "Tom had a long way and strength was number one. You couldn't begin to teach him on technique because his strength was so poor. Once he'd get to the point of contact he couldn't maintain a block. Now he's to the point where his strength is very good. He worked hard and is diligent on his technique, going against [
Brian Orakpo
and
Ryan Kerrigan
] also helps him out. His thing now is honing his technique and becoming a technically sound person. As a tackle you have no room for error. Every guy has something they can fix and how disciplined are you to fix that? Tom has a lot more holes than others who have played in the league but he continues to work and do those things."
December, 4, 2013
Dec 4
8:00
AM ET
The
Washington Redskins
should not start playing young guys just because they're out of playoff contention. I'm with coach Mike Shanahan on this one: You can do more harm than good by taking that philosophy.
This isn't baseball where you have September call-ups that you can give at-bats. If you play a guy, say, along the offensive line who isn't ready, then your quarterback could be in jeopardy. It makes no sense. Not every young guy projects to being part of the roster in the future, either.
Some young guys are just on the roster because of injuries to others. And just because fans or media want to see a guy doesn't matter; the coaches analyze every practice tape and have a good sense of what players can do or what they know. Others can see athleticism or talent, but it's often what you know and are capable of learning that makes the difference.
Some young players -- I'm looking at guys who are rookies, first- or second-year players -- already are getting time:
Robert Griffin
III,
Alfred Morris
,
Jordan Reed
,
Chris Baker
,
Aldrick Robinson
(technically his second year because he spent almost all of his rookie year on the practice squad),
Bacarri Rambo
and
David Amerson
.
Here's a look at the young guys who aren't getting a lot of time right now and whether or not they should:
[+] Enlarge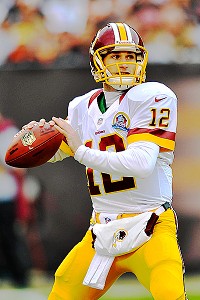 David Richard/USA TODAY SportsKirk Cousins has attempted only nine passes this season.
Quarterback Kirk Cousins
: The coaches like him a lot, but he should only play if Griffin gets hurt. That is, unless you don't think Griffin is the future. I don't think that's the case. If they do play Cousins, then you'll get to enjoy an entire offseason of you know what. What about drumming up trade value? Personally, I'd hang onto him another year; keep him as long as possible for insurance purposes. If you like him, why rush a trade? I have a hard time seeing anyone trade a high pick for Cousins based on his first two years, but as they say, it only takes one.
Wide receiver Lance Lewis
: He shouldn't play more than he is; he's still relatively raw and needs more time to develop in practice and in the offseason.
Wide receiver Josh Bellamy
: Recently signed off the practice squad. Not ready.
Wide receiver Nick Williams
: I could see him being a factor in the future, depending on who's coaching. With
Santana Moss
likely in his final four games in Washington, I'd continue to work Williams into the lineup as the Redskins have been doing.
Left guard Josh LeRibeus
: He's a young lineman and former third-round draft pick. That should add up to playing time in a lost season. But after a disastrous offseason and poor showing in the preseason, there's nothing to suggest he should be playing. Which is not a good sign. He needs a strong offseason.
Right guard Adam Gettis
: I'd love to see him get some snaps. At 292 pounds, the undersized Gettis has excellent lower body strength, which somehow allows him to anchor despite getting moved back in protection. He was an improved run-blocker this summer.
Chris Chester
has not played as well as last season. Still, I'd be careful here. If there's a coaching change, I'm not sure either player would return: Chester because he'll turn 31 in January and Gettis because he's smaller and would not fit every system.
Offensive tackle Tom Compton
: Another guy I'd like to see get some snaps.
Tyler Polumbus
has been better than last year but has had issues recently and certainly shouldn't have a stronghold on the position. Compton looked better this summer than as a rookie and, ideally, in Year 3 he'd be ready to become a contributor. Regardless, the Redskins need to upgrade the line.
Linebacker Brandon Jenkins
: For now he's just a pass-rusher and there are others clearly better than him. He has work to do in the offseason.
Safety Jose Gumbs
: Future special-teamer. I don't see any reason he should be playing right now.
Corner Chase Minnifield
: He shouldn't be playing ahead of the other corners and really needs to be better on special teams. Even if they clean house at this position, I wouldn't see him as anything more than a guy fighting for a roster spot in 2014. I love his attitude and physical style, but he needs to show he can play a variety of coverages. He's a smaller press corner. Another offseason of work with no knee issues should help him.
Safety Trenton Robinson
: Special-teamer. He's gotten some snaps, but there's nothing to suggest he should be muscling his way into more time.
December, 2, 2013
Dec 2
6:15
PM ET
ASHBURN, Va. -- The
Washington Redskins
season turned bad long ago. Mike Shanahan doesn't want to make it worse -- which is what he says playing young players just for the sake of it would do.
That means the coaches will continue to play the best players and not just those who are the youngest, in the hope that they develop.

Shanahan
At 3-9, the Redskins have been eliminated from playoff contention. In truth, they were never really in it given their poor and inconsistent play all season. The other reality is that many young players already have played, with the notable exception of the backup offensive linemen: guard
Josh LeRibeus
, guard
Adam Gettis
and tackle
Tom Compton
.
But a losing record and only four games remaining does not equal opportunity for every young player.
"If two guys were very, very close you may go in that direction," Shanahan said. "It all depends on the competition. Players know when you're playing for the future. Players know that your job is to play the best players that give you the best chance to win. If you want to see a team turn on you, just go start playing younger players and start playing for the future."
The Redskins have used a number of first- or second-year players already this season. They've used young players in the secondary, at quarterback and running back. Gettis, LeRibeus and Compton have spent the year as backups, though Compton has entered in short yardage or goal-line situations.
Shanahan would not say whether or not any of those three would get more time, even as parts of the line struggle.
"There are a number of guys that are very close," Shanahan said. "Are they there yet? If you're going to put a guy in that's close, you're not playing your best player, then what you've told your team is you are evaluating these young guys and you really don't care about the game. What you do care about is the future. If you want to lose a team, that's the first thing to do. Now, if that person warrants a chance to play because it's very, very close in competition that's a different story."
The Redskins coaches see the young players in practice and, if they're on the scout team, they'll get to watch them work against starters. It gives them a good sense of a players' ability.
"Just because a guy is on the practice squad or because you're out of the playoff race doesn't mean somebody is going to be elevated just to see what he can do in a game," Shanahan said. "The best players are going to play and they've got to earn the right."
November, 29, 2013
Nov 29
11:30
AM ET
In Part 1 of the Redskins mailbag, we talk Kirk Cousins and Robert Griffin III, whether Mike Shanahan will get an extension, and how much the run game was hurt by some missing starters against San Francisco.
.
September, 1, 2013
Sep 1
9:30
AM ET
Taking a look at the Redskins offense by position -- are they better or worse at each spot? No group suffered a drop off from a year ago, thanks in large part to every starter returning. It's not an aging unit, either, so the experience should help considering there were six new starters in 2012. It's real hard to make a case that any group suffered a drop off. In fact, I don't think any did.
Quarterbacks (4):
Robert Griffin
III,
Kirk Cousins
,
Rex Grossman
,
Pat White
[+] Enlarge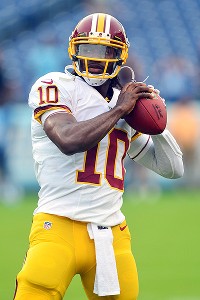 Don McPeak/USA TODAY SportsLed by Robert Griffin III, the Redskins appear to have a strong group at quarterback in 2013.
Note: White was the only surprise. He progressed throughout camp, but will his stay be short-lived? With
Jarvis Jenkins
and
Rob Jackson
suspended for four games, it's doubtful the Redskins stick with four quarterbacks for too long. Still, he deserves a lot of credit for forcing his way onto the roster after starting at such a low point in the spring.
Better or worse than 2012: Better, mainly because Griffin and Cousins are a year older and therefore more advanced in the offense -- yes, that's true even with Griffin coming off an injury. Now, the asterisk comes with Griffin's durability and it could take him a couple games to return to the dynamic player he was pre-injury. But he's a smart kid who will evolve as a passer, particularly in his ability to diagnose schemes sooner. And because of Cousins' emergence, this position is more sound. If Grossman is your No. 3 QB, you're doing well.
Running backs (5):
Alfred Morris
,
Darrel Young
,
Roy Helu
,
Evan Royster
,
Chris Thompson
Note: No surprise that they kept five. Thompson deserved a spot, thanks to his speed and natural running ability. He sets up blocks well and can cut sharply. Yes he fumbled, but that's a correctable issue. He's still learning as a punt returner, but he's dangerous once he gets started. And, again, his style is excellent. For a little guy with speed, he doesn't dance and doesn't try to hit the hole too hard. He's patient, then explodes. Royster was telling friends he was pessimistic about his chances. That was before a big final game against Tampa Bay, which helped him knock out
Keiland Williams
. The Redskins have some variety here: A standout rusher in Morris; a third-down back in Helu; change-of-pace guy in Thompson and insurance in Royster. This is, potentially, a strong group.
Better or worse than 2012: Better.
Morris is a better runner
; Helu is healthy and Thompson is a legitimate speed guy. And if something happens to either Morris or Helu, they at least know Royster can handle either role. Good depth here. Real good.
Receivers (5)
:
Pierre Garcon
,
Santana Moss
,
Josh Morgan
,
Leonard Hankerson
,
Aldrick Robinson
Note: This is the fewest they've kept at this position under coach Mike Shanahan in Washington (though he kept as few as four on a couple occasions in Denver). Had Dez Briscoe not hurt his shoulder in the preseason finale he could have been on this list. But they likely will place at least one receiver (
Nick Williams
) on the practice squad. Lance Lewis is another possibility. As a unit I'm not wowed by them, but I'm also not underwhelmed, either. Garcon is excellent and Moss is a reliable and clutch target in the slot. They need Morgan and Hankerson to blossom at the Z receiver spot. Morgan needs to show he's regained explosiveness lost in his 2011 ankle injury. Hankerson needs to show consistency. Robinson is an occasional threat behind Garcon. If something happens to Garcon, then this group doesn't instill fear in the opposition. However, with receiving threats at tight end and running back, this group does not have to carry the passing game. And I like that each one knows the offense well; makes a difference.
Better or worse than 2012: Slightly better. If Garcon plays every game, then that's a big help. But did the others look dramatically different than 2012? Debatable. Hankerson dropped too many passes in camp; Robinson looked better, but he did so last summer, too. Morgan looked more explosive on some cuts. If he can show that during the games, then this group will be better. Regardless, the passing game can flourish with what they have. The scheme gets receivers open.
Tight ends (4):
Fred Davis
,
Logan Paulsen
,
Niles Paul
,
Jordan Reed
Note: I'll be curious to see how they develop this group in the passing game. Davis, once again, is playing for a contract and should get plenty of chances. Paul showed improvement as a blocker this summer and dropped one ball in training camp practices. Reed showed flashes this summer of what he could eventually become; he just needs time. Paulsen is Mr. Reliable; a strong-handed target and solid blocker. Having multiple tight ends can cause matchup problems for defenses. It can also help on plays such as the bubble screen, where you can split better blockers out wide in some cases (Paul).
Better or worse than 2012: Better. Paul has improved -- his footwork is better on blocks and, this summer, caught the ball well -- and Reed gives them terrific depth. Davis doesn't appear to be affected much by last year's ruptured Achilles. Paulsen is consistent.
Offensive line (8):
Trent Williams
,
Kory Lichtensteiger
,
Will Montgomery
,
Chris Chester
,
Tyler Polumbus
,
Tom Compton
,
Josh LeRibeus
,
Adam Gettis
Note: The starting five was never really in doubt.
Tony Pashos
showed some positives at right tackle, but he did not move as well as Polumbus. Still, minus Pashos, they've left themselves with inexperienced backups. That doesn't mean they can't handle the job, but until you do it in a game it's just speculation. There was noticeable improvement in both Compton and Gettis. LeRibeus? He had a chance to build on a good showing versus Seattle and instead failed to get in the necessary shape, setting himself back.
Better or worse than 2012: Same. The starting five's consistency makes this group go. They work well together, a necessary trait in a zone-blocking scheme in which you need to know how the guy next to you handles certain combination blocks. Right tackle will again be scrutinized until Polumbus reduces the amount of pressures allowed. If he does, then this group can claim they were better than in 2012. Even with those issues last year the offense averaged 6.2 yards per play. The inexperienced depth is a concern – they've combined for zero starts and five games – or, at the least, bears watching. I'd say if something happens to Williams they're in trouble, but any team that would lose a Pro Bowl left tackle with his athleticism would suffer a big drop off.
August, 28, 2013
Aug 28
7:30
PM ET
Taking a look at the key ongoing battles for Washington Redskins roster spots. Today we check in on the offensive line:
Projected number:
This is a little like the NCAA basketball tournament projections, except that you can't see me moving names around on my whiteboard. Considering I don't own a whiteboard, you're not missing much. As of now, I'm projecting eight players make the cut here.
Locks:
LT
Trent Williams
, LG
Kory Lichtensteiger
, C
Will Montgomery
, RG
Chris Chester
, RT
Tyler Polumbus
. No surprises considering this was the starting line last year and has been the starting line throughout training camp. There was no real challenge to Polumbus, despite two veterans being signed in the offseason. Besides, Polumbus would be a lock as a swing tackle if nothing else.
[+] Enlarge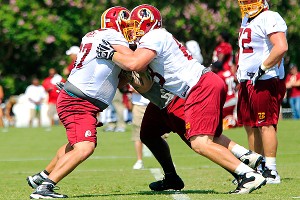 Geoff Burke/USA TODAY SportsTackle Tom Compton, right, looks much improved over 2012, while guard Josh LeRibeus, left, has rebounded after a bad start to camp.
Looking good:
T
Tom Compton
, G
Josh LeRibeus
, G
Adam Gettis
. Both Compton and Gettis have progressed a great deal compared to this time last season; I really like Compton's development. He's much stronger and is more able to control blocks in both the run and pass game. He had his best game versus Pittsburgh, blocking rookie first-round pick
Jarvis Jones
. The more Compton develops, the more I could see him challenging Polumbus someday. Gettis has improved in the run game, an area in which he struggled last year. He blocks with an attitude and is stronger than expected given that he's a smaller guard. He has a knack for anchoring in pass protection despite getting stood up. I would love to have seen him against starters, but he did his job against the backups. LeRibeus improved in the past two games after a really bad opener, which followed a bad offseason in which the coaches were unhappy with his conditioning. But he was a third-round pick last season, and they liked how he played in relief of Lichtensteiger during the playoff loss to Seattle.
On the bubble:
T
Tony Pashos
, C
Kevin Matthews
, G/T
Maurice Hurt
. Really, the only guy who might be kept from this category is Pashos. Hurt likely will open on the physically unable to perform list, so he'll stick around. If I had to pick right now, I'd probably keep Pashos off the list. I like parts of his game: He's aggressive with his hands, much more than the other tackles. He's strong. But I did not see him moving as well as the other tackles, a byproduct perhaps of his ankle issues from 2011. If the Redskins feel Compton has progressed that much, then they have a backup right tackle (it's not as hard of an adjustment going from left to right). This would leave them without a veteran backup, which could be an issue. They kept
Sean Locklear
two years ago and
Jordan Black
last year. It's a leap of faith with the youngsters, and that could be Pashos' best hope. He has improved after missing all of last season, but I'm not sure it will be enough. They could keep a one-position player if there was no alternative, but with Compton's ascension, I think they have one. Really, the decision to keep Pashos could come down to whether or not they keep six receivers and/or five running backs. These coaches like skill players.
August, 25, 2013
Aug 25
9:30
PM ET
Some thoughts on the Washington Redskins' offense after re-watching their 30-7 preseason win over Buffalo:
Running back Alfred Morris does a good job anticipating pressure, probably because he knows where to set his eyes. Most of his 16 yards were gained because of this. This kid runs so much better than people realize and it's really not just the yards after contact; it's the yards he saves, too. (There should be a category: Yards after danger. I'll get the Stats & Info folks on it pronto!) Here's what I mean: On an outside zone to the left, Morris gained 6 yards after pressure 2 yards deep versus tight end Logan Paulsen. But Morris still cut up for 6 yards. Another time he had to cut 3 yards deep after left tackle Trent Williams missed a block. Morris is already cutting as he takes the handoff; he then set up a linebacker with a half-juke inside, then a spin outside. It was a 3-yard run, but it deserves an asterisk. I also liked how he set up his 7-yard run. Morris received good blocking and his patience helped; he cut inside a Darrel Young block for a nice gain. Morris did not do as well on consecutive pass plays, getting rolled by linebacker Manny Lawson on the deep ball to tight end Fred Davis, and on the next play failing to cut a linebacker.

[+] Enlarge

Mark Gail/MCT via Getty ImagesWhen Roy Helu is patient and waits for defenders to overplay, he is able to make more of his runs.

It makes such a difference when Roy Helu presses the hole the right way. Saw him do this on two good runs, and in both cases the linebackers overflowed and the blockers were able to help him more. Like on his 12-yard run in the first quarter; his ability to press allowed guards Kory Lichtensteiger and Chris Chester to seal off lanes. When Helu does not help create lanes or is too fast, he gets only the yards that are available.

By the way, here's how good the Redskins have it now at quarterback. They lost their top two quarterbacks for this game and started Rex Grossman, who threw for 171 yards and a touchdown. The Bills had to turn to their third quarterback in the first quarter, Jeff Tuel. You could say the Redskins were better off with their No. 4 QB than the Bills were with their third.

Have said this before, but few quarterbacks throw with as much trust and anticipation as Grossman. It can get him in trouble (as on the dropped interception attempt on an outside comeback route to Aldrick Robinson) and it can lead to big gains (as on the 45-yard pass to Santana Moss in which Grossman put it a little behind his target but also avoided possible danger by a safety breaking on Moss' outside). Still, the pass to Robinson was a dangerous one – off his back foot under duress.

Tony Pashos is an aggressive right tackle. On his first play against Mario Williams, he stepped outside hard to get him (partly because he was aligned wider). Though Williams finagled his way inside, it did no damage because the initial punch and path by Pashos left Williams too far away. But that doesn't always work. On the next play, Pashos went at him aggressively again, but Williams got inside. A hook by Pashos saved a sack.

Quarterback Pat White makes throws on slants and digs with authority – an excellent base – and has done a nice job hitting guys in stride. But when he has to throw wide there's not a lot on the ball and he's less accurate. White has knocked off some rust, but he has to prove he can make a wider variety of throws. But one of those slants was to tight end Jordan Reed, covered by starting corner Ron Brooks. Reed has the size and athleticism to win that battle all night, and he gained 18 yards on this play.

Reed was better as a blocker than he was a week ago, but still was not without troubles in this area. Nevertheless, he's much further ahead than I thought he would be after watching his college games. On a 13-yard Helu run, Reed and left tackle Tom Compton had a nice combo block on the right end. Reed's ability to take control early on the block enabled Compton to get to the linebacker and clear a final hurdle for Helu. The back was a little fast to this hole and probably could have set the defenders up a little better. But he made up for that by lowering his shoulder, breaking a tackle and gaining 5 extra yards.

Reed made a smooth 2-yard catch on a third-and-1 in which he ran a quick out to the right and had to reach up for the ball, nearly having to jump. He caught it while being tackled. An example of subtle athleticism.

When running back Chris Thompson fumbled, he was carrying the ball in his right arm – as he should on a run around right end. But he's more comfortable with the ball in his left arm, which is where he placed it on every run he made the rest of the night, no matter where he was running.

I wrote enough about Thompson's game on the ground in my observations. I will reiterate that I like how he sets up blocks and has a good feel for the stretch zone system for a young player. On his 9-yard run he caused the end to widen and got the safety to think he was going wide, too. When he cut up, the safety could only offer an arm tackle that Thompson avoided. He also runs with a forward lean; for a little guy he doesn't get knocked back much, does he? Thompson's fumbles are a big problem and there are durability issues, but he does have intriguing skills. I would not keep him as my third running back because I don't trust him that much. But as a fourth back (along with fullback Darrel Young)? Mike Shanahan will find a way to keep speed if the kid shows him a little something. With five corners now likely, there are possibilities.

But I didn't say anything about his blitz pickup in the fourth quarter. Thompson was willing and came up aggressively, but linebacker Chris White ran into him and wasn't slowed a whole lot. Size does matter here.

The second-year guard who consistently shows up is Adam Gettis. I saw his usual get-stood-up-in-pass-protection moment in which he somehow manages to anchor. And I did see him get pancaked on one play, though it did not lead to a negative play by Washington. Yes, like the other backup linemen they were facing the Bills' starting front into the third quarter, a good test. Gettis lost his block on a Thompson run that led to a 1-yard gain. Marcell Dareus beat him inside for one pressure (yes, he's a starter and Gettis is not). So I won't go crazy over Gettis. But I see him finishing more blocks downfield, blocking more to the whistle and clearly developing. It's rare that Gettis gets bumped off his line on the stretch zones, too, a credit to his strength. Gettis also had a good pull on a 5-yard Thompson run late in the game.

I thought Compton was better last week, but he also was facing backups, unlike on Saturday. Compton whiffed on a block, was pushed back on another and was stood up on another. But Compton shows promise and did not look out of place. He still needs seasoning, but he has progressed.

That third-quarter shovel pass from Grossman to Keiland Williams should have resulted in a touchdown. Gettis drove his man into the end zone but center Kevin Matthews lost his block. If he holds the block, Williams scores.

This was a good test for right tackle Tyler Polumbus. I write more about him than the other linemen because this is the one spot where there was a big question mark after last season; even the coaches said he had to improve in protection. There were quiet moments for Polumbus, which is always a good thing and he did his job often. But the Bills' Mario Williams did get him on a few occasions. He caught Polumbus with quick hands on the first play and got inside, only to be picked up by Chester. Two plays later Polumbus' technique wasn't bad, but Williams drove him back with power for a pressure. His only other real trouble came late in the first quarter when he was caught off-guard by a stunt and the tackle, slanting to his left, knocked him back en route to forcing Grossman to throw the ball away. Williams did not do a lot of damage against the backups, though he was not in the game all the time (and mostly rushed from left end).

On the 45-yard toss to Moss, Trent Williams picked up two blitzers with one shove. Two defensive backs sprinted off that side and Williams shoved the first one to the ground, knocking the second out of the way.

Receiver Aldrick Robinson got himself wide open on a couple routes. It's hard to truly see what the receivers and defensive backs are doing without benefit of the All-22 film. But there were at least two occasions in which Robinson got position on his man with a good hard step to the outside and a cut back inside. He turned his man around on one such route for a completion. Robinson has had a good summer; he had one last year as well – I remember one topic last year at this time was the variety of routes he was catching passes on in preseason games. Will this year translate differently? We'll see. It does seem like he's been more consistent from spring workouts until now (though still with some rougher days).