Washington Redskins:

Adam Hayward
August, 27, 2014
Aug 27
2:30
PM ET
When you're coming off a 3-13 season, any stretch on the
schedule
is pivotal. The Redskins do have a chance for a 2-0 start with games against Houston and Jacksonville to open the season. And then it gets interesting with four tough games: at Philadelphia,
New York Giants
, Seattle, at Arizona. That's two divisional games followed by two tough defenses, which makes the three games after that as pivotal a stretch as any. After that four-game stretch, the
Washington Redskins
host Tennessee before road games at Dallas and Minnesota. But those are three winnable games. If the Redskins struggle before this point, it's a chance for them to reach the bye with momentum for a second-half push.
Complete Redskins season preview
.
July, 18, 2014
Jul 18
11:00
AM ET
Examining the
Washington Redskins
' roster:
Quarterbacks (3)
Jay Gruden only had two quarterbacks in each of his three seasons with Cincinnati, but Griffin still needs to prove his durability. If something happened to him, they woulld still be in good shape with Cousins and McCoy. If they go with two then McCoy gets left off.
Running backs (4)
The Redskins could also stash
Chris Thompson
on the practice squad as further insurance. Thompson can easily bump himself onto the roster with a good summer; he's a good fit in Gruden's offense and the new coach liked Thompson coming out of college. But durability is an issue. By keeping four here, the Redskins can go with an extra player at another spot. This means
Evan Royster
is on the outs, but he doesn't give the Redskins anything they don't have in better players. He is insurance only.
Receivers (6)
I am not cutting
Leonard Hankerson
, rather I'm just not sold that he will be on the active roster at the start of the season. If he shows this summer that he can play, then, yes, I would have him on the 53-man roster. But the Redskins were not sure what to expect from him and when he might be healthy. Therefore, I can see him taking a little longer to return. Gruden likes Moss and they drafted Grant. Robinson needs to take a step.
Tight ends (3)
Rookie tight end
Ted Bolser
would head to the practice squad, where he can develop. He didn't look close to a roster spot just based on how he looked this spring. Reed is firmly entrenched as the starter with Paulsen their top blocker and Paul a special teams ace.
Offensive line (10)
In reality, I could see them keeping only nine offensive linemen. It all depends on how Long and/or LeRibeus looks at guard. They love Long -- Gruden has said he could compete immediately -- so if he shows he can play, then they could cut Chester (which I don't think will happen; I think he'll start). Compton is a little surprise, but they like him as well. This position will be fluid and I'm not sold on the 10 I have listed.
Defensive line (6)
This one is fluid as well because it depends in part on Bowen's health. I like
Chris Neild
and so do they, but can they keep him? Golston is more versatile and a key player on special teams, but he's also 30 and they must get younger at some point. But he still helps in too many ways.
Linebackers (9)
As of now I'd have
Rob Jackson
out, especially if Jenkins develops as a pass-rusher. But this will be a close race. And I have them keeping an extra guy inside in Hayward because of his special teams ability.
Cornerbacks (5)
Chase Minnifield
remains eligible for the practice squad.
Richard Crawford
is coming off a knee injury and it's hard to place him on here without seeing him play. The one benefit for Crawford is that he can play in the slot; they need depth at that spot.
Safeties (4)
I really don't feel good about this position and am not confident that I have this one right, at least for that final spot. Robinson's special teams ability gives him the edge over
Bacarri Rambo
, who must have a strong camp.
Akeem Davis
can help on special teams, but with no NFL experience he will be stashed on the practice squad.
Specialists (3)
The Forbath selection is based on never having seen rookie
Zach Hocker
kick in an NFL game. If Hocker is consistent this summer and shows a strong leg, then he can win the job.
June, 5, 2014
Jun 5
3:20
PM ET
Some leftover thoughts and observations from
Washington Redskins
OTAs and this week:
There's little doubt that Robert Griffin III likes receiving attention. But he wants it to be for his performance and not for his knee, his relationship with the coach or bad play. So it's no surprise that he likes the fact that he's just one of the storylines this offseason and not the only one. That was the case last season, not to mention two years ago as well (in a much more positive way).
But, while he no doubt likes this, his teammates have to be thrilled. They clearly were tired of the questions surrounding his knee and whether he'd be ready and then whether he was himself. It lasted a loooong time and a number of players were worn down by all the questions. It's a little thing, but having Griffin out of the constant spotlight allows him to be more of a normal teammate. He will always command a certain level of attention because of the position he plays (and for who he is).
It'll also be different this year because Griffin will be more available than in the past. The Redskins protected him quite heavily the first two years, wanting to limit how long he spoke and preventing 1-on-1 interviews -- except for perhaps during the bye week. He spoke after games and on Wednesdays only. It led to a feeling of him being off-limits; it was different than for any player I'd ever covered. Now? It's normal. He'll be available throughout the week. I don't think it will necessarily lead to more stories on him, either.
There just aren't the storylines surrounding him to be that way. But it makes him like any other player. In fairness, the first two years there were many requests for his time. But some in the organization, who are no longer here, went overboard.
I forgot to include this yesterday, but tight end Niles Paul has now gotten into two near scrapes in the OTAs open to the media. Last week you could blame Chase Minnifield's feistiness for Paul being upset. Wednesday, Paul was upset with linebacker Adam Hayward (a fellow special teamer) after a play. I didn't see what happened, but heard a lot of players yelling to, 'Stay up! Stay on your feet!' I think Paul tripped over Hayward. The two jawed at one another for a second or so before fullback Darrel Young pulled Paul away. Paul broke free from him. Nothing more happened (but when Hayward joined other linebackers on the sidelines, they slapped hands with him).
I don't know what the Redskins will look like on Sundays under Jay Gruden. At this point they're still just installing plays; have no idea which ones they like or ultimately will use. But safe to say they have the talent to spread teams out and then hit them with draws. It's what rookie running back Lache Seastrunk was used to doing at Baylor. No idea yet if he can play in the NFL, but it makes sense why they drafted him.
Defensive end Clifton Geathers is a tall man. At 6-foot-8, safe to say he's taller than the average end. In fact, there are only two players currently on an NFL roster taller than Geathers (there are three others who are 6-foot-8). It's difficult to play with leverage at such a height and Geathers has to work hard to stay low (tough to do). The same is true of 6-foot-8 offensive tackle Tyler Polumbus.
I did not put this in Wednesday's notes, either, but just for clarification's sake: Last week it appeared Bashaud Breeland was beaten by Pierre Garcon on a double move. Turns out he was supposed to have safety help, so it wasn't his fault. Looked like Breeland did a nice job in the session we could watch this week (they did not do 1-on-1 drills with the receivers, but in fairness those are designed for the offense to have more success).
May, 30, 2014
May 30
9:00
AM ET
ASHBURN, Va. -- For the past two years, his name would come up -- whether prompted or not. Teammates liked what they saw of LB
Keenan Robinson
; coaches loved what they thought he could become.
Two injuries forced the word "cautious" to be placed in front of their optimism.
Robinson
Now, coming off two torn pectoral muscles in each of his first two years, Robinson is working with the starters. Keep this in mind: It's still the spring. He knows the defense and is fast, so he's able to play fast during the OTA workouts. The real test for Robinson will come in the preseason when he must prove he can stay healthy and that he can play fast in games that count.
That test will come soon enough. For now, he's once more getting the coaches anxious to see more -- with fingers crossed.
"He's one of the guys on the field that stands out. 'Is that Keenan again?' "
Washington Redskins
coach Jay Gruden said. "He's doing a great job, so the big thing is to keep him healthy. We're hoping he has no drawbacks from his injury."
If that happens, the Redskins have veteran insurance with
Darryl Sharpton
and
Akeem Jordan
. They also have
Adam Hayward
, though he's mostly a special-teams player. It also helps that they have stronger coaching at the position with inside linebackers coach Kirk Olivadotti.
But Robinson gives the Redskins' defense something in one package the others do not: A bigger guy who is young and can run. He played in the nickel package as a rookie before tearing his first pec, but will have to learn to play the run as well -- the primary function of this position. That means diagnosing plays and shedding blocks and, yes, using his speed.
"Mentally he's in good shape," Gruden said. "Physically he looks excellent to me. He's running, he's long and he can run sideline to sideline in pass coverage. He's disruptive. He gets into zones and is a big guy to throw over. He can cover tight ends, he can cover backs. We have high hopes for Keenan and love the progress he's making."
Here's what
Robinson had to say
about missing so much time.
May, 22, 2014
May 22
10:00
AM ET
»
NFC Wrap:
East
|
West
|
North
|
South
»
AFC:
East
|
West
|
North
|
South
»
Grades

With free agency and the draft in the rearview mirror and training camp just a couple months away, we assess the
Washington Redskins
' offseason moves.
[+] Enlarge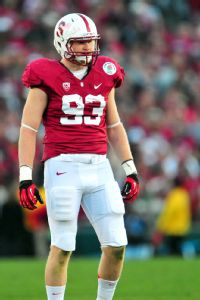 Gary A. Vasquez/USA TODAY SportsThe Redskins hope Trent Murphy, who had 15 sacks in 2013, can breathe life into the pass rush.
Best move:
Improving the pass rush. Washington's rush the past two seasons was too inconsistent and lacked variety. Signing
Jason Hatcher
to provide an interior push and drafting
Trent Murphy
to add to the creativity part -- it gives the Redskins potentially three outside linebackers who can rush -- should make a difference. Murphy, obviously, has to prove his worth but the fact that they continued to address the rush is pivotal and telling. They also helped here by adding linebackers coach Brian Baker, a pass-rush specialist.
Riskiest move:
Signing receiver
DeSean Jackson
. His reputation took a big hit after his release in Philadelphia, but the Redskins knew he was risky before certain stories were written. Jackson has major playmaking potential, but he also must prove the stories about his work ethic and approach aren't true. If so, he'll provide a big boost. The Redskins did mitigate the risk by giving him a contract that would provide cap savings after only two years if they cut him.
Most surprising move:
Not doing more at safety. The Redskins signed veteran
Ryan Clark
to start at free and mentor young players, re-signed
Brandon Meriweather
and returned once-suspended
Tanard Jackson
. They did not draft a safety. They need the young players to develop or they'll be trying to stock this position again.
Under the radar move:
Bolstering special teams. The Redskins signed a handful of quality special-teamers and found players in the draft who could provide immediate help in this area. They brought in linebackers
Darryl Sharpton
,
Akeem Jordan
and
Adam Hayward
, who can provide help. They drafted Murphy and
Bashaud Breeland
, who should provide more. It wasn't talked about enough, but it's an important development.
May, 8, 2014
May 8
5:15
PM ET
Redskins general manager Bruce Allen stressed this point a couple times Tuesday: When making decisions in the draft, they're looking as much at the roster in 2015 and '16 as they are this season.
Chances are, that's when most of the players they pick this weekend will be ready for bigger roles. With that in mind, here's how the roster shapes up in '15 and '16:
Quarterbacks
Griffin
2015 roster:
Robert Griffin
III,
Kirk Cousins
.
2016 roster:
Griffin (if the team picks up his option. Note: Initially said it was for 2017, it's for '16).
Conclusion:
They don't need a starter, but, perhaps next year, they'll have to start finding another player to groom as a backup assuming Griffin re-emerges.
Running backs
2015 roster:
Alfred Morris
,
Darrel Young
and
Chris Thompson
.
2016 roster:
Thompson.
Conclusion:
It's not a pressing need because they could always re-sign Morris or find another back next year in the draft. However, they have checked out some backs such as West Virginia's
Charles Sims
and Notre Dame's
George Atkinson III
. There is a need to find someone else; Thompson is not a full-time option.
Wide receivers
Garcon
2015 roster:
Pierre Garcon
,
DeSean Jackson
,
Andre Roberts
,
Nick Williams
2016 roster:
Roberts, Garcon, Jackson.
Conclusion:
Still a need for depth, but finding another quality starter – right now – is not a must. However, it would be wise to find someone in a receiver-heavy draft who can be developed. They'll have to make a decision after this year on
Leonard Hankerson
and
Aldrick Robinson
. Also, Garcon and Jackson's contracts are up after the '16 season.
Offensive line
2015 roster:
Trent Williams
,
Chris Chester
,
Kory Lichtensteiger
,
Shawn Lauvao
,
Mike McGlynn
,
Josh LeRibeus
,
Adam Gettis
,
Tevita Stevens
,
Kevin Kowalski
.
2016 roster:
Lauvao, Lichtensteiger, Stevens.
Conclusion:
I think we all know a right tackle is a strong possibility. Polumbus is not under contract after this season and neither is
Tom Compton
. Do the math; the Redskins have to find someone here at some point. And look at the '16 roster; you don't want to be in a position where you have to re-sign or sign that many players in one spot.
Tight ends
Reed
2015 roster:
Logan Paulsen
,
Jordan Reed
.
2016 roster:
Reed.
Conclusion:
Paulsen could always be re-signed, but regardless the Redskins could use a little more help here in the future. It's a definite possibility as the Redskins look to bolster their weapons – and guard against Reed's durability issues.
Defensive line
2015 roster:
Stephen Bowen
,
Barry Cofield
,
Clifton Geathers
,
Jason Hatcher
,
Kedric Golston
,
Chris Baker
,
Gabe Miller
.
2016 roster:
Hatcher, Cofield, Miller, Baker.
Conclusion:
Only Hatcher is signed beyond 2016. There's depth here for the next two seasons, but in 2016 if Hatcher and Cofield are still viable both will be past their prime.
Linebackers
Hayward
2015 roster:
Ryan Kerrigan
,
Perry Riley
,
Adam Hayward
,
Keenan Robinson
,
Adrian Robinson
,
Brandon Jenkins
,
Will Compton
,
Jeremy Kimbrough
.
2016:
Riley, Hayward, Jenkins.
Conclusion:
This is one reason the Redskins have looked at a number of outside linebackers during the draft process. Also, thinking long-term, they might not want to pay both Kerrigan and
Brian Orakpo
big money. But there's also a need to find and develop an inside 'backer, unless they're confident Keenan Robinson could be that guy. Too early to say that's the case given his injury history.
Cornerback
2015 roster:
DeAngelo Hall
,
Tracy Porter
,
David Amerson
,
Chase Minnifield
,
Richard Crawford
,
Peyton Thompson
.
2016 roster:
Hall, Amerson, Thompson.
Conclusion:
There's not an immediate need, but there's little doubt this position could still be fortified. Also, though Hall is under contract through 2016, where will his game be after the '15 season? Still, if need be, they could get by with adding a late-round corner this year and seeing if he develops.
Safety
2015 roster:
Phillip Thomas
,
Bacarri Rambo
.
2016 roster:
Thomas, Rambo.
Conclusion:
They need more bodies here. This is not a deep draft for safeties but it would be wise to grab one, especially when you see how it breaks down after this season. There's a strong need – even if Thomas or Rambo develops into a starter.
April, 21, 2014
Apr 21
1:00
PM ET
The Redskins entered the offseason with plenty of needs, which is why this feature spilled into a sixth day. The first five:
safety
,
receiver
,
pass rusher
,
offensive line
and
cornerback
. Next up: inside linebacker.
What they've done:
Signed
Darryl Sharpton
,
Akeem Jordan
,
Adam Hayward
and re-signed
Perry Riley
.
Problem solved:
Can't say that yet because neither Sharpton nor Jordan are signed for more than one season and they're the ones competing for the job next to Riley. Hayward is a special teamer. So we don't know who will be starting next to Riley, though Sharpton received an $820,000 bonus compared to $65,000 for Jordan. The math adds up for Sharpton. Nor do we know how they'll fare in this defense. They have OK track records. However, I like the depth at this spot, especially when it comes to special teams.
Projected starters:
Riley and Sharpton.
What needs to happen:
Sharpton and/or Jordan have to tackle consistently and be productive against the run. That's the No. 1 job at this position in the coach's eyes. They don't need to be playmakers -- it would be nice, but it's not who they have been. But the missed tackles hurt Washington last season. Jordan was a two-down player with Kansas City last season; Sharpton stayed in on passing downs, but it was not a strength. But both were fine against the run. Jordan showed good vision in tracking the ball, enabling him to make stops and his hand placement allowed him to shed blocks quickly. Sharpton was decisive and a couple times in games I watched beat blockers to the spot, or forced them to abandon double teams early. I didn't see any missed tackles, but the sample size was small. If the line does its job, these two will be fine. However, Sharpton has never played all 16 games and, in his four seasons, has played 12 or less three times because of various health issues. The Redskins also need
Keenan Robinson
to A) stay healthy and B) show he can be the player many anticipated before last training camp. No idea what to expect from him and I know the coaches have fingers crossed. He can help on pass downs, or the Redskins can use a variety of looks in their nickel packages, with either an extra corner or safety. Riley needs to return to his 2012 form and take a strong role in helping whoever is next to him call plays. He's the experienced voice at this position and started expanding his role when
London Fletcher
could rarely practice late in the 2012 season.
Address in the draft:
Sure. I wouldn't be stunned if they opted for more help here, but I'm not sure they absolutely have to add someone, at least not in the second round. It could give them their long-term solution, which would be good, but I don't know if they value this position enough over other positions they might seek more immediate help (like pass rusher or offensive tackle). They could always cut Jordan and only be out the bonus, so it's not like they're in love with his potential (but they do like him). Besides, even if he doesn't start, his special teams play is needed. And Sharpton is only 26, so if he has a good year, then they can re-sign him. They also have Robinson as a potential long-term answer (albeit one with questions).
The last word:
I'm really anxious to see Robinson this spring and summer. I know I've said this before, but several players in the past year have gushed about his potential. He's an athletic player who was improving when he was hurt as a rookie. The problem is, after two pectoral injuries, there's no way to know how that will impact his game. If he develops -- and he has the right coach for him in Kirk Olivadotti -- then the Redskins might have their guy for the future. It's just too early to say if that's the case.
March, 19, 2014
Mar 19
10:30
AM ET
I like the Akeem Jordan signing for a simple reason: He's going to help their special teams. So if he does not win a starting job, which he will definitely compete for, the Redskins will still benefit.
Last year, the inability to get much help from the backup linebackers on special teams was a killer. Along with many other things, of course. But that's one reason I felt their lack of success there was as much an organizational failure as anything.
Coaching was an issue in many players' minds, but they were not built to have a lot of special-teams success. It did not help that Keenan Robinson was hurt before the season and that Bryan Kehl went down in October (though the special teams were bad with Kehl, too; not his fault, but the point is, he didn't miss the whole year).
The more linebacker depth you have, the better your special teams should be; that's the belief of many in the NFL. You want big guys who can run and hit. And, yes, they had one in Lorenzo Alexander, who was dominant in this area. I haven't seen many guys take on double-teams -- and win -- like he did in Washington.
I don't know if any of the three linebackers Washington has signed (including Adam Hayward and Darryl Sharpton) can do the same, but I do know all come here with the reputation for being good in this area.
So if the starting inside linebacker position comes down to Sharpton and Jordan, whoever doesn't win the job will still contribute. Nick Barnett played special teams last year; he did not contribute to them. It was never his area.
But Sharpton, Jordan and Hayward all are used to life as a reserve. They don't turn up their noses at special teams. This matters. As you might recall, one of the beefs in the locker room was exactly that, not everyone bought into playing on special teams.
What they could use, too, is for second-year player Brandon Jenkins to improve here. He's another big who can run, but who did not do well on special teams.

I'm curious to see what the Redskins do at inside linebacker now in the draft, if anything. Before Jordan's signing I would not have been surprised if they added another player at this spot.
It's also telling that Sharpton and Jordan, the two who will battle for that position, both received one-year deals. So clearly the Redskins don't feel they have their long-term replacement there. Of course, this gives Robinson another shot to prove he can stay healthy and play inside.
It also tells me this is not viewed as a premium position in the defense. They want someone who can first and foremost stop the run and they also know they did not receive the same level of play from London Fletcher they had in the past. I don't know that Jordan or Sharpton is anything more than a two-down player, but they can use Robinson in passing situations if necessary.
On some leftover matters: I don't know how big a loss it was for the Redskins not to sign tackle Donald Penn, who opted for Oakland. The Raiders could give him the chance to start at left tackle, a position he struggled at in Tampa last season. While Penn might have been better in some ways than Tyler Polumbus, I don't think it was unanimous that it would be in all ways. And Penn did struggle in protection; yes, on the left side, but he would have had some problems on the right side too. But it's also clear that Polumbus has a lot more convincing to do, as should be the case.
Also, Kenny Britt's visit went well Tuesday from what I've gathered. The Redskins don't seem to feel the issues he's had, with his knees and off the field, are a concern. They think receivers coach Ike Hilliard would be a good fit for him. Not sure why, but that's what I've heard. I don't know where they stand in terms of a contract, but clearly the interest is solid.
March, 17, 2014
Mar 17
5:00
PM ET
Taking a look at the
Washington Redskins
' linebacker position and how it looks now compared to before free agency:
On the roster:
Ryan Kerrigan
,
Perry Riley
,
Brian Orakpo
,
Keenan Robinson
,
Brandon Jenkins
,
Will Compton
,
Jeremy Kimbrough
,
Josh Hull
,
Gabe Miller
,
Adrian Robinson
.
Added in free agency:
Daryl Sharpton,
Adam Hayward
.
Left in free agency:
Darryl Tapp
signed with Detroit.
Still unsigned:
Rob Jackson
,
Bryan Kehl
and
Nick Barnett
. Jackson is visiting with Oakland and I have not heard much on Barnett. The Redskins will keep an eye on Jackson, but they've had minimal contact with him this offseason -- and none until the legal tampering period started March 8. Kehl tore his ACL last October.
On the market:
OLB
Anthony Spencer
, ILB
Akeem Jordan
, ILB
Pat Angerer
, OLB
Parys Haralson
, ILB
Paris Lenon
. Spencer visited Washington on Thursday and there's still a chance he signs here, but health is an issue after he underwent micro-fracture surgery. With Kerrigan and Orakpo already on the roster, Spencer would not have a full-time role, but could help the rush in certain packages. Jordan would at least give them someone who has started, but who also is strong on special teams and is familiar with a 3-4. In other words, someone like Sharpton. Angerer is best in a 4-3. Haralson tore his pectoral muscle in January with New Orleans. He played in a 3-4 with San Francisco. Lenon is 36. I wouldn't be surprised if the Redskins added another veteran, though I'm not sure it will necessarily come from this group.
What it means thus far:
If the Redskins had wanted some of the big names available, they did not pursue them that intensely if at all. It also means they don't want to invest too heavily at this spot, clearly preferring to put their money at the premium defensive positions -- notably outside linebacker and pass-rusher. They view Sharpton as a potential starter but with a one year deal and for a $1.75 million cap hit, he's not a lock. If nothing else, he and Hayward should help the special teams.
Robinson is talented, but having missed most of the first two seasons because of torn pectoral muscles, it's tough to know if and when he'll be able to start. Honestly, the best addition to linebacker this offseason has been the coaches, especially Kirk Olivadotti on the inside. He's a good one to develop Robinson. And because of Olivadotti's work with young linebackers, I could see them drafting one on the inside. Outside linebackers coach Brian Baker has a good reputation too. Adding these coaches will help this group.
March, 12, 2014
Mar 12
12:00
PM ET
The
Washington Redskins
did not make splashy signings, but they weren't inactive, either. It just felt that way to some. Anyway, it's always good to know how contracts break down because it gives you a truer sense of that particular signing. With that said, here's a breakdown courtesy of ESPN Stats & Information of four of the contracts Washington issued Tuesday. All I know about
Santana Moss
' deal is that it's for one season.
---
Andre Roberts
2014
Base salary:
$1.25 million (fully guaranteed)
Cap hit:
$2.25 million
2015
Base salary:
$2.75 million (fully guaranteed 15 days after the start of the league year)
Cap hit:
$3.75 million
2016
Base salary:
$4 million
Cap hit:
$5 million
2017
Base salary:
$4 million
Cap hit:
$5 million
---
Perry Riley
2014
Base salary:
$2 million (fully guaranteed)
Cap hit:
$3 million
2015
Base salary:
$3 million
Cap hit:
$4 million
2016
Base salary:
$4 million
Cap hit:
$5 million
Note:
Riley will receive a $250,000 bonus for making the Pro Bowl in any of these years.
---
Adam Hayward
2014
Base salary:
$855,000 ($200,000 is fully guaranteed)
Cap hit:
$955,000
2015
Base salary:
$870,000
Cap hit:
$1 million
Note:
He receives a roster bonus of $1,875 every game he's active with a maximum value of $30,000.
2016
Base salary:
$885,000
Cap hit:
$1.045 million
Note:
He receives a roster bonus of $3,750 per game if he's active with a maximum value of $60,000
---
Shawn Lauvao
2014
Base salary:
$2 million ($1 million is fully guaranteed)
Cap hit:
$3 million
2015
Base salary:
$3 million
Cap hit:
$4 million
2016
Base salary:
$4 million
Cap hit:
$5 million
2017
Base salary:
$4 million
Cap hit:
$5 million
Note:
With his $4 million bonus, he received $5 million of guaranteed money.
March, 11, 2014
Mar 11
8:30
PM ET
A thumbnail look at newly-signed inside linebacker
Adam Hayward
:
What he got:
Three years, $3 million with a $300,000 bonus.
Hayward
Quick analysis:
Hayward is considered a good leader and solid special teams player, both of which the Redskins needed. He spent seven seasons in Tampa Bay, starting 13 games. He's 6-foot-1, 240 pounds and runs well. His best time in the 40-yard dash in 2007 (when he was coming out of Portland State) was 4.46 seconds. Having big players who can run is an absolute must on special teams; it's also one of the reasons
Lorenzo Alexander
was so good in this area. He's also considered a good locker room guy. Obviously the Redskins know him well, with Raheem Morris and Bruce Allen both having worked with him in Tampa Bay. You typically do better in free agency when you have a history with a player.
Impact:
The Redskins needed to add inside linebackers, but considering Hayward is more of a special teams standout it's hard to imagine their work here is done. They had been linked to
Joe Mays
as well; he's another special teams standout. Tough to see how this bumps anyone off the roster considering they lacked depth. I do wonder what this means for
Bryan Kehl
, who was supposed to play a similar role. But Hayward, from what I gather, has been a better special teams player. If
Keenan Robinson
is healthy and
Brandon Jenkins
becomes better in this area, it would give the Redskins three big players on special teams who can run. They did not have that last season.