Washington Redskins:

Albert Haynesworth
March, 4, 2014
Mar 4
8:00
AM ET
There will be pressure on linebacker Brian Orakpo to produce a few more big plays or record a couple more sacks now that he'll be paid $11.45 million this year. Is that reasonable? After all, he's been consistent in his four full seasons, always between eight and 11 sacks. Can he suddenly become a 12-sack guy? Just because a guy gets paid more money doesn't mean he'll become something he hasn't previously been.
Perhaps he can if the Redskins free up how he rushes the passer, asking the outside linebackers to rush with less contain. That's not just an excuse; watch the outside linebackers and they were rather consistent with how they had to rush. But that's not always a bad thing; certain quarterbacks would pick them apart by sliding through openings created by an undisciplined rush. Heck, they did that this season because the interior wasn't collapsed enough.
But if there's strong familiarity with the linebackers and the ends/tackles (in a nickel rush), it would give the rushers more chance to freelance a little. The tackles/ends must be able to play off the linebackers if they veer off path to make sure the pocket remains tight. That could result in more sacks, but I'll be curious if that is overall better for the defense – if it's not able to work in sync.
There's a lot being said about the defense this offseason and what will be different next season. More pass rushes for the outside linebackers. Less meddling by the head coach. It sounds great in March. The Redskins need to make sure it works next season, otherwise the heat will intensify – not on the head coach, either.
While former coach Mike Shanahan liked to be involved in the defense, it now comes across as if all the defensive ills somehow occurred because of his meddling. Is that fair? Some of it probably is; the inability for defensive coordinator Jim Haslett to be fully in charge in terms of picking his assistants didn't help, among other things. But it also seems like Shanahan has become a convenient target for all their issues.
I don't know if the Redskins would have interest in Pittsburgh's Jason Worilds or not had Orakpo hit the open market. He's the sort of guy who would make some sense because the system he played in was the same as Washington's. If you're going to give a guy big money, it's best to do it with someone you either have a connection with or who has played in the same system.
But with Worilds being given a transition tag and few attractive options, it almost left the Redskins with few options for a strong replacement if they lost Orakpo.
One thing you wouldn't have to worry about with Orakpo is a big contract changing him. He's been consistent in how he's worked and approached the game. He's not Albert Haynesworth.
Among other linebackers who have received big contracts, Orakpo's first four full seasons compares favorably in terms of sacks (at least with some of them). In Kansas City's Tamba Hali's first four full seasons, he posted 27 sacks (then broke out with 14.5 and got the big deal); Pittsburgh's LaMarr Woodley had 39 sacks in his first four full seasons; Dallas' DeMarcus Ware had 53 sacks while Clay Matthews had 42.5, but missed a combined five games. Orakpo had 38.5 sacks in his four full seasons. But as we've pointed out in the past, it's the need to produce more game-changing plays that is a focal point. And it's a valid point.
March, 1, 2014
Mar 1
10:00
AM ET
Another round of questions; another round of linebacker
Brian Orakpo
and free agency. At this point, those have to be the main topics, right? But there are a couple other questions about defensive ends
Adam Carriker
and
Chris Baker
, trades and how many quarterbacks might the Redskins keep? Here you go.
If you had to lean solely on your gut, do you see us franchising Orakpo, giving him a long term deal, or letting him walk? #Redskinsmailbag
December, 18, 2013
12/18/13
11:30
AM ET
This question gets asked a lot and now I can say: This is the most bizarre turn of events that I think I've covered in Washington. So much sniping going on and story planting that comes across as a smear campaign, mostly against Robert Griffin III with a little Kyle Shanahan bomb tossed into the pile.
Jim Zorn's entire final season was bad -- the play caller plucked from the bingo hall, remember. But you knew entering that season it had the potential to go south in a hurry. He was on shaky footing and there already was back stabbing going on before the season. What happened was predictable.
We knew about the dynamics between Mike Shanahan and Griffin before the season. And you knew if the Redskins started poorly it could lead to trouble. But to this degree? And this sort of a full-season meltdown by the organization? The players have handled it well, to their credit. But the constant drumbeat of stories and accusations seem designed to win a PR battle, among other things.
Somewhere, Albert Haynesworth is laughing. You never want Haynesworth laughing at you.
Somewhere, Vinny Cerrato is laughing, too. You never want Cerrato laughing at you.
It's also shocking to see how much this franchise has turned in the last year, with Griffin now painted as the bad guy. He's not perfect by any means and must continue to learn. But if someone wants him viewed as a bad guy, the more that gets piled on will have a reverse effect, probably in the court of public opinion and in the locker room. Just a guess.
What free agent would want to come to this mess – should it be allowed to continue? Besides those who like a lot of money, of course. Still, there are agents who would steer their clients elsewhere if the money is close.
I agree with everyone who says general manager Bruce Allen needs to say something. Anything. He has a powerful role in this organization and if owner Dan Snyder isn't going to talk, then someone else needs to step in front of the cameras aside from coach Mike Shanahan. The Washington Post's Mike Wise wrote a good column about this topic Wednesday.
Allen probably wouldn't say a whole lot, but that's not the point. Your organization looks to be in shambles right now. It would be good to hear from management's side about any of this. We already know nothing will be decided until after the season. But you can still address some of the issues.
Otherwise, you'll continue to get this mess. Maybe it will go on anyway, but let people know what the organization thinks of what's going on. Is it that difficult. From what I've heard, behind the scenes Allen does more than you think. OK, part of that should include saying something if only to appease the fans.
A fan could say this much better than I could, but this has to be the most dissatisfied they've been over a season in a long, long time. After last season's love affair it's been nothing but drama and disappointment. Clearly, fans had to feel that the their devotion to 20 years of mediocre -- at best -- football would be rewarded over the next five years or so watching Griffin help win titles. And now this. Now you have no idea where this disaster is headed.
Fan dissatisfaction – and empty seats – played a role in owner Dan Snyder's changes in 2010. It's hard to see selling another year under this regime, regardless of who's at fault. And there's a lot of blame to go around.
The assistant coaches, the ones who have not created this mess are frustrated (at the least). They're not the one's leaking stories, they are the ones who will get caught in this wake of this disaster. Coaching in the NFL is all about timing and opportunity. A year ago some viewed the timing here as terrific; I remember talking to one person in the organization who felt like Griffin would help get a lot of people paid. Now some of these coaches and staffers will be out of work, not knowing if they'll still work in the NFL or not. They went from a dream situation to a nightmare. Some will stick in the NFL; some will not. Perhaps some shouldn't be in the NFL, but the fact is they were and now their careers will be shaped in part by the drama of the last couple weeks.
December, 2, 2013
12/02/13
10:45
AM ET
A review of four hot topics following the
Washington Redskins
' 24-17
loss
to the
New York Giants
:
Running trouble:
For the second week in a row, the Redskins faced a defense that, statistically at least, ranked among the top 11 in the NFL. For the second week in a row, the Redskins failed to generate a ground game. In the past two games, against two teams that have done well against the run, Redskins running back
Alfred Morris
has gained 78 yards on 25 carries. He was a bigger factor Sunday night in the first half in the pass game (27 yards) than in the run game (11). And he had two carries in the second half, gaining 15 yards. After that, Morris didn't touch the ball, which is really difficult to believe. Nor should that happen in a close game. I know the Giants geared up to stop him, but I also think this game exposes more problems with the Redskins' offense and its inability to adjust (or to make its adjustments work). It only works when it can play one way -- especially against the better defenses. The Redskins have played seven of the NFL's worst nine defenses in terms of overall yards allowed; if they want to factor in who they have faced at quarterback to explain some defensive issues, you have to look at this when gauging the offensive success. They have played two defenses in the top 11: New York and San Francisco. And the Redskins failed to sustain anything against either.
[+] Enlarge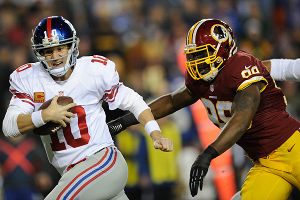 AP Photo/Nick WassBrian Orakpo can help Washington's pass defense improve by generating a consistent pass rush.
Orakpo's resurgence:
Linebacker
Brian Orakpo
continues to play well, and Sunday he was credited with two sacks and two hurries and again played the run well. On both sacks he was able to cut inside left tackle
Will Beatty
, something Orakpo hasn't done a lot of -- he's typically winning by driving his man back or going around him. Beatty even had outside help so he could play to the inside, but it didn't matter. Orakpo said last week that he's playing better now in part because the rust is gone, not to mention any fear about hurting his pectoral muscles again. He's playing for his next contract, too, though let's not look at this like he's, say,
Albert Haynesworth
. Nobody ever questioned Orakpo's effort. But it does make the next four weeks interesting for him. The Redskins need to find a way to keep him (
Rob Jackson
is just not the same player). But I wonder the pay level Orakpo is anticipating; he considers himself an elite pass-rusher.
Blocking woes:
If the coaching staff does return, and there's no scheme change, they'll have to make changes along the offensive line. They drafted three linemen last year; someone needs to emerge. Though the right side has struggled, they are far from the lone culprits. In the past two weeks, every offensive lineman has had issues. But that was true last season, too. However, the blocking on the edge was much better than it's been the past two games, with the tight ends and even the receivers. If
Santana Moss
, for example, holds his block on the bubble screen to
Pierre Garcon
early on the final drive, it has a chance to be an excellent gain. The big plays come when the blocking on the edges and downfield is good. That has not been the case.
Griffin's performance:
The reason why you don't sit
Robert Griffin III
in the next four weeks is because of games like Sunday night. He needs to continue to be placed in all kinds of situations if he's ever going to become a franchise quarterback. Some growth was evident in his game, with the first-half check-downs and freezing the safety with his eyes. Griffin needs to experience all of this over the next four weeks, because his development is crucial to the organization's future. That's true regardless of who is coaching here in 2014. It's imperative that he get put in positions to win a game at the end -- and then go do it. You build off such scenarios. Thing is, Griffin did what he could on that final drive, and his teammates didn't help with three drops and a stripped ball. Nor did the officiating crew with a botched down marker. (I'm not going over that again since it was covered in depth Sunday night; not much more needs to be said. A massive screw-up.) Still, there's nothing to gain by sitting Griffin.
October, 31, 2013
10/31/13
11:19
AM ET
I was going to poke holes in
Albert Haynesworth
's latest beef against the
Washington Redskins
. I was going to dissect his points and remind all that one person played a huge role in the downturn of Haynesworth's career: Haynesworth himself.
Then I decided it would just be silly. I'll offer a brief assessment of Haynesworth and then let him have the stage so you can get a good chuckle.
Maybe he has some good points, but they get lost because of how he thinks he worked while he was here. One coach from his two-year era said Haynesworth was a bad worker, cutting corners at every turn. Even at the time, when teammates spoke of him, they'd talk about how they liked him but that he didn't quite "get it." When he was signed, a respected NFC general manager warned this would be a bad signing; too many red flags in Haynesworth's past. Even his former defensive line coach in Tennessee, Jim Washburn, said Haynesworth once told him his goal was to be "the richest person in the world."
[+] Enlarge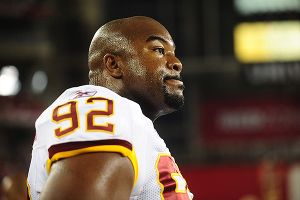 Mark J. Rebilas/USA TODAY SportsAlbert Haynesworth said he has nothing but regret concerning signing with the Redskins.
And if Haynesworth really wanted to be a Hall of Famer, would he have let alterations in how he was used block him? He would have been a terror as a 3-4 nose tackle with his size and quickness (though, sure, he's better as a 4-3 tackle. Still, point is: Two bad years ruined those Hall of Fame chances? Come on).
A lasting image of his time here? Lying on the ground for an extended time in a
Monday night debacle against the
Philadelphia Eagles
-- while the play was ongoing.
Anyway, that's out of the way. Here's a
full transcript of what he said
, courtesy of the nation's No. 1 transcriber, the Washington Post's Dan Steinberg. But here are a few highlights:
"Then, after that year of playing and not doing
ANYTHING
like we did in Tennessee…then we get [Mike] Shanahan in there, aka Red Lobster, as
Fred Smoot
says. He comes in and completely changes the defense to a 3-4, where I'm
reading
. I'm not doing things that I normally do -- exploding and shooting the gaps and creating havoc -- I'm staying on the line, going left and right. Not even going forward.
"I mean, it's like, you can't win with that team. And you think it was just me? I mean, look how he did Donovan [McNabb]. See what's going on with RGIII. I met RGIII. He seemed like an extremely nice guy that's willing to work. Now he's gonna learn -- I mean, I hate to say he's gonna learn -- about [Mike Shanahan], how he's conniving and everything like that, where he's not gonna help him out, it's all about him." The host then pointed out that Shanahan has two Super Bowls to his credit. "He hasn't won a playoff game since Elway retired." (Note: He's won one game since that time).
"... when I signed that deal -- which to me was the worst mistake in my life. You could say yeah I got paid a lot of money -- I don't really care about the money. If I knew it was gonna be like that, I never would have went. I never would have went. I guarantee. Because my goal was to be a Hall of Famer and to be one of the greatest defensive tackles to play the game, not just to go and make money at Washington and in two years my career be over there. I mean, that's not what I'm about. Yeah, I love to make money, but I can make money playing the game and not just some free agent bust or whatever."
You might find this hard to believe, but I don't miss covering what was the Haynesworth train wreck.