Washington Redskins:

Alshon Jeffery
October, 20, 2013
10/20/13
10:35
PM ET
Thoughts and observations after the
Washington Redskins
'
45-41 victory
against the
Chicago Bears
:
One win should not be cause for anyone to say the Redskins have turned their season around. That's not how it works. It only means they're capable of winning at home. Last year's turnaround really began on Thanksgiving Day in Dallas after a lay-up win over the struggling Philadelphia Eagles at home. Beat the Denver Broncos? They become legitimate factors. Short of that, just play well in Denver and, if they lose, win a couple games in a row. They need to play well for an extended stretch before we can talk turnarounds.
What I liked, however, is that the Redskins had to gut this one out. Of course, that shouldn't have been the case with Jay Cutler out and Josh McCown in at quarterback for Chicago. McCown picked them apart and hurt them with his legs. However, it did force the Redskins to reveal more of their character because they were tested. They gave up a punt return for a touchdown and responded with an 11-play touchdown drive to regain the lead. They allowed a 50-yard game-tying run to Matt Forte for a touchdown and followed that with an 83-yard scoring drive to regain the lead. Chicago scored three times in the fourth quarter; Washington scored twice. Punch; counter punch. Sometimes the most rewarding games are one's like this, when you are tested. Of course, a 45-20 win would have said a little bit more. But you get the point.
Brian Orakpo, it turns out, does have hands. It's quite shocking that Orakpo had never before scored in a game. For a guy who started playing in middle school, that's astounding. "I was so excited I didn't know what to do. It was a phenomenal feeling. I've been preaching that I'm trying to get my 'Ryan Kerrigan' on," Orakpo said. That play was huge (and give a big assist to safety Reed Doughty for being so quick to the ball and preventing Alshon Jeffery from catching a bobbled pass).
Yes, the zone read still works. Like any other play it must be run correctly and when it does? It works. The Bears focused so hard on stopping running back Alfred Morris that it enabled Griffin to get outside time and again. "I thought they would have had a better plan because we showed so much of it last week," Redskins tight end Logan Paulsen said. "But there's only so much you can do. We've seen those looks."
The Bears also helped by playing a lot of man coverage (as Dallas did) so when Griffin ran wide all he needed to do was beat a linebacker. And if that linebacker was focused inside, as they often were, it was a foot race he was going to win. Chicago would send two linebackers to the zone read side, with one who was supposed to eye Griffin. However, that wasn't always happening and Griffin could slip outside. But the Redskins also took advantage of this strategy. The 26-yard pass to tight end Jordan Reed on the final drive did just that. Both the inside linebacker and left outside linebacker flowed to the right to defend a zone read look that way (and a fake end around by Josh Morgan). Griffin could throw back to the left, with no linebacker in front of Reed.
The no-huddle look worked once again. I loved how they ran it with running back Roy Helu in the third quarter. He made it harder on a tiring defense because of his speed. The Redskins helped by doing what they did in Oakland: making the Bears defend wide to the right side one play, then force back to defend wide to the left on the next. Eventually, you could see the defense not getting down in their stance enough to shoot hard off the ball. "The defense can't get the call in quickly so you get those looks where half are up and half are down looking at each other waiting for the call," Paulsen said. Mix that with a little fatigue and it was a good recipe.
Thus far it's worked a change-of-pace. That doesn't mean it would work the entire game (I'm a huge Seinfeld fan, but would an entire show about Kramer have worked? No. Sometimes less is more). The Redskins can run a good chunk of their offense from this look, but the real fear is that if you run a no-huddle a quick three-and-out could eat up about 15 seconds. It has to happen at the right time, with the right field position and at a point where you have the right defensive personnel on the field.
Can you really say the special teams were that much better when they still allowed an 81-yard punt return for a touchdown. I can't. Yes, take that play away and the Bears had 109 return yards (four on punts; 105 on seven kickoffs). They avoided Devin Hester on kickoffs -- he managed 40 yards on two kick returns and, of course, the 81-yard punt return. The Redskins still get nothing out of their return game. Absolutely nothing. Do you hear me?
Nobody should be surprised by Reed's emergence. This is what he showed in training camp. I talked to tight ends coach Sean McVay on Friday about Reed and the next step he would take: the deep ball. Reed showed his downfield speed Sunday and, just as important, he played after getting banged up. That's huge for a young kid who came out of college with durability issues. And the fade throw to him in the end zone, matched against safety Chris Conte, was a no-brainer. Conte never had a chance as Reed took him inside and cut back outside. It was like lobbing the ball into the post to a big man against a guard.
When you run for more than 200 yards, you should have a strong game. This is who the Redskins are and the reason their offense has looked better the past two weeks. If they can't run play-action they're in trouble, but they could. They also could be more balanced in the red zone, something they haven't been able to be much of this season because of various factors: score, time of game, etc. It made a difference; they had four legitimate drives inside the 20 and scored touchdowns on each. Their play calling kept Chicago off-balance.
October, 20, 2013
10/20/13
8:30
PM ET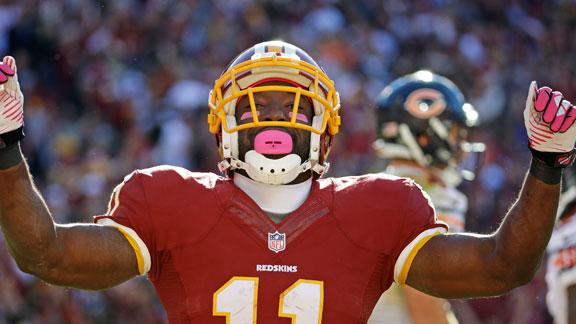 LANDOVER, Md. --
Washington Redskins
safety
Brandon Meriweather
insisted that he had changed the way he tackles. He's trying to go lower. He's trying not to lead with his helmet. Yet Meriweather still managed two more personal fouls, which means he'll once again be fined for the way he hits.
Redskins coach Mike Shanahan said he hopes Meriweather doesn't get suspended for those hits.
"I know it's not intentional," Shanahan said.
Meriweather
Regardless, they will be costly. And they're also confusing to Meriweather. He was flagged 15 yards for a personal foul for a helment-to-helmet shot at the end of a 28-yard pass to receiver
Alshon Jeffery
.
"One ref said it was good and one ref said it was bad," Meriweather said. "It'll be just like that with the NFL. One person will look at it in slow motion and will say he could have did this, he could have did that. One person will be like, 'Look, man, going full speed you don't have time to think about that.' It all depends on who's watching."
There was little doubt about the second hit was Meriweather was called for a personal foul on a hit after receiver
Brandon Marshall
dropped the ball in the end zone. It was not a bang-bang play.
"I feel every hit I took was a legal hit," Meriweather said. "I wasn't trying to be dirty. I wasn't trying to hurt nobody. I didn't lead with, lunge with my head. I used my shoulders like they told me to do."
The officials saw it differently.
"I don't think the first one was head to head," Redskins corner
DeAngelo Hall
said. "I don't know what he can do in that situation. I didn't see the second one but [secondary coach Raheem Morris] said, yeah that's probably one."
Meriweather was fined $42,000 for two hits in a Week 2 loss at Green Bay.
"I understand big hits," Marshall said. "That's a part of our game, but when you have a guy that does it week in and week out, that's when it becomes a problem."
Meriweather was fined $50,000 for a hit in 2010 and accrued $45,000 in fines a year later.
"If you watch my first five years compared to the way I played the last three or four games, everyone in the league will tell you I have changed the way I hit," Meriweather said. "I'm not lunging into people. I'm actually squaring them up. I'm trying to tackle the way I've been coached.
"Am I being targeted? I don't want to say that. I would hope not."
Meriweather said he's not sure what the right way is to hit a ball carrier.
"No matter what I do I feel I'll be in the wrong," he said. "If I hit you in the shoulder and slipped up, they still say it's head to head. If I hit them too low, I think somebody just got flagged for hitting somebody too low. It all depends on who's watching. I don't think we can be right.
"I think they're trying to be safe and I think the only way to be safe is to do what they're doing. But at the same time this is tackle football. A job of a safety is to instill fear and you can't do that with pulling up."
But the fines hurt his wallet and the penalties hurt the team.
"It's one of those things where you want them to be aggressive," Shanahan said. "But get lower -- mainly just talking from the team's standpoint and not even talking about the possible injury or things that go with it. We have to eliminate those 15-yard penalties."