Washington Redskins:

Antonio Gates
April, 16, 2014
Apr 16
2:00
PM ET
Last week I broke down the Redskins' salary cap by position and how it compared to the rest of the NFL. This is one more extension of that so you can see how the Redskins' top cap hit compares to the five biggest cap hits at each position. For the most part, the Redskins have more bargains offensively in part because they've found younger contributors through the draft or they landed players such as
DeSean Jackson
after they'd been cut, thereby lowering their price. The Redskins have only one player who will count among the top five at their position in 2014 -- left tackle
Trent Williams
.
Quarterback
NFL's top five cap hits
Eli Manning
,
New York Giants
, $20,400,000
Ben Roethlisberger
, Pittsburgh, $18,895,000
Jay Cutler
, Chicago, $18,500,000
Drew Brees
, New Orleans, $18,400,000
Sam Bradford
, St. Louis, $17,610,000
Redskins top cap hit
Griffin
Robert Griffin
III
$5,759,754 (19th overall)
Summing it up:
St. Louis is paying the price for a since-changed system when it comes to rookie contracts -- and the Redskins clearly have benefited. There's little chance anyone would think Bradford is worth as much as his 2014 cap number. Manning has regressed the past two seasons, for whatever reason, and needed ankle surgery this offseason. Roethlisberger is excellent and Brees remains a top-five quarterback. But Cutler is an example of a guy who is being paid because of the position he plays. He's been a good quarterback, but it's tough to say he's been great. He's definitely not a top-five guy. The Redskins have Griffin at a lower cost the next two seasons and then, if he plays as they hope, his number will skyrocket.
Receiver
NFL's top five cap hits
Mike Wallace
, Miami, $17,250,000
Andre Johnson
, Houston, $15,644,583
Percy Harvin
, Seattle, $13,400,000
Calvin Johnson
, Detroit, $13,058,000
Vincent Jackson
, Tampa Bay, $12,432,000
Redskins top cap hit
Garcon
Pierre Garcon
$9,700,000 (seventh overall)
Summing it up:
The top two at this position certainly didn't outperform Garcon, who led the NFL with 113 catches. Garcon only caught five touchdown passes, but that matches what Wallace and Andre Johnson did as well. Harvin played just 19 snaps all season. Calvin Johnson caught 84 passes, but 12 went for touchdowns and he averaged 17.8 yards per catch. Jackson caught 78 passes, seven for scores, and averaged 15.7 yards per catch. The Redskins received good value from their top earner at this spot. They have even more invested here now after adding DeSean Jackson and
Andre Roberts
. The former will be a major bargain compared to the rest of this group if he puts up numbers similar to last year (82 catches, nine touchdowns, 1,332 yards. But keep in mind in his first five years Jackson averaged 54.8 catches, 4.6 touchdowns and 957 yards per season).
Running back
NFL's top five cap hits
Adrian Peterson
, Minnesota, $14,400,000
LeSean McCoy
, Philadelphia, $9,700,000
Ray Rice
, Baltimore, $8,750,000
Arian Foster
, Houston, $8,300,000
Matt Forte
, Chicago, $7,900,000
Redskins top cap hit
Helu
Roy Helu
$1,548,563 (38th overall)
Summing it up:
Peterson and McCoy are two of the most dangerous offensive players in the NFL and are difference-makers. But what's also clear is why teams don't like to shell out huge money for running backs. Washington's
Alfred Morris
, who is 93rd on the list of running backs when it comes to 2014 cap figures ($600,775), was as productive running the ball as Peterson. Morris ran for 1,275 yards and seven touchdowns, averaging 4.6 yards a carry. Peterson rushed for 1,266 yards and 10 touchdowns, averaging 4.5 yards per rush. Rice ran for 660 yards in 15 games, averaging 3.1 yards on 214 carries. Foster only played in eight games. Forte is an excellent all-around back and was productive. But the Redskins are fortunate they won't have to shell out more money here for two more years.
Offensive line
NFL's top five cap hits
LT
Joe Thomas
, Cleveland, $12,300,000
LT
D'Brickashaw Ferguson
,
New York Jets
, $11,698,666
LT
Russell Okung
, Seattle, $11,240,000
G
Jahri Evans
, New Orleans, $11,000,000
LT Trent Williams, Washington, $10,980,393
Redskins top cap hit
Williams
Williams
Summing it up:
Williams is one of the games best tackles so for him to be in this group makes absolute sense. He could be more consistent and avoid the occasional clunker game, but overall Williams has proven himself and earned two Pro Bowl trips. I'd have a hard time paying a guard as much as Evans, but at least he's an elite player with five consecutive All-Pro nods (in addition to five straight Pro Bowl berths). Okung, drafted one spot after Williams in 2010, has missed 19 games in his career and made one Pro Bowl team. Williams has played in every game the past two seasons. Because of his athleticism, the Redskins can use him differently than other teams use their tackles. And he can escape problems because of it as well (and because of his longer arms).
Tight end
NFL's top five cap hits
Jason Witten
, Dallas, $8,412,000
Marcedes Lewis
, Jacksonville, $8,250,000
Greg Olsen
, Carolina, $7,800,000
Antonio Gates
, San Diego, $7,362,500
Vernon Davis
, San Francisco, $7,342,916
Redskins top cap hit
Paulsen
Logan Paulsen
$2,236,666 (21st overall)
Summing it up:
Yet another position where the Redskins have a bargain for a few more seasons. This isn't about how Paulsen stacks up, but really about
Jordan Reed
. If he can stay healthy, this will be the company he keeps statistically. I love watching Davis because of the matchup headaches he causes based on his athleticism. It's the same with Reed. Marcedes Lewis has had a nice eight-year career and is an excellent blocker, but No. 2 on this list? He has 25 career touchdown catches, but 10 came in one season. The others are proven pass threats. Of course, this list will change once
Jimmy Graham
's situation is settled with New Orleans.
November, 3, 2013
11/03/13
7:50
PM ET
LANDOVER, Md. -- Less than a yard dictated the future of the
Washington Redskins
' season. Three plays that could reshape a season-gone-bad. Or, perhaps, lead to an unofficial elimination loss, followed by weeks of frustration and speculation. Which is not what anyone in the Redskins' organization had in mind just two months ago.
Still, that's what the Redskins faced when the
San Diego Chargers
lined up with a first and goal inside the 1-yard line. Moments earlier,
Danny Woodhead
dove for the pylon, missing by inches as the replay showed. But with all sorts of momentum, San Diego was in good shape with 21 seconds and two time outs.
[+] Enlarge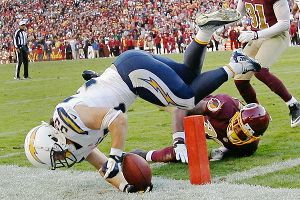 AP Photo/Alex BrandonWashington's goal-line stand may be a turning point for the Redskins' season.
Here's how the Redskins responded: stopping Woodhead – really? – for no gain; defending a fade route to tight end
Antonio Gates
; leaving no one open for
Philip Rivers
on a sprint rollout to the right.
Yes, San Diego punctuated the drive with a field goal to send the game into overtime as the Redskins blew a 10-point lead.
But.
The offense responded with a 78-yard drive to win the game in overtime, a 30-24 victory that left them at 3-5 and with a pulse.
"That was a big-time stand and a big-time drive by the offense," Redskins linebacker
London Fletcher
said. "You know it can be some momentum for us, big-time momentum for us. It says there's a lot of fight in this team."
And it might have saved the season.
"Maybe. We'll see," Redskins linebacker
Brian Orakpo
said. "This was a must win. We're not going to say that [before the game] but it was a must win for us. We needed this game. It was remarkable the way our guys fought."
They needed to fight, with a game that had slipped away and a season that was in danger of doing the same. The Redskins can point to last year all they want, but had they fallen to a 2-6 record they would have been alive only mathematically. Now? They still need to win consecutive games before they can think they're back in any race.
But the goal-line stand and subsequent overtime drive gave them a chance. "The way we won the game, that can be a turning point for us," Griffin said. "It's definitely a team bonding type game."
Woodhead went nowhere on first down and the fade to Gates, whose route was thrown off by a hard jam from corner
DeAngelo Hall
, was too long. On third down Rivers sprinted right, no one was open and he threw incomplete to the back of the end zone to
Keenan Allen
. The Chargers tied the game; the Redskins celebrated. Or, at least, exhaled.
"It's a confidence builder, definitely," Redskins defensive end
Stephen Bowen
said. "It was do or die man. Guys stood up man and everyone did their job. That's why we were able to be successful."
"A character building situation," Hall said.
It needed to happen. Perhaps what the Redskins needed was a game in which they were tested this way, forcing a prove-yourself moment. They made plenty of mistakes on this drive, miscues that could have cost them the game. They came through when needed.
"Anybody else would have folded," Orakpo said. "Your first and one on the goal line. They converted big play after big play. Momentum was swinging to their side. You could hear the gasps in the stadium with our fans and everybody really not sure. We looked in each other's eyes and just made sure that, look they do not score; they will not cross the goal line. It was remarkable, one of the best situations I've been in in a while."
It kept their season off life support. They're still alive.
November, 3, 2013
11/03/13
7:00
AM ET
1. When the
Washington Redskins
turned their season around in 2012, there was a different feel in the locker room. You felt more confidence, more belief that the Redskins would play better and probably win more. Yes, it seemed like some guys were a bit crazy for their optimism –
Darrel Young
,
DeAngelo Hall
,
Robert Griffin
III – but it turns out they weren't. I do not get that same vibe this season. There is definitely more frustration and confusion about the struggles. Nobody is saying, "We're about to do something special," as Young did after the bye last season.
2. That's why Sunday is an absolute must win for Washington. Sure the Redskins could get to 3-6 if they lose here and then win at Minnesota. This is a different team. Last year, there seemed to be more confidence. This year, they need to build some and the only way left for them to do so is win. Please, no more talk about progress or encouraging signs in 15- and 24-point losses. Those days are done. A loss Sunday will lead to a lot more frustration, questions and whispers about why it's so bad. It'll lead to more speculation about Mike Shanahan's future – should he receive a contract extension or not? It'll lead to more questions about Griffin, his relationship with the coach, his development and more. You've been warned.
[+] Enlarge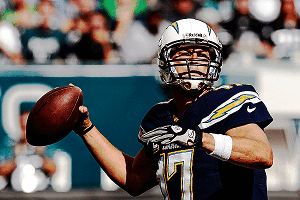 Howard Smith/USA TODAY SportsSan Diego's Philip Rivers has been among the NFL's elite quarterbacks this season.
3. Speaking of Griffin, it's way too early to say he can't become this or that as a quarterback. This is the first season he's had to become more of a pocket passer. Baylor did not prepare him at all for life as an NFL passer; that's not a knock on the Bears but it's just reality. Griffin needs a full (and quiet) offseason of work. One without documentaries. Sometimes it's smart to slide into the background.
4. It'll be interesting to see how the Redskins fare against
San Diego Chargers
quarterback
Philip Rivers
, who is having an outstanding season. One attribute I've always liked about Rivers is his ability to lead receivers into the open area for a catch. He had one such throw against the Colts that resulted in a touchdown. For a guy with such a high completion percentage (helped by a lot of short throws), Rivers is unafraid to stick the ball into tight windows. Makes it tough on defensive backs.
5. After Sunday, the Redskins will have faced
Aaron Rodgers
,
Tony Romo
,
Matthew Stafford
,
Jay Cutler
,
Peyton Manning
and Rivers. That's six of the NFL's top-12 rated passers – and three of the top four (
Drew Brees
the lone exception). "He's as good as all the quarterbacks we've played," Redskins corner
Josh Wilson
said of Rivers. "He can make some of the best unorthodox throws you see out there. No matter who's out there he's been successful." It's why the Chargers can keep playing well despite a number of injuries along the offensive line. "It's cool to play against the best in the league," Redskins linebacker
Ryan Kerrigan
said.
6. Speaking of the line, San Diego uses a lot of man blocking, unlike most teams Washington plays who feature zone blocking. Facing zone blocking teams are a pain-in-the-butt for a front seven that often is left guessing who will be blocking them and from what angle. The Chargers have size at tackle –
King Dunlap
on the left side is 6-foot-9, 330 pounds while Jeromey Clarey is 6-6, 320 pounds. An interesting matchup against
Brian Orakpo
and Kerrigan. Rivers has been sacked only 11 times.
7. It's sort of amazing what San Diego's defense has done lately, going 11 quarters without allowing a touchdown. Yeah, Jacksonville accounts for four of those quarters, but so does Indianapolis. Opponents only convert 36.3 percent of third downs against this defense – and that's an area where the Redskins' offense struggles.
8. But here's your optimistic stat: In the first three games of the year, against good running backs (Houston, Philadelphia, Tennessee), San Diego was 28
th
against the run and 29
th
in yards per carry. The Redskins have a good back in
Alfred Morris
and rank first in yards per carry. I don't think San Diego can get away with playing mostly seven-man boxes like Denver did last week. The Redskins ran well, but Denver rarely used eight-man fronts. The Redskins need to hurt the Chargers on the ground.
9. San Diego's defensive front does not have a great pass-rusher, but it has a number of good players. The Chargers also use a lot of looks to try and create a pass rush. Against the Colts I saw four-man fronts (they're a 3-4 team); there were slot blitzes; they slanted the line against run looks, forcing cutbacks into defenders. Nobody on the defense has more than three sacks, but they do have 12 players who have recorded at least half a sack. The secondary lacks playmakers.
10. Finally, the Chargers have one of the best tight ends in
Antonio Gates
, who, like the Redskins'
Jordan Reed
, uses his basketball footwork to get open. He's a big target (6-foot-4, 255 pounds) who leads the team with 42 receptions. You don't cover him with just one guy. So it'll be up to a variety of players – at times linebackers
London Fletcher
or
Perry Riley
among others. You do not use a corner against him. "He's a very savvy guy," Fletcher said. "He uses change of directions, change of speeds very well. He has very good deceptive speed. He knows how to position to run his routes."
October, 31, 2013
10/31/13
1:00
PM ET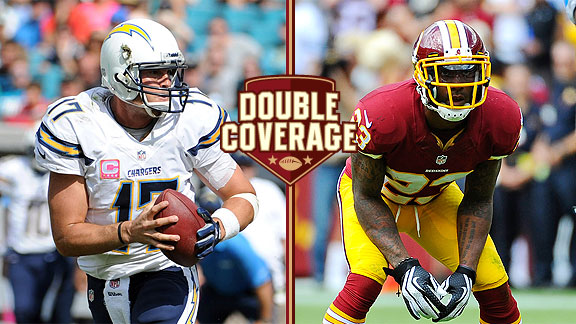 USA Today SportsDeAngelo Hall, right, and the Redskins' secondary will try to slow down Philip Rivers, who has completed a league-best 73.9 percent of his passes.
This isn't a compelling game when it comes to storylines. No big-name player is facing his former team. There's no grudge match. And, in fact, San Diego and Washington have played each other only three times in the past 14 years, and not since 2010.
Still, there is a lot going on in this game. If the 2-5
Washington Redskins
are intent on turning their season around, they need to win. Even in a bad division, a 2-6 record would be tough to overcome. At some point, teams just have to play well, and the Redskins must prove that can happen.
For San Diego, the Chargers' 4-3 start is a good one. However, if they want to stay in the AFC playoff race or remain a threat in the AFC West, they can't afford to lose to a sub-.500 team.
ESPN.com Chargers reporter Eric Williams and Redskins reporter John Keim break down this week's game:
Robert Griffin III
threw 20 touchdowns and just five interceptions in winning rookie of the year honors in 2012. This season, he's thrown nine touchdowns and eight interceptions through seven games. What has changed with his decision-making?
Keim
: Griffin is used to making big plays, and last year, a number of them occurred because of his legs, whether running or extending plays. But that's not always happening, and in games where his legs aren't a weapon, he has forced some throws. Not all the interceptions are his fault, of course, but in general, that's been a theme: forcing throws. Also, they're not able to use as much play-action throws as last year because of game situations, and when that happens, he and the passing game are very, very ordinary. They need to move defenders around, causing chaos in drops, with their zone-read fakes and play fakes. Denver also kept seven in coverage last week, and that's always trouble for a unit that has just one receiver who threatens a defense in
Pierre Garcon
(although tight end
Jordan Reed
does now, too).
Philip Rivers
' stock has dropped the past couple of seasons. But under a new coach, he's playing at a high level. Why?
Williams
: Coach Mike McCoy and offensive coordinator Ken Whisenhunt installed an up-tempo, no-huddle offense focused on the short passing game and getting the ball out quickly. The result has been better decision-making for Rivers. He leads the league in completion percentage this season at 73.9 percent, which is nearly 10 percent more than his career average (64.3). And his 111.1 passer rating (second in the NFL) is more than 15 points higher than his career rating of 95.6. San Diego's offensive line also has done an excellent job of protecting Rivers. The Chargers have allowed just 11 sacks through seven games, tied for second-best in the NFL.
Washington's defense is allowing 32.7 points a contest, second-worst in the NFL. Why is Jim Haslett's defense struggling to keep teams out of the end zone?
Keim
: The defense struggled mightily in the first four games but has mostly done its job in the past three games, when the Redskins have been hurt by special teams (two punt returns for a score; a 90-yarder to set up another one) and the offense (turnovers deep in their own territory; an interception return for a score). But this is not a top-level unit by any means. The Redskins' secondary has holes, especially at safety, and the linebackers, as a group, aren't great at coverage. But they've played the run better of late, and they're causing turnovers. They have two good but not great pass-rushers in
Ryan Kerrigan
and
Brian Orakpo
. They have a good nose tackle in
Barry Cofield
. So they have good parts. They played great for three quarters against Denver; alas, the game went four.
Why has the Chargers' pass rush been more productive lately?
Williams
: Defensive coordinator John Pagano has used some creative defensive fronts and exotic blitz packages to manufacture pressure. Along with that, the ability of interior defensive linemen such as
Corey Liuget
and
Kendall Reyes
to push the pocket inside have created one-on-one matchups for San Diego's inexperienced edge rushers. And guys such as
Thomas Keiser
and
Larry English
have taken advantage of their opportunities.
Speaking of opportunities,
Alfred Morris
has followed up an impressive rookie campaign by rushing for 565 yards and four touchdowns through seven games. He leads all running backs with a robust 5.23 yards per carry. How has Morris remained effective, even with Griffin struggling?
Keim
: Good question. Morris is better than he was a year ago, thanks to even better vision and stronger legs. Both qualities were good last year, too. Defenses have keyed more on him, knowing that on zone reads, for example, Griffin would not hurt them (until recently). Also, Denver rarely used an eight-man front against Washington in an attempt to play better in coverage. The Redskins usually receive good blocking from their tight ends and receivers, which helps Morris as well. And the line's continuity shows up in the run game. But Morris deserves a lot of credit. He's a patient runner who knows how to set up a defense, then cut back once it overcommits. Morris has proved this year that he's not a creation of the zone read. The key for Washington is giving him more carries; this season's high is 19. Last season he had 10 games with more than 19 carries. Of course, that stems from winning and being in control of games. The Redskins have done little of both this season.
Eric, do you believe in this team yet, or do you still see a lot of holes? If so, where?
Williams
: Offensively, San Diego has what it takes to make the playoffs in the AFC. The Chargers are one of the most balanced teams in the NFL. Rivers' ability to move the ball in the passing game has been nicely complemented by the emergence of bruising runner
Ryan Mathews
, who had back-to-back, 100-yard rushing games. But defensively, the Chargers remain a question mark, even though they have not allowed a touchdown in 11 quarters. The Chargers' defensive backfield has just two interceptions this season, and
Jarret Johnson
leads the team with just three sacks through seven games. The Chargers still lack elite playmakers on defense.
October, 30, 2013
10/30/13
8:20
AM ET
Is this a must-win game? They all are, of course, but if the Redskins really want to turn their season around -- a phrase that's getting old considering how it's used every week and still hasn't happened -- then they can't afford a loss. At 2-6, their season would be shot even in a bad division. Mathematically they'd still be alive, but they have provided zero proof that they are capable of playing well for even two weeks in a row let alone eight. But if they beat San Diego, with a game at struggling Minnesota ... then the season could take a turn.
Can Robert Griffin III develop into a quality passer? Yes. He has a good arm and is a smart kid and works hard. But missing the offseason work hurt him even more than anticipated. He's still taking too long at times to read the coverage or to anticipate what will be open, and what won't be, based on pre-snap looks. These issues existed last year, too, but were covered up because his legs served as a weapon and changed the way defenses played the Redskins. So Griffin is still enduring growing pains. If he had played like this last season, no one would have been surprised. In fact, it would have been normal. In some ways he's learning lessons he probably didn't have to as a rookie and is making comparable mistakes. Griffin is not a finished product; he just raised the level of expectations rather high. Yes, the talent level around him could be raised but he rarely had a healthy Pierre Garcon last season; Alfred Morris is better and Jordan Reed is a legitimate threat. This is about a quarterback who is still developing.
How good is San Diego? Good enough that it beat Indianapolis 19-9 two games ago and good enough that it could withstand season-ending injuries to two of its receivers, have just one offensive lineman start every game and still have one of the best passing attacks. Most of that is thanks to quarterback Philip Rivers, who leads the NFL in completion percentage (73.9) and is second in passing yards (2,132) and passer rating (111.1). He and tight end Antonio Gates are a lethal combination. And running back Ryan Mathews has posted consecutive 100-yard games. The Chargers are 4-3 and playing well. Beatable? Yes; they're 2-2 in road games, but that includes a win at Jacksonville. They lost at Tennessee and Oakland and won at Houston. The Chargers' back seven is vulnerable.
Was there anything to build on from Denver? Bad teams find a way to blow games when they've been playing well. That's what Washington did against Denver. Jacksonville played the Broncos well, too, don't forget. But for Washington, the run game worked and the defense did its job, though Peyton Manning methodically moved the Broncos down the field after it was 21-7. Washington needed a stop and couldn't provide it (but the Redskins did provide four turnovers; that's plenty). Still, if the Redskins run the ball like that and create turnovers? That's how they climb back into contention. Turnovers have killed them all season, much like they helped them a year ago. So, yeah, there were positives from that game but at this point it's about wins or playing well for 60 minutes, not 45. A lot of teams can do that.
Will Brandon Meriweather's return help? Sure, as long as he doesn't start getting too worried about how he's hitting guys. He must change how he tackles; he can't play with indecision. But the Redskins missed him on Sunday; E.J. Biggers is a corner who can play safety in spots. At least rookie Bacarri Rambo played a strong game at Denver. That's the best he's looked since camp opened. Against another pass-happy team, the Redskins absolutely need what Meriweather brings. If Reed Doughty can play that would help, too. But if Rambo had played all year like he played Sunday, then he would never have lost his job and Meriweather would have stayed at strong safety.