Washington Redskins:

Brandon Banks
October, 18, 2013
10/18/13
10:30
AM ET
So with the Washington Redskins sitting at 1-4, I start to get questions about Mike Shanahan's job security. You people know this organization too well. But Brandon Banks? Tanard Jackson? Ugh. They're both in here, too. There's even a Nick Williams sighting. There will be more in Part 2 of the mailbag Saturday.
August, 23, 2013
8/23/13
7:30
PM ET
Here's what I'll be watching when the Redskins host the Bills at 4:30 p.m. ET Saturday in the third preseason game for both teams:
The pace of Buffalo's offense. I wrote about this Friday morning, but Buffalo likes to use a fast-paced attack, something the Redskins' season-opening opponent, Philadelphia, does as well. How will the Redskins handle this? What will the Redskins do if caught in a personnel grouping that isn't the best for what Buffalo's offense has on the field? Because the starters will play only 15-20 snaps, it will provide only a small test -- the pace can take its toll over the course of a game -- but it will be a help nonetheless.

Safety Bacarri Rambo's progression. I'd play him more than the other starters, or at least in the final preseason game, just to give him more chances to tackle in the open field. He clearly needs the work. He might end up starting, but he still has yet to truly win the position. At this point he's in there by default. He has a lot of skills to offer, but if this area doesn't improve it'll cause big problems.

Corner Josh Wilson. He'll make his preseason debut after sitting out the first two games while his surgically repaired shoulder continued to heal. Wilson remains the starter, ahead of rookie David Amerson. But Wilson is not coming off his best season and was asked to take a pay cut in the offseason -- so it's not as if he's firmly entrenched at this position. He's much more knowledgeable about the defense than Amerson and, with a rookie safety, that matters. The Redskins can't afford a lot of defensive backs learning on the go, though Amerson has looked good at times. But Wilson still needs to play well.

[+] Enlarge

AP Photo/Wade PayneRookie safety Bacarri Rambo (29) needs more work on his open-field tackling to avoid headaches later.

Backup running backs. There's no doubt who the top two players are at this position (Alfred Morris and Roy Helu -- but you really didn't need me to tell you that, did you?). Is Evan Royster in any danger? The problem is, the rookies have yet to show that they deserve a roster spot. Chris Thompson has flash, but he's barely done anything in practice, let alone a game, in part because of injuries. Coaches are big on players being available; can they rely on Thompson in this area? His speed is intriguing (and speed is why Mike Shanahan, among others, initially fell in love with Brandon Banks in 2010). So it matters. But based on performance Thompson still needs to prove he belongs. I like Jawan Jamison's running style, but the same applies to him. Royster is an average runner, so he's no lock. Keiland Williams is a good special-teams player, but not much help from scrimmage.

Veteran backups. Specifically linebacker Nick Barnett and receiver Donte' Stallworth. Barnett, the ex-Bill, isn't worried about any sort of revenge; rather, he needs to show that he can still play at a certain level. This will be his first chance to do so. The Redskins have a pressing need for inside linebacker depth, and having a former starter who is familiar with this defense would help. As for Stallworth, he'll make it only if the Redskins keep six wideouts. He's played special teams sparingly in his career, but will have to show he can help there to stick around. And stay healthy. Lingering injuries never help aging vets.

Right tackle. If Bills defensive end Mario Williams plays -- he went two series in the opener and did not see time last week -- then Redskins right tackle Tyler Polumbus will have a good game to measure any progress. Polumbus did not have a strong game last week. Nobody else has taken first-team reps at right tackle. But along with watching Polumbus, I want to keep an eye on veteran Tony Pashos. He's Washington's most aggressive right tackle when it comes to using his hands, but what does he have left? The Redskins likely would need to keep nine linemen for him to make the roster. And Tom Compton is still working on the left side, but he's coming off a strong game.

Nose tackle Chris Neild. With Barry Cofield sidelined by a fractured bone in his right hand, Neild will get a chance to work against the Bills' starting line. He's not in danger of being cut, but this is a good opportunity to face quality blockers.

Rookie tight end Jordan Reed. He struggled as a blocker last week, mostly, it appeared, because of inconsistent technique. He was not overpowered, which is a good sign for him. But he does need to help in this area. Reed also dropped a ball last week; I'd like to see him get a chance to display his athleticism.
August, 22, 2013
8/22/13
9:30
AM ET
His game film provided highlights of electric runs and flashy plays. The Redskins want a little more of both in their offense so they selected Florida State running back Chris Thompson in the fifth round. But Thompson can only help if healthy. Can he do so in the NFL?
What he's learning:
How to run at an NFL level as well as how to pass protect. Thompson has the speed; just take a look at his college film. He had mixed reviews against the Steelers, with a good first run and then fumbling on his second. He could have helped himself on the fumble by pressing the hole just a little longer, but because he cut back early the safety was in good position to fill the hole and hit him hard. That can be corrected by staying patient (which running backs coach Bobby Turner preaches; it's an absolute must in this offense). Like fellow rookie
Jawan Jamison
, he can duck behind his blockers at times to sort of get lost in the crowd, making it hard for defenders to see -- and use his short stature to his advantage. Thompson said he's not struggling with the track he must take on runs, something
Alfred Morris
needed to work on early last year, because it's similar to what he ran at Florida State. It's more about the tempo.
"Too fast or the [the hole] is closing up or just missing reads here and there," Thompson said of what he's learning. "I go back and look at film and try to correct it every day."
"He shows signs of what we're expecting," Turner said.
Thompson also is learning how to pass protect at an NFL level. Check the next topic for the physical demands of that role, but for now it's about learning how to read blitzes. In college, Thompson was only responsible for half the field. Here, he'd be responsible for the entire field.
Finally, Thompson has to learn how to be a returner. He said he was going to get a chance to return kickoffs against Pittsburgh, but did not. He did return kicks at Florida State early in his career. He also has been fielding punts in practice, though he never did it in college (except in practice) and, based on how he was catching the ball, has a long ways to go.
[+] Enlarge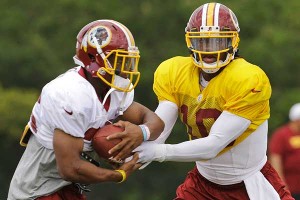 Steve Helber/AP PhotoChris Thompson's big-play ability is something that could help land him a spot on the Redskins' roster.
"The punters, their hang time is ridiculous at this level," he said. "Kickoffs are a whoooole lot easier."
What needs to be seen:
Durability. Thompson missed much of training camp while recovering from knee surgery last fall. He then hurt his shoulder against Pittsburgh on his second carry. He's listed at 5-foot-7 and 192 pounds, so his size always will draw concerns. But two years ago he broke his back and last year tore his ACL. Those can be considered freak injuries and not the nagging sort that derail some players. But even Thompson admitted he has to show he won't be affected by his knee injury. The Redskins just ended a three-year run with pint-sized
Brandon Banks
, who struggled to maintain his explosiveness because of injury issues. I like Thompson's character a whole lot more, and if the Redskins truly were worried about his size they wouldn't have drafted him. But if you can't stay healthy, that' s an issue. The one benefit for Thompson is that he won't be an every-down back in Washington; the Redskins need him to be a change-of-pace back. Still, if he plays on third downs he'll have to prove he can handle blitz pickups. The physics of the job -- small running back meets bigger hard-charging linebacker -- can be difficult. In college, Thompson was not asked to handle much of the protection duties, especially as a senior. He did block a linebacker on one rush, hitting him low.
"I have confidence I can block anybody," Thompson said. "I can do whatever a coach needs me to do. If he wants me to carry it 20, 30 times I can do it. Size doesn't mean a thing.
DeSean Jackson
is like 160 pounds and he's been doing great. It's confidence. If you listen so much about people saying you're too small and you just need to be a third-down back or catching balls out of the backfield, that's what you're gonna believe. I don't believe that. I believe I can do anything."
What stands out:
His speed and quickness. That was true watching his games at Florida State in particular and at times during training camp workouts. The tough part is we only saw it in snippets because he missed all that time and was admittedly not quite yet himself. But that speed is evident, as is his ability to quickly cut. It was shown on his 8-yard run in the fourth quarter versus Pittsburgh. He ran an outside zone and was able to string the outside linebacker wider than desired. The impressive part? Thompson's cut. He stuck his right foot in the ground and cut upfield. In about three steps Thompson executed his cut and got about 3 or 4 yards upfield. Some backs shuffle a little when they cut; he did not on this play. His size did not hurt him here either because the defense was flowing, no one was in the hole and nobody had a good angle on him so there was no clean shot. Instead, he could burrow into the opening and gain another 5 or 6 yards after contact.
"He has outstanding speed, cutting ability, ability to make the big plays and that's what we're looking for, to make the big plays," Turner said.
Projection:
Practice squad, assuming they keep only three running backs and a fullback. Thompson is a tough call because I know the coaches really like what he has to offer. Right now I'd take three other backs -- Morris,
Roy Helu
,
Evan Royster
-- ahead of him because I don't see Thompson helping in any sort of big role at this point and his durability is a major issue. He'd be a Banks-type player if he makes the team, a threat in their triple-option game, etc. But Banks made the roster by making big plays; Thompson needs to do the same. However, if they keep four running backs (plus a fullback) then he has a shot because of his explosiveness. I also think Thompson's status could change dramatically with one or two runs Saturday. But you can't fumble after the first time you get popped -- and also hurt your shoulder (though he did return).