Washington Redskins:

Brian Mitchell
February, 18, 2014
Feb 18
9:25
AM ET
• The Redskins won't have a tough time replacing
London Fletcher
's 2013 production; he did not have a strong season. But replacing his leadership will be difficult and whoever the Redskins sign to take over his spot must have those skills. Fletcher's replacement probably won't be the same as his predecessor, but he does need to be a leader. The Redskins may re-sign
Perry Riley
who knows the defense, but he is a quiet guy better suited as a sidekick in this area.
[+] Enlarge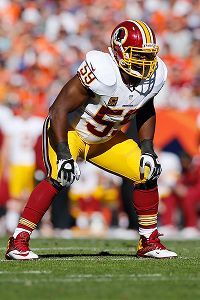 Ric Tapia/Icon SMIThe Redskins may need to look to free agency to replace London Fletcher's leadership.
• Here's what defensive coordinator Jim Haslett said on ESPN980 last week in a conversation with Doc Walker and Brian Mitchell about Fletcher: "I don't think I've ever been around a guy in 35 years that has the qualities you look for like him. When he's on the field he's outstanding. He's the smartest guy I've ever been around. When he's in the meeting room he's the ultimate guy."
• One player who has those qualities and will be a free agent?
Jon Beason
. I once spoke with someone who had worked with both Fletcher and Beason (did not coach them) and he felt Beason rated higher in preparation than even Fletcher. The problem with Beason now is that there are questions about his coverage skills. But he was very good against the run with the Giants this past season.
• Here's what Haslett told 980 about new coach Jay Gruden, who was his offensive coordinator in the United Football League, "You'll see a level-headed guy. You'll love the offense. He does multiple different things every week. He'll use our quarterback to the best of his ability. He'll take whatever they do best and use it. He's not going to find fault, he'll find what they do best."
• The Redskins will be at the scouting combine this week. I know a lot is made of 40-yard dash times, but that should only be a metric to see if a player plays as fast as he timed. There's an issue if the player looks slow on film, but fast in the 40. In that case? Stay away. Football is won with quick decisions, not with 40-yard dash times. If you're fast but make slow decisions, you'll soon be out of the league.
• After watching Buffalo's
Jairus Byrd
(a potential free agent), I was surprised to learn that he ran a 4.68 in the 40. That's not fast, but he more than compensates with knowledge and quick decisions.
• Gruden used bigger offensive linemen in Cincinnati, but that does not mean he'll necessarily look for bigger guards in the draft. The Redskins will use the same run game zone-blocking principles, though I'm sure Gruden will incorporate some of his beliefs as well. I'm sure they'll still look for some help in the interior.
• But if they did want bigger and wanted to promote from within, then this is a huge offseason for
Josh LeRibeus
. As a former third-round pick, he should be challenging for a starting job by his third season. LeRibeus had a terrible offseason in 2013 and took much of the year to return to his end-of-rookie-season form. If a team is doing a good job developing talent, then a player such as LeRibeus should be ready to play a lot more now. Yes, a lot of that is on him. If he has a good offseason, he could be a factor.
• But the way you help yourself when you need to cut players is by bumping up a young player. Otherwise, they can cut, say,
Chris Chester
and then have to find a somewhat expensive replacement. You're just spinning wheels after a while, in terms of creating cap space (which has typically been the Redskins' problem). It also limits a team's ability to then address other more costly issues.
• And,
to reiterate
, I would not take a flier on guard
Richie Incognito
. Football isn't played by choir boys, but there's a difference between being nasty and being disruptive. Incognito clearly is -- and has been -- the latter and has consistently hurt his own team. When a player's positives don't outweigh their disruptions, you let them go elsewhere.
• In watching games again from this past season, it's shocking how many tackles this defense missed –- the safeties in particular. Every team operates under the same CBA guidelines limiting the amount of contact in practices, so you can't blame that. When you consistently try to shoulder tackle or tackle too high, it sort of gets you in trouble. Or when you're just not good enough.
February, 14, 2014
Feb 14
9:30
AM ET
Washington Redskins
defensive coordinator Jim Haslett has two desires for next season: More sacks and more turnovers. If that happens, he knows what the result will be: more wins.
Haslett, speaking on ESPN980 Thursday for the first time since he was retained by the Redskins, also told Doc Walker and Brian Mitchell that improving the pass rush is a primary goal.
Haslett said that is one reason he hired Brian Baker to coach the outside linebackers (where the bulk of the pressure comes from in a 3-4 defense). Haslett sounded like a coach anticipating
Brian Orakpo
's return, too. Orakpo can be a free agent next month.
[+] Enlarge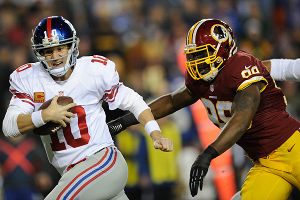 AP Photo/Nick WassDefensive coordinator Jim Haslett is expecting an improved pass rush next season, led by pending free agent Brian Orakpo.
"Can we get better? No doubt about it. I think Rak can get much better, and I know
Ryan [Kerrigan]
can get a lot better," Haslett said. "That's why we hired a coach to coach them on the rush element. We'll try to turn them loose more this year, do more with them game-wise. Don't worry so much if they lose contain, because they'll lose frickin contain half the time. Let's roll and make sure the tackles cover for them. Different things like that."
Orakpo and Kerrigan combined for 18.5 sacks this past season, which he pointed out was one less than Baltimore's duo of
Terrell Suggs
and
Elvis Dumervil
, and 3.5 less than Kansas City's tandem of
Tamba Hali
and
Justin Houston
.
Coaches often talk about pressures more than sacks (especially when the sack totals are low), but constant pressure also leads to more sacks. In 2011, with a healthy Orakpo,
Stephen Bowen
and
Adam Carriker
, the Redskins tied for 10th in the NFL with 41 sacks.
But in 2012 they finished tied for 23rd with 32, and this past season they were tied for 21st with 36.
Haslett pointed to turnovers as an area that must change. The Redskins only caused five fewer than they did in 2012 (going from 31 to 26 this past season). He dismissed yardage as a stat to measure a defense -- "That's kind of for losers," he said. (As an aside, I'll say this: Every coach I've covered will point to this stat when it suits them; every single coach. But I do agree that other stats matter, like points allowed and turnovers. They impact the game more. Yardage totals can be inflated by game situations).
"The object is to get the ball back from the offense and let them score points," Haslett said. "The offense has to control the ball and keep us off the field. Don't turn the ball over so we're on the field for 15-18 possessions like the last game of the year. And you win games. That's what we did down the stretch the year before; that's why we won seven in a row. That's our goal, we want to create more turnovers."
Haslett also said that "you'll see more of what we want to do from the standpoint of coverage."
He did not expand on that statement, but it stemmed from being asked how much more his personality would be revealed in the defense now that he's working for a coach who will stick to offense. Clearly, there was a difference of opinion in what previous head coach Mike Shanahan wanted and what Haslett wanted at times, whether it came from coverages or play calls.
"You've got to get these guys doing the same thing over and over and over to where they get good at what they do," Haslett said. "We bounced around early in the season. We had a heck of a preseason. We thought we were good, but that's preseason. It got your hopes up a little bit, but it wasn't really what we wanted to do.
"I think you'll see more of something we'll be good at. Whatever we do, we'll be good at. It doesn't make a difference what you're running ... We were in a four-man line 62 percent of the time last year anyway. But we're going to be good at what we do, and we're going to do it over and over and over until we get good at it."
October, 26, 2013
10/26/13
10:00
AM ET