Washington Redskins:

Bruce Smith
December, 14, 2013
12/14/13
10:00
AM ET
Louis Riddick endured the chaos in Washington from 2001-07, first as a scout and then as director of pro personnel. He knows the toll it takes and what needs to happen. This is Part 2 of our conversation with the ESPN NFL Insider.
What does Dan Snyder need to do?
[+] Enlarge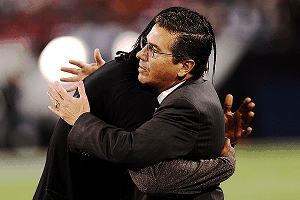 AP Photo/Paul SpinelliOne has to wonder just how strong the relationship is between Redskins owner Dan Snyder and star QB Robert Griffin III.
Louis Riddick:
He can do whatever the hell he wants. He owns the place. He doesn't have to ignore players. But he has to understand the delicate culture of an NFL locker room. You can't empower a first-year quarterback to feel he is bigger than everyone else when you have 8-, 9-, 10-, 11-year vets that you're not doing things for. You can't do that to a point where a head coach feels as though he has to make a stand against that kind of stuff to this degree – if you believe that's what's happening now and why wouldn't you believe it considering the fact that to different degrees you've seen it before with Bruce Smith or Clinton Portis. You've seen players say, 'I can do what I want because I'm tight with the main guy.' … You have to respect how the game has to be managed from the ground level, not from the board room and be cognizant of the power and authority the head coach deserves and needs. If it's just about, 'I'll do what I do because I have a right to do it,' then don't be mad when the results are what they are. This is a long-winded way of saying you have to make some adjustments, otherwise you'll face this over and over.
There's nothing wrong with wanting to be personable. This is a relationship business. It's still a people business. I don't think the upper level of management has to be so cold and impersonal that it lacks the ability to relate to or communicate effectively with the people who work for you. But the dynamic of running an NFL team from a head coach's perspective is very unique and you can't in any way undermine it.
Assuming this staff is gone, someone will take this job.
Riddick:
Yes. … I know Dan cares about this team dearly, desperately. I know he does. He just has to make some adjustments.
I know from Robert Griffin's perspective all the talk about his relationship with Snyder is off the mark, that they're not as close as it's being leaked.
Riddick:
A lot of times it's funny how when you're a part of it and part of the problem you don't realize how much you're part of the problem. 'How can what I'm doing be so bad? I'm not doing anything. I'm just hanging out.' If you could have him step outside himself and look at himself. … When I used to look at old pictures of myself as opposed to now, I was wearing earrings and had all the chains and I was like, 'What the hell is that? That can't be me.' While I was doing it I thought this is the way it's supposed to be. You don't have perspective. Perspective is going to be the key.
What's the formula for Snyder?
Riddick:
The hardest part for him is to be objective. You can't help from keeping his subjective feelings and preconceived attitudes and biases about this game out of it. He just can't help it. He is really attracted to the names, the star power, the perceived star power and big names and doesn't dig deep to see what's substance and staying power those star power names have, whether or not it really is something and if star power and names have earned all the accolades and attention they get. If you look at Mike [Shanahan], you can ask 50 different people and get all kinds of different opinions, and one thing you'll constantly hear people say is if it wasn't for John Elway, now what? They'll keep saying that. That's what they'll keep saying. If you look past that, once he left and started to get total control and was building the organization, what happened then? What do people say about you after that point? Dan needs to stop chasing names and start trying to look for substance and look for real qualifications and then he has to re-examine his information gathering process and let the process lead to the name instead of looking to the name and saying the process took care of itself because I got the name. It's almost like doing it backwards. He'll eventually get what he wants if that process is sound, which is to stop getting embarrassed.
The sad part is the process once led them to Jim Zorn.
Riddick:
It's just as important in the head coach hiring process for the people who are doing the interviewing to have prepared and studied and researched what they need to ask and what they need to hear as it is for the person who is being interviewed. If you have taken the time to find out what the answer is I'm looking for, what characteristics I'm looking for that are going to take my organization to the places I want to take it to. If you don't know what they are, then you have no shot. You'll hire this guy, try that guy. You need to stop and look at yourself and say, 'Am I respecting the process and respecting the game and how hard it is to build a winner?'
November, 12, 2013
11/12/13
7:30
AM ET
ASHBURN, Va. -- The
Washington Redskins
have gone on four excellent runs to turn their season around and close with a flourish since 2001. Will they make it a fifth? Based on their recent play it's tough to predict such a run. But history also shows that these runs aren't always predictable.
Here are the four seasons in which Washington has finished on a hot stretch, taking a season from bad to excellent:
2001
How they started:
The Redskins lost their first five games under coach Marty Schottenheimer -- and looked terrible in doing so. It also happened to follow a horrible preseason. The Redskins were outscored 143-33 in those games.
[+] Enlarge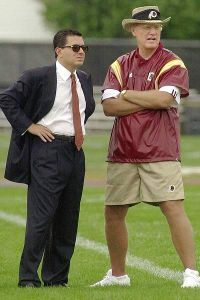 Chris Knight/AP PhotoThe 2001 season was a roller coaster of wins, losses and emotions for Redskins owner Daniel Snyder and coach Marty Schottenheimer.
Low point:
Players were unhappy with Schottenheimer and his methods early in the season, with several voicing their complaints (even mild-mannered second-year offensive tackle
Chris Samuels
was displeased). But the two who were most upset? Corner
Darrell Green
and
Bruce Smith
.
Thoughts of a turnaround:
None. The Redskins had played poorly since the preseason and they had cast-off
Tony Banks
at quarterback and no legitimate playmakers on offense. But what did start to change was the impression of Schottenheimer. Players started to respect his methods. They started to become a tough, physical team. A
LaVar Arrington
interception versus Carolina in a 17-14 win turned it around.
How it ended:
The Redskins won five straight to reach .500 en route to an 8-8 record. Schottenheimer was well-liked by most players in the locker room, though Smith and Green, by most accounts, did not buy in. Owner Dan Snyder did not buy in, a fact that upset numerous players, as he fired Schottenheimer. It was a mistake.
2005
How they started:
The Redskins actually played well at the start of the season, winning their first three games and they were 4-2 after six games. But they lost four of their next five to sit 5-6 after 11 games.
Low point:
The Redskins lost three straight games, including the last two at home. One of those was as bad as the Minnesota game last week as they lost 16-13 to a three-win Oakland team that lost every game the rest of the season. They followed that with an overtime loss at home to San Diego.
Thoughts of a turnaround:
Solid, despite the skid. Players were genuinely confused about what had happened. They knew Gibbs' first year would be a struggle, but I remember talking to players, tackle
Jon Jansen
in particular, about what was happening. Their belief was that they were at least a nine-win team, that they had worked too hard and believed too much in what they were doing. I didn't think they would win every game the rest of the season, but a strong finish? Doable.
How it ended:
The Redskins won their last five regular season games to finish 10-6 and reach the playoffs. No opponent scored more than 20 points and the Redskins topped 30 in each of the last three games.
2007
How they started:
The Redskins won five of their first eight games coming off a 6-10 season. Things looked good.
Low point:
Sean Taylor's death. The Redskins then lost a crushing game to Buffalo, 17-16, and flew to Miami for his funeral. It was their fourth straight defeat as they fell to 5-7.
Thoughts of a turnaround:
None. It was asking too much for them to turn it around given the circumstances. They were a drained team. But, as in 2005, there were a lot of true professionals that provided reason to believe they could win again.
How it ended:
Todd Collins
entered and played well at quarterback for an injured
Jason Campbell
and the offense started to click. The team overall played inspired football and the Redskins won four in a row to reach the playoffs. They lost in the first round and Joe Gibbs retired.
2012
How they started:
Washington lost three straight, including at home to Carolina, 21-13, to fall to 3-6.
Low point:
Losing at home to previously one-win Carolina after two straight defeats to the
New York Giants
and Pittsburgh. Against the Giants, the Redskins played a solid game and lost on a last-minute touchdown pass. But
Robert Griffin III
's heroics provided hope that they were never out of a game. They lost at Pittsburgh in part because of nearly a dozen dropped passes and the Steelers' defense had been dominating all year. Neither were terrible losses. But at home to the Panthers? That was bad.
Thoughts of a turnaround:
After the bye week, the players returned refreshed and energized and expressed a belief that they could play better and finish strong, with fullback
Darrel Young
saying they would do "something special." Too many players believed in what they were doing to write them off; it was similar to the 2005 feeling I had. So I anticipated improved play? But a seven-game streak? No way.
How it ended:
With seven straight wins and a home playoff loss to Seattle, and the injury to Griffin. But with a belief that they had turned a corner.