Washington Redskins:

Bryan Kehl
March, 17, 2014
Mar 17
5:00
PM ET
Taking a look at the
Washington Redskins
' linebacker position and how it looks now compared to before free agency:
On the roster:
Ryan Kerrigan
,
Perry Riley
,
Brian Orakpo
,
Keenan Robinson
,
Brandon Jenkins
,
Will Compton
,
Jeremy Kimbrough
,
Josh Hull
,
Gabe Miller
,
Adrian Robinson
.
Added in free agency:
Daryl Sharpton,
Adam Hayward
.
Left in free agency:
Darryl Tapp
signed with Detroit.
Still unsigned:
Rob Jackson
,
Bryan Kehl
and
Nick Barnett
. Jackson is visiting with Oakland and I have not heard much on Barnett. The Redskins will keep an eye on Jackson, but they've had minimal contact with him this offseason -- and none until the legal tampering period started March 8. Kehl tore his ACL last October.
On the market:
OLB
Anthony Spencer
, ILB
Akeem Jordan
, ILB
Pat Angerer
, OLB
Parys Haralson
, ILB
Paris Lenon
. Spencer visited Washington on Thursday and there's still a chance he signs here, but health is an issue after he underwent micro-fracture surgery. With Kerrigan and Orakpo already on the roster, Spencer would not have a full-time role, but could help the rush in certain packages. Jordan would at least give them someone who has started, but who also is strong on special teams and is familiar with a 3-4. In other words, someone like Sharpton. Angerer is best in a 4-3. Haralson tore his pectoral muscle in January with New Orleans. He played in a 3-4 with San Francisco. Lenon is 36. I wouldn't be surprised if the Redskins added another veteran, though I'm not sure it will necessarily come from this group.
What it means thus far:
If the Redskins had wanted some of the big names available, they did not pursue them that intensely if at all. It also means they don't want to invest too heavily at this spot, clearly preferring to put their money at the premium defensive positions -- notably outside linebacker and pass-rusher. They view Sharpton as a potential starter but with a one year deal and for a $1.75 million cap hit, he's not a lock. If nothing else, he and Hayward should help the special teams.
Robinson is talented, but having missed most of the first two seasons because of torn pectoral muscles, it's tough to know if and when he'll be able to start. Honestly, the best addition to linebacker this offseason has been the coaches, especially Kirk Olivadotti on the inside. He's a good one to develop Robinson. And because of Olivadotti's work with young linebackers, I could see them drafting one on the inside. Outside linebackers coach Brian Baker has a good reputation too. Adding these coaches will help this group.
March, 11, 2014
Mar 11
8:30
PM ET
A thumbnail look at newly-signed inside linebacker
Adam Hayward
:
What he got:
Three years, $3 million with a $300,000 bonus.
Hayward
Quick analysis:
Hayward is considered a good leader and solid special teams player, both of which the Redskins needed. He spent seven seasons in Tampa Bay, starting 13 games. He's 6-foot-1, 240 pounds and runs well. His best time in the 40-yard dash in 2007 (when he was coming out of Portland State) was 4.46 seconds. Having big players who can run is an absolute must on special teams; it's also one of the reasons
Lorenzo Alexander
was so good in this area. He's also considered a good locker room guy. Obviously the Redskins know him well, with Raheem Morris and Bruce Allen both having worked with him in Tampa Bay. You typically do better in free agency when you have a history with a player.
Impact:
The Redskins needed to add inside linebackers, but considering Hayward is more of a special teams standout it's hard to imagine their work here is done. They had been linked to
Joe Mays
as well; he's another special teams standout. Tough to see how this bumps anyone off the roster considering they lacked depth. I do wonder what this means for
Bryan Kehl
, who was supposed to play a similar role. But Hayward, from what I gather, has been a better special teams player. If
Keenan Robinson
is healthy and
Brandon Jenkins
becomes better in this area, it would give the Redskins three big players on special teams who can run. They did not have that last season.
February, 28, 2014
Feb 28
8:00
AM ET
The free-agent period won't begin until March 11, but the reality is that it's already underway. At least when it comes to signing your own free agents, or looking at players cut from other teams. The Redskins have expressed interest in free-agent linebacker
D'Qwell Jackson
, but had yet to line up a visit with him as of late Thursday night, a team source said. The Browns released Jackson Wednesday (but the move was not submitted to the league until Thursday) and he already has visits lined up with Tennessee and Denver.
Other players will be released before March 11. Until more are free, the focus is on your own. Here's a look at the Redskins' free agents, both those who are re-signed and still available.
They're done:
CB DeAngelo Hall
Signed a four-year deal worth $17 million, with $4.25 million guaranteed. His cap number is only $2.1 million this season, but jumps to $4.8 million in 2015 and $5.1 in 2016. Those are hefty sums for a 30-plus cornerback. If Hall regresses this season the Redskins could always cut him next year and save $2.4 million of cap space. They'd be wise to find another good young corner to groom just to be ready. Hall could always move to safety in a couple of years as well, but the safety position is a problem they must solve this year. If it's still an issue in, say, two years? That's a failure.
DL Chris Baker
Signed a three-year, $12-million deal with $4 million guaranteed. That sounds like starter-type money (albeit not a high level one), but it's certainly not guaranteed starter money. He has $1 million in incentives that are not likely to be earned -- based on play time, sack totals and Pro Bowl appearances -- each of the three years and his cap number is only $2 million this year and tops out at $4 million in the final year of the contract. The deal averages $3 million per season. It allows the Redskins to keep a young, improving lineman who can help them at multiple spots: end, nose tackle and nickel rusher. Even if he doesn't start he will play a lot.
Still waiting:
[+] Enlarge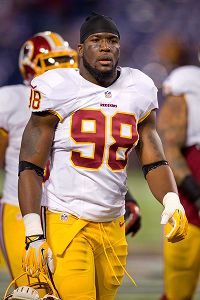 Bruce Kluckhohn/USA TODAY SportsThe Redskins are interested in bringing Brian Orakpo back, but he could test the market first.
LB Brian Orakpo
The Redskins want to re-sign him and Orakpo would like to come back. But he's more than comfortable testing the market in order to get the sort of contract he wants. The Redskins could place the franchise tag on him (the deadline is Monday). That would leave him with a salary of approximately $11 million this year, but no long-term security if he gets injured. The Redskins could sign him to a back-loaded five-year contract that has a much lower cap figure for the first two years of the deal. But at some point he'll count a great deal against the cap and not be cuttable, at least for a year. (For example, Pittsburgh's
LaMarr Woodley
, in Year 3 of his deal, counts more against the cap if he's released.)
LB Perry Riley
The Redskins don't want to create another hole at inside linebacker with
London Fletcher
already retiring. But if Riley wants a big contract he'll have to go elsewhere. They'd prefer to keep him; they know they can upgrade if necessary. A word of warning: It's not a deep group at inside linebacker so it could be tough to fill one spot let alone two.
S Brandon Meriweather
Haven't heard a whole lot in regards to Meriweather. It's hard to imagine they'd bring him back on anything other than a one-year deal, while hoping that
Phillip Thomas
eventually becomes the starter. The Redskins need to solve this position and Meriweather's play did not warrant him being a strong solution.
CB Josh Wilson
He did a good job against the run while in the slot, which isn't always easy. But his coverage skills aren't what the Redskins need. Plus
David Amerson
, entering his second season, should be elevated to a starter. The Redskins will need more corners, however. But they also need more size at this position.
S Reed Doughty
Doughty is a capable backup who too often was pressed into a starting role. He's a good special-teamer as well.
CB E.J. Biggers
He was their fourth corner and played some safety, though it's doubtful he'd have played that spot for any team other than the safety-starved Redskins. But he adds depth and there's a chance he'll return.
LB Rob Jackson
The Redskins have yet to talk contract with Jackson. Obviously they have Orakpo to worry about and if he signs it's tough to imagine Jackson returning as well. He'll want to go somewhere he has a chance to start.
LB Darryl Tapp
Very strong against the run. Not bad to keep around at all.
LB Nick Barnett
He's not a starting candidate and they need to find backups who are much better on special teams.
WR Josh Morgan
He failed to produce considering the contract he received. The Redskins need to upgrade.
WR Santana Moss
They can always use
Leonard Hankerson
in the slot, but he might not be healthy until the middle of August. They still think Moss can play. If they upgrade other receiver spots they don't need to spend a lot for a dynamic slot receiver.
QB Rex Grossman
New coach Jay Gruden has typically kept two quarterbacks, which would leave no room for Grossman. Perhaps Kyle Shanahan will want him in Cleveland to help the other quarterbacks learn his offense.
TE Fred Davis
Davis has bigger issues to worry about.
C J.D. Walton
Signed late in the season. The former third-round pick was a starter in Denver until a bad ankle injury in 2012. The Broncos cut him in December. Washington could upgrade at center.
LB Bryan Kehl
A good special-teams player, but coming off a torn ACL in October.
WR Dez Briscoe
Spent the year on injured reserve; worked with current receivers coach Ike Hilliard two years ago. Has size, but you need more than just size. The Redskins have little depth at this position.
October, 15, 2013
10/15/13
4:30
PM ET
The
Washington Redskins
had a busy Tuesday, signing three players, cutting one and placing two more on injured reserve. It'll be tough for the new players to provide the sort of help the Redskins need.
Here's a recap of the Redskins' moves:
Coming:
*Linebacker
Josh Hull
, long-snapper
Kyle Nelson
and safety
Trenton Robinson
. Hull has played in 28 career games with one start after being drafted by St. Louis in the seventh round of the 2010 draft. But he was cut at the end of August. Washington needs him to help on special teams, replacing the injured
Bryan Kehl
.
Nelson, who went undrafted in 2011, snapped for San Diego in the final six games of the 2012 season. He was cut by Seattle this past summer. His grandfather, Roger Nelson, was a 13
th
-round pick by Washington in 1954 but ended up playing in the Canadian Football League instead. Kyle Nelson replaces injured
Nick Sundberg
.
Robinson was a sixth-round pick by San Francisco in 2012 and appeared in the first three games of last season for the 49ers. He was on Philadelphia's practice squad this season until being released a week ago. Robinson was a captain at Michigan State along with current Redskins quarterback
Kirk Cousins
. The Redskins clearly need help at safety, though it's hard to find such help during the season. If he can help on special teams, that would be a boost. He's listed at 5-foot-9, 193 pounds and won a roster spot in 2012 because of his aggressive style. Robinson was timed in the 40-yard dash in 4.48 seconds at the 2012 combine.
Going:
*The Redskins released safety
Jordan Pugh
, who made the roster coming out of training camp but didn't add a whole lot. The Redskins activated safety
Jose Gumbs
against Dallas, and when they needed an extra safety, they often used a corner in that role. That's not what you'd call a good sign.
Gone for now:
*Kehl and Sundberg, both of whom suffered season-ending knee injuries against Dallas on Sunday night, were placed on injured reserve. Kehl tore his left ACL; Sundberg tore his right meniscus. Kehl was their leading tackler on special teams while Sundberg was a consistent long-snapper.
October, 14, 2013
10/14/13
4:22
PM ET
ASHBURN, Va. -- The Washington Redskins' special teams has enough problems. Two more can be added to the list. They lost their top tackler,
Bryan Kehl
, and long snapper,
Nick Sundberg
, to season-ending knee injuries.
Both Kehl and Sundberg were hurt in Washington's 31-16 loss at the
Dallas Cowboys
on Sunday night.
Kehl tore his left ACL while Sundberg tore the meniscus in his right knee. They'll weaken an already weak crew under first-year coach
Keith Burns
. Sundberg is an excellent long snapper and gets the ball back quick. Kehl was one of the leaders on special teams, an area that has kept him in the NFL. The Redskins lack impact players on these units and therefore can't afford any loss of a good player. The Redskins have not yet signed anyone to take the place of either player.
Corner
David Amerson
suffered a concussion in Sunday's loss and will be monitored throughout the week.
October, 14, 2013
10/14/13
3:01
AM ET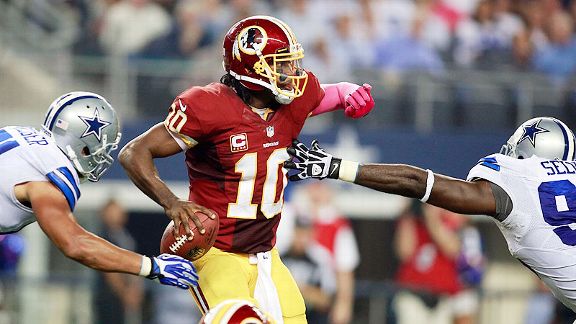 Tim Heitman/USA TODAY Sports"We're close on offense," Robert Griffin III said. "But close doesn't do it in this league."
ARLINGTON, Texas -- He targeted special teams, a good place to start after the
Washington Redskins
' latest loss.
Darrel Young
, his voice going a mile a minute and full of fire, stopped with this unit, blaming them for the loss. He could have continued on to other aspects of the team. And nobody would have stopped him. When you're 1-4 and you had designs on contending for a division title and perhaps the Super Bowl, there's no simple reason you lost. Again. There's no simple way to turn it around.
Play better? Of course.
The problem is there's no one spot that's consistently failing the Redskins. It's all of them. The offense can't generate points in the first half, constantly putting the team in a deficit. They've trailed at the half in each game. The defense struggled for the first three games, yet they did their job in Sunday's
31-16 loss
to the
Dallas Cowboys
. And there is the special teams. The woeful special teams.
"Every phase they kicked our butts [on special teams]," Young said.
"That was the worst special-teams performance since I've been here," Redskins special-teamer
Niles Paul
, in his third season, said. "We were outplayed in every phase of special teams. Just a meltdown."
But this isn't just about the special teams. It's about a team that can't find its way, one year after it ended as one of the hottest teams in the NFL.
If Robert Griffin III hadn't gotten hurt in that Seattle loss.
It seems so long ago. And it seems like more than an offseason between then and now. It feels like a lifetime.
"It's definitely an awkward feeling," Redskins cornerback
Josh Wilson
said of their start.
Chances are, their fans are feeling something other than awkward.
It's also tough to see it getting back anytime soon to that pre-Seattle-injury point, when they felt with a healthy Griffin they could have gone on a long run. It's not just the 1-4 record; it's the way they've gotten to this spot. Just overall sloppy play. Before the game, one Redskins team official said they just needed to go out and play well. That way, even if they had lost, they could see something upon which they could build.
What do they build off of this game? The defensive performance was solid, limiting Dallas to one legitimate scoring drive (the first one of the game). But they could not stop the Cowboys in the red zone. Yes, it was a better showing than the defense had in the first three games. Heck, they held receiver
Dez Bryant
to 36 yards and harassed quarterback
Tony Romo
into a 72.9 passer rating. They held Dallas to 213 total yards. You look at those numbers and you think one thing: Washington won.
Instead, the Redskins lost by 15. Goodness.
An offense that seemingly took a step forward against Oakland before the bye week regressed Sunday night. They couldn't stop a Dallas pass rush despite the Cowboys losing end
DeMarcus Ware
. They couldn't convert in the red zone. They turned the ball over twice, once inside their own 5-yard line. One step forward; two back. Griffin looked more spry; it didn't matter.
"We're close on offense," Griffin said. "But close doesn't do it in this league."
No, it does not. Sure, the Redskins show signs of life at moments. But they're not playing winning football. Sometimes that's a tough term to define, but not when you watch this team. Too many penalties. Too many missed tackles. Too many breakdowns.
"I feel every week we're getting better," running back
Alfred Morris
said. "I'll stand by that. But at the same time it seems like we get better in one area and we take a step back in another area. You can't do that and win games."
[+] Enlarge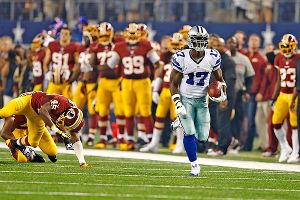 AP Photo/James D. SmithAfter a penalty wiped out a good punt and forced them to kick again, the Redskins watched Dwayne Harris return the punt for a touchdown.
They're not good enough to overcome 12 penalties for 104 yards, as they had Sunday night. If you're good and you commit that many penalties you're considered aggressive, and perhaps that undisciplined style is part of your charm. When you commit that many and you're 1-4? They question your discipline and coaching and say you don't do the little things well. It's all true.
When you're playing like the Redskins are now, you have an illegal-motion penalty on a fourth down, wiping out a punt that left Dallas at its own 16-yard line. So you kick again. And the returner,
Dwayne Harris
, takes it 86 yards for a touchdown -- and you lose one of your top special-teams players along the way in
Bryan Kehl
, who hurt his knee on the play.
"We found the enemy," Young said. "It's us. … It sucks. At the end of the day it's unfortunate, but we have to move on from it."
That's all they can do. The question is, how do you fix this? The Redskins need to prove they can play well for an entire game. That, not the number of games, is the answer. If they don't start doing that, they can play 20 games and still keep finding ways to lose. It's good for the Redskins that the defense is playing well; it'll have to play even better.
Not that they're counting themselves out. They won't do that, nor should they.
"I don't feel like a team that can't rebound," Redskins nose tackle
Barry Cofield
said. "I don't feel like a team that is out of it. I definitely don't feel like that. We're going to go back to work. All the losses hurt. They should hurt."
If they don't turn it around soon, they'll start to hurt even more. An entire season would then come crashing down.
October, 14, 2013
10/14/13
12:56
AM ET
ARLINGTON, Texas -- Observed in the locker room after the
Washington Redskins
'
31-16 loss
to the
Dallas Cowboys
.
Morris
Reality check:
For the fourth time this season the Redskins had a quiet locker room. But there was more of a shell-shocked look on the faces of the players. Nobody is more surprised by the 1-4 start than the Redskins' players and coaches. "Lack of execution is costing us games," running back
Alfred Morris
said. There's still a long ways to go, and perhaps that's why
Reed Doughty
spent several minutes "coaching" up
Jerome Murphy
in the locker room, going over scenarios and different plays. But they all know time is getting short.
Ouch:
Cornerback
David Amerson
left the game in the second half with a concussion. Coach Mike Shanahan did not have an update after the game, but Amerson will be evaluated throughout the week. Special-teamer
Bryan Kehl
said he felt something pop in his knee on the Cowboys' second-quarter punt return for a touchdown. The killer on that play: Kehl had the angle on returner
Dwayne Harris
. "I would have made the tackle," Kehl said. He'll undergo an MRI. Long-snapper
Nick Sundberg
suffered a knee injury as well. Shanahan was not sure how serious it was, but Sundberg could not finish the game.
Dead zone:
The Redskins had three trips inside the red zone, but settled for field goals of 20, 32 and 33 yards. Meanwhile, the Cowboys had four trips in the red zone and came away with three touchdowns. That's a 12-point difference. "I think we had a solid game, but we need touchdowns instead of field goals," Redskins center
Will Montgomery
said.
September, 1, 2013
9/01/13
1:00
PM ET
Taking a look at the Redskins' roster after Saturday's cutdown to 53 (knowing it could change during the week). As on offense, I don't look at any of these groups as being worse than a year ago. The line is about the same, though they were pretty good last year and Barry Cofield continues to improve. The linebackers should be better and it's reasonable to expect the secondary to improve just because they'll play two young kids. But they have to prove what they can do in a regular-season game. Still, they're not worse. I'd be surprised if the defense doesn't improve. Is it a top-10 unit? I have my doubts. But they don't need to be, not with the offense and, besides, it's all about turnovers and points allowed. Those are the stats that will matter with this group.
Defensive line (6):
Kedric Golston
, Barry Cofield,
Stephen Bowen
,
Chris Baker
,
Chris Neild
,
Phillip Merling
[+] Enlarge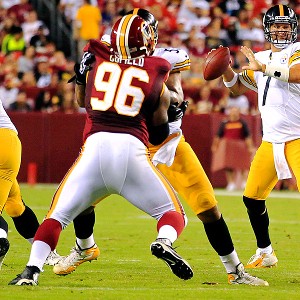 Geoff Burke/USA TODAY SportsWill a strong summer for Washington's Barry Cofield lead to a big regular season?
Note: This was a relatively easy area to project because of the inexperience behind these six. Merling played well enough to earn a spot, too. Now he has four weeks until
Jarvis Jenkins
returns to prove he should maintain one.
They'll get Jenkins back in four weeks; he worked on adding more explosion and a bigger first step to help his pass rush. But Jenkins did not show more as a pass-rusher than he did last season. He still never reached the QB in the preseason. Golston earned the start ahead of Baker in his place because of his consistency and penchant for doing his job.
Better or worse than 2012: Same. It's hard to say they're better only because they consider Jenkins a starter ahead of Golston and he'll miss the first four games. I like Neild as a backup nose; but can Baker do what they need him to as the No. 3 end? He can play the nickel, but can he do the every-down duties -- occupying blockers, etc.? When Jenkins returns, it's a solid group -- not because he's a budding Pro Bowler, but because he can help. He improved against the run last year in terms of occupying blockers. Also, in some nickel situations he should help just by collapsing the pocket, though he didn't look much different rushing the passer this summer than in '12. Bowen isn't better -- he was excellent last year -- but his numbers should be just because of Brian Orakpo's presence. Cofield looked terrific this summer and is as important as anyone to this defense. A third year in this system for Cofield and Bowen will help, too.
Linebackers (8):
Ryan Kerrigan
,
Perry Riley
,
London Fletcher
,
Brian Orakpo
,
Darryl Tapp
,
Brandon Jenkins
,
Nick Barnett
,
Bryan Kehl
Note: Again, another spot that was pretty easy to call as long as Barnett's knee was sound. He at least provides veteran insurance inside. The coaches like Kehl, but the fact is he's only started five games (appearing in 67, though mostly on special teams). Barnett has started 139 games. Fletcher looked fine this summer, but at 38 you need an experienced backup behind him. Whether or not he can help after this season, who knows? But his experience will help in a pinch if needed. Tapp and Jenkins are the latest to convert from ends to linebacker. Tapp was a pleasant surprise this summer; didn't realize how strong he was at the point of attack. He had a couple big-time swats to get free for pressure. Jenkins is still a rather raw pass-rusher, but will help in certain looks. He's rushed both standing up and with his hand on the ground.
Better or worse than 2012: Better. Orakpo's return makes that so and Kerrigan's increased versatility makes it even more true. Kerrigan was more effective as a rusher when being moved around last season; I like him inside for a change-up -- it's harder for guards to handle his rip move because he can close the space they need to combat it in a hurry. Orakpo makes others around him better in ways obvious and subtle. Riley seems to improve a little bit each year.
Defensive backs (10):
DeAngelo Hall
,
Josh Wilson
,
David Amerson
,
E.J. Biggers
,
Jerome Murphy
,
Bacarri Rambo
,
Brandon Meriweather
,
Jose Gumbs
,
Reed Doughty
,
Jordan Pugh
Note: This yielded two surprises in Gumbs and Murphy, at least when you go back to the start of camp. It's doubtful many projected them to win spots. Murphy was helped by Richard Crawford's injury and then by his own physical play (and, mostly, special-teams work). Gumbs adapted to free safety and showed he's a hitter. I really like that the coaches rarely had to get on Rambo for missed assignments. I'm sure they did in private, but on the practice field he rarely seemed to be out of position. His big flaw in the preseason -- open-field tackling -- improved in the final two games. With no live tackling in practice, he had to learn on the run (no pun intended). The lessons will continue, but Rambo is a good learner.
Better or worse than 2012: Same, but with an asterisk. They have durability issues with Meriweather -- but that's nothing new considering he played half a game last season. Wilson is coming off shoulder surgery, but they seem to have improved the depth here and I like Amerson's potential. So if something happened to Wilson and Amerson had to start midway through, then the Redskins would be fine and, eventually, better just because of the rookie's potential. An improved rush will help them as will the infusion of youth. But the latter can take time to mature so at some point this season you could rightfully say they're better.
August, 25, 2013
8/25/13
1:20
PM ET
After watching the 30-7 win over Buffalo again, here are some thoughts on the Redskins' defense:
Saw this during the game, but wanted to see how often they ran the front with Brandon Jenkins, Ryan Kerrigan, Darryl Tapp and Brian Orakpo as their front four. Turns out they used that look three times with mixed success. Jenkins recorded a sack the first time, getting pushed to the ground but showing athleticism by reaching out to grab a panicked Kevin Kolb. Seriously, Kolb escaped as if he faced imminent danger; he did not. He put his head down and tried to run wide and Jenkins got him. I can't believe anyone ever traded a player and a second-round pick for him. The second time they used that front was a third and 12 and David Amerson extended the drive with a facemask penalty. The front applied no pressure. They used it on a third-and-3, which is usually a passing down but against that front you could justify some sort of run. Did it work this time? Well, yes and no. The Bills kept in seven to block and there were four blockers against Kerrigan and Orakpo, both on the right side. Kolb ran for a first down after leaving the pocket. So the rush occupied blockers; the coverage prevented a pass but the Bills still managed a first down.
That look works because Kerrigan and Tapp are comfortable playing inside, both having converted from defensive end. Both are strong enough and play with good leverage. But this is obviously designed for pass rushes and provides the Redskins more creative looks -- without blitzing. Jenkins, though, was easily blocked by the right tackle.
How much did the fast pace hurt Washington? It really didn't. The Redskins were quick with subs; on one play, Tapp ran from the sidelines to the huddle less than six seconds after the whistle blew. The fastest the Bills got off a snap after the whistle blew was 18.8 seconds. The Redskins weren't fooled: Orakpo took two steps up then dropped into coverage and broke up a second-down pass. The next snap came 31.4 seconds later and the Redskins were able to switch from their base front to the fast nickel with Jenkins and Tapp entering. The Redskins' first defense changed their front on eight different occasions and never looked lost. Tapp has been one of the more pleasant surprises this summer.
The one time where I thought the fast pace hurt was at the end of Buffalo's scoring drive. They had to keep the same front in the game – a big nickel with Kerrigan, Kedric Golston, Stephen Bowen and Orakpo – for four consecutive plays. They got the next play off in 20.3, 26.1 and 20.6 seconds, respectively. The final one was a touchdown of course against a tiring front.
The Bills also ran a set of their own run-pass option plays in this sequence, showing a bubble screen to one side and a run option the other way. They opted for the run on C.J. Spiller's 19-yard gain – the numbers dictated the outside would be blocked and it was. All Spiller had to do was beat David Amerson and he did. On Spiller's touchdown, they called for a bubble right. But, knowing he had six blockers to take on six defenders in the box, Kolb handed it to Spiller for an easy score.
The Redskins used their base front seven times, with Chris Neild handling nose duties for injured Barry Cofield. Neild was fine. Helped make a play with good leverage, getting under the blocker's pads and helping make a tackle. On four runs versus Washington's base coverage, the Bills managed nine yards.
I like the subtleties of the pass rush because they make a huge difference. And here's how players, and scheme, can free defenders up even in a four-man rush. When Bowen and Orakpo are on the same side if Bowen rushes inside the guard then the guard can chip him and slide back out to help the tackle if Orakpo shoots inside. That's what happened on the game's first play, though Orakpo still had a hand in Kolb's face. But later Bowen started rushing at the outside shoulder of the guard. This guaranteed Orakpo one-on-one with the tackle and the center looking to help. It did not result in a sack, but it did lead to a quick dump-off over the middle. Just something to look for at times.
The Bills rarely threw anything downfield against the starters, except for two shots versus Josh Wilson – one of which he was beaten on and drew a pass interference penalty and the other he had played perfectly and was interfered with. Their longest completion against the starters was for 11 yards on third and 15. Every other pass against the starters was for six yards or less. That's the result of having Jeff Tuel enter the game in the first quarter because of Kolb's concussion. That, of course, makes it tough to measure just how good the defense was but the Bills played starters at every other spot into the third quarter.
It's really hard to tell about coverage off a TV feed; actually, it's almost impossible unless they give you a full-field shot. So it's hard to say how the young guys played in most of their coverages. David Amerson clearly got beat off a double move in the second quarter; he was lulled by Tuel wanting to throw a quick out the other way, but corner E.J. Biggers' coverage changed that plan. So Tuel went back to the other side at receiver T.J. Graham, who had raced past Amerson and drew a 42-yard pass interference penalty. The Bills had mostly been throwing short all game, but Amerson still needed better eye discipline on that one.
Amerson continued to show a willingness to tackle, but he did miss Spiller on a 19-yard run, allowing him to get wide. That's a no-no for the corner. He also missed a tackle on a play in which Bryan Kehl forced a fumble. But earlier on that same drive Amerson had made two tackles. There's still a lot of learning going on here; it's good that Josh Wilson returned. It allows Amerson to grow without the pressures of having to start. Plus, it would be difficult to have two rookies starting in the secondary, at least initially. The secondary remains a work in progress; some good signs and some not so good.
Safety Bacarri Rambo had a better tackling game, as I wrote about in my observations. It wasn't the same looks that he faced in the first two games in terms of a dangerous back in the open field. It could have been had he not made a good, quick read on Spiller and forced an incompletion with his hit. He was decisive and drove at his inside hip, a good angle. The good news for the Redskins is that Rambo didn't miss any tackles. He just needs to be reliable back there. I don't know whether this means his tackling issues are resolved -- I'm guessing there are more lessons to be learned – but it was a good game for him to gain confidence. In coverage, the one play that stood out was the near interception. I did not see Rambo after the game to ask him this but I wonder if he didn't quite trust his eyes on this play. He saw Tuel looking at Stevie Johnson and hesitated. When he broke he was just a little late. But he showed his playmaker mentality by going for the ball.
Linebacker Brandon Jenkins' pass rushes were mixed. He had a sack, though it wasn't as if he beat the tackle on the play. He's clearly still trying to figure out what works best for him at this level; even saw him throw in a hesitation move similar to one you'd see in basketball, with an exaggerated step. It failed. But he did have a couple good rushes, including one in which he lowered his right shoulder into the tackle, then controlled him to the inside for a pressure. Two plays later he learned a lesson on awareness. As he tried to get wide of the tackle, Spiller knocked him to the ground with a block. But I really liked some of what I saw of Jenkins on special teams. He was the first one down on a kick return, shooting through an opening and nearly making a great play, though he was nudged a little off his path at the end. On the next kickoff, he blew up the blocker and the returner, Marquise Goodwin ended up tripping over him. This is where I really like Jenkins early in the season.
Said it last week, but will say it again: I really like linebacker Will Compton, a rookie undrafted free agent. He's worth keeping on the practice squad; decisive reads and showed quickness to the hole, beating the blockers. He and Bryan Kehl did a good job with the second unit. So, too, did Rob Jackson against starting offensive tackle Cordy Glenn. Jackson had two nice pass rushes and set the edge well; he did lose backside contain on one Spiller run in which he reversed field. And Darryl Tapp continues to play well. He's just a strong dude, especially in the lower half. When tight end Lee Smith would try to engage him, Tapp did a great job keeping his lower half bent enough to slightly explode into Smith's pads and not lose any ground.
Corner Chase Minnifield continues to improve and play physical. Even before Richard Crawford's injury it was real tough to see Minnifield being cut. Because of his aggressive hands, Minnifield plays receiver's blocks with good leverage. He came up aggressively on a pass to the fullback (though he was the one knocked down on his hit). And Minnifield played the "robber" play well, coming off the outside receiver to the inside one but dropping a poorly-thrown ball.