Washington Redskins:

Buffalo Bills
August, 27, 2013
8/27/13
9:15
AM ET
Two weeks ago in training camp, rookie
Chris Thompson
struggled to catch punts. He misjudged the flight, reached up awkwardly to his side when trying to corral one and didn't look smooth catching others. He knew it too.
"I was frustrated because I couldn't read the ball that day," Thompson said.
But he received help from the other returners.
Richard Crawford
,
Nick Williams
and
Skye Dawson
all gave him tips on how to catch punts. It's not necessarily an art form, but there is a difference between fielding kickoffs and punts. Thompson occasionally fielded punts during practices at Florida State, but never returned one in a game, just kickoffs.
[+] Enlarge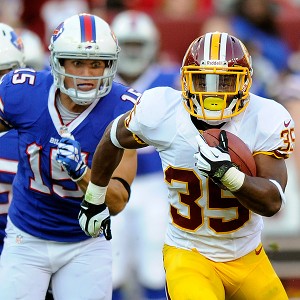 AP Photo/Nick WassChris Thompson knows his versatility can improve his chances of landing a roster spot.
Some of the differences are obvious: Punts are more unpredictable, both in terms of where they're going and how long they'll be. There's also a chance the returner might get drilled upon catching the ball. So instant decision making is important. As a kick returner, the big decision is whether or not to run it out of the end zone -- and coaches often tell them beforehand what they want. The upback can help in that decision, too. For punt returners, it's an in-the-moment decision.
But the ball arrives differently as well. Kickoffs are end over end and easy to read. Punts come off the foot differently and can rotate in more ways.
"You have to be able to read where it's going or if it's going to fall short," Thompson said.
It can take time. But Thompson did a good job of this versus Buffalo. He ran up at least 10 yards to field one punt; drifted back to catch another and moved back and to the side on a third. All were fielded smoothly. It's a start.
"I was actually surprised myself," Thompson said on how well he caught the ball. "Crawford had been doing a great job just helping me out every single day."
Thompson, though, has fumbled twice in the preseason on runs from scrimmage. Ball security and decision making trump speed when it comes to returning punts. Thompson said coach Mike Shanahan told him after his fumble against Buffalo that, "I don't care how good you are, if you put the ball on the ground you're not going to play."
But if Thompson does end up returning punts, then you can credit the other returners, Crawford in particular, for an assist. Thompson knows this could be a way to ensure a roster spot, too. His open-field running style, the ability to be patient yet cut sharply and set up blocks, works well on punt returns. He could get more chances Thursday at Tampa Bay to prove he's a viable option.
"Coaches brought me here not just to be a running back," he said. "I know that's one more thing I can hopefully add to this team."
August, 24, 2013
8/24/13
11:25
PM ET
Highlights from the Washington Redskins' 30-7 win over Buffalo on Saturday, their third straight in the preseason. Somewhere, Don Shula's boys are getting nervous. Or not. Anyway, here you go:

The running game was terrific, but I need to start with the defense. Yes, the Bills have some issues at quarterback. Kevin Kolb was knocked from the game, but he's at best an average quarterback. Still, the Bills want to play at a fast tempo and it's not just about passing the ball; they want to run the ball a lot, too. But the Redskins' defense forced two three-and-outs in addition to a 10-play drive (aided by a third-down penalty on David Amerson). It would have been good to see the Redskins' defense face this attack longer, to get a better feel because it can wear teams down. However, the Redskins handled this attack well and one reason was linebacker London Fletcher. To a man, players talk about how communication and conditioning are key to battling that offense. The Bills typically snapped the ball with 20-23 seconds left on the play clock. Yet the Redskins' D did not look confused or lost. They subbed and were able to use their base and nickel packages. "London is the calming force of the defense," Redskins defensive end Kedric Golston said. "You feed off his confidence and getting the calls. That tempo is trying to catch you with everyone not communicating. That's how big plays happen." By the way, Buffalo managed a first down on only three of 12 series and none in the second half, though when Jeff Tuel is your quarterback for most of the game, that's bound to happen.
It can't be underestimated how important it is to have someone like Fletcher on the field. It doesn't mean mistakes won' t happen; it does mean that they can minimize those mistakes because of his knowledge. "He's a coach out there and even with the short amount of time we had to get up, we were able to get the calls out and get lined up," linebacker Ryan Kerrigan said. I haven't asked Fletcher about this, but there's little doubt that he's watched film of Oregon and of Philadelphia in preparation for the opener, and probably has for a while. There's still no voice in the defensive room that players trust more than Fletcher.
I know one growing trend in the NFL is the use of packaged plays in which the quarterback has the option to either hand off or throw – and only he knows what he's going to do. Buffalo does that; Philadelphia will do some of that. And Saturday, the Redskins scored a touchdown in that situation. They don't do this a lot, but it's certainly not foreign to them. They scored a touchdown two years ago versus Minnesota in this fashion to receiver Jabar Gaffney, and their first drive against New Orleans in the 2012 opener featured several such plays. Anyway, against Buffalo, Rex Grossman spotted the safety in a spot that left him vulnerable – up near the line on the right side. Typically, the safety would have been where receiver Pierre Garcon was headed on his slant. Grossman knew what to do. Watch the offensive linemen on this play– everyone was blocking for a zone run to the right; left tackle Trent Williams went for the linebacker. Grossman stepped that way but threw the slant to Garcon for an easy score. The corner had no shot at making the play – and even gestured to the safety at the end. Don't blame him at all. "I knew we would get a blitz or he would drop out of leverage," Grossman said of the safety. A good call and an easy touchdown.
It's a shame about Richard Crawford on many levels. It leaves the Redskins in a bind for punt returner. I wrote about this elsewhere on the site, but the options are veterans such as Santana Moss and DeAngelo Hall. However, coach Mike Shanahan does not like to use key players in this role, and both would qualify. Besides, Moss has not returned a punt since 2009, and Hall has four returns in five seasons. There's also Aldrick Robinson, who was bad in this role two preseasons ago and didn't show a lot of improvement last summer. Can they really trust him? Skye Dawson has looked better since two disastrous returns in the opener (a fumble and a bad decision to reverse field). Anyway, Crawford is one of the Redskins smarter players; he's always struck me as a future coach because of the way he thinks and understands the game. And he had improved a decent amount this summer – after spending the spring working with Redskins Hall of Fame corner Darrell Green. Mostly, this is about Crawford's returns and I liked how comfortable he was fielding the ball. It looked natural and he (usually) made the first defender miss.
Another option is Chris Thompson. There's much that I like about Thompson and what he offers, and yet there are two major issues that just won't go away: durability and ball security. I was pleasantly surprised how he looked fielding the ball. In practice a week or two ago Thompson did not look smooth at all; he twisted his hands awkwardly catching it on the run to his left and he fought the ball other times. However, he looked much different Saturday. "When I got back there I was pretty calm," he said. It showed. He ran up and caught one on his 31-yard return. He had to backpedal and grab another one and moved to the side. Still, he's only fielded three punts in a game since high school. It's hard to imagine they can trust him with ball security at this point. But they absolutely love his speed and his sharp cuts in the open field. Some of this talk makes him sound like Brandon Banks, though Thompson is loads ahead when it comes to character.
Now, for Thompson's runs from scrimmage. The fumbles are an issue, and it's clear he's still adjusting to running in this offense. Of his 15 carries, none went for more than 9 yards. There were some positive signs: He did not dance around, and when he saw the opening he cut up and took what was there. Liked on a 5-yard run in the fourth how patient he was running to his left, then cutting up and running into the gut of a linebacker, moving him back a yard. He only averaged 2.9 yards per run and I'm curious to see when rewatching the game what sort of holes he really had. I saw good signs. However, those fumbles are killers. He showed resiliency in what he did after the fumbles and that's good. (He actually carried the ball in his left hand on a run to the right, his first after the fumble. Why? Because he's left-hand dominant and felt more secure with the ball in that hand.) But he's fumbled twice in two preseason games. If you're going to do that, you'd better make a few really big plays. Thus far, that hasn't been the case. Can he make the roster? Yes, because the coaches love his speed and he can develop. But he has not yet earned it with his performance (just remember, though, two years ago that Banks had not really earned it either until a big preseason finale).
I liked how rookie tight end Jordan Reed played after a tough debut versus Pittsburgh. In that game, he dropped a pass and struggled as a blocker. Saturday, Reed caught the ball well and blocked even better. Reed competes hard, one reason he's further ahead as a blocker than the coaches had hoped or realized he would be at this stage. On Keiland Williams' 23-yard run it was Reed who cleared an opening by driving a linebacker out of the way. It wasn't his only good block, but it was one good example. He used his hands better and was a little quicker with his feet getting in position. I also like that he makes smooth catches on balls that would be a little tougher for most players of his size at his position. I don't know when he'll make an impact, but I like his potential.
Another guy who deserves credit: safety Bacarri Rambo. Didn't get a chance to talk to him after the game, but you saw one reason why the coaches really like him: The ability to quickly learn. With the tackles it was all about angles rather than desire and after working on it even harder this week, there was a big improvement. Should you be completely comfortable yet with him? No. Even Sean Taylor needed to adjust to this during games; I remember asking Gregg Williams about Taylor's open-field tackling as a rookie. The difference for Rambo tonight is that he didn't hesitate. He was decisive and it showed. He tackled running back C.J. Spiller in the open field. Rambo also tackled Kolb in the open field. OK, Kolb isn't Mike Vick. But what Rambo needed was some confidence in this area, and he received it Saturday. The coaches even gave Rambo extra time when the other starters were out, a smart move. They need him to be solid in this area. One game doesn't make or break anyone – good or bad – but it was a positive step.
The Pat White show continues. Does it mean he'll win a roster spot here? Not unless the Redskins do the unlikely and keep four quarterbacks. And while he's done a nice job running the zone read plays, keep in mind what separated Robert Griffin III on these plays was his ability to provide a triple threat: run, hand off or throw. White hasn't shown he can be consistent throwing the ball from this look. White has improved greatly since we first saw him in spring workouts and if nothing else he's shown that if and when he's cut, it would be wise for someone else to at least take a look. His passing is still inconsistent and while he's good throwing slants – hitting guys in stride – he has trouble on out routes. Before I go crazy on him I'd like to see consistency throwing into different areas and against different looks. But for a guy out of football for three years White has been far from an embarrassment and has provided jolts of energy on the field. He was very patient on his touchdown run, allowing fullback Darrel Young to do his job and then following behind. It's just too bad for the Redskins that White is ineligible for the practice squad. White is behind Grossman; that touch throw to Roy Helu on the wheel route was very, very nice by Grossman. Maybe White gets there someday but he's not close to those types of plays yet. Still, he's improved.
Finally, running back Roy Helu showed once again what he can do in the open field. As a running back there are still times I'm not in love with him. He gets the yards that are available too often whereas Alfred Morris creates more yards for himself. Morris did just that on his first three runs; each one went for longer than it should have because of his vision or his cuts or all of the above. His patience is exemplary. Helu is learning how to run with a little more patience. He didn't always set up blockers. But one of Helu's best runs, a 12-yarder, also coincided with a major negative – a fumble. However, the run was good as Helu pressed the hole well and got the linebackers to overflow to their right. A big cutback lane opened and Helu took advantage. Lucky for him, he recovered his own fumble. On the next play, you saw the dangerous Helu: his footwork was sharp as he was forced to cut a yard or two deep in the backfield because of pressure. Then he made a quick jump cut outside; all tight end Niles Paul had to do was obstruct his man and he did. Helu bounced wide for 17 yards. There's a big difference between Helu and Morris, but both can be dangerous when used properly. If Helu gets 10 touches a game he will provide some big plays. If you put him on the field in passing situations with tight end Fred Davis and receiver Pierre Garcon and use play action… one of them will get wide open. Get a one-on-one matchup with a linebacker, as Helu did, and it can result in a wheel route and long completion. I'm not about to say this will be the most explosive offense ever, but a healthy Helu certainly provides more options and added firepower.
August, 23, 2013
8/23/13
7:30
PM ET
Here's what I'll be watching when the Redskins host the Bills at 4:30 p.m. ET Saturday in the third preseason game for both teams:
The pace of Buffalo's offense. I wrote about this Friday morning, but Buffalo likes to use a fast-paced attack, something the Redskins' season-opening opponent, Philadelphia, does as well. How will the Redskins handle this? What will the Redskins do if caught in a personnel grouping that isn't the best for what Buffalo's offense has on the field? Because the starters will play only 15-20 snaps, it will provide only a small test -- the pace can take its toll over the course of a game -- but it will be a help nonetheless.

Safety Bacarri Rambo's progression. I'd play him more than the other starters, or at least in the final preseason game, just to give him more chances to tackle in the open field. He clearly needs the work. He might end up starting, but he still has yet to truly win the position. At this point he's in there by default. He has a lot of skills to offer, but if this area doesn't improve it'll cause big problems.

Corner Josh Wilson. He'll make his preseason debut after sitting out the first two games while his surgically repaired shoulder continued to heal. Wilson remains the starter, ahead of rookie David Amerson. But Wilson is not coming off his best season and was asked to take a pay cut in the offseason -- so it's not as if he's firmly entrenched at this position. He's much more knowledgeable about the defense than Amerson and, with a rookie safety, that matters. The Redskins can't afford a lot of defensive backs learning on the go, though Amerson has looked good at times. But Wilson still needs to play well.

[+] Enlarge

AP Photo/Wade PayneRookie safety Bacarri Rambo (29) needs more work on his open-field tackling to avoid headaches later.

Backup running backs. There's no doubt who the top two players are at this position (Alfred Morris and Roy Helu -- but you really didn't need me to tell you that, did you?). Is Evan Royster in any danger? The problem is, the rookies have yet to show that they deserve a roster spot. Chris Thompson has flash, but he's barely done anything in practice, let alone a game, in part because of injuries. Coaches are big on players being available; can they rely on Thompson in this area? His speed is intriguing (and speed is why Mike Shanahan, among others, initially fell in love with Brandon Banks in 2010). So it matters. But based on performance Thompson still needs to prove he belongs. I like Jawan Jamison's running style, but the same applies to him. Royster is an average runner, so he's no lock. Keiland Williams is a good special-teams player, but not much help from scrimmage.

Veteran backups. Specifically linebacker Nick Barnett and receiver Donte' Stallworth. Barnett, the ex-Bill, isn't worried about any sort of revenge; rather, he needs to show that he can still play at a certain level. This will be his first chance to do so. The Redskins have a pressing need for inside linebacker depth, and having a former starter who is familiar with this defense would help. As for Stallworth, he'll make it only if the Redskins keep six wideouts. He's played special teams sparingly in his career, but will have to show he can help there to stick around. And stay healthy. Lingering injuries never help aging vets.

Right tackle. If Bills defensive end Mario Williams plays -- he went two series in the opener and did not see time last week -- then Redskins right tackle Tyler Polumbus will have a good game to measure any progress. Polumbus did not have a strong game last week. Nobody else has taken first-team reps at right tackle. But along with watching Polumbus, I want to keep an eye on veteran Tony Pashos. He's Washington's most aggressive right tackle when it comes to using his hands, but what does he have left? The Redskins likely would need to keep nine linemen for him to make the roster. And Tom Compton is still working on the left side, but he's coming off a strong game.

Nose tackle Chris Neild. With Barry Cofield sidelined by a fractured bone in his right hand, Neild will get a chance to work against the Bills' starting line. He's not in danger of being cut, but this is a good opportunity to face quality blockers.

Rookie tight end Jordan Reed. He struggled as a blocker last week, mostly, it appeared, because of inconsistent technique. He was not overpowered, which is a good sign for him. But he does need to help in this area. Reed also dropped a ball last week; I'd like to see him get a chance to display his athleticism.
August, 23, 2013
8/23/13
10:30
AM ET
It's not the same offense; it is a similar pace. When the Redskins play host to Buffalo on Saturday, they won't receive a carbon copy look of their first opponent. But they will learn how to defend a fast-break offense.

Both the Bills and Washington's first opponent, Philadelphia, want to run as many plays as possible.
Buffalo ran 85 plays in its preseason opener and 78 in the second game. By comparison, Washington's first two opponents, Tennessee and Pittsburgh, ran 55 and 68 plays, respectively.
"It'll be a good test to see our conditioning and see where we're at with everything," Redskins defensive coordinator Jim Haslett said.
The Bills will run the no-huddle out of every personnel grouping, Haslett said. They also run a lot of packaged plays in which only the quarterback knows whether he'll hand off or throw. On those plays, the offensive line will run-block, and the running back will hit the hole expecting to get the ball. But if the quarterback receives a certain look by the defense, he will instead throw the ball.
The trick, though, is to learn how to substitute and get lined up within 13 or 14 seconds after the last play ends.
"Referees are barely getting the ball down for them to reset," Redskins linebacker
Brian Orakpo
said. "I'm glad we have them on the preseason schedule."
The Redskins' coaches have been looking at film of Oregon to see what Eagles coach Chip Kelly ran. They've also broken down film of the Eagles' preseason games. The players, though, have not spent time on Philadelphia, at least not as a group.
But the Redskins have worked defending a faster paced offense this week.
"We're working up-tempo in practice, but to get live game reps against it is crucial," Redskins linebacker
Ryan Kerrigan
said. "It will be good for us from a conditioning and a mental standpoint to know what to expect come Week 1."
But Kerrigan already knows the challenges. He faced Oregon twice while at Purdue. The Boilermakers lost 32-26 in two overtimes in 2008, and 38-36 a year later.
He remembers the issues.
"In some cases you want to get the nickel defense out there, and in some cases you want the base defense out there," he said. "It's tough to make substitutions when you're going full throttle, full speed ... It doesn't allow the defense to get the personnel you want."
And Kerrigan remembers the lessons learned.
"The biggest thing to do is communicate, because if you can get lined up right and have everyone on the same page from a scheme standpoint, that's most of the battle right there," he said. "You have to get lined up quick. That's when they make their big plays, with guys standing up, looking around saying 'what's the call?' Then boom, they run the play."