Washington Redskins:

Calvin Johnson
May, 13, 2014
May 13
2:00
PM ET
The popularity of a quarterback is tough to overcome, something
Alfred Morris
knows. He also knows he entered the NFL as a sixth-round pick and ran through linebackers en route to a record-breaking rookie season.
So taking on Indianapolis quarterback
Andrew Luck
? No worries here.
"Nothing against Andrew Luck, but he has to go down," Morris said.
This is what the sporting world has come down to: Athletes competing to advance in a competition to be on the next cover of "Madden 15." And Morris is taking on Luck. There's even seedings. Morris is a 7-seed; Luck is a 2-seed. There are two brackets and 16 players vying for the top spot. This is life after the draft and before minicamps.
Yes, Morris absolutely wants to be on the cover.
"I grew up playing the game and to be in the game is like, wow, mind-blowing," he said. "Now to have an opportunity to be on the cover is like, mind explodes."
No, he's not worried about the curse. There's a history of players getting hurt or having disappointing seasons – or both – after landing on the cover. Detroit's
Calvin Johnson
broke the so-called curse last season with 84 receptions and 12 touchdowns.
"No, no, no, no curse," Morris said by phone from Bristol, Connecticut, where he was making the rounds at ESPN. "I always thought the curse was a coincidence. Calvin broke the curse. If anything I should want to be on the cover."
It's yet another heady moment for a guy who, two years ago at this time, was an unknown sixth-round pick who drove an old Mazda. He then helped lead the Redskins to the playoffs with a club-record 1,613 yards rushing as a rookie. His home-run swing after touchdowns became a fan favorite.
And now he's making commercials to land on the cover of "Madden." By the way, the
commercial is quite funny
. Morris told an "interviewer" that he should be on the cover because he's never late. They cut to a shot of him rewinding a clock in a workout room 10 minutes. He says he's a great role model; cut to a shot of him watching a game with a young kid and then yelling after a big play, "Don't cry to me, cry to your mama!" Another one: He says he's financially responsible; cut to him getting something to eat, looking for $4.50 in his wallet, finding nothing and then sprinting away with his sandwich.
"I loved it," Morris said.
For a guy who doesn't always want the spotlight, he's comfortable in this role.
"I'm not an attention seeker, but I accept certain things that come with [success]," Morris said. "It's an opportunity to be on the cover. Who wouldn't want to do that?"
Now he just
hopes fans vote for him rather than Luck
.
"A quarterback has more [of a] following than a running back," Morris said. "But I still like my chances. I've always been an underdog."
April, 16, 2014
Apr 16
2:00
PM ET
Last week I broke down the Redskins' salary cap by position and how it compared to the rest of the NFL. This is one more extension of that so you can see how the Redskins' top cap hit compares to the five biggest cap hits at each position. For the most part, the Redskins have more bargains offensively in part because they've found younger contributors through the draft or they landed players such as
DeSean Jackson
after they'd been cut, thereby lowering their price. The Redskins have only one player who will count among the top five at their position in 2014 -- left tackle
Trent Williams
.
Quarterback
NFL's top five cap hits
Eli Manning
,
New York Giants
, $20,400,000
Ben Roethlisberger
, Pittsburgh, $18,895,000
Jay Cutler
, Chicago, $18,500,000
Drew Brees
, New Orleans, $18,400,000
Sam Bradford
, St. Louis, $17,610,000
Redskins top cap hit
Griffin
Robert Griffin
III
$5,759,754 (19th overall)
Summing it up:
St. Louis is paying the price for a since-changed system when it comes to rookie contracts -- and the Redskins clearly have benefited. There's little chance anyone would think Bradford is worth as much as his 2014 cap number. Manning has regressed the past two seasons, for whatever reason, and needed ankle surgery this offseason. Roethlisberger is excellent and Brees remains a top-five quarterback. But Cutler is an example of a guy who is being paid because of the position he plays. He's been a good quarterback, but it's tough to say he's been great. He's definitely not a top-five guy. The Redskins have Griffin at a lower cost the next two seasons and then, if he plays as they hope, his number will skyrocket.
Receiver
NFL's top five cap hits
Mike Wallace
, Miami, $17,250,000
Andre Johnson
, Houston, $15,644,583
Percy Harvin
, Seattle, $13,400,000
Calvin Johnson
, Detroit, $13,058,000
Vincent Jackson
, Tampa Bay, $12,432,000
Redskins top cap hit
Garcon
Pierre Garcon
$9,700,000 (seventh overall)
Summing it up:
The top two at this position certainly didn't outperform Garcon, who led the NFL with 113 catches. Garcon only caught five touchdown passes, but that matches what Wallace and Andre Johnson did as well. Harvin played just 19 snaps all season. Calvin Johnson caught 84 passes, but 12 went for touchdowns and he averaged 17.8 yards per catch. Jackson caught 78 passes, seven for scores, and averaged 15.7 yards per catch. The Redskins received good value from their top earner at this spot. They have even more invested here now after adding DeSean Jackson and
Andre Roberts
. The former will be a major bargain compared to the rest of this group if he puts up numbers similar to last year (82 catches, nine touchdowns, 1,332 yards. But keep in mind in his first five years Jackson averaged 54.8 catches, 4.6 touchdowns and 957 yards per season).
Running back
NFL's top five cap hits
Adrian Peterson
, Minnesota, $14,400,000
LeSean McCoy
, Philadelphia, $9,700,000
Ray Rice
, Baltimore, $8,750,000
Arian Foster
, Houston, $8,300,000
Matt Forte
, Chicago, $7,900,000
Redskins top cap hit
Helu
Roy Helu
$1,548,563 (38th overall)
Summing it up:
Peterson and McCoy are two of the most dangerous offensive players in the NFL and are difference-makers. But what's also clear is why teams don't like to shell out huge money for running backs. Washington's
Alfred Morris
, who is 93rd on the list of running backs when it comes to 2014 cap figures ($600,775), was as productive running the ball as Peterson. Morris ran for 1,275 yards and seven touchdowns, averaging 4.6 yards a carry. Peterson rushed for 1,266 yards and 10 touchdowns, averaging 4.5 yards per rush. Rice ran for 660 yards in 15 games, averaging 3.1 yards on 214 carries. Foster only played in eight games. Forte is an excellent all-around back and was productive. But the Redskins are fortunate they won't have to shell out more money here for two more years.
Offensive line
NFL's top five cap hits
LT
Joe Thomas
, Cleveland, $12,300,000
LT
D'Brickashaw Ferguson
,
New York Jets
, $11,698,666
LT
Russell Okung
, Seattle, $11,240,000
G
Jahri Evans
, New Orleans, $11,000,000
LT Trent Williams, Washington, $10,980,393
Redskins top cap hit
Williams
Williams
Summing it up:
Williams is one of the games best tackles so for him to be in this group makes absolute sense. He could be more consistent and avoid the occasional clunker game, but overall Williams has proven himself and earned two Pro Bowl trips. I'd have a hard time paying a guard as much as Evans, but at least he's an elite player with five consecutive All-Pro nods (in addition to five straight Pro Bowl berths). Okung, drafted one spot after Williams in 2010, has missed 19 games in his career and made one Pro Bowl team. Williams has played in every game the past two seasons. Because of his athleticism, the Redskins can use him differently than other teams use their tackles. And he can escape problems because of it as well (and because of his longer arms).
Tight end
NFL's top five cap hits
Jason Witten
, Dallas, $8,412,000
Marcedes Lewis
, Jacksonville, $8,250,000
Greg Olsen
, Carolina, $7,800,000
Antonio Gates
, San Diego, $7,362,500
Vernon Davis
, San Francisco, $7,342,916
Redskins top cap hit
Paulsen
Logan Paulsen
$2,236,666 (21st overall)
Summing it up:
Yet another position where the Redskins have a bargain for a few more seasons. This isn't about how Paulsen stacks up, but really about
Jordan Reed
. If he can stay healthy, this will be the company he keeps statistically. I love watching Davis because of the matchup headaches he causes based on his athleticism. It's the same with Reed. Marcedes Lewis has had a nice eight-year career and is an excellent blocker, but No. 2 on this list? He has 25 career touchdown catches, but 10 came in one season. The others are proven pass threats. Of course, this list will change once
Jimmy Graham
's situation is settled with New Orleans.
January, 9, 2014
Jan 9
10:00
AM ET
The first two names on the list help explain why Detroit is considered the prime landing spot for a coach. The Lions have premier talent in defensive tackle
Ndamukong Suh
and receiver
Calvin Johnson
, among others.
When I talked to 10 Redskins players
for this survey
, these were the two names mentioned -- with Suh by far the leader. Yes, there have been issues about his extracurricular behavior on the field, but he's a supreme talent.
I'm sure some said he was feared because he can be a bit, uh, temperamental on the field. There's no doubt that's why he tops the list, even though his talent warrants inclusion. When it comes to his game, what impressed me against the Redskins in Week 3 is how hard the guy played from start to finish. He did so despite playing 70 out of a possible 73 snaps in the game.
Here's what I wrote after that game: "Also, Detroit defensive tackle Ndamukong Suh started controlling the middle even more in the second half. Not sure I've seen a tackle with the motor Suh has -- the guy played 70 of the 73 snaps Sunday. That's phenomenal. And he was dominating late. Three times over four plays (covering two series), Suh made a huge impact. First: penetration through the middle (against center
Will Montgomery
) to force a 13-yard loss on a sack. Next: He shed guard
Chris Chester
and caught Garcon on a smoke route to the left for 5 yards. Next: He got past Chester to the outside, reached out and slowed [Alfred] Morris, holding him to three yards when more would have been available."
Johnson, though, scares me even more. The Redskins actually did a solid job on him for much of the game in September and yet he still managed seven catches for 115 yards and a touchdown. When in doubt,
Matthew Stafford
can throw to him with great trust because more often than not he'll catch it. You can double-team him or put your best guy on him, and it doesn't always matter. Johnson pursues the ball in the air as well any other receiver in the NFL. Actually, I don't know many with his ability to go after the ball.
I think it's surprising that in a quarterback-driven league, the three most feared players do not play the position. But I also think that could stem from several quarterbacks getting a number of votes.
Redskins angle
: This is the result of a 3-13 season – safety
Brandon Meriweather
received the most votes by a Redskin in this category. He had four votes while quarterback
Robert Griffin III
received one. Meriweather did not receive that many for his stellar play; rather, he earned that many because of the way he hits. His desire long ago, he said, was to intimidate receivers. I think he's done that, but now the next time he gets in trouble for a hit it could result in a long suspension. As for Griffin, a year ago he would have been much higher on the list. Given how he played this season I'm surprised he got one vote. But whoever voted for him might still have had nightmares from what he saw, or tried to defend, in 2012.
Also, as much as I like receiver
Pierre Garcon
and his record-setting 107 catches, I didn't view him as a feared player the same way I would other receivers around the NFL. All those catches produced only five touchdowns. Part of the problem for Garcon being feared this season was the lack of a downfield passing game. Garcon did have a lot of yards after the catch, but that also was a result of many screens and horizontal throws. I also think Garcon's game and impact often is more subtle -- the way he blocks, his ability to break tackles, etc. I think he's a guy you respect and worry about, but fear is reserved for others.
Finally, it's telling, too, that linebacker
Brian Orakpo
did not receive a vote. I wasn't surprised by that because, again, fear is reserved for major game-changers (or guys with certain reputations for hits). But I wonder how other teams view him as he enters free agency.
November, 1, 2013
11/01/13
7:45
AM ET
Washington Redskins corner DeAngelo Hall has returned two interceptions and a fumble for touchdowns; he's also played well against the best receivers in the NFL. If his second half is like his first, Hall could be headed to his fourth Pro Bowl.
How do you feel you're playing this year compared to your Pro Bowl years?
DeAngelo Hall:
I feel I'm playing good. It's a tough question to answer. There are a lot of games left. The end result is I want to win games and we haven't been doing that. But at the halfway point I feel I've done a good job. I saw Jerry Jones' comment that Deion [Sanders] could shut Calvin [Johnson] down; anybody who puts their mind to it has a chance. I felt like [Brandon] Carr, I don't know if he was scared of the man or what. He came out against us and played like a Pro Bowler. He got out there and looked timid or the scheme wasn't devised for him to make plays. I haven't watched the [whole] game and saw the end result and saw the one slant that I picked off [against Johnson] that he took 80 yards [against Dallas]. I feel good. The guys I've had to cover this season is nothing short of a who's-who list of receivers.
To me it looks like you're playing better.
[+] Enlarge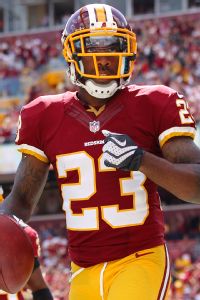 Geoff Burke/USA TODAY SportsPlaying in his 10th NFL season, DeAngelo Hall has been holding his own against some of the best receivers in the game.
Hall:
I feel like I am. Like I said it's hard to say great when you don't win games. As good as Denver was, as good as a lot of other games were …. Chicago I felt I played great; we won the game. I didn't have an interception, a couple pass break-ups, I wasn't around the ball a lot. I held my own against a damn good receiver, but we won the game. I've been in the league long enough. I made a lot of Pro Bowls and had individual success, made a lot of money. I want to win. You get defined by winning and I want to win more than anything now. That's my focus.
You had to take a pay cut in the offseason. Your attitude seems good and you're playing well. Is there a part of you that is bothered by having to do this?
Hall:
I don't know if I took a pay cut for my performance. I like to think not. The cornerback inside me says that's not why. Other things made that happen. The market wasn't what I thought it was and I felt I could still play better than a lot of cornerbacks in this league, so I wanted to come back. I felt comfortable and it was somewhere they'd use me the right way. I think after that [season-ending] Dallas game, they said, 'You're not gonna play nickel and do all the other stuff, play safety; we want you go to out there and lock down a guy.' I was like, I like that. To have an opportunity to do that again I relish that. It was a no-brainer to come back here. The money will take care of itself.
I know the reasons for the pay cut are different, but I've still seen other guys that's it's affected.
Hall:
You ask me that five years ago and my answer would have been different. I'm a much wiser man than I was then. I'm not bitching and complaining. I had a terrible migraine [Thursday] and they wanted me to take the day off. I missed a little bit of the stretching. I still came out and practiced. Mike [Shanahan] was like, "Get back inside and relax." I was like, "No, I want to be out here for these guys." I have to show them I care about this and I want to win games. It's part of the maturation process. A couple years ago you give me a day off I'll take it, regardless of the situation. My head is still banging. I had to come and work with these guys and implement the game plan.
What's underappreciated about your game?
Hall:
I don't know, I don't know… A lot of people think I can't tackle. I feel I'm one of the best tackling corners there is in the league.
I thought that's what you'd say. I don't get it, but that's what I hear about you, too.
Hall:
I hear it, too. I don't know if it's the stigma of corners can't tackle, so they group me in there, too. But I feel I'm a darn good tackler. So that's something underappreciated. I guess my physicalness even at the line, checking receivers. I'm 5-10, 5-11, 190 pounds and there's no way I should win against Calvin and Dez [Bryant] and Demaryius [Thomas] and all the other big guys and I'm able to hold my own.
Of the receivers you've played, who's the toughest?
Hall:
It's hard. I don't want to disrespect anybody. From
Jordy Nelson
to Dez to Calvin to Demaryius to Brandon [Marshall], they all pose different challenges. With Brandon, I didn't press as much because he uses a technique at the line. He'll let you jam him and he'll pull himself through. I didn't want to play as physical with him as I did a lot of the other guys. They're all beasts at what they do. Calvin, they wanted me to do something. I tried it one time and I said, "Hey, that aint' gonna work, this dude is too big; I can't go punk him and throw him around in Cover 2." That dude's just shrugging me off so I have to go back to the drawing board. They're all great receivers who can be game-breakers. If I had to vote all of them to the Pro Bowl I would. They're all beasts.
September, 25, 2013
9/25/13
10:15
AM ET
I'll get into some other things I saw on film throughout the week. Suffice to say that corner
DeAngelo Hall
competed well and, yes, there were a couple plays he gave up but he did a good job against
Calvin Johnson
when paired against him. Also, nose tackle
Barry Cofield
was terrific. He looked like the guy we saw this summer, thanks to the removal of the club. The Detroit Lions threw a lot of short passes and focused on blocking the interior on those plays, allowing
Ryan Kerrigan
and
Brian Orakpo
free rushes at times -- knowing it would be tough to get home.
But last Sunday's game was mostly about breakdowns leading to big plays. Of Detroit's 441 yards of offense, 270 occurred on 10 plays. In the second half, 114 of their 183 yards came on four plays. For the game, 201 yards occurred on these six plays:
[+] Enlarge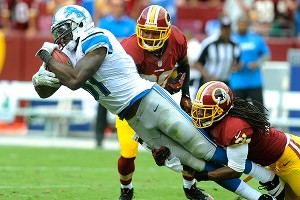 AP Photo/Richard LipskiCalvin Johnson was one of several Lions to gash the Redskins secondary for big plays last Sunday.
1. The 23-yard pass to Johnson (third-and-8, first quarter). This one was too easy as the Redskins dropped into a Cover 2 zone. The Redskins rushed three so quarterback
Matthew Stafford
had plenty of time to find Johnson, running a deep in, about 3 yards in front of safety
Brandon Meriweather
(he got him to lean outside with a plant). There was too much room in front of Johnson to stop this play -- Kerrigan was about 14 yards in front of him. That's too much wide-open space for Stafford and Johnson.
How drive ended: Punt.
2. The 37-yard pass play to running back
Joique Bell
(third-and-10, quarter). The Redskins rushed six on the play, including linebacker
Perry Riley
. Often times he'll rush if the back stays in to block, but on this play his job was to do exactly as he did: blitz. That's a fact. I'm not positive on this, but I think Bell read the blitz and left on his own -- leaving the line with five blockers against six rushers. The left tackle set as if he had outside help from Bell, positioned on that side. When Bell left, Orakpo had a free rush but Stafford unloaded the ball fast so it didn't matter. There was no one within 15 yards of Bell when he caught the ball. Missed tackles tacked on another 27 yards. Tack on a 15-yard penalty on Riley for roughing the passer and this was a killer.
How drive ended: Touchdown.
3. The 20-yard pass play to Johnson (third-and-6, first quarter). The Lions used a stack formation on the left with Johnson set a yard back. Hall still tried to jam him and failed, then stumbled off the line. Johnson rubbed off the other receiver on that side for a deep-in as Hall tried to recover.
How drive ended: Touchdown.
4. The 41-yard gain to receiver
Nate Burleson
(second-and-14, second quarter). Once again, press coverage. The Redskins did well at times in this look but it was not always successful and when it isn't, teams get burned.
David Amerson
lost the inside off the line and Burleson gained another yard of separation on the cut inside after about 15 yards. Still, Amerson dove for the ball and turned a good gain into a great one. Burleson ran another 24 yards.
How drive ended: Field goal.
5. The 47-yarder to Burleson (first-and-10, fourth quarter). This was an odd one and was clearly a breakdown. I can't say with 100 percent certainty what should have happened but I know what did happen. So here goes: The Redskins were in zone coverage based on the movements of almost every player. There was no receiver split to the right so Amerson was near the line and about 5 yards off. At the snap, others drop into what looks like a Cover 3. But Amerson sees the tight end on his side start running across the middle and starts to go with him. Meanwhile, Burleson, who started on the left side, runs a deep cross and catches a ball in an uncovered area. If it was indeed a Cover 3, then Amerson would have been back on that side. But I still need to find out for sure. It might have been a good pick up anyway but it became a great one.
How drive ended: Field goal.
6. The 33-yarder to receiver
Kris Durham
(second-and-9, fourth quarter). Yet another one involving Amerson. The kid made some plays on slants, where his long arms really help. Even if he doesn't get a good jam he's able to reach around and deflect. But he was in press coverage on this one. He did not get a jam on Durham and played him to run what everyone else had all day: a deep-in route. So Amerson cut hard to the inside when Durham planted his foot that way. But this was a great example of saving a play until the fourth, especially against a rookie corner. Durham cut back to the outside to pick up another long gain.
How drive ended: Touchdown.
September, 22, 2013
9/22/13
10:30
PM ET
1. The Redskins are better than this. That's what many people have said or are saying. Why do we assume that they are better than what they've shown so far? Because they won seven straight last season? Right now this is what they are: a team that can't defend the pass in a passing league and with a quarterback who is not what he was -- not yet anyway. Last season was not a fluke, but they had so much momentum going that they could overcome
Robert Griffin III's
knee injury and keep rolling. They can't overcome a still-not-himself Griffin right now because other parts aren't working. So, no, they're not better than this. Griffin's injury haunts this team still. And because he's not himself teams can defend him, and the rest of the offense, differently. Everything changes.
[+] Enlarge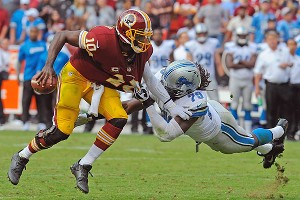 AP Photo/Richard LipskiThe Detroit Lions shut down running back Alfred Morris and showed they were willing to let Robert Griffin III, left, try to beat them on Sunday.
2. I liked this quote from
DeAngelo Hall
: "We can't live on what we did last year. That means nothing right now." It speaks to the urgency of the situation. Don't assume it will turn around just because it did so last season. It's tough to keep beating the odds and that, once again, is what the Redskins are trying to do. A couple wins in a row changes everything, but after Oakland and the bye week they play at Dallas, host Chicago and play at Denver. Even if they play better a turnaround will be tough.
3. One big concern I had before the season was the turnover differential. The Redskins were plus-17 last season; it's tough to keep that going for a second season, and it was a major reason why they excelled. They're minus-2 through three games. Last season, Griffin did not throw an interception in the red zone; he threw one today. Think about this: the defense has scored in two games and they still can't win a game. At home. Against two teams that combined for eight wins in 2012.
4. Missed tackles. Yikes. You can't blame
Bacarri Rambo
for this one because he didn't play from scrimmage as the Redskins used their base front, in an attempt to stop the run, and three cornerbacks. They did stop the run (23 carries, 63 yards for the Lions). But they allowed 385 through the air, and they missed so many tackles.
Joique Bell
broke three tackles on his 12-yard touchdown run in the first quarter. He's a physical runner, but come on.
5. On that drive, the Redskins had a third-and-10 in which they missed four tackles on Bell --
Brandon Meriweather
could have had Bell stopped after 12 yards. Instead, he gained 25 more and another 15 was added for a
Perry Riley
penalty on a roughing penalty. That's how you get to 0-3. Three plays later, the Redskins stopped them on third-and-6. But
London Fletcher
was flagged for holding a linemen as he rushed, an automatic first down. So two terrible third downs put Detroit in position for a touchdown instead of either a punt or a field goal.
6. The Redskins' defense allowed plays of 47, 41, 37 and 33 yards. There were two other gains of 20 and 23 yards. That means of Detroit's 441 yards, 201 came on six plays. The Redskins have allowed eight plays for 30 yards or more in the past two games combined (and 10 for the season). Good lord. It's a combination of missed tackles and poor secondary play, a combination of youth and past-their-prime vets. Rookie corner
David Amerson
admitted he tried to make a big play on one route to
Nate Burleson
; a risky decision -- the play wasn't there to be made -- turned into a 41-yard play. Youth.
7. One of the big mysteries of the second half: Why so few carries for running back
Alfred Morris
? It will be asked Monday. Here is what he did on his first six carries of the third quarter: 0, 4, 1, 1, 3, 1. Not exactly a great stat there, and the Lions made it clear they were going to focus on stopping Morris. Why? Because they did not think Griffin could beat them with his arm. They were also content with him running on the zone read-option, because they were willing to give him four or five yards in order to prevent Morris from getting a lot more. Get used to it.
8. The Redskins won 10 games last season and had an explosive offense by being balanced. It's who they are and it's what they need to be, given where Griffin is as a passer. The imbalance was evident in the first half, too, as Griffin threw 21 passes (five coming with less than 38 seconds left) compared to nine runs. The Redskins moved the ball with 180 yards, but scored just once -- on a 30-yard Morris run.
9.
Aldrick Robinson
has to make that catch. Has to. Your team is struggling; you're in position to change the game and you fail to complete the catch. Robinson was insistent that the ball "never hit the ground ... I know what it looked like, but I know what it was." But replays (and photos) disagreed with him, as did his coach. The pass was there; all Robinson had to do was hold onto the ball as he hit the ground. His job is to get open deep and make big plays.
10. What a luxury to have a player such as
Calvin Johnson
. And quarterback
Matthew Stafford
throws with an unreal amount of trust when going to him. There were a handful of throws where that was evident. Stafford doesn't throw it blindly, but he does throw it knowing that few in the game are better than Johnson when the ball's in the air. And if you give Stafford a little window, as the Redskins did before the back-breaking touchdown, he shows his arm strength.
September, 22, 2013
9/22/13
5:45
PM ET
LANDOVER, Md. – Observed in the locker room after the
Washington Redskins
'
27-20 loss
to the
Detroit Lions
.
Williams
Somber mood:
The Redskins, once again, had a quiet locker room after their loss to Detroit. Safety
Bacarri Rambo
, who did not play one snap from scrimmage in a revamped scheme, sat in front of his locker checking his phone and still in uniform 15 minutes after the game ended. And left tackle
Trent Williams
was the last regular still in uniform, quietly clipping the adhesive tape off his ankle. "We still have 13 games left," Williams said.
Ouch:
Rookie tight end
Jordan Reed
exited the game with a right quadriceps contusion in the second half and did not return. Reed will be re-evaluated Monday to determine the extent of his injury. With veteran
Fred Davis
already out with an ankle injury, Reed's absence left the Redskins with
Niles Paul
as the primary pass-catching tight end. He's not nearly the same threat as the other two.
Staying fresh:
Veteran linebacker
London Fletcher
asked the coaches to be removed on occasion to keep him fresh, which is why
Nick Barnett
entered for parts of at least two series in his place. At 38, Fletcher is nearing the end and likely playing in his final season. He finished with eight tackles, including one sack and two tackles for a loss. "I thought it helped me," Fletcher said of the rest. By the way, he and defensive coordinator Jim Haslett chatted at Fletcher's locker after the game. They have a lot of work to do to fix this problem.
No solace:
Corner
DeAngelo Hall
wasn't about to feel great about his performance against receiver
Calvin Johnson
. It wasn't as if Hall shut him down, but he did play him well and made it tough on Johnson, while also returning an interception for a touchdown. "The goal is to get a win," Hall said. "He wants the win. That's what he got."
September, 22, 2013
9/22/13
4:24
PM ET
LANDOVER, Md. -- A few thoughts on the
Washington Redskins
'
27-20 loss
to the
Detroit Lions
:
What it means:
The Redskins are 0-3 to open the season for the first time since 2001, when they started 0-5 en route to an 8-8 year. But the expectations were much higher and they're now 0-2 at home, where they faced the
Philadelphia Eagles
and Lions, who combined for eight wins in 2012. That can't happen. Since 1990, of the 115 teams that started 0-3, only three made the postseason. The Redskins now face a long week and a lot more serious questions. The defense still gives up too many big plays and the offense makes too many mistakes.

Stock watch:
Going up: Cornerback
DeAngelo Hall
did an admirable job when matched against receiver
Calvin Johnson
, and he returned a first-quarter interception for a touchdown. On the pick-six, Hall jammed Johnson and disrupted the timing; when quarterback
Matthew Stafford
threw too far out in front, Hall was there. Johnson hurt Washington, but often against zone or because Johnson is just bigger and better than most. Going down: Everything else about the Redskins. They play well in spurts and look like a much different team than at any point in 2012.
Killer mistakes:
Robert Griffin III
used his legs more, but it was his decision making that cost Washington on two occasions, including a crucial one in the fourth quarter. After his best run of the season, Griffin dived head-first instead of sliding. He wasn't touched, and after the ball popped free, Detroit recovered. The Lions then drove for a go-ahead field goal. On the next series, Griffin connected with
Aldrick Robinson
for an apparent 57-yard score that was nullified after replay showed the ball rolled out as Robinson hit the ground. Earlier in the game, Griffin made a terrible decision to throw under duress on the run deep in Lions territory. It was picked off.
Woeful D:
The Redskins can't stop anyone and allowed 441 yards on Sunday. They actually did a good job on third down, holding the Lions to 4 of 13 conversions. However, they allowed 9.0 yards per pass, a byproduct in part of more missed tackles and not enough consistent pressure.
Up next:
The Redskins play at Oakland next Sunday before the now much-needed bye week. The Raiders have struggled, but the Redskins are not in position to overlook anyone -- or think that they have some sort of an easy game.
September, 22, 2013
9/22/13
8:00
AM ET
1. It does sound as if the Redskins will have
Robert Griffin
III run this week. The coaches keep saying they had some runs called in the first two games, but did not get to them. I've heard differently from others in the building. Regardless, there's a better chance of it happening Sunday. From what I've heard, there's a sense in Detroit that the Redskins are dangerous offensively because, at some point, they will get it going. Oh, the Lions absolutely expect Griffin to run more.
[+] Enlarge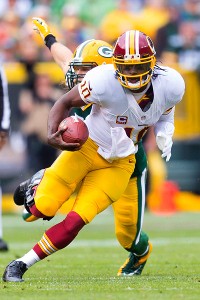 Jeff Hanisch/USA TODAY SportsWill Redskins QB Robert Griffin III be a factor running the football against the Lions?
2. The Redskins anticipate a lot of screens Sunday, regardless if
Reggie Bush
plays or not. The Lions love running screens and run a greater variety than most teams do. They'll also throw some designed routes for Bush, who was used as a decoy on one screen to fellow back
Joique Bell
last week. In fact, no quarterback has more yards passing to a running back than Detroit's
Matthew Stafford
with 253.
3. Also, according to ESPN Stats & Information, Stafford's average pass has traveled only 5.1 yards downfield, the shortest of any quarterback. A year ago, his average pass traveled 8.5 yards downfield -- the league average was 8.4 yards. This doesn't mean the Lions won't throw downfield, not with
Calvin Johnson
on their team. But they do throw a lot of short passes, particularly slants. The Redskins had better tackle well. This is not an impossible offense to shut down, but it can be dangerous. Hustling to the ball is a must.
4. One byproduct of the Redskins' early lopsided scores is the inability to use a lot of play-action passes, an area where they excelled last season. Through two games, Griffin has completed just 6-of-16 passes that travel at least 15 yards downfield -- that's 37.5 percent, which pales to last year's league-best 55.7 percent. But 73 percent of those passes last year were off play-action compared to just 25 percent in two games.
5. The Redskins have an ordinary passing game without play-action, but it's lethal when they can use it because of the chaos they create. The zone-read play-action pass gets linebackers completely out of their lanes and creates excellent opportunities for yards after the catch. The Redskins also can generate those types of situations off stretch zone play-action. The difference in play fakes out of the stretch zone or zone read can be worth as much as half a second over basic play-action. More play-action would enable a quarterback still working on his timing and rhythm to have more early success.
6. The importance of Sunday's game, based on history: Only three of the 115 teams that started 0-3 since 1990 have reached the postseason, according to ESPN Stats & Information. A win? Suddenly it's not so bad as 24 percent of 1-2 teams have gone on to reach the playoffs.
7. ESPN NFL Insider
Louis Riddick
is not high, at all, on rookie defensive backs
David Amerson
and
Bacarri Rambo
. One of his complaints about Amerson (both players actually) was that he didn't compete enough (a complaint other NFL coaches had about him before the draft). And one of Riddick's examples was the block Amerson could not shed on a
James Starks
run outside. It wasn't Riddick's only issue. But Redskins defensive backs coach Raheem Morris said competing was not the problem.
"No, he actually chose the wrong way to go," Morris said. "You have to be smart enough to use your help and go outside. He started to shed to the inside of that block. You can't shed inside unless you can make [the play]. He made a bad decision and it had nothing to do with his competitive edge. He's great at that."
8. Teams have hurt the Redskins by blitzing Griffin at a 42 percent rate this season (compared to 21 percent last season). The Lions will blitz, but it's not a huge part of their defense. Against Arizona, when they did send an extra rusher more often than not it came off the edge. They play a lot of wide-9 technique -- and will use stunt and games up front. The Redskins' interior linemen have struggled against big, physical defensive tackles. They have to stop quick penetration -- another reason play-action becomes a must.
9. Morris on playing two rookies in the secondary: "There's always growing pains with those guys, you know that." The coaches have them, too, when it comes to asking the rookies to perform certain coverages. Like on the 15-yard touchdown to
Jordy Nelson
last week in which Rambo had to rotate over from a single-high look. He hesitated for a split second and could not get there in time. But as Morris said they put him in a tough position (they were trying to trap quarterback
Aaron Rodgers
into a different throw; they failed). Eventually, Rambo will learn to cheat more on the coverage. "If he makes that one, he would have
Ed Reed
tendencies," Morris said. Rambo still has a long way to go.
10. Corner
E.J. Biggers
said he's continued to learn every position in the secondary. Will he go back to playing some safety? He wouldn't say. But given the struggles in the secondary, would it be surprising to see the Redskins do what they did at the end of last season and rotate based on situations?
September, 19, 2013
9/19/13
2:00
PM ET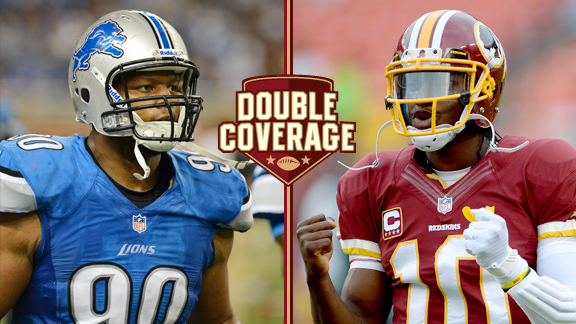 Getty ImagesWill Ndamukong Suh and the Lions defensive line cause Redskins Robert Griffin III issues on Sunday?
The
Washington Redskins
are dangerously close to letting yet another season of big expectations stumble into one of grand disappointment. And the season is only two games old.
If this isn't a must-win for them, it's awfully close. The
Detroit Lions
need a win after a close loss to Arizona -- and to rebound from their disappointing season a year ago. A 1-2 start will not help restore confidence in the Motor City.
Should we mention that Detroit has never won in Washington? The Lions are 0-21 in the nation's capital (and its suburbs).
ESPN Redskins reporter John Keim and ESPN Lions reporter Michael Rothstein break down the key elements to this matchup.
Keim:
Why don't we start up front defensively because that seems to be the Lions strength. The focus on Suh often centers on his extracurricular activities, but how well has he played and why is this unit strong up front?
Rothstein:
John, he's been nothing short of dominant thus far. While he may not have the statistics to back that up, his disruption has been the reason for both of linebacker
DeAndre Levy
's interceptions and he commands a presence in the middle of the defensive line that must be accounted for. Unfortunately for Suh, even in talking about his dominance, his other transgressions pop up because he negated one of Levy's interceptions going for a touchdown with his block on
John Sullivan
that resulted in a six-figure fine. But the Redskins will have to double-team Suh or he'll cause major havoc for Washington's offense.
Sticking with that, the biggest question around Washington is with Robert Griffin III. Considering Suh's dominance, how mobile is RG III these days and will a dominant defensive line cause him major issues?
Keim:
Everyone says he's mobile (and healthy), but we haven't seen it -- the mobility that is. Maybe it's the brace. Green Bay did a terrific job pressuring him up the middle with blitzes and keeping him contained on the outside. He's seeing five-man or more rushes on 42 percent of his drop-backs compared to 21 percent a year ago. The interior of the line is not built to handle big, strong defensive tackles, and that's where Washington could have a problem. This group is better on the move. If the Lions can pressure him with just the front four, the Redskins are in trouble. The question will be whether the Redskins can get their run game going against this group. They're so much better when they can then use play-action passes.
Speaking of which, it sounds like the Redskins aren't the only team with defensive backfield issues. Why have the Lions struggled in the back end?
Rothstein:
They've struggled back there -- kind of. A lot of the focus has been on rookie
Darius Slay
, who has been replaced in his first two NFL games by veteran
Rashean Mathis
. So there are some problems when Slay is in, but with a rookie, that should be expected. The rest of the defensive backfield has been decent.
Chris Houston
is playing well thus far opposite Slay/Mathis, defending three passes, making 11 tackles and not being beaten much by opposing receivers.
Bill Bentley
has had some issues at nickel, though, and it wouldn't be shocking to see teams go at him if Mathis plays more to see if they can lull him into a pass interference call or two.
Speaking of defense, what is going on with Washington? More than 1,000 total yards allowed in the first two games? That almost has to be more concerning than anything related to Griffin, right?
Keim:
Very much so. The offense will come around and showed legitimate signs of life last week, despite the lopsided score. The same can't be said of the defense. It misses too many tackles, and it's not sound against the run. Linebacker
London Fletcher
is not getting off blocks to make tackles, and the defense surrenders too many big plays. Other than that? Things are terrific. The Eagles and Packers forced the Redskins into a lot of nickel looks, and they're struggling to stop the run. Teams are also forcing the Redskins to prove they can tackle in space, and thus far they've failed. They start two rookies in the secondary (assuming they open in nickel), and that's led to breakdowns in communication or technique. Corner
David Amerson
takes his eyes off his work at times. I like his talent, but he's still growing as a player. Safety
Bacarri Rambo
would not have started if they had a legitimate option at free safety. He's made mistakes too. But at least they can improve. I'm surprised how bad this group has played. I thought with
Brian Orakpo
returning they would do better (playing fine down the stretch last season). They need to get a lot of pressure from their four-man rushes or else risk exposing a weak secondary.
I'm guessing the Lions offense is excited to face this group. How dangerous can this group become, and what has
Reggie Bush
added?
Rothstein:
If the Lions can hold on to the ball -- currently the league leaders in drops with eight -- they are extremely effective. Adding Bush to the team gives Detroit two players who can score any time they touch the ball along with
Calvin Johnson
. The question for this week is whether Bush will play. If he is able to come back from a helmet to the knee against Arizona on Sunday, Washington will have some major problems. If not, the Skins will likely do well to focus on Johnson and make
Joique Bell
and the other Lions options beat them. It will be interesting to see how Washington handles Detroit if Bush is healthy. Thus far, opponents have dropped deep against Johnson and given Bush space, but I'd imagine as he continues to be effective, that'll change.
I'll close with this question: What's the vibe around the Washington locker room? I'd imagine there is a bit of surprise of the predicament the team is in. To put it succinctly, is this team just struggling or does it have a dominant performance in it?
Keim:
Michael, the vibe is that they've been here before, having gone 3-6 a year ago only to win seven straight. But if they're honest with themselves, they would admit this is a lot uglier because they haven't been in either game and the defense could have given up 50 last week. Last year, there was only one game in their first nine that they didn't have a chance to win (Pittsburgh). They are surprised, but I think they understand how to handle this situation. It was a resilient group a year ago, and it needs to prove it again now. I think the offense has a dominant performance in it. I'm not sure what the defense has, other than a desire to not face a high-powered offense. As long as Griffin keeps getting his game back, the offense will be fine. There's no simple solution for the defense. It needs to create turnovers and get lots of help from the offense. So one side of the ball is struggling mightily, the other side is working through some rust.
September, 19, 2013
9/19/13
8:00
AM ET
The last time
Detroit Lions
receiver
Calvin Johnson
faced the Redskins he fared rather well: nine catches, 101 yards and three touchdowns. Yes, it was three years ago but Johnson's star hasn't diminished at all since that game. And he's still considered one of the most dangerous offensive players in the NFL.
He'll also face a defense struggling to stop anyone -- and one with a struggling secondary.
Here's what Johnson had to say during a conference call with the Washington media:
[+] Enlarge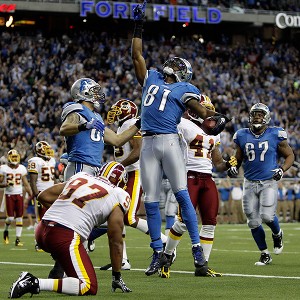 AP Photo/Paul SancyaThe last time the Redskins faced Calvin Johnson, the wide receiver burned them for 101 yards and three scores.
... Where the Redskins have struggled:
"Just making tackles, I guess. There's been a lot of yards after the catch and guys breaking tackles."
...
On if the Lions are anxious to face this defense:
"Obviously, we go back and watch the film too, but we see the same things that they see. Obviously it's a copycat league and teams try to go back and exploit the same things that other teams have had success with. The fact that they play a lot of single-high defense, it seems like there are a lot of opportunities."
...
On how the Lions' offense changes minus Reggie Bush:
"It shouldn't change at all. I'll put it like that."
...
On how Arizona defended them differently without Bush:
"We didn't see much Cover 2 from the Cardinals last week, in the first half, but definitely in the second half and towards the end of the game. They played two-man, stuff that'll try to help eliminate the passing game."
...
Attacking the Redskins' rookies in the secondary:
"You try to go at those guys. You try to put them in difficult situations where they have to make a difficult decision and a lot of times that inexperience leads to the offense being able to make a big play. We'll see how well-coached those guys are and how much they rely on their technique and coaching when it comes to game time."
...
On possibly facing DeAngelo Hall:
"I wouldn't be surprised. He's a savvy vet. He knows what he's doing. He has great ball skills. I wouldn't be surprised at all if he followed me around .... When you prepare for somebody like that you want to be on your details. You don't want to tip routes or do anything like that to give him a head start so he can jump your route because he will definitely jump your route and try to get to the ball, so that is one thing you want to try to stay away from."
...
On whether this is the sort of game teams need to win to be considered a title contender:
"Yeah, no doubt. Like I was saying earlier, when teams aren't playing so hot, we have to exploit that."