Washington Redskins:

charles Tillman
October, 21, 2013
10/21/13
12:00
PM ET
When
Aldrick Robinson
scores a touchdown, the
Washington Redskins
win. It's a coincidence, sure, but it's also an indication the offense is playing well.
In the past two seasons, Robinson has caught touchdown passes in four games and the Redskins have won them all. He added another Sunday, a 45-yard grab early in the fourth quarter of a 45-41 win against the
Chicago Bears
.
[+] Enlarge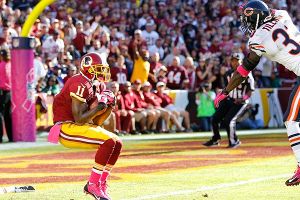 Geoff Burke/USA TODAY SportsRedskins receiver Aldrick Robinson catches his first touchdown of the season behind Bears cornerback Charles Tillman in the fourth quarter.
When the Redskins are running the ball well, and can hurt teams with play-action throws, it sets up nicely for Robinson's deep speed. Look at the games he's caught a touchdown pass: Against New Orleans in the 2012 opener (40 points); against Philadelphia and Dallas in Weeks 11 and 12 last season (31 and 38 points, respectively) and again Sunday. There was a dropped pass in the end zone against Detroit, the difference between a 20-point game (and loss) and forcing overtime with 27 points.
"Since that game I've been waiting to get my chance and I got a couple chances and I made a couple good plays," Robinson said.
Yes he did. He ran an underneath cross, sprinting away from
Charles Tillman
from the start en route to a 30-yard gain.
"He was trailing the whole time and couldn't keep up with me," Robinson said.
But Robinson is a one-dimensional target and that's the problem. The reason why Tillman broke off him in the opening quarter for an interception? Because he knew Robinson was serving as a decoy on the play and surprised the Redskins, and quarterback
Robert Griffin III
in particular. Later in the game, Tillman broke coverage again, only this time it was because he saw the route being run by Robinson. Thing is, Robinson was not the primary target on the play;
Josh Morgan
was -- and he was open. But Griffin saw a mismatch with Robinson and the safety and Tillman responded in a way he didn't expect (though if Morgan was the No. 1 read, then perhaps that is what the coaches anticipated). It was not a good decision; it worked out.
But for Robinson to become a more consistent part of the offense, he needs to show he can be more than a decoy and occasional deep weapon. Some of that stems because he's still getting used to running routes at the right speed and depth. It hasn't been difficult to break up slant passes to him, for example.
However, when the offense is clicking like it was Sunday then Robinson can help with a big play. He's not about to bump
Pierre Garcon
from his starting job, but Robinson must be capable of more so it's not so easy to tell when he's a decoy or the target.
October, 20, 2013
10/20/13
8:40
PM ET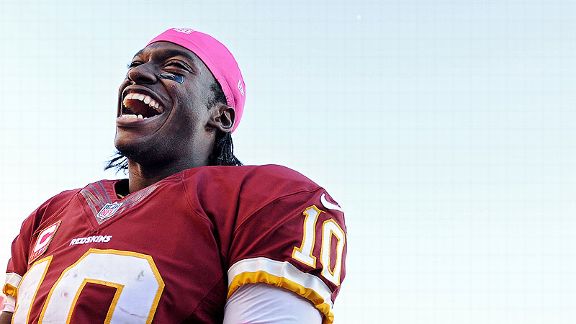 Patrick Smith/Getty ImagesRobert Griffin III passed for 298 yards and two touchdowns and ran for another 84 yards.
LANDOVER, Md. --
Robert Griffin
III spotted something in the defense, a safety playing too close to the line of scrimmage, and wanted to take a shot deep. Except that, when he started to throw the ball, the play he thought he had was no longer there. A
Chicago Bears
cornerback had dropped to a spot Griffin didn't expect.
It was too late. The ball was out of his hands. And then something happened, the sort of thing that always seemed to happen in 2012 for Griffin and the Redskins, but not this season. The safety trailing the receiver,
Chris Conte
, slipped and fell, and the corner,
Charles Tillman
, didn't get back quite far enough.
Aldrick Robinson
came down in the end zone with a 45-yard touchdown pass in Washington's
45-41 win
over the Chicago Bears.
It was that sort of day. Everything worked out for Griffin, just like it had most weeks last season. Just like it has not for much of this season. Not that Griffin had been horrible, but, coming off his January knee surgery, there have been ups and downs. Griffin ran well against Dallas but did not throw the ball well. He struggled in the first half of games. He didn't run the ball much the first four games.
In short, the Griffin that the NFL saw last year had not played a complete game this season -- until Sunday. Griffin said afterward that he had regained his 2012 playing form.
"Without a doubt," he said. "We had a feeling about this game. I know I did. I talked to the guys before the game about having a breakthrough. We needed that breakthrough."
He completed 18 of 29 passes for 298 yards, two touchdowns and one interception. He also ran 11 times for 84 yards, his highest output of the season. In fact, after rushing 18 times for 72 yards in the first four games, Griffin has carried 20 times for 161 yards in the past two. Griffin wasn't perfect. He didn't see Tillman on his interception, for example, and had that pass to Robinson been intercepted, well ...
But it wasn't picked off. And he did finish well and threw a perfect fade to rookie tight end
Jordan Reed
for a 3-yard touchdown in the second quarter.
"That's the breakthrough I feel I've had for myself," Griffin said. "I'm proud of that, to just go out there and play with your instincts. That's what I meant when I said [earlier in the week] that's what got me here and that's what made me the player that I am."
The Redskins were desperate for that player to return, entering Sunday with a 1-4 record. It's not hyperbolic to say their season depended on the outcome. If the Redskins had lost, any legitimate chance of a playoff chase would have evaporated. It'll still be tough, but if Griffin plays this way more often, then the Redskins at least have hope.
When Griffin plays well, the trickle-down impact on everyone else is tremendous. It's about his talent: Defenses must now deal with a quarterback who can run and throw. It's about the Redskins' mentality: They never feel out of a game.
"So much success was based off how he played, so to see him playing well and believing in himself makes me feel better," Redskins tight end
Logan Paulsen
said. "It makes me feel confident that we can pull the game out in the last minutes like we did today. Schematically it's invaluable, and psychologically it's so beneficial to us."
Yes, schematically it was invaluable. Griffin burned Chicago on the zone-read option, taking advantage of the Bears' playing man coverage and leaving the outside vulnerable. The zone-read option still works. The Bears, for example, played it the way Griffin saw it defended while he was at Baylor, with the end crashing on the running back and the two linebackers scraping outside. The problem was that the Bears kept focusing on
Alfred Morris
, and Griffin would escape wide. On one run, outside linebacker
Lance Briggs
stared inside and then jumped that way as Griffin ran outside.
In that case, all Griffin must do is beat one linebacker. The way Griffin is running now, that isn't a problem.
But it was not just about his running the zone read. Griffin's legs extended plays, none bigger than the third-and-5 pass to receiver
Pierre Garcon
with 2:32 to play in the fourth quarter. It was a similar situation to one versus Detroit in which Griffin escaped pressure to the right and threw an interception on the run to Garcon. This time, Griffin, again eluding pressure, threw a bullet to Garcon for a 7-yard gain. On a third-and-1 three plays later, Griffin handed to Morris on a zone read; the defense keyed on Griffin and a hole opened for Morris en route to 9 yards.
In all, Griffin completed five of seven passes for 58 yards on the game-winning drive. It's one thing for the Redskins to have won this game. With Bears quarterback
Jay Cutler
missing most of the game with a groin injury, it would have been expected. But the way they won, with Griffin playing the way he did and winning the game with a late drive, it's the boost they've craved for weeks.
"I felt we couldn't be stopped tonight," Redskins guard
Kory Lichtensteiger
said. "All the way until the end, even when our backs were against the wall and time's running out and it's third-and-long, you still feel like we're gonna get this, we're playing too well. [With Griffin] making big throws and making plays with his feet, it makes our offense so dynamic. I wouldn't want to play against our offense the way we played today."
Translation: Griffin played well and everything else followed suit. For this season to truly turn around, Griffin needs a lot more games like Sunday.
"This is Robert Griffin," fullback
Darrel Young
said. "This is what makes him who he is."
October, 18, 2013
10/18/13
5:55
PM ET
ASHBURN, Va. --
Washington Redskins
cornerback
David Amerson
said he's feeling fine and will play against the
Chicago Bears
on Sunday, barring any setbacks. That's good news for a secondary that has another tough assignment this week. Amerson is listed as questionable on the injury report.
Amerson
With the Bears' diverse passing game, the Redskins need a healthy secondary to continue its recent solid play. Washington benefitted against Dallas from its ability to disguise coverages, partly because it used corner
Josh Wilson
in a variety of roles, from slot corner to strong safety. If Amerson had to miss, then the Redskins wouldn't be able to tap into their strength in the backfield right now, which is versatility.
Tight end
Fred Davis
(ankle), linebacker
Brandon Jenkins
(ankle), center
Will Montgomery
(knee), corner
Jerome Murphy
(ankle), nose tackle
Chris Neild
(calf) and tight end
Logan Paulsen
(knee) are probable.
For Chicago, tight end
Martellus Bennett
(knee) and corner
Charles Tillman
(knee) are questionable. Defensive tackle
Stephen Paea
(toe) is probable and his return would be welcomed by a struggling defensive front. Others listed as probable: linebacker
James Anderson
(back), safety
Anthony Walters
(hamstring) and safety
Major Wright
(knee).
October, 17, 2013
10/17/13
6:20
PM ET
Amerson
ASHBURN, Va. --
Washington Redskins
cornerback
David Amerson
was limited again in practice, but coach Mike Shanahan said he passed his tests and if that continues he'll play against Chicago on Sunday.
Amerson suffered a concussion in Sunday's 31-16 loss to the
Dallas Cowboys
. The Redskins could use him against the Bears and their big receivers -- 6-foot-4
Brandon Marshall
and 6-foot-3
Alshon Jeffery
-- this weekend.
Meanwhile, every other player was a full participation in practice, including nose tackle
Chris Neild
who was hurt in the first half of the Sept. 29 win at Oakland.
For Chicago, linebacker
James Anderson
(back), tight end
Martellus Bennett
(knee), defensive tackle
Stephen Paea
(toe) and cornerback
Charles Tillman
(knee) were limited in practice.