Washington Redskins:

Chip Kelly
June, 21, 2014
6/21/14
2:00
PM ET
1. I've mentioned
Washington Redskins
outside linebackers coach Brian Baker a number of times and wanted to give you more of a feel for him as a coach, just by listening to him during practice with his players. A few things I noticed: He's constantly teaching and reminding players when what they've done is right or wrong. It's constant. He even chastised one player (wasn't quite sure who) for not having his eyes on him when he was speaking.
2. During pass-rush drills, he reminded the players, "don't let them control your body! Keep your elbows tight!" It's a point of emphasis. At one point, he told rookie
Trent Murphy
, "Give me one good one 93; I need one good one before we move on!" Murphy gave it to him. Baker worked with players on where their hands should be on the blocker at the snap (obviously not low, but he worked on getting the hands right before the snap, too). Baker: "You can't let him get into your chest. The closer you are the higher you put your hands."
[+] Enlarge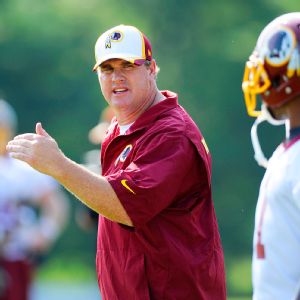 AP Photo/Nick WassJay Gruden had his coaches concentrating on special teams during the Redskins' minicamp.
3. And, finally, I like that Baker does not have a one-size-fits-all approach to pass rushing. He worked with
Brandon Jenkins
on his footwork off the snap when positioned at right outside linebacker. It's a little different than on the right side and he wanted to make sure he stayed on the right path from the get-go. But he also told Jenkins, "You can't get it to look like everyone else. You've just got to get it right. Make it work for you." He also worked with Jenkins on accelerating at the top of the rush -- it's where you win.
4. I don't know what sort of difference one outside linebackers coach can make, but I also know it can't be overlooked. He's a legit coach.
5. Redskins coach Jay Gruden incorporated more of his coaches in special teams drills. It's not as if other coaches in past years did nothing here, but it was noticeable this past week. Secondary coach Raheem Morris worked with the flyers in punt coverage while receivers coach Ike Hilliard showed them how to get off a jam. Baker helped with the tackling drills. Gruden said it enables special teams coach Ben Kotwica to get more out of his allotted 10-15 minutes. There is a definite increased emphasis on special teams, starting from early in the offseason.
6. The Redskins now know
they'll face
quarterback
Ryan Fitzpatrick
in the season opener against Houston. Not sure it's a big surprise and not sure it really matters. Fitzpatrick was 9-5 as a starter from Nov. 14, 2010 to Oct. 30, 2011 -- that includes the 23-0 shutout of Washington. Since then, Fitzpatrick is 10-23 as a starter. Of course, his first NFL start came against Washington, a 24-9 loss while with Cincinnati in 2005. Fitzpatrick has thrown 106 touchdown passes to 93 interceptions in his career.
7. Three months later
DeSean Jackson
remains
a big topic in Philadelphia
. It started, again, with running back
LeSean McCoy
saying Jackson's release caught everyone's attention. It let them know if you don't buy in, you will be cut. Kelly refuted that notion. "I don't send messages to other players by how I deal with other players," Kelly told Eagles reporters. "And how LeSean McCoy interprets things … LeSean has a beautiful mind. Sometimes trying to analyze that mind I don't wrap myself around that too much. Or bother myself too much with that. However LeSean interprets things is how LeSean interprets things." The
Eagles do think they have enough speed
minus Jackson to still thrive.
8. There was a big to-do over
the Patriots having a Jets playbook
and that led to a discussion over whether it made a difference. Some who have covered the NFL a long time insist it means nothing; others who have covered it a long time insist it does. With players switching teams all the time, I doubt it's a big secret what's in various playbooks and coaches study so much tape that there shouldn't be many surprises. The bigger issue is when you know another coach's tendencies. I say that because some coaches here in the past felt that part of the success they had against Giants quarterback
Eli Manning
stemmed from having their playbook. But it also helped that they felt offensive coordinator Kevin Gilbride didn't change a whole lot. Tendencies mattered more.
9. One player who must have a strong year for Dallas: cornerback
Morris Claiborne
. The Cowboys traded up to get him with the sixth overall pick in 2012, but his impact has been poor. Claiborne has picked off two passes, has battled nagging injuries and lost his starting job last year. This is the time of year for player optimism and Claiborne is no different.
Everyone is saying the right things about Claiborne
, as you would expect. But they like that he's competing. One nugget: Claiborne pulled a rookie corner off the field in order to face receiver
Dez Bryant
in practice. "Me and him talked about it before we even started up that we want to be the best and we want to go against each other," Claiborne said. "We feel like we both compete at a high level. I get good work when I go against him and it's vice versa. When I'm not up there, he's telling me to come. We're trying to help each other so we can be the best for our team."
10. The Redskins nearly had
Antrel Rolle
in the 2005 draft, but he went one pick ahead of them at No. 8 to Arizona, so they drafted
Carlos Rogers
instead. Rolle, a corner when he came out,
continues to improve at safety
. Giants safeties coach Dave Merritt said of Rolle, "Before, as far as formations, he didn't see formations. He didn't really see the route concepts. Now, the last two years, it's all coming together for him and he's feeling more comfortable. So with Antrel's ability to continue to learn and grow, he hasn't really scratched his ability as a safety yet. Last year was a glimpse of what Antrel could actually become."
May, 1, 2014
5/01/14
8:35
AM ET
A little this and that:
Senator Harry Reid, and many others, have used the NBA's decision on Donald Sterling to continue their fight against the NFL and the Washington Redskins' nickname. But the NBA felt compelled to act because Sterling threatened its brand and, therefore, its pocketbooks. Multiple sponsors dropped the Clippers and if this had continued, others would have followed suit. Finances were affected.
Regardless of what your stance is on the Redskins name -- this is not my battle one way or another -- my guess is the only way it will change is when sponsors start doing the same in the NFL. The NBA made the right decision without a doubt, but it also placated Sterling for years, despite evidence of worse wrongdoing than what he said on a taped conversation. When the business and brand was threatened, the NBA acted. If players start threatening not to play for the Redskins because of the name ... if sponsors pull out ... then there will be intense pressure and a chance for change.
The Redskins will hire Bret Munsey to help with scouting and other areas. Munsey currently is a scout with Philadelphia, but has ties to coach Jay Gruden. They worked together in both the Arena Football League and the United Football League.
I will be curious to see if anything happens with receiver Anthony Armstrong, who is in the Redskins' minicamp this week as part of a tryout. The Redskins need receiver depth as well as one who, if the fifth or sixth guy at this position, can play special teams.
This is a few days old, but Chip Kelly said the release of DeSean Jackson was a football decision. Of course, how a player fits in the locker room and conducts himself falls into that category because it impacts a team. It would be tough for Kelly to point to production considering Jackson set career highs in catches (82) and yards (1,323).
If Kelly truly feels this way, he owed it to Jackson to say so much sooner rather than let so many rumors and stories about gang ties circulate about his off-field life. (That said, it's not like teams were surprised by any of them; there's a reason those who were interested were not willing to trade for him.) Otherwise, your silence gives these stories credence and lets the question build. And, while Kelly said he didn't make a statement when they released other players, this one was dramatically different.
While there was no access to the Redskins minicamp this week, it's tough to gauge things in practices at this time of the year. It's helpful to measure progress by players coming off injuries. It's also helpful to see what kind of shape players are in (last year in early May it was clear that Josh LeRibeus was in bad shape and it set a storyline for his entire season).
So there's no way to really know who looked good or who did what or how the changes in Robert Griffin III's fundamentals have helped. But considering there's still three months before camp, you could only take away so much.
I did see a shot on Redskins.com of safety Phillip Thomas backpedaling in one drill; he looked bigger than I remember, but that could have been due to the sleeveless shirt he was wearing. I liked him coming out of college – seems to be a smart player -- but that Lisfranc injury is a tricky one, especially if you've had surgery to repair it (as he did). If he regains his game and his foot is stable then Thomas is someone the Redskins clearly can develop as a starter.
Saw corner Richard Crawford at Brian Orakpo's golf tournament on Monday and he was optimistic about his recovery from torn ligaments in his knee. Crawford even did a little backpedal in the parking lot to show what he could do. The key, of course, is regaining explosiveness and the ability to cut. He said he's able to cut, but it has to be done at a certain level. For now, he feels good where he's at and told ESPN980's Chris Russell and me that Dr. James Andrews said he could play in a game "tomorrow" if necessary.
Crawford, though, is not participating in the voluntary minicamp this week. No need to rush anything. Still a long way to go for him. I did like the improvement he had shown covering in the slot before his injury. He's a smart player. But he's not a big corner and now coming off a knee injury. So I have no idea what to expect from him this summer.
April, 22, 2014
4/22/14
8:10
AM ET
When
DeSean Jackson
appeared on "
The Arsenio Hall Show
" on Monday night, he reminded the host -- and the audience -- how many times the Redskins play the Eagles this season. Just in case anyone had forgotten.
"Oh yeah, twice. Two times, not once, twice," said the Redskins' newest receiver.
Not that Jackson is eager for those games or anything.
"I'm sure those two games, there's gonna be something special about those two games, for sure. I gotta definitely go up on that," he said.
With the NFL schedule being released soon, it's quite natural to assume one of those two games will be nationally televised.
Jackson's appearance was wisely set up as he tries to reshape his image after taking a beating just before and after the Eagles released him last month. Gang affiliations, questions about work ethic and his standing among teammates -- it added up to quite a negative portrait.
But Jackson, who signed with Washington five days after his release, has come across well in interviews, and that was the case again on Hall's show. Granted, any such show should be a safe haven for a celebrity, but, regardless, it helps spin a different narrative. Jackson also benefits from an audience that showered him with applause. More than anything, though, he has to make sure his teammates view him a certain way. It's good to win the PR battle in April; it's better to cement yourself in the locker room by your attitude, your work ethic and performance in the fall. Ultimately, that's how he'll be judged. And, no, he did not miss any Redskins workouts to attend the taping of the show. The players are off.
For now, though, this is his chance to reveal himself.
Hall even asked whether Jackson felt there were some things he had to change about himself because of what happened -- based on feeling that the Eagles might have had a point.
"I'm an honest person, I'm a realist at the end of the day. I'm human, I'm not perfect," Jackson said. "At the end of the day, I came in the NFL 20 years old, so that was a lot given to me. Coming from where I came from, I had to get along, I had to learn some things, I had to go through what I did to get to where I am now. I'm 27 now. I can definitely say I learned a lot. For sure I'm gonna do some things different, but, as far as, like, overall, being a bad energy in the locker room, none of that stuff ever occurred. I love my teammates."
Jackson recalled how his release happened.
"It was almost unreal, honestly. My agent called me because I missed the call from [the] head coach, and I'm sitting there like, 'What's the reason behind it, what's going on? Somebody tell me,'" Jackson said.
"Basically, [coach Chip Kelly] told me, 'I think it's best for the team and I think it's best for yourself [to part ways]. We're gonna let you negotiate with 31 other teams.' So I'm like, 'Are you sure?' I asked him one more time, I asked him what's the reason, he said that's what it was. I'm like, let's get it started, let's get it going."
So, yeah, two times.
And Jackson talked about not abandoning his boyhood friends.
"A lot of us all said we wanted to make it, and I was fortunate enough to make it," he said. "I want to share life with my boys. I want them to come out, have a good time. I want them to live the life I'm living, too."
April, 3, 2014
4/03/14
10:00
AM ET
I know DeSean Jackson said his number was not yet assigned and he mentioned the possibility of still having No. 10. But here's the thing, and I wish I had written this Wednesday: There's no way the NFL would allow Robert Griffin III to relinquish that number and Jackson knows this. It's too ingrained in the marketing, of both the Redskins and the league. I don't know what number Jackson ultimately will wear. It won't be No. 10. Receiver Aldrick Robinsontweeted Wednesday that, "Guess I gotta swag it out in #15 this year." So his No. 11 is available. That would make sense for Jackson: 10 from Philadelphia; 1 from Cal; 11 in Washington. I don't know if that's a done deal -- Jackson said on Redskins nation he might opt for No. 4, which he wore in college. Regardless it makes sense to change. New start for Jackson; new number, too. UPDATE:And then there was this tweet clinching the deal:
Fans everywhere please calm down. Not changing my # @DeseanJackson10 will kick off his new beginning with us in a new one #HTTR

— Robert Griffin III (@RGIII) April 3, 2014
While many want to portray this as a typical Dan Snyder signing, the sense I got this week is that the organization was all-in and the desire did not just derive from the owner. The coaches wanted receiver DeSean Jackson, too. In the past Snyder steered the ship and pushed for players maybe others did not want. That's not the case here.
They were aggressive and that's a Snyder trademark, but that clearly was a good thing in this situation. The Redskins also knew if Jackson left the chances of him signing here would go way down. The aggressive tone begins with Snyder, but there was a sense of urgency by many, including the player.
I mentioned to one person in the organization about Snyder being aggressive in this pursuit to get it done and his response was, "This is on Bruce [Allen]." But you also can't dismiss the idea that if the team wants a guy, then Snyder will push hard to close. As he should. But this was a group effort to lure Jackson, from Griffin to DeAngelo Hall to coach Jay Gruden and the front office.
I liked Griffin's quote about still needing to accomplish something together. Too many titles have been won here in March and April. Too many things have looked good only to fail. There will be a transition here, just having a new coach and partially new offensive system. But when you have playmakers, you can compensate for the learning curve by just getting the right ball to the right guy at the right time.
The Redskins had 39 pass plays offensively of 20 yards or more and six for at least 40 yards in 2013. The Eagles led the NFL in pass plays of 20+ yards (80) as well as 40+ yards (18). Only Carolina had less than Washington. Obviously it wasn't all about Jackson in Philadelphia, but he will bring that element to Washington. Griffin needs time to throw long; he also has to connect. But bigger plays will be available.
One thing that will help is getting Pierre Garcon open downfield more. In 2012 he was able to do so because of all the misdirection and zone read option fakes that unclogged the middle or caused linebackers to make poor drops. But a year ago it seemed that too often his big yards after the catch came on horizontal routes. So a 10-yard run was sometimes only a 10-yard gain. They need that middle free so a 15-yard catch can turn into 25. With Jackson taking away pressure on the other side, that should help.
It also will depend on how teams play the Redskins. Clearly they'll try to take away the big play, perhaps with a lot of two-deep or cover-2 looks. That's when having running back Alfred Morris should help.
They can give more option plays to Griffin, where he can hand off or throw a pass and only he knows what he'll do. The Redskins can do what the Eagles did at times last year: Show the zone read to one side, a bubble screen to the other and have a route run down the middle. Lethal stuff when it works.
As far as the contract, it's favorable to both sides. Jackson did not get what he might have had he hit the open market as a true free agent. But his price tag was definitely lowered by having been cut. The thinking: There's a reason you've been cut and why other teams are guarded in their desire to land you. That worked to the Redskins favor and allowed a team with around $6 million in cap space to land a player such as Jackson.
Jackson's cap hit this season will be around $4.25 million. His base salaries in 2014 and '15 are fully guaranteed ($1 million and $3.75 million, respectively). He receives workout bonuses of $500,000 in the first three seasons of the deal (the fourth year will void). The cap hit would be $9.25 million in years two and three. He has roster bonuses that could total up to $1.5 million this season and $3.75 million in both 2015 and '16.
So it's a fair deal for both sides. The Redskins have done well in that regard this season. It's one area that Allen has done well, along with their cap specialist Eric Schaffer.
Jackson was asked about Eagles coach Chip Kelly on the conference call. But he turned it around onto Jay Gruden: "He's a very intelligent guy. I saw some of the success he had with A.J. Green and Andy Dalton and the Bengals. He has a lot of weapons. He has a lot of toys to mess around with. ... What's better off than to say, 'Let's get it on and have a great year.'
March, 31, 2014
3/31/14
4:30
PM ET
Louis Riddick wasn't surprised by
DeSean Jackson
's release. He also knows what Jackson would provide a team, having arrived in Philadelphia the same year as Jackson (2008) and rising to become the Eagles' director of pro personnel two years later. Riddick, now an ESPN NFL Insider, offers insight into what Jackson would provide an offense and how the Redskins, or any team, need to have a well-constructed plan. This is Part 2 of Riddick's thoughts;
Part 1 ran earlier on Monday
.
Jackson arrives in Washington Monday, but the bulk of his visit will take place Tuesday, a team source said.
Were you surprised by his release?
Louis Riddick
: From a football sense, sure. From a team sense, no. The battle that team builders have all the time, the battle they fight, is weighing off-field personal character with on-field skills and potential production. … It's a lot easier to do it at this point because Chip Kelly is the new sheriff. The investment emotionally and professionally is not bad for him. He wasn't the guy who decided to give him an extension or who called him on draft day. So it's easier for him to say if you're not doing things exactly the way I want, you're out. It's obvious that it shows Chip is in charge because two years ago the same people who decided to give DeSean an extension are still there. I have a hard time believing it's easy for them to say two years later now we'll cut him. They know DeSean; they know the good and the bad. This is Chip's decision. He's running things there.
[+] Enlarge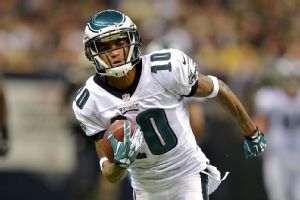 Drew Hallowell/Philadelphia Eagles/Getty ImagesNew regimes face unique challenges when considering adding a veteran like DeSean Jackson, who has established a way of doing things.
DeSean has growing up to do. That's fine. That's not a crime. That's just the way it is. You're not dealing with the easiest guy to deal with. That's been known. I played with players like that, as teammates, as friends. That's OK. You just better have a plan. Everybody is at different stages in their program. Philadelphia is a year into their program build. So they're still trying to implement and get to where everyone they have is on board with it and Chip was the overseer of that.
The Redskins are three months into their new program. Now you're considering bringing in a player who doesn't fit with one program. You don't know what the program will be yet because you haven't seen it in action yet. They haven't been around you. You haven't interacted with them in a setting that matters and now you're possibly taking on the task of implementing a guy who likes to do things in a certain way and you don't know how he'll do them in your program. I know it sounds redundant to say you have to have a plan, but the implementation part of player acquisition is where it all goes wrong. They spend so much time daydreaming how beautiful it can look on the field. I lived through it.
He's a guy who could make an impact with just one or two catches, as the Redskins saw in 2010. He had that opening touchdown and one other catch in that game. Yet he made a huge impact.
Riddick
: He did that kind of thing multiple times during my time in Philadelphia, as someone who was very involved with advance scouting and how we attacked opponents back then. Every week we'd ask, is there someone on that defense we can exploit and match up our No. 1 game-breaker against? We knew he would turn them inside out.
The first play against LaRon [Landry] -- he's a 4.3 guy in the 40 -- and DeSean basically strided past him and it didn't look like he was even trying. The ball was in the air and you saw him kick into another gear. But it wasn't a strain, it was, 'OK, I need to go from sixth gear or seventh gear.'
DeSean's top-end speed is transcendent. It's not like anything you've really seen in the NFL ever. That's the intoxication I'm talking about when scouting a guy like him. In this case you have to weigh that with the fit and the program you have in place and whether it can be managed, whether he is still maturing and still wants to change some of the ways he conducts himself in the building, in the classroom or on the practice field. The Redskins have largely a new staff, especially on offense. It's a total unknown and there are people there who have never proven themselves as administrators in this regard.
Can it help Jay Gruden having seen how Marvin Lewis implemented plans when bringing on guys like Adam Jones in Cincinnati?
Riddick
: Marvin was established. Mike Zimmer was there and that played a role in implementing a plan. He had a nice program rolling there. You're talking about a place where the coaching staff has been together since January. They've never been on the field with these guys. It's a lot for them, but if they feel up to it, more power to them.
December, 8, 2013
12/08/13
9:48
PM ET
I just don't see how Mike Shanahan survives, nor do I think he should. This situation has eroded that much and it's not even a matter of which side is right or wrong. I thought for a while it could be salvaged, but after this weekend it can't. It's not just about the playoff loss to Seattle last season and the distrust that developed over the play calling in that game. It's a general distrust on both sides over the source of all these leaks. It's not workable.

[+] Enlarge

AP Photo/Evan VucciMike Shanahan's days in Washington may be numbered.

Will Dan Snyder fire Shanahan this week? That's tough to say. But at this point, why not make your move? It's clearly going to happen after the season at the very least. If it continues the atmosphere will be bad for the final three weeks. It's hard to imagine after Sunday that Snyder doesn't know what he wants to do. This isn't about trying not to live up to his impatient image anymore; nobody would blame Snyder for making a move. That doesn't mean it's all one person's fault and the coach still has strong support in most corners of the locker room. That's been evident all season. But after three double-digit loss seasons out of four and with the issues between coach and quarterback, there really isn't a decision to be made. Move on.
All the leaks and stories that have come out lately were supposed to stop under this regime. This is what happened in the Jim Zorn era, only that time there was clear player dissatisfaction. Some of the stories emanated with them. Some from the coaches. Some from the front office. It was ugly. It's ugly again. It's back to what it's been too many times in the Snyder era, an atmosphere that is not conducive to winning. The locker room is terrific and has been. This is not a divided team.
I know players will be disappointed. But they're just as responsible for what's happened as the coaches. "I'm a guy that's backing [Shanahan] 100 percent," Redskins linebacker Brian Orakpo said. But is he worried about moves being made? "Who knows man? It's the NFL. Having been through it already who knows. I just have to keep playing." A couple of months ago I thought we'd be talking about a team ready to go on a playoff run. Instead, it's a coaching search. I was far from alone in my assessment.
The problem with starting over is not just bringing in a new staff, it's new offensive and defensive systems. Not many coaches run the stretch zone scheme the way Shanahan does. That means the bulk of the line will be gone because they fit something rather specific. And if a new coach comes in and wants to return to a 4-3 front? I hear the cheering now, but you need to know this has never been about the scheme they play. It's about the talent they've accrued to fit that scheme. If they switched to a 4-3 tomorrow they'd need to make major changes. If they stay in a 3-4 they'll need to make changes. Heck, it's probably a good time to undergo this transition defensively because of the need to make multiple moves regardless.
I've heard Art Briles name floated. Maybe Snyder pursues him and hires him. That doesn't mean it would be a good move. I don't think the quarterback needs that sort of attention, with the thought being that he got one coach fired to hire another. Briles has never coached in the NFL and would not be prepared for what he would be about to face. Forget defenses, which will be much more complex, it's about dealing with issues he never had to in college. You would need a strong organization to make it work with a college coach. That's not Washington. Chip Kelly is not the rule. Heck, Steve Spurrier had pro experience before he arrived in Washington. Snyder will need to do better than Briles.
The Redskins played a game Sunday and were embarrassed. Logan Paulsen: "Stunned, embarrassed. Those are all good words. We just got taken out behind the woodshed and got the belt taken to us. It's awful. No one expected this." Santana Moss: "They beat our [butts] man and it was embarrassing."

[+] Enlarge

Geoff Burke/USA TODAY SportsDexter McCluster, lower left, returned seven punts for 177 yards and a touchdown.

Embarrassing would describe the special teams, too. Do I need to go into detail here? They allowed 300 return yards! Yes, I used an exclamation point because that's an astonishing number. That goes on top of the 347 yards they gained as a team. They returned a punt 74 yards for a touchdown and a kickoff 95 yards. Punt returner Dexter McCluster returned seven punts for 177 yards. That's ridiculous. Field conditions played a part and McCluster's running style did as well. He is not a dancer; he's a glider who cuts and goes. That made it easy for him to weave through tremendous gaps.
But Niles Paul was sickened by what he saw once again on special teams. It's not about special-teams coach Keith Burns and whatever he's teaching them. At some point effort and intensity must enter into play. They haven't, not as a group. I don't know how you can say you have the right players if you don't have guys buying into what they're asked to do on special teams. Here's Paul: "Hopefully they get it and understand this is your role this year, whether you become a starter next year is neither here nor there. This year your role is special teams and you should give the effort you're being paid to give. ... Reed [Doughty] has held meetings talking about effort. We haven't called anybody out. That's not the type of team we want to be. It almost comes down to us having to do that. It feels like everyone's not on the same page and it's frustrating. ... Coaching has never been an issue. The issue we've had is the effort from players. You can't have four or five guys out there giving effort and no one else is giving the same. You get what we had today, an embarrassment." There's that word again.
What else to really say about this game? It's one of the ugliest losses that I've seen because of the timing of certain stories and future implications. Jamaal Charles was terrific, though he had big gaps to cut through. Charles worked well on a slick field. Defenders had a tough time cutting; he did not. Meanwhile, the Redskins' offense was bad. The quarterback didn't play well. The line didn't create openings. It was 45-10.
November, 13, 2013
11/13/13
8:30
AM ET
There are three good reasons to stick with Nick Foles at quarterback for the Philadelphia Eagles, writes ESPN.com's Phil Sheridan.
Among the reasons:
2014 is coming… Stability is better than instability… and Eventually, Foles' feelings matter too.
Backup Michael Vick's contract is up after this season and does not seem to be in the Eagles' plans. Therefore, it's probably best to stick with the hot guy now – though a few weeks ago I'm not sure anyone viewed Foles as the obvious starter for, say, the next several years. Still, they've scored 10 touchdowns through the air the past two games.
Sheridan also writes, "But the time is coming when managing Foles' pride and confidence will take precedence. Foles may not be the quarterback for 2014, 2015 and beyond, but he is the leading candidate at the moment. He has played good soldier through all of the back-and-forth with Vick -- and he's sincere in his respect for Vick and Kelly -- but everyone has an ego. Especially elite NFL quarterbacks.
"If Foles develops into one, he's going to remember how he's treated now. And if he's going to be asked to command the huddle and the locker room, his teammates are going to remember this time, too. Showing tepid support for Foles is not a good long-term strategy.
... The Eagles have proved they can win away from Philadelphia,
but doing so at home has been another matter
. They're 0-4 this year and have a 10-game losing streak at home. They're 5-1 on the road, though they've caught some breaks in facing Robert Griffin III in his first game back and also winning at Tampa Bay and then Green Bay minus Aaron Rodgers. They won at Oakland (against Terrelle Pryor) and at the New York Giants.
But they haven't won at home. Coach Chip Kelly says it's not about a mindset.
"Our mindset is to win every single game we play," Kelly said. "I watch these guys on a weekly basis prepare. And I don't think they say, 'Hey, we're away, let's do this. We're home, let's do this.' They're not like this. It's a consistent group in their approach. But I do think we have an advantage. We love playing at home. Our fans are outstanding. They deserve it. That's what our goal is right now."
... Chip Kelly is considered a smart offensive coach, at least that's the rep he had at Oregon. Time will tell if that's the case in the NFL. But one reason he likes
Foles is because of his brains.
"Nick's just really, really smart with the football," Kelly said, according to the Philadelphia Inquirer. "Very rarely do you see Nick throw a ball where all of a sudden it's tipped, you know, when it's almost intercepted. I think going the other way, our defense, there's a couple times we probably should have made some more plays defensively on the ball and didn't. But you don't see that out of Nick. I think he has a really good understanding of what we're doing. He doesn't really ever put the ball in harm's way."
... Whether or not Michael Vick actually accepts his new role,
he won't be causing any issues
as the No. 2 quarterback.
... Eagles receiver DeSean Jackson
lobbied for the Philadelphia fans to be more on their side at home
. Good luck with that, considering they have a 10-game losing streak at home. Still, Jackson said according to CSN Philadelphia that, "[We need] everybody in the stands really encouraging instead of the opposite. Trying to get that energy to be on our side. I feel like it's against us sometimes."
... An
early week injury update.
September, 11, 2013
9/11/13
8:50
PM ET
Throughout last season, it was fun to go back and watch the
Washington Redskins
games. Just to see how they pulled plays off. Who was fooled by
Robert Griffin
III this week? Did you see that defender run right past the ball carrier (a question asked almost every week)?
They ran an offense that was new to the NFL, one that was a bit unusual but a lot energizing.
That's why it was fun to see up close Chip Kelly's offense with the
Philadelphia Eagles
. There's so much to like about what he does. And, like the Redskins a year ago, they put a lot of stress on a defense -- but it's even more.
On one play, I counted four different options for quarterback
Michael Vick
. He could hand it off to running back
LeSean McCoy
. Or he could keep it himself. Or he could throw a bubble screen. Or he could hit the tight end down the seam. If a defender moved the wrong way, or perhaps was just leaning a certain way, Vick could make a decision. And then put the ball in the hands of a potential playmaker, likely in space.
Other times, the Redskins would have six in the box but the play design made it feel like there were four. Linebackers hesitated or flowed too far over, honoring where McCoy appeared to be heading. As soon as they overcommitted, McCoy would cut back.
It was interesting to watch. And that part of it won't change.
But the pace? And the hits on Michael Vick, a quarterback proven to not be durable? That's the tricky part. They can run a fast tempo with a quarterback who isn't mobile;
Tom Brady
isn't about to run. But
In the end, I'm with
Peyton Manning
who says it's the quality of plays that count and not the quantity.
"I still think it's about the execution," he told ESPN.com's Jeff Legwold.
Eventually the Eagles may be forced to only go up-tempo in spurts: the red zone, after big plays. But, regardless, Kelly's offense will work. He has the necessary ingredient to do so: talent.
Defenses will adjust, as they tried to do against Washington last season. Sometimes it worked; sometimes it didn't. The Redskins shredded Dallas on Thanksgiving Day, using zone read play-action passes. So, in the second game, Dallas often took that away by rotating a safety after the snap about 10 yards off the ball in the middle and played man outside. The result? Washington running back
Alfred Morris
ran for 200 yards, gashing them outside.
But the Redskins also scored fewer points in the second game against each division opponent (averaging 30.7 in the first game; 24 in the second). They also beat each of their three rivals in the second game. It'll be interesting to see what happens the next time Washington faces Philadelphia. Also, what will happen if the Eagles don't get the favorable field position much of the game like they had the other night? And what impact will this have on their defense if there are a series of quick three-and-outs?
Still, as long as the Eagles stay healthy their offense will work. That would probably be true regardless of the tempo.
September, 9, 2013
9/09/13
7:00
AM ET
Some links to stories you might have missed leading up to the game:
Linebacker Brian Orakpo's impact on the pass rush is noticeable, especially when comparing how the Redskins recorded sacks in 2011 with him and in 2012 when he missed the final 15 games. That's not to say Orakpo is on the level of a DeMarcus Ware; few are. But
there is a difference when Orakpo plays
for the Redskins: more pressure from their base defense, more sack opportunities for end Stephen Bowen. There's a trickle-down effect even if Orakpo doesn't get the sack.
To prepare for Philadelphia's offense, the Redskins watched a lot of Chip Kelly's former team, Oregon. I watched a couple, too, and then asked the players their thoughts on
what to expect Monday
.
One way to slow a fast-paced offense? Fake an injury. But Redskins coach Mike Shanahan
called that tactic "unethical
."
Here's some advice and thoughts
from others -- Alfred Morris, Michael Vick, Jon Gruden -- on what Robert Griffin III needs to do. One sample from Alfred Morris: "He has to be a smarter runner. A lot of times on options I'm like, 'Give me the ball.' Not because I want the stats, but give me the ball to let me take the hit. I can take this hit. I'm built for this. So just not as many hits and being smarter sliding instead of making something big happen."
ESPN.com Eagles reporter Phil Sheridan and I go back and forth with
questions and answers
, and even predictions, prepping for Monday night.
Get to know your opponent: Some links to
Eagles stories.
Here's another on
Michael Vick
.
September, 5, 2013
9/05/13
6:15
PM ET
ASHBURN, Va. – Jim Haslett started watching film this summer and pored through two dozen Oregon films and every
Philadelphia Eagles
game this preseason. Just to figure out what Chip Kelly might run Monday night in the season opener. And Haslett figures he's done all the studying he can do.
"If they can do anything else, God bless 'em," Haslett, the
Washington Redskins
' defensive coordinator, said.
[+] Enlarge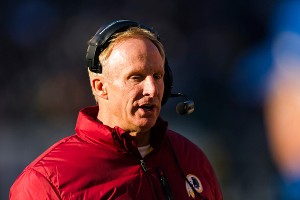 Howard Smith/USA TODAY Sports Redskins defensive coordinator Jim Haslett has combed through film of Oregon and the Eagles to prepare for whatever Chip Kelly has up his sleeve.
The Eagles will surely show something new and different from what Kelly ran at Oregon. He surrounded himself with multiple NFL minds for a reason. No one knows how well Kelly will do in the NFL; he has a good start in part because of the offensive talent in Philadelphia.
"Our guys are prepared," Haslett said. "They're ready for what they've seen."
Today is not the day to go over keys to the game (gang-tackling, etc). Rather, this is about some danger areas the Redskins are well aware of entering the game, based on watching game footage of Oregon and talking to players.
The coaches like to be creative.
An example: Oregon would run the zone-read from different looks, motioning a back into position from the left slot just to the left of the quarterback right before the snap. The quarterback faked the handoff to that back inside and kept it around left end. Auburn stopped the play because the backside defenders did not follow the motion and stayed focused on their jobs, forcing a bad pitch.
Another time Oregon ran what almost amounted to a bootleg pass to to a back running with the boot (a swap boot). However, it wasn't really a boot: it was a fake zone-read off the slotback's motion, then dashing to the left and hitting the running back, first aligned to the right of the quarterback, in the left flat – with a blocker in front. They use their speed.
"You just have to play so much," Redskins cornerback
Josh Wilson
said. "They're trying to expose one person every down to get you out of position. If everyone plays their responsibility, you'll be all right."
Redskins linebacker
Ryan Kerrigan
faced Oregon twice while at Purdue (losing both times by a combined eight points). "It tries to limit your defense in terms of playing aggressive and playing quickly," Kerrigan said. "When you see so many moving parts it distracts you, but you can't be distracted. You have to stay on your assignment."
You must be disciplined before the snap.
Occasionally -- actually, more than occasionally -- Oregon's opponents could be seen not fully in position before the snap. Or they'd be caught leaning a certain way. For example, Oregon ran a play against Stanford that ended up near the left sideline. As the Ducks hustled back to the line for a quick snap, the left outside linebacker ran back to his position. When the ball was snapped, he was still leaning to his left. Oregon ran it inside to his right.
"That's when they make their big plays, guys standing up looking around and saying, 'What's the call? What's the call?' And then, boom, they run the play," Kerrigan said.
It tests a team's discipline all game.
"You see guys, they're good for so long and then they start to guess a little bit and the next thing you know a big play is out of the gate," Kerrigan said.
The tempo.
They won't run the fast pace every play. At Oregon they went fast, but at times went much faster – like in the red zone or after big plays. In one game against Stanford, one red-zone play ended at the 5:50 mark; the ball was snapped 12 seconds later. Another time the whistle blew at 4:59 and the snap occurred 14 seconds later – and this was on a fourth down.
If they make the defense run a long way – sometimes just horizontally – they'll hustle for a quick snap.
"If they have a big play they'll run up to the line and snap it right away," Kerrigan said. "That's when sometimes we're trying to get different personnel groups in. That's when they can really build momentum."
This is why conditioning was such a big deal for the Redskins. Teams that had success against Oregon in college often had depth on the defensive line. The Redskins' depth would be better with suspended end
Jarvis Jenkins
.
"Coach has really done a good job of getting our condition in," Redskins end
Stephen Bowen
said. "We might not have liked it, but he got us in shape. It seems like we've done a lot more conditioning than what we've usually done. They put us in different situations in practice that caused us to be in more condition by running more plays."
It's not just about being in shape. The tempo changes can force defenses into unwanted alignments. If, say, the Redskins run their six-linebacker set on a third-and-long and the Eagles convert, the Redskins will have to hustle to get a new group in. One that's not strictly geared toward rushing the passer, with Kerrigan and
Darryl Tapp
aligned as tackles. The faster tempo, and longer run from the sideline, makes it tougher to change personnel in the red zone, too.
Oregon, and the Eagles during the preseason, ran their same plays regardless of personnel – even with the occasional four-tight end grouping.
"That's the risk you run with the defense we're in," Kerrigan said. "But at the same time, myself and [Tapp], we both know if we do get caught in that, we have to buckle our chinstrap because we're going down inside."
Haslett isn't worried.
"We can play in our base and stay in it all day against everything, so that's not a problem," he said.
[+] Enlarge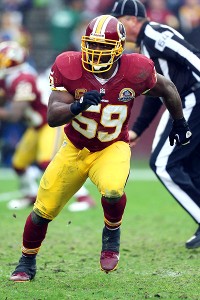 AP Photo/Paul SpinelliLondon Fletcher will be key to getting the Redskins' defense set for whatever looks the Eagles give.
Communication.
This might be the most important aspect Monday. The Redskins handled it well when Buffalo went up-tempo in their preseason meeting. But this will be different because the Eagles' offense will be more complex than anything the Bills showed this summer.
It helps that Washington's defense returns 11 starters and that nine defenders have played at least three years in the system. Plus they have linebacker
London Fletcher
, one of the better linebackers at diagnosing plays. Communication is always a key; when a team is playing faster it makes it even more important.
"I have to definitely be on top of my game," Fletcher said.
Ironically, while teammates started watching film of Oregon this summer, Fletcher waited until Sunday.
"In the past I made that mistake before where I watched too much film on a team and stuff starts to run together and you see ghosts, chase ghosts," Fletcher said.
But Fletcher's career was built, in part, because of his film study and knowledge of opposing offenses. It's a bonus for Washington.
"If something happens and I can't get the ball in," Haslett said, "that is not a concern because London is like a coach on the field."
September, 5, 2013
9/05/13
9:45
AM ET
Michael Vick
says he feels rejuvenated. That could be a bad thing for the rest of the NFL; it also could turn out to just be a line uttered by a quarterback in the last year of his contract hoping that is, indeed the case.
We'll find out starting Monday night. Regardless, Vick can't wait.
"I feel like I have the opportunity to do some great things and show my talents I still possess, so that's a bit of excitement," Vick said, "and throughout the course of the summer I've been able to expand on what I've learned and I really feel good about where we're going."
The
Philadelphia Eagles
quarterback earned the starting job under first-year coach Chip Kelly with a solid preseason (28-for-38, 383 yards, two touchdowns, two interceptions). In a conference call with Washington reporters, Vick also said the following:
[+] Enlarge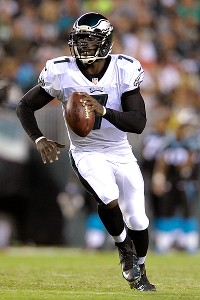 AP Photo/Michael PerezMichael Vick is set to take the reins in Chip Kelly's new offense.
On if he thinks about what it would have been like to run this style of offense for his whole career:
"Yeah, I think about it and what I could have been able to accomplish in that type of offense, but I also respect the fact that I came in 2001 and I had a different set of coaches who build things differently. And I learned so much from them that having that dimension now to my game, adding that only makes me a better quarterback."
My take: Vick is in a good spot now to add several years to his career, if he proves he can run this offense well. He has weapons around him. Perhaps he's in a better spot to run this style of offense now than ever.
On if he feels like he was a "trailblazer" for this particular type of offense:
"Yeah, I feel like I was kind of the ambassador of this offense
in the NFL, like I was the originator. In 2006, I ran for 1,000 yards running the same type of read-option offense, you know it's in the record books and I couldn't have done it without running the read-option. I don't think you can be a dropback passer and run for 1,000 yards in one season, so it was a big accomplishment for me. It was something that I was shooting for. I probably had some other goals set, but it was one of them."
My take: Vick ran the ball 113 times in his first full season as a starter. It was not the same offenses that are being run today, but his legs were a major weapon. He had to learn to be a passer; he did not complete more than 56.4 percent of his passes until 2010 with Philadelphia. Completion percentage is not necessarily the measure of a great passer, but in his first six seasons Vick completed less than 53 percent of his passes three times. He ran as much because he wasn't always an accurate passer and could not sustain an offense with his arm alone.
On the biggest improvement he made in reading defenses in his first two seasons:
"I think from Year 1 to Year 2, the game slowed down for me. I didn't play as a rookie. I only started in three games because I played behind
Chris Chandler
, who was a great, great pocket passer, so I was able to learn from him. Once I started my second year, I was able to see all the things that he had seen and had a better understanding of the game thanks to Coach Dan Reeves. So the transition was easy and it was smooth and I felt like the game had slowed down for me."
My take: This question was asked in relation to Griffin and what growth fans could expect from him. Coaches always say there's a huge improvement from Year 1 to Year 2, just because of the experience and then building on it in the offseason. Griffin was a more accomplished passer than Vick -- better accuracy -- in college and as a rookie. Part of that was the style of offense. Regardless, I expect Griffin to improve the way Vick felt he did -- and then some.
On if mobile quarterbacks take pride in their ability to throw the ball:
"I think as kids when we're in the backyard, we idolize certain guys and we want to be like those guys who we look up to. You don't want to just be viewed as a running quarterback, like all you can do is run or he's just athletic. We put a lot of hard work into our craft and what we do, to be able to go out and execute and run an NFL offense, which is hard, because if anybody could do it, we probably wouldn't be here. Sometimes you don't get credit for what you do, but I think at the end of the day, you've got to be the best football player that you can be."
My take: You don't last as long as Vick has if all you can do is run the ball, though it certainly has helped. He has a strong arm, too. Quarterbacks need to be smart in order to survive a long time. I also remember former Redskins cornerback
Darrell Green
once telling me he did not want to be known just for his speed at corner. There were other things he did well -- and there were other reasons he excelled. But players should embrace their skills and not worry about perception. However, if you want to survive a long time like a
Tom Brady
or
Peyton Manning
, you can't do so by running more than 100 times a year. So, at some point, you'd better take pride in throwing the ball.
September, 4, 2013
9/04/13
6:15
PM ET
ASHBURN, Va. -- Three things we learned talking to
Philadelphia Eagles
coach Chip Kelly in a conference call Wednesday:
1. He tried to recruit Robert Griffin III out of high school.
Kelly
It didn't last long. Kelly didn't talk to Griffin in person, nor did he scout him or even visit his high school.
"We talked to him in the spring and then he committed [to Baylor] early. He never visited. I think we talked to him on the phone and that was it," Kelly said.
Kelly recalled one thing more than any other when it came to Griffin's high school days.
"He was really fast."
2. He did not come to Philadelphia with only thoughts of installing the same offense he ran at Oregon.
As Kelly pointed out, he's the only coach on the staff, in a prominent position at least, who came from Oregon. The only other offensive coach who came from Oregon is assistant offensive-line coach Greg Austin. Kelly's offensive coordinator is Pat Shurmur, who spent two seasons as Cleveland's head coach. His receivers coach is Bobby Bicknell, who had been with the Bills. And there were two holdovers: Duce Staley, who takes over as the running-backs coach, and Ted Williams, who coached the Eagles' backs from 1997 to 2012 and now is in charge of tight ends.
"There was never a premise that we were going to bring exactly what we did at Oregon to the NFL," Kelly said. "It's a combination of all of us getting together and putting an offense together."
3. Quarterback Michael Vick won the starting job because of how well he grasped Kelly's offense.
Yes, Vick also is a bit more skilled than
Nick Foles
, and that caught Kelly's eye as well.
"His arm is as good as there is in the league," Kelly said. "He can flick the ball in a lot of different arm angles, gets the ball off extremely quick. He's got a great release, strong arm, and you add to that his ability to keep plays alive and to use his feet as a weapon. So he's got a real good skill set for what we're trying to get accomplished."
September, 4, 2013
9/04/13
2:30
PM ET
ASHBURN, Va. -- The main topic all week, well aside from
Robert Griffin
III, will center on the
Washington Redskins
' defense: How will they contend with Philadelphia's up-tempo attack under first-year coach Chip Kelly. The tough part is no one really knows what to expect from Kelly and the Eagles.
But Redskins corner
DeAngelo Hall
says not to worry. There's a difference between what Kelly could do at Oregon and what will happen in the NFL.
"I think Oregon, everybody on their team was a little bit faster than the Pac-10," Hall said. "When they played teams of the SEC, the speed leveled out and it was a different ballgame. The NFL, everybody's fast. I think guys saw that in the preseason. Everybody's fast, everybody's the best of the best. I don't think it will be anything overly complicated or we'll feel like, 'Man, it's going so fast we can't see it.' That's why we get paid to go out there and see things happen. I like our chances."
For the record: In the last three seasons Oregon was 1-2 against the SEC, losing to Auburn in the National Championship Game (22-19) after the 2010 season, but beating Tennessee earlier that season (48-13). In 2011 the Ducks lost to LSU, 40-27.
But Hall's right. You can't just assume his teams will have the same success because the talent level is not as unbalanced in the NFL. Besides, if the Eagles have success it'll be as much because of the offensive talent. If
Michael Vick
stays healthy and
DeSean Jackson
stays healthy and
LeSean McCoy
stays healthy, then the Eagles have the necessary talent to power most systems.
"They're playmakers," Hall said. "We didn't see them making a lot of plays in the preseason but they are playmakers. That's the only question mark. How are they going to use those these guys and how are they going to get the ball to this guy, this guy, that guy? That's going to be interesting to see how that works out."