Washington Redskins:

Chris Borland
May, 9, 2014
May 9
7:30
AM ET
The Redskins didn't make a pick, nor did they make any trades. But they were able to see some players who could help them fall to the second round. Which will give them plenty of choices when they make their first pick of the draft.
Washington will make the second pick of the second round when the draft resumes Friday night. One thing the Redskins did not do Friday was trade backup quarterback
Kirk Cousins
. Cleveland had offered the Redskins a fourth-round pick, an NFL source said, but the Redskins stuck to wanting a high pick (likely a second-rounder). It's debatable if there is any market for him because of the high price tag -- though the Redskins made it clear earlier in the offseason that they did not want to trade him.
Here are some options at 34:
RT Morgan Moses
: Moses is an athletic tackle, but also inconsistent. He was better as a senior -- and was excellent against
Kyle Van Noy
in their limited matchup. But Moses has a tendency to play too upright and would need to fix that or else have problems. I like his long arms, which bailed him out of trouble in college. But I did not like how he handled run-blocking assignments at the second level -- something he'd need to do in the outside zone scheme.
Here's my write-up on him
.
RT Cyrus Kouandjio
: I really like his ability, but his knees are a concern and I've heard that definitely might scare the Redskins off. He showed good footwork and strength as a run blocker and had a little attitude as well. But he was not as consistent in pass protection, thanks to his balance and footwork.
Here's my write-up on him
.
RT Joel Bitonio
: He's considered a good fit in a zone blocking system because of his ability to get to the linebackers. He does not have prototypical measurements for a tackle (6-foot-4, 302 pounds; arm length just under the desired length of 34 inches) but he makes up for it with terrific makeup: a leader, hard worker, etc. He also blocks with a little attitude. He ran a 4.97 40-yard dash at the combine.
LB Kyle Van Noy
: The Redskins like his versatility, as he can play outside or inside in a 3-4. They definitely feel he can play inside in their scheme. Though Van Noy did not handle this role in college. When he lined up inside, it was in coverage or to rush. But he did a good job of shedding blockers on the edge, which gives the Redskins confidence he could do the same inside. However, 34 is a bit high for him.
Here's my write-up on him
.
OLB Jeremiah Attaochu
: Has very good quickness and is considered a good athlete. He has good size to handle the outside at 6-foot-3 and 252 pounds, but he would probably have to add about 10 pounds. He did a solid job against the run in college.
DE Ra'Shede Hageman
: He had top-10 ability, but did not always play at that level. Otherwise, of course, he'd have been selected in the top 10. He dominated at times and made plays that made you say, 'Wow.' And then he'd do nothing for a while. The fact that he only had two sacks was telling. But he's athletic enough and big enough that he could provide a good push inside. Not sure the Redskins are big fans.
Here's my writeup on him.
ILB Chris Borland
: I don't see him as the choice. There are too many other players Washington likes that are available and I did not get the sense that the Redskins felt he was a good fit. I think he's better in a 4-3; he will have issues in space, but would be a good physical player when facing straight-ahead running teams.
Here's my write-up on him
.
WR Marqise Lee
: The Redskins do not need to pick a receiver high in the draft. Their top three receivers all are under contract through 2016. However, injuries are always an issue and Washington lacks depth at this position. Lee dropped too many passes last season, but he was much more consistent the previous two years. He's had a tough background, but his intangibles are considered strong. He ran the 40-yard dash in 4.52 seconds at the combine.
DE Stephon Tuitt:
Projected by some analysts to go in the first round. Isn't considered to have a quick burst, but plays with strength. If the Redskins want another player to provide push inside, then he could be worth a look. However, there are questions about his durability and his motor.
Another option:
Trading down. This is clearly a strong option for Washington considering there are a handful of players the Redskins' like who are still around. They only have six draft picks, so this would be a chance to add another selection or two.
May, 8, 2014
May 8
4:00
PM ET
I'm taking a look at selected players leading up to the NFL draft, which begins Thursday night. The reports are based on watching multiple games on
draftbreakdown.com
; I'll let you know when there is an opinion other than my own. I'm not a fan of having to only watch them off a TV feed -- you don't always get the best angle, or see all the players -- but it's the best I can do now and it helps provide a snapshot. The draft analysts -- especially those from ESPN.com, NFL.com and CBSSports.com -- help fill in the gap, especially in terms of where they are projected.
Player:
Dee Ford

Ford
College:
Auburn
Position:
Outside linebacker
College production:
He had 29 tackles, including 14.5 for loss and 10.5 sacks, according to Auburn's website. He finished his career with 27.5 tackles for loss and 20.5 sacks.
How he'd fit:
As another pass-rusher, capable of playing in nickel situations. (Remember: The Redskins were in nickel nearly 70 percent of the time last season.) He could eventually take over for Brian Orakpo, if they let him walk after this season (and don't feel like paying two outside linebackers big money).
What I liked:
His speed. It's really hard not to like it considering how fast he ran at his pro day (4.59 in the 40). But it's not just his speed, it's his first step and ability to anticipate the snap. It'll be harder to do that against NFL quarterbacks, but it was easy in college. There were times when I'd hit pause and Ford would be a yard in the backfield while everyone else along the front was still at the line. Ford dominated in the Senior Bowl, giving right tackle
Jack Mewhort
fits among others. At times the right tackles would have to almost run to a spot rather than slide because Ford would win otherwise. Love his motor; did not see him quit on plays and would see him pursue ball carriers even when he appeared to have no chance. Set up interior rushers with his pressure. He has strong hands; at times he was able to grab onto the quarterback with one hand and drag him down while still being blocked. They make up for average arm length. Fared well against Texas A&M's Cedric Ogbuehi. Ford rushed from both the right and left sides and also from a three-point stance, a four-point stance and standing up. He's very athletic and has good change-of-direction ability, though he's more comfortable going forward than in space.
What I didn't:
I did not see him being all that strong against the run. He was much easier to block in that area than in the pass game. I did not see him getting off run blocks enough to make plays or to set a hard edge against tackles. He would need to probably add 10 more pounds to help become more effective in this area -- and learn to take on double-teams -- otherwise he'll just be an extra rusher. But I could see him being a threat to make plays from the backside because of his speed and quickness. I saw him drop into coverage only a couple of times and usually to take the running back one-on-one. He'll have to improve there. He missed games each season due to injuries so durability will be a concern. He did not make game-changing plays: one forced fumble and one interception in his career.
Projection:
Possible late first, second. Ford is considered a bit of a tweener -- is he a 4-3 end or a 3-4 outside linebacker? I did not see a reason he couldn't find his way in either one, but in both cases he'll be limited early. It'll be best to use him as a rusher in his first season and then develop the rest of his game. On the positive side, he received high marks for intangibles.
Other players examined:
Deone Bucannon
Kyle Van Noy
Jimmie Ward
Morgan Moses
Demarcus Lawrence
Chris Borland
Charles Sims
Cyrus Kouandjio
Jack Mewhort
Ra'Shede Hageman
Antonio Richardson
May, 8, 2014
May 8
10:50
AM ET
A little this and that about the NFL draft:
I really don't know what direction the Redskins will go in the second round and nor do they. Too many factors involved at this point. But very few positions would surprise me if addressed with this pick.
The only spot defensively I'd rule out would be nose tackle. After that? It's all up for grabs -- with an edge toward pass-rusher. Offensively, I can see right tackle first and foremost. But this also depends on who falls to this spot, of course.
I get the feeling that adding another pass-rusher would be highly desirable and there are several at 34 that they like, including Dee Ford, Kyle Van Noy and Jeremiah Attaochu. Van Noy's versatility would be appealing; he can play all over and the Redskins do think he can play inside in a 3-4 as well. When he played outside, Van Noy did a good job disengaging from blockers. The belief is that skill would transfer inside.
But if a top corner or inside linebacker fell to 34, the Redskins would consider taking them, even though at corner they have their top three already. I know some, including ESPN's Todd McShay, have projected inside linebacker Chris Borland to the Redskins but I would be surprised if that happened. Borland's speed and inability to play in space would not be a good fit. My sense is they'd rather take Van Noy and move him inside. But, again, I think they go pass-rusher before these spots. They can also trade down a few picks and still find a pass-rusher they like, if that's truly the direction they want to go. Just keep in mind that they're intent on bolstering the pass rush.
Will quarterback Kirk Cousins be traded? I've always leaned toward no and that's the sense I've gotten from others. But it's still a legitimate question because it's well-known what Cleveland offensive coordinator Kyle Shanahan thinks of his former player. But it's not known what sort of pull Shanahan has in the organization. There are a few layers above him. It also depends what the Browns truly think about Brian Hoyer – is there that big a difference between he and Cousins, enough to surrender a draft pick?
I know Bill Polian said on "NFL Insiders" that Cleveland should trade the No. 26 pick to Washington for Cousins. I think it would take the Redskins about one second to say yes. And I really can't imagine the Browns making such an offer. That's a steep price for a former fourth-round pick who still has a lot to prove. One NFL executive said he thought Cousins' value was closer to the third round (maybe even the fourth; but it's not as if this person had closely studied him).
What if the Redskins used Cousins to move up eight spots? The Redskins would have to get back more than just 26; they'd also need another pick in return. Last year, Atlanta moved up eight spots (from 30 to 22) and surrendered their first, third and sixth while also receiving St. Louis' seventh.
By the way, I would not like that move for Washington. There are a handful of players they like in this draft and it's hard to imagine them all being gone by the time the Redskins select Friday. While Bruce Allen and company might like Colt McCoy, they also like having three quality quarterbacks (potentially at least). With Robert Griffin III's durability concerns, it's wise to have excellent depth at this position. Very wise.
The bottom line is trading a guy you like at quarterback to move up eight spots is not worth it. Now, what if Cleveland offers its second pick (35th overall)? Again, that's an awfully high pick to surrender for Cousins in my opinion (which no one involved in any deal would care about). Maybe Shanahan would do it, but would general manager Ray Farmer? They will take Shanahan's advice on whether or not he thinks Cousins can play, but not on what pick they should give up.
Kansas City ended up trading two No. 2s to San Francisco for Alex Smith last offseason (one was a conditional third that turned into a second), but he had a deeper track record and was coming off a good season. Has Cousins really played himself into being worth a high No. 2? That still seems high, though we are talking just one pick compared to the two that Smith fetched. Arizona traded a sixth-rounder last year and a seventh-rounder this year for Carson Palmer.
Whether or not this trade happens I don't know. But it has been discussed and does bear watching. The Browns can end the suspense by selecting a quarterback fourth overall.
May, 6, 2014
May 6
11:00
AM ET
I'm taking a look at selected players leading up to the NFL draft, which begins May 8. The reports are based on watching multiple games on
draftbreakdown.com
; I'll let you know when there is an opinion other than my own. I'm not a fan of having to only watch them off a TV feed -- you don't always get the best angle, or see all the players -- but it's the best I can do now and it helps provide a snapshot. The draft analysts -- especially those from ESPN.com, NFL.com and CBSSports.com -- help fill in the gap, especially in terms of where they are projected.
Player:
Ra'Shede Hageman
[+] Enlarge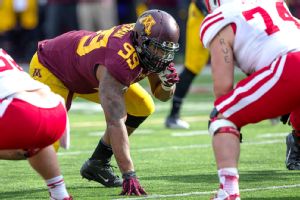 Jesse Johnson/USA TODAY SportsRa'Shede Hageman is projected to be a late first-round pick, and could slip to the Redskins at No. 34.
College:
Minnesota
Position:
Defensive line
College production:
Third-team All-American this past season. He had 13 tackles for loss and eight batted passes in earning team MVP honors in 2013.
How he'd fit:
As a versatile lineman, capable of playing end in a 3-4 and rushing inside in a nickel package. The Redskins could have four defensive linemen 30 or older when the season begins. It would be good to get a little more youth. Even though they signed
Jason Hatcher
to help the interior rush, they still need more help/depth in this area. Hageman likely will work best in a one-gap scheme, which the Redskins might use more of this season.
What I liked:
He makes some plays that definitely whet the appetite, so there is definite potential with him. The skills are evident and, if developed, he could be a definite presence as an interior rusher. He definitely looks the part -- and then some. I saw him drive a Wisconsin guard back in a short-yardage situation, reach over and help make the stop with one arm, displaying his power. On another play, he drilled the left guard back, knock him to the ground and then, as Hageman fell on top of the guard, he reached over and made a tackle at the running back's feet for a loss. At times, he displays an excellent initial burst -- with both hands and feet -- and played with good power. He had a couple of batted passes that were impressive. On one, as he ran a stunt to his right, he continued to drive the guard back while jumping and deflecting the pass. He had consecutive nice plays against Iowa: first, while aligned over center, he used a swim move to get past and record a tackle for a loss. On the next play, he powered his way to the left and made a stop for a 3-yard gain on second-and-long. He has long arms, which are always a good plus for a lineman. He was Athletic enough to have considered playing hoops at Minnesota.
What I didn't:
He'll flash, but leaves you wanting more. You'd see a big-time play on one snap and then scratch your head for the next several. I would not use the words "high motor" to describe him. He wasn't horrible, but could have been a lot better. He did not get back into plays once taken out, even when there was an opportunity where he could help. He struggled against double-teams; obviously those can be difficult but he was unable to anchor and would end up sliding back a few yards. He would get too upright and allow himself to be taken out of plays. I did not see any real moves as a pass-rusher, so he would need good coaching in this area. Sometimes drifted as a rusher, perhaps because he didn't seem to have much of a plan while trying to get to the quarterback. I wonder about his instincts locating he ball. If Hageman had been more productive or consistent, he's a top-16 pick based on his ability but he takes a fall because of his inconsistencies.
Projection:
Late first. There's a good chance Hageman will be gone when the Redskins select at 34, but most mock drafts I've seen peg him as a very late first-round pick -- 29 to New England seems to be a popular choice. But that also means there's a chance he'll be available considering the Redskins own the second pick in the second round. It's unlikely, but it's not a stretch.
Read this to learn more about Hageman's upbringing
. He had some issues at Minnesota, but he was also a team captain last season.
May, 5, 2014
May 5
5:00
PM ET
I'm taking a look at selected players leading up to the NFL draft, which begins May 8. The reports are based on watching multiple games on
draftbreakdown.com
; I'll let you know when there is an opinion other than my own. I'm not a fan of having to only watch them off a TV feed -- you don't always get the best angle, or see all the players -- but it's the best I can do now and it helps provide a snapshot. The draft analysts -- especially those from ESPN.com, NFL.com and CBSSports.com -- help fill in the gap, especially in terms of where they are projected.
Player:
Jack Mewhort
School:
Ohio State
Position:
Offensive tackle
College production:
Three-year starter; team captain in 2013. Started 39 straight games and played 49 straight overall. Started games at left tackle, right tackle and both guard spots.
How he'd fit:
He'd be the right tackle of the future, but to expect him to be a Day 1 starter would be asking a lot. He'll take a little time to develop, depending on the system.
What I liked:
He did an excellent job with straight-ahead blocking and when he locked on a guy he kept control. At times he'd drive his man off the ball, with an occasional pancake block (as he had versus Wisconsin) thanks to keeping his feet moving. Mewhort played with a good awareness for the most part when it came to handling stunts and line games. I could see him at times blocking one man, yet keeping his eye on the linebacker just in case. When he kept his hands a little tighter, it made a big difference in his blocking. His arm length is ideal for a tackle (34 inches). He's a pretty good, but not great, finisher on his blocks and has a pretty good first step in pass protection, most of the time. Mewhort was a good leader and competitor. He has good strength and the ability to absorb. If playing him at tackle doesn't work, he could slide inside. It may be a better fit, but he has to be tried at tackle first.
What I don't:
Mewhort was way too inconsistent with his hands. I stopped the frame one time just to see where his hands were with his man a yard in front of him. Mewhort's hands were below his knees. The result, as happened too often: The defender would get his hand into his chest and drive him back. Mewhort could anchor much of the time, but if that happens in the NFL it'll be trouble. His arm length is negated by inconsistent technique; not just low but sometimes too wide as well. Clemson end
Vic Beasley
's speed was too much for Mewhort in the Orange Bowl. Beasley beat him with speed to the edge and also crossed him up to get inside and even pushed him back because of the low/slow hands. These will be issues to correct even if he's moved to the right side. It's not as if right tackles face only slow players. When Mewhort tries to get too wide too fast, he gets upright and then loses. There was an occasional lunge as well when dealing with speed. Too often he struggled with second-level blocks, whether because of angles or he didn't get there quick enough. I also saw him fall several times getting to the linebackers.
Projection:
Third-fourth round. Mewhort has raw tools to work with, but he also has areas to clean up before he can be counted on as a starter -- which is why this is where he's projected.
Other players examined:
Deone Bucannon
Kyle Van Noy
Jimmie Ward
Morgan Moses
Demarcus Lawrence
Chris Borland
Charles Sims
Cyrus Kouandjio
May, 3, 2014
May 3
2:00
PM ET
Some thoughts from ESPN draft analyst Todd McShay on the Redskins' draft:
In a conference call with NFL Nation reporters last week, I asked McShay about who would represent the best value at 34 as far as pass rushers go. I should have clarified that it could also apply to an interior rusher. It would not surprise me if the Redskins went in one of four directions with this pick (pass rusher, safety, right tackle, inside linebacker). But by pass rusher, that could mean an outside linebacker or someone inside to help more in the nickel. My thought has been more about finding additional interior help. The line has four players who will be 30 or older this season: Jason Hatcher, Barry Cofield, Stephen Bowen and Kedric Golston.
If they took an outside linebacker, and they had several visits with them, then that player would obviously sit behind Ryan Kerrigan and Brian Orakpo for a year at least. Not sure how wild they are about Kyle Van Noy, but his versatility could help (though, personally, I've liked other players more than him).
McShay said about pass rushers at 34: "That might be the sweet spot in this class in terms of outside guys. I don't know if they'd spend that pick on an outside linebacker. You have [Jeremiah] Attaochu, [Demarcus] Lawrence, who played a hybrid role, and Dee Ford. I've seen him play with his hand in the dirt and from a two-point stance. All could be around when the first round is done. If you're looking for value, it's a good spot."
In their mock draft Thursday night, Mel Kiper Jr. and Todd McShay had the Redskins taking Wisconsin linebacker Chris Borland at 34 and tackle Jack Mewhort in the third round. Not sure about Borland; there are definite parts of his game I like, but not sold that he's best for Washington. Mewhort is fine as a right tackle prospect.
Here's what McShay said of Borland: "He wouldn't be a bad choice at all. I picture him more as a middle linebacker being protected. He can do a lot of the same things inside in a 3-4 scheme. After [C.J.] Mosley and Borland, there's a real drop-off at that inside linebacker position. You get down to the fourth round probably before you'd feel good about an inside linebacker."
McShay said Preston Brown and Shayne Skov would be options starting at that point, though he said Skov is more a fifth- or sixth-round pick.
April, 29, 2014
Apr 29
2:45
PM ET
Taking a look at selected players leading up to the NFL draft, which begins May 8. The reports are based on watching multiple games on
draftbreakdown.com
; I'll let you know when there is an opinion other than my own. I'm not a fan of having to only watch them off a TV feed -- you don't always get the best angle, or see all the players -- but it's the best I can do now and it helps provide a snapshot. The draft analysts -- especially those from ESPN.com, NFL.com and CBSSports.com -- help fill in the gap, especially in terms of where they are projected.
Player:
Jimmie Ward
School:
Northern Illinois
Position:
Safety
College production:
Finished with 320 career tackles, four forced fumbles and 11 interceptions (seven this past season). Also had two sacks and six tackles for a loss. Returned three punts for 46 yards in his four years.
How he'd fit:
Ward would give the Redskins a young safety to groom and someone who would be able to play both free and strong. They have other young safeties and could opt to focus on them, of course. But none entered the NFL as higher than a fourth-round pick, so Ward would enter with more talent. He would also help on special teams.
What I liked:
With defensive backs I always like seeing their competitiveness. Ward has it; he does not back down from blockers and knifes through traffic to get involved in the play. You can tell he likes being on the field and being part of the action. Ward played mostly strong safety, but did line up deep on occasion – and showed in at least one game I watched the ability to come downhill from deep middle to make a tackle. But I don't think there would be a big adjustment to playing deep more often; he often covered in the slot and to the wide side of the field. To do so, you have to have good reaction, quickness and adequate speed. He was timed at a 4.47 in his pro day (players always are timed faster on their pro days, but he could not run at the combine because of a foot injury). His play did not drop off against schools from the power conferences (he did a nice job against Florida State in a 2013 bowl game with 14 tackles). He showed patience covering in the slot; he was physical there, too, and showed good awareness in zone coverage.
He also understood his help. Against Utah State, Ward made a nice interception when he allowed the receiver inside knowing he had safety help. The quarterback tried to force it in, but Ward cut the route and caught the ball. He has good hands. Did not see Ward miss many tackles. Showed good form, too, though occasionally his initial pop was not enough and he would have to rely on hanging on as the runner tried to pull away. Overall, though, he was a consistent tackler in space. Saw him line up deep middle and drive on the ball. Also saw good recognition on a scramble play vs. Akron in which he quickly spotted a receiver racing behind him out of his peripheral vision and, with no one in front of him, sank deeper – and picked off the pass. Liked how he came up from deep middle to outside run support on a jet sweep, stepped over a cut block by the outside receiver and made the tackle. Also didn't overcommit on runs, allowing him to be more under control and make more stops in traffic. Made a great pick vs. Toledo in which he undercut the route from deep middle, tipped the ball and maintained focus to grab it on the way down.
What I didn't like:
He needs to get stronger. Ward is not a big guy (5-foot-11, 193 pounds), which is not a death sentence of course for an NFL career (durability was not an issue in college). But it makes it tougher, and there is a definite need to add strength (only nine reps of 225 pounds). He can fix this of course, but it would take a toll on him until he does. And, early on, I'd wonder about him taking on bigger backs as opposed to those he faced in college, or lead blockers. It's really hard to tell how he moved deep middle off a TV feed; he appeared to take good angles to the ball to compensate for any shortcomings – and it's not as if he's slow by any means. But there were a couple plays where, had he been facing an NFL caliber quarterback or receiver, he'd have been in bigger trouble because of either technique or recognition. One thing I've read – on ESPN.com's Insiders Page and NFL.com – suggests concerns about maturity issues.
Projection:
Most experts/analysts peg him as a late first or early second-round pick. He had an excellent week at the Senior Bowl, and though he does not come from a power conference, his play has been steady regardless of competition, which is why he's been consistently pegged in this area.
Other players examined:
Morgan Moses
Demarcus Lawrence
Chris Borland
Charles Sims
April, 25, 2014
Apr 25
8:45
AM ET
Taking a look at selected players leading up to the NFL draft, which begins May 8. The reports are based on watching multiple games on
draftbreakdown.com
, and reading various reports from ESPN.com, CBSSports.com and NFL.com. But I'll let you know when there's an opinion other than my own. I'm not a fan of having to only watch them off a TV feed -- you don't always get the best angle, or see all the players -- but it's the best I can do now and it helps provide a snapshot. The draft analysts help fill in the gap, especially in terms of where they're projected.
Player:
Chris Borland
School:
Wisconsin
What he plays:
Inside linebacker
[+] Enlarge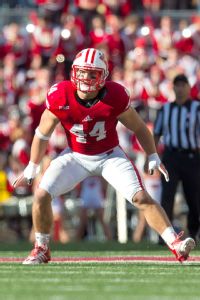 Jeff Hanisch/USA TODAY SportsChris Borland had helped Wisconsin stay among the league's top teams.
College production:
Set a Big Ten record for forced fumbles (13). Also had 50 tackles for a loss in his career. Recorded 102 tackles and four sacks this past season in being named the Big Ten Defensive Player of the year. First Badger linebacker to earn first-team All-America honors since 1951.
How he'd fit:
He'd eventually start alongside
Perry Riley
inside, though the Redskins would not need him to do so immediately with
Darryl Sharpton
and
Akeem Jordan
on the roster. Could help on special teams.
What I liked:
His competitiveness. Borland was always around the ball, no matter where the play ended up being made. When the play was in front of him, Borland was an excellent tackler. So in a more physical game, like against Ohio State, his impact was greater. On three occasions he met
Carlos Hyde
in the hole and won, including two short-yardage situations. Just excellent tackles: Knees bent, head up and driving through the man. Borland knows how to play and anticipates the snap count well, allowing him to play fast. (The true measure of speed is not with a stopwatch, but in how fast they play. He plays to his speed; many do not. They might run well, but they don't play fast.) It allowed him to beat blockers to the spot. Against Ohio State, he blew up a play because he beat the pulling guard, leaving Hyde to block him several yards deep on a quarterback run around the end. Another defender made the tackle; Borland made the play. He was good at avoiding blockers and was a solid pass-rusher with a spin move on the outside and showing good hands against slower linemen inside. Borland showed good balance when teams tried to cut-block him. He was fine in zone coverage. He'd be an excellent leader (eventually) and a guy who would provide a physical mindset inside.
What I didn't like:
Though he's more athletic than given credit for, he was not as good when the game was played more in space. I did not see him covering tight ends one-on-one, but would anticipate that being an issue in the NFL. He's not fast (4.83 in the 40-yard dash) and lacks ideal size (5-foot-11 ½, 248 pounds), though so did the guy he'd replace in
London Fletcher
. Borland struggled to disengage blockers – his arms are considered short -- opting more to avoid them. He didn't finish as well against more athletic players, missing tackles at feet or failing to react well when the player would make a move. I'd worry about him against a team like, say, Philadelphia in particular.
Where he's projected:
Second round. The question is, would Borland be better as a 4-3 middle linebacker? ESPN draft analyst Todd McShay thinks so because he'd be more protected. I agree; he did not show great ability to take on blocks and that will be an issue in the NFL. But his productivity was so high -- as are his intangibles -- that teams will take a long look at him; there's also a drop-off after Borland. In the right system, Borland could do rather well.
Other players examined:
Morgan Moses
Demarcus Lawrence
March, 4, 2014
Mar 4
2:00
PM ET
Next up in the offseason needs category: inside linebacker. This could be a tricky one to fill because, while there are some good options, there's not a lot of depth of choices for teams that need an immediate starter.
Why it's a need:
The Redskins have to replace starter, and captain,
London Fletcher
.
Perry Riley
is a free agent, too. If he somehow leaves, then they'd obviously have to find two starters. They also need to find more depth, especially players who can help on special teams. The Redskins would like to re-sign Riley, but if he gets in that $5 million a year range, then it's tough to justify. I don't know that he's going to get a whole lot better than he is now.
In-house options:
The Redskins don't have many.
Keenan Robinson
is coming off his second torn pectoral muscle in as many seasons and there's no way you can project him as a starter. He lacks experience and must prove he's durable. He has good speed and can help in coverage, but my guess is they'd be happy if he became a part-time player who helps more on special teams. He needs a year to show what he can do.
Nick Barnett
is a free agent and not an option. He was a two-down guy and not well-suited for special teams.
Bryan Kehl
also is a free agent and coming off a torn ACL. He's a backup/special teamer. They need a starter.
Free agent options:
The player that jumped out for me was Arizona's
Karlos Dansby
. He was the best all-around inside linebacker of the available options, but it's hard to see the Cardinals letting him walk. He moved well laterally, arrived with some pop and did a good job taking on blockers. As coaches like to say, he played with his eyes. D'Qwell Jackson is free, but seems more interested on returning to a 4-3 where his play was better than in a 3-4. He was OK; didn't think he was special but also didn't see a lot of missed tackles in the games I watched. I saw him too often trying to avoid blocks, which is OK if it works but it can also take you out of the play. New England's
Brandon Spikes
is a two-down player tops, coming out in obvious passing situations. But he's excellent against the run. Keep in mind, though, one of his best games last year occurred against Cincinnati and Jay Gruden's offense. In that game, I saw him getting off blocks well to make a couple plays and he also intercepted an
Andy Dalton
pass. If you sign him, you'd have to hope Robinson is ready for a big role in the pass game, as he was doing as a rookie. But how much do you spend for a two-down guy (though this staff emphasizes stopping the run first and foremost)? Baltimore's
Daryl Smith
is good and is a three-down linebacker, but will the Ravens let him get away? He'd be a strong pickup. Smith and Dansby turn 32 and 33 before the season, respectively. Spikes is only 26. Houston's
Joe Mays
is a candidate for one of the backup/special teams roles -- they almost signed him last summer and I wouldn't be surprised at all if they pursue him again. The New York Giants'
Jon Beason
is probably best suited for a 4-3. When you look at the list, it's limited and that's why they'll need to try and keep Riley, albeit at a smaller deal than he probably desires.
Draft options:
Everyone says this is a deep draft, one of the deepest in years. But I'm not sure that's the case at inside linebacker, where only one inside linebacker is projected as a first rounder (
C.J. Mosley
) and perhaps only one as a second-rounder (
Chris Borland
). But there are a couple intriguing options, including Florida State's
Christian Jones
. He played inside and outside for the Seminoles, but likely will slide inside in the NFL. His athleticism is apparent. I saw one stat that jumped out: he missed only two tackles last season. But after playing multiple spots it likely would take him time to be ready to start. Wisconsin's Borland lacks Jones' athleticism, but he'll be tempting just because he's a solid player with good instincts and toughness. Those latter traits compensate for many shortcomings and his play against the run will tempt any staff. But will he be able to cover? Connecticut's
Yawin Smallwood
, who left after his junior year, covered receivers on occasion. There's a good chance he'll be better in the pass game, both in coverage and as a blitzer, than against the run. He'll need to develop in that area. Stanford's
Shayne Skov
might be more of a two-down backer. Jones, Smallwood and Skov are projected as third-to-fifth round picks. It's tough to find day one starters at those spots. It's a good thing the Redskins have Kirk Olivadotti coaching the inside linebackers; he's a good teacher who will help their development.
In case you missed it
Monday:
Receivers
February, 20, 2014
Feb 20
2:30
PM ET
There are some positions the Redskins will have more interest in this offseason, starting with the scouting combine that takes place over the next week. Wednesday we
took a look at some safeties
; Thursday it's inside linebacker. The Redskins already know they need to find one starter this offseason. If they somehow let
Perry Riley
get away, they would need two and it could be hard to fill both spots in free agency. So here are four to watch for various reasons. It's not a deep group.
Inside linebackers
Chris Borland
(Wisconsin): He will be a good player in the right system. The question will be, can he do what Washington asks of its linebackers, particularly in coverage. That's a big part of playing inside in a 3-4 and it's one area of Borland's game that has been questioned. His instincts give him a chance. It'll be interesting to see what his 40 time is. It's not the main measuring stick (nor should it be), but it is a piece of the puzzle.
Shayne Skov
(Stanford): He was highly productive at Stanford, but Skov is not considered a fast player, which will impact where teams want to draft him. Scouts Inc. rated him as average in every key category aside from productivity where he was above average. They liked his ability to take on blocks, but wrote of his coverage skills: "Possesses adequate range in underneath zone coverage. However, lack of elite athleticism puts a cap on his overall play making ability in coverage. Will have limitations in man coverage. "
Christian Jones
(Florida State): Not everyone lists Jones as an inside linebacker because he also played outside at Florida State, so some might view him more as an outside linebacker. He's talented. He might go a couple rounds lower than Borland, but he's an active player with good range and might be the most intriguing. He just hasn't stayed at one spot long enough. He'll need to show a strong understanding when teams quiz him about the X's and O's. An inside linebacker in a 3-4 must have a good command of this area.
Here's what ESPN's Scouts Inc. wrote about him: "Flashes above average upper body strength and appears to have long arms. Not violent enough at the point and can take too long to get off blocks in phone booth … Gets to depth and can cover a lot of ground on underneath zone. Picks up backs and H-backs releasing out of the backfield. Appears long and fast enough to match up with tight ends."
Max Bullough
(Michigan State): He was productive, but there are plenty of questions that need to get answered, starting this week at the combine. Bullough was suspended for the Rose Bowl and must answer questions about that as well as why he put on so much weight. He weighed in at 265 pounds at the East-West Shrine Game -- about 20 pounds more than he had previously been listed at (I think it was his playing weight in 2012). It made a difference in his performance. Bullough will need to lose around 20 pounds to play in a 3-4. As of now, it sounds as if he's a guy you'd pick in the fifth round or later.