Washington Redskins:

Chris Clemons
June, 5, 2014
Jun 5
11:45
AM ET
ASHBURN, Va. -- One addition could lead to better individual play. The other could be seen as insurance for his potential departure. Both could help
Brian Orakpo
in the short term, and that's all he's worried about.
In fact, Orakpo said he never viewed rookie
Trent Murphy
as anything other than a guy who could help now. He said he did not wonder if Murphy was drafted to be his eventual replacement.
[+] Enlarge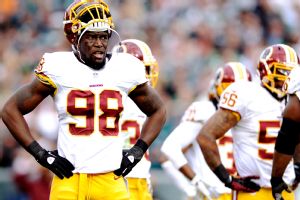 AP Photo/Michael PerezBrian Orakpo views the additions of rookie Trent Murphy and outside linebackers coach Brian Baker as a sign that better days are in the immediate future for the Redskins' pass rush.
"That's the last thing I'm thinking of," Orakpo said. "That's the first time I even thought about that to be honest with you."
Orakpo said Murphy's addition was necessary. So, too, was outside linebackers coach Brian Baker's. And Orakpo said both can help him -- and
Ryan Kerrigan
-- have more of an impact this season.
First, Baker. Here's the list of pass rushers he's worked with in the past:
Charles Johnson
,
Julius Peppers
,
DeMarcus Ware
and
La'Roi Glover
. How much did he mold their games? Tough to say, but clearly Baker can pass along tips he picked up working with those players onto the Redskins' linebackers.
"Just pass-rush concepts, man," Orakpo said. "Not just being an athlete. All kinds of different stuff he learned coaching guys throughout his years. Hand usage. Hand placement. I'm a momentum type of pass rusher. Now he's trying to teach a guy like myself proper hand placement and not being so wild at times when I'm rushing.
"We've been doing a lot of techniques. Any time we got a break, me and Baker are going at it doing different techniques, working different hand placements, working half of the offensive tackle or the tight end. Just trying to get better."
It's different.
"I haven't done this before," Orakpo said. "This is brand new for me. I'm excited. It will get all of us better and get all of us to another level. It comes with years of experience, always trying to incorporate something new in your game. I'm excited Baker is here and also that [Kirk Olivadotti] is here because he's teaching the inside linebackers a lot of new things as well that we were accustomed to my first year. Those guys are huge assets."
That's how Orakpo views Murphy, chosen in the second round last month. Orakpo said one word came to mind when they picked him: Depth.
While many will debate whether Murphy was the right choice, the bottom line is the Redskins needed another pass rusher. Just adding
Jason Hatcher
in the offseason would not provide enough of a boost, or depth, in this area.
"It's all about getting another guy to come in and create havoc," Orakpo said. "Depth is huge. You need three or four pass rushers that can go. This team has relied on me and Ryan doing the dirty work. But every other team has three to four guys ready to rock and roll. You saw what Seattle did bringing three or four guys, moving my boy
Michael Bennett
around.
Cliff Avril
on one side,
Chris Clemons
one side. Just moving guys all over the place. ... We finally got the big picture and got someone in here."
It's no secret what the Redskins want to do: tap into the three linebackers' versatility. That's evident in practice as each of them has lined up all over the place. The goal: pressure with four or, at most, five. You can be aggressive without always having to blitz. Washington blitzed more in 2012 in part because it lost Orakpo and
Adam Carriker
to injuries. But it left a weak secondary susceptible.
"If you pressure with four guys, you have a much better chance," Redskins coach Jay Gruden said. "You saw the success Seattle had -- they very seldom blitz. We have the ability with four, five guys that we have being able to rush the passer, keeping them fresh -- that we can get pressure."
If that's the case, then Orakpo likely would receive the sort of long-term contract he desires from Washington. He made it clear a long time ago he'd still like a long-term deal and that not having one wouldn't impact his approach, or desire to attend workouts. He'd still like one before the season, but Gruden said long ago he's fine with letting him play the season out on the franchise tag. Other members of the organization said it's conceivable the Redskins will keep all three pass rushers beyond this season.
For now, Orakpo's concern is 2014.
"Don't look into the one-year-left-rookie-drafted [storyline]," Orakpo said. "We have to look at this year and trying to get to that Super Bowl. Forget about the future. That's just business. Business will take care of itself. We're trying to make noise this year."
March, 18, 2014
Mar 18
5:10
PM ET
Taking a look at the Redskins' safety position a week into free agency. Safety was said to be a primary target; it has not developed that way, however.
On the roster:
Brandon Meriweather
,
Jose Gumbs
, Trent Robinson,
Bacarri Rambo
and
Phillip Thomas
.
Added in free agency:
None.
[+] Enlarge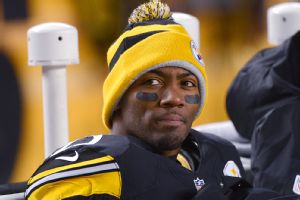 George Gojkovich/Getty ImagesVeteran Ryan Clark could be a short-term solution for the Redskins at safety.
In talks with:
Ryan Clark
. He visited last week and remains a possibility. He's also drawn interest from Baltimore and the
New York Jets
. There is no rush on his end to get a contract done so he's content to wait and see if the right offer materializes. Clark would be a short-term solution, but he could help develop some of the young players and be a respected voice in the meeting room.
Left in free agency:
The Redskins haven't lost any safeties in free agency.
Still unsigned:
Reed Doughty
. The Redskins backup strong safety, who is always pressed into a starting role, might return. But there's definite division over whether or not that should be the case. The real problem has never been Doughty, but the organization's inability to find a full-time starter ahead of him.
Still on the market:
Thomas DeCoud
,
Chris Clemons
,
Mike Adams
. Really, the list is not long and not impressive. Atlanta cut DeCoud after a poor season; he's best suited most likely near the line of scrimmage. With Meriweather back that's not necessarily what the Redskins need. Clemons has not drawn a lot of interest on the market. The Dolphins opted for
Louis Delmas
, who barely practiced last season. Adams wasn't anything special for the Broncos, but can play in the box, too. They signed
T.J. Ward
, but he's more of a strong safety whereas Adams is a free safety. The Redskins clearly did not view the other safeties as better than Meriweather. But they failed in their quest to land
Mike Mitchell
, who ended up with Pittsburgh. I don't know how close the money was, but it's clear they're not as aggressive as they once were and, as one agent said, general manager Bruce Allen likes to "slow play" this process.
What it means thus far:
It's not that the Redskins didn't view safety as a problem, but perhaps not to the extent that others did. By that, I mean almost everyone else. It's also true you can't solve every issue in one offseason. But they signed Meriweather to a one-year deal and it's hard to imagine Clark getting anything other than a one- or two-year deal. So that means Washington will be back in this spot relatively soon. However, it also gives them another year to see if one of the young players can develop -- or to draft someone in the second or third round and groom him for 2015. Perhaps one from among the group of four young safeties can develop in another year or so. Thomas must overcome a tricky Lisfranc injury; not impossible, but tough and it's not as if he was on the cusp of starting before getting hurt. In talking to several who scouted Rambo at Georgia, the problems he showed last year were the same he showed in college that caused NFL teams pause. Not a good sign. I can't imagine, though, that something else won't be done at this position.
March, 15, 2014
Mar 15
10:00
AM ET
After the first week of free agency, what are the impact of some of these moves when it comes to the NFL draft? That's on the mind of a couple readers. Others want to know why more moves haven't been made and possible position switches. Enjoy.
March, 12, 2014
Mar 12
12:30
PM ET
The
Washington Redskins
need to find two starting safeties, which could be tougher after the first day of free agency. There is always the draft, but they will still need to add a veteran -- or two -- capable of starting. They could always re-sign
Reed Doughty
as a backup/special-teamer. Or perhaps bring back
Brandon Meriweather
on a one-year deal.
Here are six safeties of note still on the market:
Clemons
Chris Clemons:
Miami is letting him walk and signed bad-kneed
Louis Delmas
. Part of the problem is that Clemons wasn't viewed as a free safety, and it sounds as if that is what the Dolphins wanted. The Redskins could use him more in the box. He'd be an upgrade.
Thomas DeCoud:
Atlanta, which needs secondary help, cut DeCoud after a rough 2013 season. He's also probably best in the box.
Mike Adams:
Again, Denver struggled in the secondary and decided to let him leave, signing
T.J. Ward
instead. Adams is rather average.
Nate Allen:
Philadelphia selected him with the second-round pick obtained in the
Donovan McNabb
trade with Washington. The Eagles let Allen walk and signed
Malcolm Jenkins
. I can't imagine Allen is the answer. He's better against the run.
Roman Harper:
He's 31 and coming off a knee injury that cost him nearly half the season. That is a tough combination. But he's a two-time Pro Bowler best used in the box. Here is what ESPN Saints reporter Mike Triplett had to say about him in a
recent article
: "I think Harper still has some gas left in the tank and should land somewhere as either a starter or a rotational guy. He'll fit best as a true strong safety who plays closer to the box in run support, occasionally blitzing and covering tight ends in short space. If used the right way, I still see Harper as an asset. And his experience and leadership will only enhance his value."
Ryan Clark:
If the Redskins had a young free safety worthy of grooming, I'd consider Clark as a mentor. But he's 35 and the Redskins don't have that player (I don't view
Bacarri Rambo
as that guy).
February, 8, 2014
Feb 8
1:00
PM ET
The Redskins have a big need at safety with no legitimate potential starters under contract for 2014. Both
Brandon Meriweather
and
Reed Doughty
are pending free agents.
Rookie
Bacarri Rambo
did not show that he should start again in his second season.
Phillip Thomas
might be fine at strong safety, but after missing his entire rookie season it's hard to know for sure.
Even if they re-sign Meriweather, he comes with a risk: His hits could land him a long suspension. And Doughty is better as a backup/special teamer.
The top-free agent safeties are
Jairus Byrd
and
T.J. Ward
; both will be expensive. Miami's
Chris Clemons
probably won't cost as much, nor would a guy like Carolina's
Mike Mitchell
, coming off his best season.
But if they want another safety in the draft, then Northern Illinois' Jimmy Ward is worth a look. Kiper listed Alabama's
Ha Ha Clinton-Dix
and Louisville's
Calvin Pryor
as the top two safeties.
"Jimmy is an outstanding playmaker," ESPN NFL draft analyst Mel Kiper Jr. said. "He's not a big safety, but he fits today's NFL with his coverage ability and he makes so many impact plays. He could go second or third round, but he's going to be a fast riser. I like him. [The safety class] is not tremendously deep. You could argue he's the third best safety."
January, 21, 2014
Jan 21
2:35
PM ET
Pete Carroll and Mike Shanahan started new jobs in the same offseason. Four years later Carroll is in the Super Bowl; Shanahan is unemployed. Why did the Seahawks improve while the Redskins did not? Seattle won nine games combined in the two years before Carroll and a combined 38 in the next four years, while the Redskins won a combined 12 games in the two years before Shanahan and a combined 24 in the ensuing four years.
The Seahawks had two first-round picks in 2010 while the Redskins had two picks in the first four rounds. Seattle landed two excellent starters in tackle Russell Okung and safety Earl Thomas. Washington took tackle Trent Williams and linebacker Perry Riley. Williams is a Pro Bowler and Riley is a starter, good in some areas but who struggles in others.
The Seahawks hit on lower-round picks in 2010, selecting cornerback Walter Thurmond in the fourth round and safety Kam Chancellor in the fifth. Chancellor's physical style sets a tone in the box, and Thurmond is an excellent slot corner and might as well be considered a starter. Seattle also took starting receiver Golden Tate in the second round. The Redskins whiffed on the rest of their 2010 class, none of whom were on the roster this past season.

Wilson

Among the players Seattle unloaded in the 2010 offseason: corner Josh Wilson, who signed with the Redskins a year later; and defensive lineman Darryl Tapp, who played here this past season. The Seahawks wanted big, physical cornerbacks. Wilson was too small for them. Seattle clearly had a blueprint.
In 2011, the Seahawks had nine picks (the Redskins had 12). Seattle found three more starters in guard James Carpenter (drafted as a tackle in the first round); corner Richard Sherman (fifth round); corner Byron Maxwell (sixth round; a replacement for the suspended Brandon Browner) and outside linebacker Malcolm Smith (seventh round). Eight of the nine remain on the roster.
Meanwhile, the Redskins drafted 12 players, finding one good starter in linebacker Ryan Kerrigan and another starter in end Jarvis Jenkins. It wasn't a bad draft, but it wasn't a game-changer either. Nine of the 12 remained on the roster in 2013.

Wilson

Griffin

Both teams found quarterbacks in 2012, with Seattle getting Russell Wilson in the third round and the Redskins trading two future first-rounders and a second-rounder to swap positions with St. Louis to get Robert Griffin III. I agreed with the move, so I'm not going to second-guess it; besides, it's not as if Ryan Tannehill, a player they liked, has torn it up in Miami (though, yes, they would have had more picks). There is no way Seattle could have anticipated what Wilson has become, and the Seahawks had also signed Matt Flynn. But they quickly saw what they had in Wilson.
Both quarterbacks obviously made tremendous impacts as rookies. Griffin's knee injury and other issues led to stumbles in 2013. But when he struggled, so, too, did the Redskins. When Wilson struggled, he could rely on the run game and defense to win. Big difference when you don't have to carry a team -- and that's because of how both were built.
Seattle drafted 10 players in 2012 -- eight played defense; three are starters (end Bruce Irvin, linebacker Bobby Wagner, and J.R. Sweezy, an end in college but now a starting offensive guard). The Redskins also hit on running back Alfred Morris in that same draft, and quarterback Kirk Cousins looks like a good backup who might yield a draft pick in return some day. But aside from them and Griffin? So far, nothing.
This past season, of the Redskins' top five defensive backs (including No. 3 corner David Amerson), four were picked in the first two rounds of their respective drafts. Of Seattle's eight defensive backs, only one was drafted before the fourth round.
In the 2013 draft, Seattle added no starters, but that's not a surprise given the Seahawks' talent level. The Redskins added Amerson, who was their No. 3 corner, and tight end Jordan Reed. But nobody else provided any help. Even on special teams.
All totaled, of the starters listed on Seattle's current depth chart, 16 were drafted by them or signed as an undrafted free agent. That includes nine defensive starters, and the lone two who weren't drafted by them were acquired in trades, including end Chris Clemons. Of the four offensive players not drafted by Seattle, one was signed off a practice squad; another was acquired in a trade (running back Marshawn Lynch) and only one was considered a bigger free agent signing (tight end Zach Miller).
Seattle built a team that could withstand the loss of receiver Percy Harvin, who has caught one pass this season after being acquired in a trade. He might play in the Super Bowl. They signed pass-rush specialist Cliff Avril, who recorded eight sacks, but was not a starter.
Seattle, under general manager John Schneider's strong guidance, is just more proof that you can succeed without having to spend big money. And the Redskins are proof as to what happens when you don't successfully draft and develop.
January, 13, 2014
Jan 13
4:00
PM ET
Regardless of who wins the Super Bowl, a former
Washington Redskins
player will celebrate a championship. That's because each of the remaining four teams has a former Redskins player, three of whom used to start in Washington, on their roster.
Here are the four remaining:
San Francisco cornerback Carlos Rogers (2005-10):
He's missed the past two playoff games because of a hamstring injury. Those are the first games he's missed in three seasons with San Francisco (and, in fact, led all 49er defenders with 1,068 snaps this season). Rogers is the 49ers most experienced cornerback, but has not practiced since Dec. 29. Rogers has intercepted nine passes in three seasons with San Francisco (helped by a six-pick season in 2011); that's one more than he had in six seasons with the Redskins. Rogers has two interceptions this season. When Rogers signed a one-year deal with San Francisco after the 2010 season, one member of the Redskins' organization predicted he would not be re-signed.
Denver cornerback Champ Bailey (1999-2003):
The future Hall of Famer has endured his worst NFL season, missing time with a Lisfranc sprain and then losing his starting job. In fact, there was one game in which he did not play (against San Diego on Dec. 12). But Bailey shifted inside to play nickel back and now with
Chris Harris
, Jr. out after tearing his ACL Saturday, Bailey could return to a more prominent role.
Seattle defensive end Chris Clemons (2003-05):
After tearing his ACL in the playoff win at Washington last season, Clemons returned to play 14 regular-season games as well as the win over New Orleans. Clemons' sack total took a hit this season. The Seahawk's starting right end has 4.5 sacks, after posting three straight seasons of at least 11.
New England defensive end Andre Carter (2006-10):
He returned to New England for the final nine regular-season games after the Patriots suffered multiple injuries along their front. Carter was cut by Oakland in training camp and his 13-year career appeared just about over. But he stayed ready and has contributed two sacks as a reserve. He did play in Saturday's win over Indianapolis, but did not record a tackle.