Washington Redskins:

Chris Cooley
July, 11, 2014
7/11/14
9:20
AM ET
Some
Washington Redskins
news and notes for Friday morning:
Griffin
Briles on RG III:
Baylor coach Art Briles watched his former quarterback,
Robert Griffin III
, work out earlier this week. He saw a guy he used to see with regularity. "I think it's as fresh and uplifting as I've seen him in a long time quite honestly," Briles said on the SiriusXM Blitz Wednesday
via Dan Steinberg of the Washington Post
. "The thing about ACLs: I've always thought they take a complete year to get over. And I think he rushed himself a little bit, just because that's the way Robert is. He's always going to be determined to do more than is humanly possible."
Briles' prediction? "So I think this year, I do think we'll see a very healthy RG III. I think we're gonna see a guy that's happy playing the game, that has a fire and attitude that you need to have a chance to be successful, because that's who he is."
Revisiting Week 1 2013:
Steinberg also wrote about former Redskin Chris Cooley saying that Griffin should not have started the 2013 opener. It wasn't because of Griffin's health, but rather his readiness. Griffin was cleared by doctors and was ready physically. But it's clear in hindsight he was not prepared to play in an NFL game. Mike Shanahan did a bad job of managing Griffin, from not pulling him in the Seattle game despite his gut feeling to do so and to being afraid of how his moves were perceived by the young quarterback. If you have a conviction on something, do it. Instead, Shanahan did not and instead we got the mess of last December.
Jackson
More on Jackson:
ESPN980's Chris Russell exchanged texts with safety
Tanard Jackson
, who told him his fourth suspension was not like the others, that it had nothing to do with marijuana. It's hard to buy any story from a guy in his position, regardless if you want to or not. Maybe it's true; maybe it's not. Bottom line: Whatever Jackson thinks, the NFL's ruling is the one that matters. They ruled he tested positive for violating the NFL's substance of abuse policy. It's over.
Power rankings:
The Redskins ended the 2013 season ranked No. 31 in ESPN's power rankings. The rankings suggest they'll be better over the next three years -- but not by a whole lot. The
panel of experts ranked Washington No. 24

for what it could do over the next three years. That's a dropoff from last season and it stems from a fall at quarterback and coaching. They dropped 12 spots at quarterback and 19 at coaching from this time last year. The knock on Griffin traces back to his knee injury and a subpar season. And going from Mike Shanahan to first-time head coach Jay Gruden caused a tumble (of course, had Shanahan returned after such a bad season they might have fallen far regardless). It's not as if Gruden's hire was considered a great one at the time, so until he proves himself there will be split opinions on him. They also were knocked for the front office. The Redskins need Griffin to rebound and they'll climb in the rankings, but they also have to do a much better job building the defense. If Griffin plays well, the offense is in excellent shape. But the defense needs more help and will need several new parts after this season.
February, 28, 2014
2/28/14
11:30
AM ET
The offseason already feels a bit long -- and we haven't even hit free agency yet. The draft is still more than two months away. That means there are future decisions that must be debated and discussed. So in Part 1 of the
Washington Redskins
Mailbag, we take a look at compensatory picks, an option in case
Brian Orakpo
leaves,
Chris Baker
's contract, receivers in the draft and more. Enjoy.
January, 14, 2014
1/14/14
2:50
PM ET
Jordan Reed
stood out for the
Washington Redskins
, showing signs he could be a promising player in the future. In a 3-13 season, Reed provided a positive.
Reed
The Pro Football Writers Association of America recognized Reed's season, putting him on their All-Rookie team despite his only appearing in nine games. Reed missed the final six games because of a concussion. He finished with 45 catches for 499 yards, setting franchise single-season rookie tight end records. His yardage total was second among rookie tight ends and his reception total was tied for seventh among rookies. Not bad for someone who opened the season as the No. 3 tight end, though it was clear to the coaches that he'd be playing a significant role rather quickly. They loved his athleticism, work ethic and desire to improve. He became a trusted target for quarterback
Robert Griffin III
, who knew he only had to get the ball close to Reed and there was a good chance he'd make the catch.
Tampa Bay's
Tim Wright
, a converted receiver, led all rookie tight ends with 54 catches for 571 yards. The fact that Reed was close to those numbers in only nine games spoke volumes. He's also a better blocker than Wright, though Reed still has to improve in this area as well. The big question on Reed surrounds his durability, but there wasn't any doubt about his productivity. His 134 yards in a win against Chicago were the fourth most by a Redskins tight end.
Reed becomes the 32nd Redskin since 1975 to earn a spot on the PFWA team and is the second tight end to make it, joining
Chris Cooley
(2004).
January, 11, 2014
1/11/14
2:00
PM ET
ASHBURN, Va. -- When they had a question, Sean McVay had an answer. That sounds simple, but it's not. It's one thing for a position coach to know an offense; it's another to know what everyone must do – and their adjustments.

The Redskins' tight ends liked that McVay would know – and wouldn't hesitate.
"There's no indecision, 'This is what we do; this is how we do it,'"
Logan Paulsen
said. "There's no gray area in my life, which is fantastic. Making sure the player knows what he has to do puts us in a great position. ... You have certain coaches who don't like when you ask questions. They don't know the offense spot on."
That's why players would be happy if McVay is elevated to offensive coordinator for new coach Jay Gruden. Though Gruden said he will interview other candidates, McVay still is considered the likely new choice. He's young, only 27, but he also has impressed players because of his knowledge of the offense. Gruden said he will call the plays, so that could make it easier for a young coach such as McVay to ease into an expanded role.
"His ability to digest a game plan and give it to his players in a streamlined manner allows us to digest us efficiently making sure to emphasize details that are important," Paulsen said. "Every week he'd try to call plays without looking at the sheet. He knows what everyone has to do on the field. He approached it like an offensive coordinator. That's advantageous to a player. He knows every detail the same way Kyle [Shanahan] used to know the details. He has that big-picture mindset that helps out."
Former Redskins tight end Chris Cooley played one and a half seasons under McVay.
"He had the highest understanding of an offense of any position coach I've ever been around," Cooley said. "We'd go back and forth in meetings on scheme, why and how. There was always an answer. I love that in a coach.
"Two years ago I said if anyone becomes a head coach on this staff it would be Sean McVay."
Players at other positions echoed what Paulsen and Cooley said. The tight ends often worked with the linemen in practice because they needed to be in tandem with their blocking.
"The relationships he has with players and what he gets out of a player with both effort and production on the field by not being a screamer," Redskins guard
Kory Lichtensteiger
said. "He's a guy you can relate to. He has a lot of shared characteristics with hard-working players. Players can see if a guy knows what he's talking about and he goes about it the right way getting that type of effort out of his players."
January, 9, 2014
1/09/14
1:45
PM ET
Robert Griffin
III was part of the lure, making the
Washington Redskins
' head-coaching job a little more attractive to Jay Gruden. One thought from his side: If he could turn
Andy Dalton
into a productive passer, what could he do with Griffin?
He's about to find out. And it will take both of them to make it work.
[+] Enlarge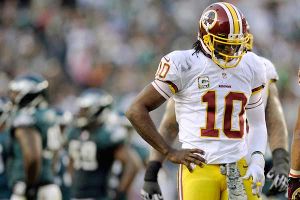 Michael Perez/AP PhotoRobert Griffin III gets to push the reset button early on in his Redskins career, but he must buy into what Jay Gruden will sell.
For Griffin, it's a fresh start, a break from a regime that, in the end, he did not embrace -- and wasn't sure if it embraced him. After he was benched, Redskins corner
DeAngelo Hall
said Wednesday night on Fox Sports, Griffin told teammates that he didn't think coach Mike Shanahan liked him. We don't need to rehash all those issues right now; suffice it to say trouble started brewing late last season, simmered in the offseason, and resurfaced during the summer and season. It could have worked had the Skins won. But a bad start and inconsistent play only made it worse.
Regardless, Griffin needed a change, potentially a refreshing one for him. Now he'll get a coach who some say does a good job selling what he wants done. Now he has two coaches with even-keel demeanors in Gruden and Sean McVay, assuming McVay will be the offensive coordinator, as we hear will happen. That matters. It also helps that McVay already knows Griffin and that Gruden was a successful college quarterback.
Will it work? Don't know. But these are reasons why it could.
For Griffin, he'll need to buy into what is being sold. Though he ran everything the previous staff asked him to, there was doubt as to whether he ever bought in. When that's the case, you can only improve so much. If Gruden gets him to buy in, Griffin could have a blast. But Griffin can't just assume his rookie success will return because the Shanahans are gone. He does have to buy in; he does have to mature as a professional. Of course he does; he's only 23.
Here's what Gruden's agent, Bob LaMonte, said that was one of the factors that convinced Gruden to take the job: "As he analyzed the four jobs, the quarterback he found the most intriguing would be [Griffin] because he has such big upside to him."
Let the love affair commence. Again. But Gruden must convince Griffin what he's doing is for the best.
"The biggest thing for him and Gruden is instilling confidence in the offense," said former Redskins tight end
Chris Cooley
, now part of their game-day broadcast . "That's what they have to do with Robert. If they make him feel confident as a player, then they'll love him. That's what he lacked more than anything. It was the continued doubt of what he could do and what he should do in this offense. They have to confidently say, you can be the best quarterback in the league.
"Everyone saw him struggle with that [this season]. He didn't trust himself."
Griffin will have plenty to prove after his reputation took a pounding this season. Is he a diva? Is he a leader? When you speak to players about him, they recognize that he has to mature, that he has to accept more blame for bad plays. There were definite concerns about whether he saw himself as entitled -- and that's why some feared what might happen if they hired his college coach, Art Briles.
But one player who expressed all of these fears also stressed this: "I like Robert."
I heard frustration about things, but not hostility. When you're 3-13, frustration erupts. It's certainly not something that can't be mended with a strong (and low-key) offseason, a lot of hard work and on-field success. Watch how fast the frustration then melts away.
Griffin was given a quick reset on his career. He'll be healthy entering next season. He'll have a new coach, a new chance to build the trust he lacked over the past year. This is what he needed and wanted. There's no more drama. Now he just has to produce.
December, 11, 2013
12/11/13
1:30
PM ET
ASHBURN, Va. -- Former
Washington Redskins
tight end Chris Cooley still views
Robert Griffin
III as the future of the franchise. He also sees him as someone who should not be playing.
Cooley said on ESPN980 radio that Griffin's progress does not warrant him playing the rest of the season. Redskins coach Mike Shanahan benched Griffin for the rest of the season in favor of
Kirk Cousins
. In practice Wednesday, Cousins worked with the first team and
Rex Grossman
with the backups.
There could be a number of reasons for this: A desire to keep Griffin healthy for the offseason; a parting shot from Shanahan to both owner Dan Snyder and Griffin; a desire from Shanahan to get himself fired.
But for Cooley it's simple.
"Robert shouldn't be on the field at this point in the season," Cooley said. "It's not only because of his health, but in his developmental progress he is regressing. He goes out and gets worse every week and I think it's going to continue to hurt his confidence."
That doesn't mean Cooley is down on Griffin's future.
"I believe he's a guy that's going to be very good," Cooley said. "And I think he's shown us over the first year, and I think he's shown us over parts of this year, that he can grow, that he can develop. He's a smart kid. But I don't think he's doing that at this point in the season, and I think you only hinder his progress and you also increase his chances of getting hurt through the rest of the year if you have him out there."
Playing Cousins could result in another draft pick. The Redskins lack a first-round pick in 2014.
"Because of this cap-hit situation, they're lacking talent overall. You see a pretty poor defense, and ultimately it comes down to team speed," Cooley said. "So if you get a second-round pick out of Kirk Cousins, you're going to go ahead and take that. Robert is the franchise. He's the guy who is going to be the future. You're going to continue in whatever shape or form to develop around him."
December, 7, 2013
12/07/13
1:00
PM ET
ASHBURN, Va. -- When
Chris Cooley
was a rookie, it was clear to him -- and anyone else with eyes and ears for that matter -- that two players did not want to be in Washington. Laveraneus Coles and
Rod Gardner
complained quite a bit about then-coach Joe Gibbs. It was not a healthy situation.
"They hated what Gibbs did," Cooley said. "It was hard as a young player to have them complain every day. As a young player I look at vets saying, 'this isn't right.' It was right, it just had to be guys that bought in."
And that led him to the Redskins' current state and the decision that ultimately must be made.
[+] Enlarge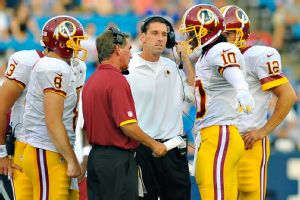 John McDonnell/Getty ImagesChris Cooley isn't reluctant to speak out about the way Mike Shanahan and Kyle Shanahan have developed the team.
"If you have big players or players you consider leaders who say, 'Yeah bring Mike back,' and young guys who buy in then that's all you need," Cooley said.
Cooley had a lot to say about his current job in this
Friday Conversation
. He also had something to add about two coaches in particular -- Mike and Kyle Shanahan. He considers Mike Shanahan a friend; he's high on Kyle Shanahan as a coordinator. Real high.
I'll let Cooley's words carry the day, so here's his take on what should go into the decision to retain Mike Shanahan.
"It's fully his relationship with the owner [Dan Snyder] and the direction the owner thinks it's going, combined with Bruce [Allen]. They know him better than anyone. Mike has a personal relationship with people and a professional relationship. If he has a personal enough relationship with those guys and they understand who he is and what's going on, then he stays. I love the idea of continuity and I also want continuity among people who want it to grow. If Mike can show the owner that these players do buy in and like the scheme, then bring him back. I'm interested how far it should go. When I was first here Dan would talk to players about what they think. I know he hasn't done that in a few years. It might be the year to bring in guys like
Pierre Garcon
or
Logan Paulsen
and asks them, 'Tell me what you think about this situation. I want to make the right choice.'
"There's an atmosphere that can breed success or one that you don't want to play in…. We're not far away from winning a Super Bowl. That's hard for anyone to believe, but that's the truth. It could be a couple offseason moves and something meshes and you win 12 games. Look at the Chiefs and Panthers. If you think the continuity is there and good and the owner understands what's [happened], then you bring him back. If you don't believe in that, it's not what the media thinks and it's not about Dan's image and it's not about anything with Robert… It's his believe they are moving the right way."
And now here's what he had to say about Kyle Shanahan as a play caller and coordinator.
"As a coordinator, this is the only offense I ever had that truly made sense. I don't know, man. I think the play calling has been fantastic and the players haven't executed those plays. It's not all the time on the players, but I've seen play-action and Robert made overthrows. How is the call bad if the play isn't executed? He does a good job giving confidence to players. I was always 100 percent bought in. I trusted Kyle and I like what he did. I don't think he grab-bags. I think he gets fascinated with the idea that he is manipulating the defense to get coverages he wants when maybe he isn't. … It's hard for a coordinator to just do what works over and over again. I never coordinated and don't know how hard that would be, but they spend a lot of time drawing up plays and getting to a defense and they want to get to them and I don't know that you have to. When Gibbs was here we weren't prolific, so maybe I'm wrong but he had no problem with having just 20 plays in a playbook and just having different ways to get to them. I thought we were pretty physical and pretty good but I do buy into Kyle and I like what he does. I think it's killing him that Mike's here because of how he gets portrayed in our media. I think he's a heck of a coordinator… Kyle is doing an unbelievable job helping Robert grow and getting plays he can execute. Guys believe in Kyle. The players believe in Kyle offensively. I know that. And that's important. The other thing I know is guys like [Jim Haslett]. There's never been any rumblings from guys like, '[Screw] Haz.' They like our coordinators."
December, 6, 2013
12/06/13
9:35
AM ET
Former Washington Redskins tight end Chris Cooley, less than a year removed from his last game, hasn't been shy about expressing his opinions on ESPN980 every day or during the team's broadcasts
.
He discusses his job and how he'd like to be the next Sonny Jurgensen. Saturday: His thoughts on Kyle Shanahan's offense, and the decision that must be made on Mike Shanahan.
You've been honest about your thoughts on the team. Have you received any negative feedback?
[+] Enlarge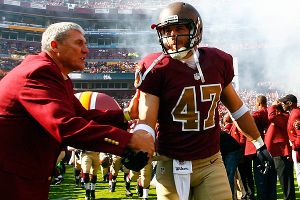 Geoff Burke/USA TODAY SportsFormer Redskins tight end Chris Cooley misses his playing days, but says he's enjoying his current role as a broadcaster for the team's radio network.
Chris Cooley:
I've been really interested in what feedback I would get, and it hasn't been negative. The one awkward spot was when we talked about coach [Mike] Shanahan two weeks ago and [Washington Post writer Dan Steinberg]
printed it
, and I was pretty negative. But it was radio and I apologized to him. I think Mike's a friend. He's a guy I would hang out with when I leave the park. I like him. I passed judgment over the air that was a little harsh and I know it upset him, not from a professional aspect, because he has to deal with that, but because we're friends. But I haven't had too much negative response. ... I started doing film breakdowns so I can say whatever I want to say if it's real. I talked to Trent Dilfer about three weeks ago, and that's the thing he mentioned is you have candid points about things that are really there and people will call you and tell you they're mad you said things, but they can't dislike you, because I can show you what I'm seeing.
A lot of guys in your spot don't take the time to do all that work. Players also have to know you know what you're talking about.
Cooley:
I'm also the first person to say someone did a phenomenal job. I want to be the guy that people say, 'We want him to say good things about us, because if he does it's real, and if he says bad things it's his job.' Two weeks ago we did that film study and I said
Logan Paulsen
played at a D level. I thought he played terrible. The next week he was my player of the game. It's because I graded the film and looked at impact plays versus negative plays, and he was the best on offense. … My job is to be judgmental on how you play on the field and what's going on in the locker room. I'll never personally attack a player.
How did you react to this when you were a player?
Cooley:
[Doc Walker is] pretty hard on guys, especially in games. Over the last couple weeks I sat back and wondered, how many times did Doc talk trash about me? When I say I don't look at a lot of stuff for the most part, that's true. I didn't know if Doc said anything about me. I was more focused on what I was doing and needed to do than what someone said about me. Some players are different. But I've always looked at it like the media has a job to do and they get paid to do, and we're part of that job. I have to respect your profession and help you with what you need, and understand your story is just as important to you as my play was to me.
Are you enjoying this?
Cooley:
At first, no. At first I thought it was tough and I was really busy. I had to get to the point where I had to say no to a lot of things, to TV stuff and a lot of events. All stuff I like to do, but when you put it all together and you have a hundred of them, I didn't like it. Over the last month I do it under the umbrella of my job on radio, the game, the three TV stations I do, and my life. Now I love it. I'm at the Park talking football to assistant coaches. The biggest thing for me is I love the Redskins, and that's super cliché. They gave me so many opportunities to be what I am in life. All I want is for them to have success. I want to be part of that success for as much as I can for as long as I can. … It's a really cool job. Over the last three or four years I started to enjoy the game more than I did, and appreciate the game for what it is. That's why I'm able to do the job the way I am. I watched a lot of film like a coach and spent time learning the offense like a coach and quarterback. That film thing is something I always do, and something we did really well. I got so much good feedback, and then I came home and my girlfriend said, 'I tried to listen, but it was so bad.' I'm like a football nerd. But if you don't get it, it's like, 'Whoa, he's getting way over the top.'
What do you ultimately want to do?
Cooley:
My goal is to be Sonny [Jurgensen]. Sonny had access to the team for a long time. He's a guy people look up to and respect. He travels to every game. He gets paid well. He loves his life. Let's say two or three years from now someone says we want you to call games. That might be something hard to turn down, but it's not a goal of mine. My goal is to be here. My life is ideal right now. The only thing I miss is playing. I watch games and I think I could do [stuff] and I think I miss playing. I'll get over that, and it's not like every day I wake up and wish I was playing. But I do miss being part of the team, I miss the adrenaline, miss that feeling of excitement when you do really well. You just don't get that when you do this job. ... I talk to so many [ex-players] who say, 'I work for this company now where I sell [stuff] and I just go to work.' I miss that feeling of everyone saying you did the best job ever. To some extent I still get it. I now realize If I prepare and do a really good job then I do get some of that.