Washington Redskins:

Chris Houston
September, 24, 2013
9/24/13
7:05
PM ET
The good and bad from
Robert Griffin
III's game against the
Detroit Lions
.
1. Overall more steps in the right direction. Griffin's scramble was good; the Lions were not worried about him running on the zone-read. On his second run, both the end and outside linebacker crashed on
Alfred Morris
. Still, only four yards as the safety came from deep middle to force him into an awkward slide. If you want to call it that. No, Griffin still does not move as explosive as he did pre-injury, but he's moving better than most NFL quarterbacks. He needs to clean up some fundamentals as a passer in terms of accuracy, decision making or not staring down receivers. Not everything wrong with his game can be blamed on the knee. But he's still headed in the right direction.
[+] Enlarge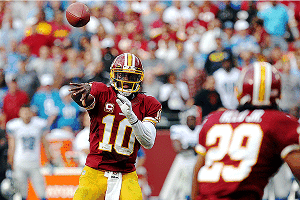 Geoff Burke/USA TODAY SportsRedskins QB Robert Griffin III showed improvement in last Sunday's loss to the Lions.
2. One play that irritated coach Mike Shanahan: Griffin's fumble near the end of the second quarter. Why? Because it looks like if Griffin had stayed in the pocket for another split second, a big play could have followed. Griffin left the pocket – there was no immediate need – after 2.9 seconds. Had he let
Pierre Garcon
finish his route – he had just broken inside – they might have connected inside the Lions 40-yard line, with room for him to run. Instead, Griffin left the pocket and was stripped of the ball. A cheap shot by defensive lineman
Nick Fairley
on center
Will Montgomery
bailed them out with 15 yards.
3. I understand why Shanahan had a change of heart after watching Griffin's interception. Had Garcon kept running back toward his quarterback, he would have caught the ball. But he had slowed and the defensive back,
Chris Houston
, had practically stopped. Both were surprised that Griffin threw the ball. I still think it wasn't a great decision (though the throw itself was on target); had Garcon caught the ball he would have gained about five yards. Incidentally, they could have gained those five yards had he hit
Leonard Hankerson
after executing the boot action. It's hard to tell if Griffin sees him or when, but Hankerson was briefly open before pressure arrived.
4. Griffin made a nice throw off a zone-read play-action fake – with an end around look by
Josh Morgan
that held a safety coming up. The safety could not drop so when Garcon ran a post-corner, Griffin had room to drop it in. He hung in the pocket for 3.2 seconds; good protection. But three plays later Griffin missed on a slant to Hankerson, throwing to his back shoulder on a slant. Had he been accurate with this pass, the Redskins would have had a first down at the Lions' 15. If, if, if…
5. And I liked Griffin's 17-yard out to Garcon early in the fourth quarter on a third-and- 8. Griffin is unloading the ball to an open Garcon before he cuts to the outside. And he put it on the proper shoulder.
6. On Griffin's fumble: The decision to run wasn't bad considering the open field ahead. He did have
Roy Helu
open in the right flat with one defender to that side and he was on fullback
Darrel Young
. But Griffin made an instant decision to run and given where he was in the pocket -- and the lane he saw ahead -- it's tough to fault him. I do wonder if, a year ago, Griffin would have continued his run rather than dive because there were about five or six more yards available. That's not a criticism because his decision wasn't bad. He just needs to not only learn how to slide, but how to dive and protect the ball.
7. Griffin was fortunate not to be intercepted a second time, this one late in the game. On first-and-10 from the Lions 32, Griffin eyed receiver
Santana Moss
the entire way on a short hitch from the left slot. The corner on that side, rather than sink as he was supposed to in his zone, read Griffin's eyes and broke toward Moss before the pass was thrown. That left Garcon breaking free down the left sideline. The corner dropped the ball. But you need to help yourself on that one;
Matthew Stafford
did a good job of this considering all the slants he threw. He usually held the defense by looking downfield first and then going to his slant.
8. The pass to
Aldrick Robinson
was terrific. Yes, a hair short instead of leading him but on target and good enough to catch. The safety bit on the play fake and also anticipated a throw over the middle to a receiver in that area, leaving the middle vacated and Robinson in a one-on-one. If this ball is caught, the storyline for Griffin's game changes and possibly for the Redskins. By the way, earlier in the game on a third-and-3 in the first quarter, Griffin and Robinson failed to connect on a slant. Didn't like the throw; Griffin hesitated as he waited for the linebacker to vacate (he was running over to cover Roy Helu; he and Robinson were aligned in a stack and Helu ran behind him. He was open. Robinson really wasn't.)
September, 24, 2013
9/24/13
7:00
AM ET
ASHBURN, Va. --
Washington Redskins
coach Mike Shanahan didn't have a problem with
Robert Griffin III
's decisions. He did have a problem with the end results.
Shanahan said Griffin did not make a mistake on his second-quarter interception in Sunday's loss to Detroit, throwing a pass on the run as a defensive player pulled him down from behind.
"It's not his fault," Shanahan said. "I was very upset during the game. I thought he threw it haphazardly. Really, it was a great throw, but it just didn't work out that way. I won't go through the blame. After the game I thought it was a mistake, but it was a good throw."
Griffin appeared to be throwing to receiver
Pierre Garcon
along the right sideline. Garcon was jogging back to the ball and was even with defensive back
Chris Houston
, who surged ahead and made the pick at the Lions' 13. Garcon had stepped out of bounds. It was the first career interception Griffin's thrown in the red zone.
As for the fumble Griffin lost, Shanahan said he was OK with the quarterback diving head-first rather than feet-first. Griffin tried to go feet-first on a zone-read run around the end, though he looked more like a Little Leaguer learning to slide for the first time.
"Like I said after the game, I've had a lot of guys do it both ways," Shanahan said. "A lot of people go feet-first and other guys want to get extra yards and go face-first. I told Robert do it any way he wants. He just has to hold onto the ball if he goes head-first."