Washington Redskins:

Clay Matthews
June, 23, 2014
Jun 23
9:15
AM ET
Every practice he harped on the same thing: force turnovers. Brian Baker doesn't just want his outside linebackers to hit the quarterback, he also wants the ball out as well.
He's not the first coach to talk about this with his players, or even with the
Washington Redskins
. But Baker harped on it every practice and made it clear jarring the ball free is the goal.
"I tell them, 'Sacks get you paid; sack/strips win you games," said the Redskins' outside linebackers coach. "You look at the better pass-rushers in the league, those guys are getting the quarterback to choke the ball up. That defense is positively affecting the game. You sack the quarterback, it's just a tackle for a loss."
Redskins linebacker
Brian Orakpo
has not excelled in this area, with just six forced fumbles in his career. When he arrived at the quarterback in the past, he often did so without worrying about stripping the ball. He just wanted to get the guy down. He's admitted in the past it was not part of his mindset. If he creates more turnovers, his chance for the sort of contract he wants -- and one the Redskins would be willing to pay -- increase.
Baker said he knows how to change a player's mindset.
"Drill. All the time," he said. "Since I've been here, there has not been one time where we worked solely on wrapping up the quarterback. Maybe that will hurt us down the road, 'Oh, he never works on tackling the guy.' But we put a lot of emphasis on strips because it will definitely win games."
Among the top pass-rushers, here's how many fumbles they've caused:
Clay Matthews
(10);
DeMarcus Ware
(32);
Tamba Hali
(27);
Robert Mathis
(48, with the former defensive end causing eight as an outside linebacker this past season);
Terrell Suggs
(27);
Robert Quinn
(eight, though seven came this past season);
Greg Hardy
(six).
Obviously there are other good pass-rushers, but that provides a sample of what they've done.
Ryan Kerrigan
has 10 in his first three seasons.
"Everything we do from a pass-rush standpoint has a sack/strip element to it," Baker said. "If you can take a sack and now strip the quarterback where you're causing the turnover? Man, that is an impact play."
April, 15, 2014
Apr 15
12:00
PM ET
The Redskins didn't have the season they wanted. At least they didn't greatly overspend in order to produce that 3-13 record. Not when compared to the rest of the NFL.
According to
ESPN the Magazine/Sportingintelligence Global Salary Survey
, the Redskins ranked 24th in the NFL when it came to their average amount spent per player in 2013 – and 158th compared to other sports franchises worldwide. Here's how they calculated their figures.
The Redskins also don't have anyone on the
top 10 list of highest-paid NFL players from last season
. But that stemmed in part because they couldn't give out any big contracts due to the salary cap penalty. Check back in a couple years when quarterback Robert Griffin III's contract must be renewed. One note: Seven of the 10 players on this list play quarterback, topped by Green Bay's
Aaron Rodgers
. Packers linebacker
Clay Matthews
ranked ninth at $22 million because of his signing bonus plus workout bonus and first-year base salary.
Washington spent an average of $1,842,903 per player -- a decrease of 11.6 percent from the previous year. Yeah, the inability to spend in free agency because of the salary cap penalty hurt that figure. I'd imagine they'll climb this chart after this season. And I'd expect that climb to continue as certain contracts need to be addressed (Griffin,
Trent Williams
,
Ryan Kerrigan
,
Alfred Morris
, etc.).
But does it matter where you rank on this list? Minnesota spent more per player than any team in the NFL and went 5-10-1; maybe those extra dollars saved the Vikings in the win over Washington. Or maybe the Redskins should have won regardless.
However, Seattle ranked second on this list and its season ended slightly better, if holding up the Lombardi Trophy qualifies as the goal, that is.
The Redskins ranked fourth in the NFC East as Philadelphia (ninth), the Giants (12th) and Dallas (23rd) all outspent them.
Did it make a difference as to how much teams spent? A little bit. Six of the top 10 teams on the list made the playoffs (Denver, the other Super Bowl participant, was fourth). Carolina got the most out of its money, posting a 12-4 record and making the postseason despite being ahead of only Jacksonville on this list.
For what it's worth, the top franchise on this list is Manchester City of the English Premier League ($8,109,912) while the New York Yankes were second. And this is why football players must grab every dollar they can. Their game is more brutal, there are more lasting effects and there's less money (relatively speaking).
February, 28, 2014
Feb 28
1:00
PM ET
When the
Washington Redskins
look at free agency this offseason, they also have to be mindful of the next several years. They have key contracts that will expire over that time, with players they would probably like to keep around. ESPN's Adam Schefter reported Friday that the salary cap, projected about $133 million this year, could top $140 million next year and $150 million by 2016. It had been flat for a couple years. So any increase would be good for Washington.
Here are some contracts that could be impacted:
Orakpo

Linebacker Brian Orakpo. If it's going to get as high as $150 million in two years, then the Redskins could afford to take on the sort of contract it would take to keep him around. He could be a smaller cap hit this year, perhaps around $7 million or so (in comparison, Clay Matthews' new deal signed last spring cost Green Bay a $6.7 million cap hit this past season). A long-term deal would start to pay him silly money in Year 3 (again by comparison, Matthews will count $12.7 million in the third year of his deal). But with a higher cap figure the Redskins might decide they're OK with such a contract. Then again, they could front load the deal to prepare for future contracts, but that would restrict them this season and with so many needs that wouldn't help as much.
Quarterback Robert Griffin III's contract will be up after the 2015 season. Thanks to the CBA, the Redskins will have the option of extending his contract for a fifth season. It would be worth the average salary of the 10 highest paid quarterbacks -- this year, that would be about $13.5 million. That would lock him up through 2016. But his next contract is one they will soon have to start taking into account, especially if he returns to the level they hope. By the way, backup Kirk Cousins' contract is up after 2015. Teams can only use that one-year extension on first-round picks; Cousins was a fourth-rounder.

Kerrigan

Linebacker Ryan Kerrigan's contract is up after this season. However, as with Griffin, the Redskins can extend his deal. They have a May 3 deadline to decide if they want to pay him the average of the fourth through 25th players at his position, which would pay him between $3 million and $4 million for 2015. Otherwise he'll become a free agent. Regardless, he'll be a free agent by March 2016 at the latest.
Running back Alfred Morris will be an unrestricted free agent after the 2015 season. Because he was a sixth-round pick, the Redskins can't choose to simply extend him. Morris was a perfect fit for Mike Shanahan's stretch zone system. Offensive coordinator Sean McVay said they will use the same run game under new coach Jay Gruden. If that is the case, Morris should continue to pile up yards. But if Gruden wants to change it, you wonder how that could impact Morris. Shanahan showed that his system could make a lot of backs productive, but Morris has gone above the norm.

Williams

Left tackle Trent Williams will be a free agent after the 2015 season (he'll count $13.7 million against the cap that year). He's the anchor of the line and a guy who could play a long time.
Receiver Pierre Garcon won't be a free agent until after the 2016 season, but a couple more years like this one -- mixed with massive contracts by other receivers -- could lead to a desire to get something done before he becomes free again.
Defensive end Jarvis Jenkins is a free agent after this season. His play has not warranted a big deal, but a strong season could change everything. Unlike some of the others on this list, Jenkins would not be a big-money guy. But, then again, the Redskins gave Stephen Bowen a deal that averaged $5.5 million, and he was not an accomplished player with Dallas before signing.
I'm including cornerback David Amerson and tight end Jordan Reed together, because both contracts will be up after the 2016 season. Reed could be in line for a major pay raise, but he has to prove he's durable. Amerson will have plenty of time to show what he can do. I'm not yet concerned with these deals because three years is a lot of time in the NFL. We'll get a better feel after next season, perhaps, at what direction their careers will go.
February, 26, 2014
Feb 26
1:00
PM ET
It's tough to remember a more polarizing
Washington Redskins
free agent than
Brian Orakpo
. Is he worth a big contract? Is he really that good? You can see that polarization when it came to our Redskins Nation poll: 81.4 percent of those responding said they wanted Orakpo back.
Ah, but there's a catch. Of that 81.4 percent, only 45.4 percent were willing to pay him more than $9 million per season (including two who suggested the franchise tag, which is expected to be about $10.9 million).
Orakpo
There were eight votes for paying him $8 million a year or less, which, in essence, is a no. There is little chance Orakpo would be re-signed for such a figure.
Not every team would want to pay him $10 million a year simply because he lacks enough game-changing plays (six forced fumbles, one interception). But with the salary cap increasing, and the need for pass-rushers always high -- and few available this offseason, especially at outside linebacker -- it's tough to see him getting less than what Cleveland handed
Paul Kruger
a year ago ($8.1 million per year).
Yes, the market can sometimes correct itself, but Orakpo is a more proven player than Kruger, was so it's not the same situation. Orakpo is not
Clay Matthews
, but there is little chance he sees himself as being worth $5 million a year less than his Green Bay counterpart, who received a $13-million-a-year extension last offseason.
I think the Redskins will have a hard time paying him $10 million per year. If they do so, I think in some quarters of the building it will be done reluctantly.
Five people said they would bring him back for no more than $7 million a year. They should have done what Nancy Reagan suggested long ago: Just say no. But it certainly gives you an idea of what they felt about his value.
Back to the survey: So if it takes at least $9 million per year? Then the number of those who want him back drops to 37.3 percent.
Some said they would sign Orakpo at the right price, but didn't give a price. Those responses couldn't be used because, well, we're trying to figure out what you think that price is or should be. Hard to say if that is a yes or a no.
One participant, @prog314, summed up some of the conflicted thoughts in a series of tweets: "I don't want to pay him. But, I fear a situation where you have to replace 3 out of 4 lbers in the 3-4 system. 8 mil is..overkill, but it may be a necessary evil. He needs to be on a contract that takes his injuries into account ... On top of that, who would replace these voids? I would love Dansby, but him and Cards are working on contract. Not a ... lot of good pass rushers to take his spot either. However, ILB is more important in my opinion."
Here are some more of your responses:
.
February, 25, 2014
Feb 25
9:15
AM ET
They say they want him back, but at what price? The Redskins have so many needs that giving free-agent linebacker
Brian Orakpo
a whopper deal could complicate their ability to adequately fill other holes – even with a lot of cap room. That's why it's not a lock that he'll return, especially if his price tag climbs into the $10 million-a-year range. His lack of game-changing plays complicates this decision.
Orakpo
There are only a handful of linebackers in that range. Does Orakpo deserve to be among them? I took a look at five linebackers who earned big deals.
Robert Mathis
is on this list, though he spent the bulk of his career at defensive end in a 4-3 until moving to outside linebacker in a 3-4 in 2012. He signed his new contract with the Colts knowing he'd be shifting to a 3-4. I also included
DeMarcus Ware
, now a defensive end, because his money was earned as a 3-4 linebacker. Only 3-4 outside linebackers were included on this list.
After seeing these breakdowns, what would you pay Orakpo?
Matthews
Green Bay's Clay Matthews
Age:
27
Contract:
5 years, $66 million (2013)
Signing bonus:
$20.5 million
Guaranteed money:
$20.5 million
Average per year:
$13.2 million
Analysis:
Matthews earned NFC Defensive Player of the Year honors in 2010 with 13.5 sacks, two forced fumbles and an interception. He's made four Pro Bowls and was twice named All-Pro. Matthews had recorded double-digit sack totals in three of the previous four seasons before his new contract. Matthews has missed a combined nine games the past two seasons. He was considered very good against the run this past season.
Game-changing plays:
He has 50 career sacks to go with 10 forced fumbles and four interceptions in five seasons.
Worth it:
Yes. There's only one year to go on in the new deal, so it's tough to say he isn't. But injuries the past two years make this a shakier yes than anticipated.
Orakpo comparison:
Matthews clearly is the better player, a more dynamic force who causes more worries for an offense.
Ware
Dallas' DeMarcus Ware
Age:
31
Contract:
7 years, $78 million (2009)
Signing bonus:
$20 million
Average per year:
$13 million
Guaranteed money:
$25,591,176
Analysis:
He earned this deal in a big way with 53.5 sacks in his first four years, including 20 in 2008. He's made seven Pro Bowls and was named first-team All-Pro four times and was the 2008 NFL Defensive Player of the Year. He never missed a game until this past season, his first as a 4-3 defensive end.
Game-changing plays:
He's intercepted only two passes in his career (one this past season), but has forced 32 fumbles. He's recorded 117 career sacks he had a combined 35 sacks in 2009-10.
Worth it:
Yes, though the Cowboys might now have to cut him to clear salary-cap space.
Orakpo comparison:
There's no comparison. Ware was a more dynamic player during his prime. If healthy, he can still play.
Hali
Kansas City's Tamba Hali
Age:
30
Contract:
5 years, $57.5 million (2011)
Signing bonus:
$15 million
Guaranteed money:
$35 million
Average per year:
$11.5 million
Analysis:
Hali earned his deal with a big 2010 season with an AFC-best 14.5 sacks – his first year with double-digit sacks. He's a four-time Pro Bowler and has made All-Pro twice, including this past season. He's played in at least 15 games every season since entering the NFL in 2006.
Game-changing plays:
Hali has forced 27 fumbles in eight seasons, but intercepted only two passes. He has 46.5 sacks since signing his new deal and 73.5 for his career.
Worth it:
Yes. His production has improved and, with two more years left on his contract, he shows no signs of decline.
Orakpo comparison:
Hali makes more game-changing plays, though his contract is a direct result of 2010 (he was a 4-3 end until 2009). He also has more talent around him. Orakpo has not had a breakout year, rather he's consistently been between 8.5-11 sacks in his four full seasons.

Woodley
Pittsburgh's LaMarr Woodley
Age:
29
Contract:
6 years, $61.5 million (2011)
Signing bonus:
$13.5 million
Guaranteed money:
$17 million
Average per year:
$10.25 million
Analysis:
Woodley earned his contract after recording a combined 35 sacks over three straight seasons. But since then, he's recorded a combined 18 sacks and missed a total of 14 games because of various injuries. Sacks don't measure everything, but there's been a drop-off in pressure and he got the big deal because of his sack total.
Game-changing plays:
Since signing his deal, Woodley has intercepted two passes, forced two fumbles and recovered two others.
Worth it:
No. Whether because of injuries or other reasons, his play has slipped.
Orakpo comparison:
At this point, Orakpo is better. But Woodley posted better numbers – and more game-changing plays -- in getting this contract (albeit while surrounded by much better defensive talent). Orakpo has forced six fumbles and intercepted one pass.
Mathis
Indianapolis' Robert Mathis
Age:
32
Contract:
4 years, $36 million (2012)
Signing bonus:
$15 million
Average per year:
$9 million
Guaranteed money:
$17 million
Analysis:
Mathis flourished this past season with a career-best 19.5 sacks – eight more than his previous best. Mathis has 111 career sacks, playing opposite
Dwight Freeney
as a 4-3 defensive end for most of that time. Mathis drops into coverage probably less than 10 percent of the time and rushes with his hand on the ground quite a bit. Two years ago, Mathis recorded eight sacks in 12 games.
Game-changing plays:
He forced eight fumbles this past season and 48 for his career to go with one interception.
Worth it:
Yes.
Orakpo comparison:
Mathis signed his deal before playing in a 3-4, though the Colts already knew they were going to switch to that front. If Mathis, who turns 33 Wednesday, were up for a new contract this season? He'd top $10 million per year. He's a more dangerous pass-rusher than Orakpo, who has six forced fumbles in his career. But Orakpo is asked to do more.
December, 20, 2013
12/20/13
2:00
PM ET
ASHBURN, Va. -- This shouldn't be
Brian Orakpo
's last home game as a
Washington Redskins
player. If the organization is smart they'll find a way to keep him around.
The problem is, they run a 3-4 scheme which needs pass rushers. It's difficult to find pass rushers. They don't have a first-round pick. And Orakpo is a good player.
[+] Enlarge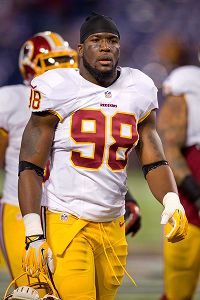 Bruce Kluckhohn/USA TODAY SportsThe Redskins would have a difficult time replacing Brian Orakpo.
Oh, and the Redskins' defense can't afford to lose good players. In case you haven't noticed, there aren't a lot of them on the field. It would just be creating yet another need.
Debating whether Orakpo is an elite rusher or player is one thing. He thinks he is and defensive coordinator Jim Haslett said Thursday that Orakpo is equivalent to guys like
Robert Mathis
or
Robert Quinn
, both of whom have more sacks but are not asked to do as much in other parts of the game.
Green Bay's
Clay Matthews
signed a contract extension last spring, with $20.5 million guaranteed. Orakpo has 39.5 career sacks in 63 games; Matthews has 49 sacks in 68 games. Orakpo has had two double-digit sack seasons, one less than Matthews.
"He rushes every time on third down or nickel, but he does drop into coverage," Haslett said of Orakpo. "He's really good in the run -- I think him and [linebacker] Ryan [Kerrigan] are two of the best I've been around at covering people, so I don't think it's fair. He's not a true four-down lineman. Now, that being said, there's other guys that have made that transition to a down lineman and they're not that successful because it's hard to do it every single snap. It's a little bit of a different breed down there."
Haslett was then asked if he considered Orakpo comparable to others who are considered elite.
"Yeah, I would," Haslett said. "The guy is a heck of a player and I think he showed what he's worth to this organization over the four years. He's been very successful, obviously he's a heck of a rush guy, but the other things he does besides that, he's outstanding, you know, covering tight ends and backs to the flat and in the run game. Him and Ryan are the reason we're so successful in the run. It's hard to get outside because of those two."
Now, a defensive boss typically will say great things about a player like Orakpo. He knows it can help him get paid. I've talked to personnel guys in the past who thought Orakpo was a good, but not great, pass rusher. But I do know he's better than
Paul Kruger
, who was the top free-agent outside linebacker in 2013 and received nearly $13 million in bonus money and $20 million guaranteed. His average per year is a little more than $8 million.
But again, you have to weigh the cost of his departure. Do you have a replacement signed for 2014? No, you don't.
Rob Jackson
is a free agent as well but is not as good as Orakpo. Yes, he'd be cheaper, but in a passing league you need to invest in pass rushers. Jackson is fine if Orakpo's price tag becomes exorbitant (and if it impairs the Redskins' ability to retain other free agents and add others) or if he just wants to go (that's not the case).
It also will depend on whether a new coach -- if Mike Shanahan is fired -- runs a 3-4 or 4-3 and how a new staff views him, of course. How would Orakpo do as a 4-3 end? He'd probably have to gain a little weight, but when he came out of Texas, opinions were split as to whether he should be a 4-3 end or 3-4 linebacker.
Orakpo is not a superstar, but he would be tough to replace. It'll cost the Redskins a lot of money, but it could just be the cost of doing business.
It could just be that they can't afford to lose him.
September, 13, 2013
9/13/13
9:15
AM ET
Searching the Internet for stories on the Green Bay Packers so you don't have to:
September, 11, 2013
9/11/13
8:40
AM ET
Robert Griffin III wasn't the only player who played in the season opener after missing the entire preseason following knee surgery. That's the situation Green Bay receiver Jordy Nelson found himself in as well. It wasn't exactly the same surgery and it took place in August.
Still, the Packers weren't sure what to expect from Nelson. Here's what they got: seven catches, 130 yards and a touchdown.
The Green Bay Press Gazette
highlighted two plays in particular that showcased Nelson's talents
-- an example of what the Redskins will face on Sunday.
It could get
even louder
at Lambeau Field.
A
roundup of Packers stories
plus a little bit of a look at Green Bay's safety problems from ESPN.com's Rob Demovsky.
No Bryan Bulaga at left tackle? A
look at his replacement
and why Packers fans shouldn't panic.
The Packers' offensive line is not a mixture of high draft picks.
Quite the opposite
.
Clay Matthews dirty? Take a guess what his
defensive coordinator thinks
.